The Trail Ridge Road/Beaver Meadow Road is situated inside a national park, surrounded by national forests, and is undoubtedly one of the most beautiful byways in Colorado. The overarching characteristic of the byway is its many overlooks, all of which bestow stirring vistas of 415 square miles of the towering (14,000-plus feet) southern Rockies.
The clear atmosphere of this alpine tundra makes seeing the night sky from one of the overlooks incomparable. Constellations, planets, meteor showers, and phases of the moon seem brighter than ever and just beyond arm's reach.
Because this is such a protected area, elk, deer, mountain sheep, coyotes, moose, beavers, ptarmigans, marmots, pikas, eagles, and peregrine falcons can be seen more often than in other (unprotected) areas of Colorado and the nation. Also, the tender tundra wildflowers, which generally peak in July, are an exceptional treat.
Historical Qualities of Trail Ridge Road/Beaver Meadow Road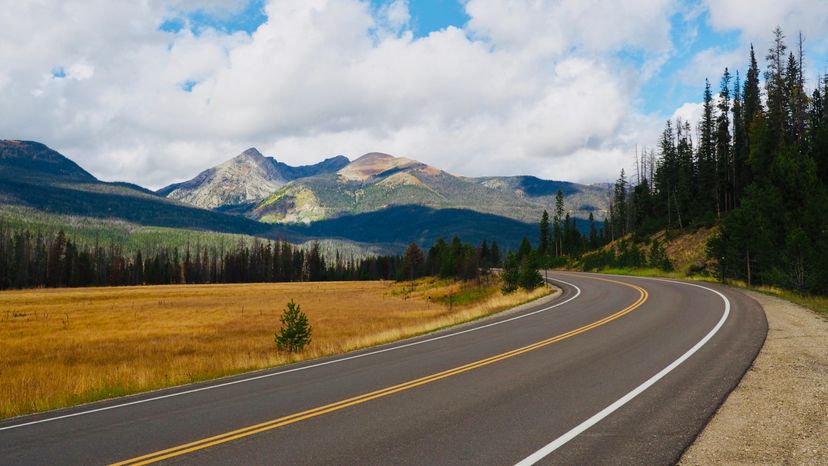 The first Europeans to see this area were French fur traders. In 1859, Joel Estes and his son, Milton, rode into the valley that now bears their name. A few others had settled in this rugged county by 1909 when Enos Mills -- a naturalist, writer, and conservationist -- began to campaign for preservation of the pristine area, a portion of which became the Rocky Mountain National Park in 1915.
Natural Qualities of Trail Ridge Road/Beaver Meadow Road
One-third of the park is above the treeline, and the harsh, fragile alpine tundra predominates. The uniqueness of this area is a major reason it has been set aside as a national park. Just below that, at the upper edges of the tree line, the trees are twisted and grotesque and hug the ground. Here, more than one-quarter of the plants are also found in the Arctic.
Just below that, forests of Engelmann spruce and subalpine fir take over in a subalpine ecosystem. Openings in these cool, dark forests expose wildflower gardens of rare beauty and luxuriance in which the blue Colorado columbine reigns. And in the foothills, open stands of ponderosa pine and juniper grow on the slopes facing the sun; on cooler north slopes Douglas fir grow.
Qualities of Trail Ridge Road/Beaver Meadow Road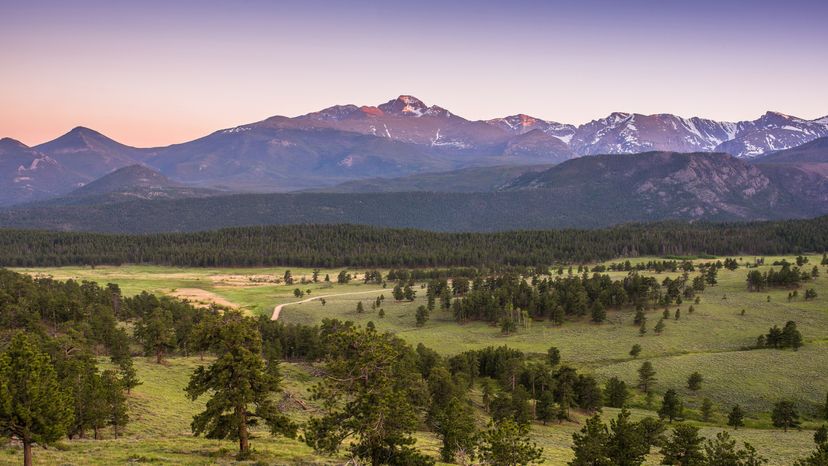 The recreational opportunities on the Trail Ridge Road/Beaver Meadow Road are varied and excellent. For example, you can enjoy horseback riding, camping, fishing, rock climbing, and numerous winter activities.
Several campgrounds beckon, some of which are open year-round. The Rocky Mountain National Park maintains more than 260 miles of trails for private and commercial horse riders. Hire horses and guides at two locations on the east side of the park or from a number of liveries outside the park boundaries during the summer season.
Four species of trout live in the mountain streams and lakes of Rocky Mountain National Park: German brown, rainbow, brook, and cutthroat trout. These cold waters may not produce large fish, but you do get to enjoy the superb mountain scenery as you fish.
Rocky Mountain National Park also offers a variety of challenging ascents throughout the year for climbers. The Colorado Mountain School is the park's concessionaire, operating a climbing school and guide service.
Winter brings cross-country skiing in the lower valleys and winter mountaineering in the high country. Access roads from the east are kept open and provide you with a panorama of the high mountains.
See the next section for a self-guided tour that will ensure you don't miss any of this route's many highlights.
Find more useful information related to Colorado's Trail Ridge Road/Beaver Meadow Road:
Colorado Scenic Drives: Trail Ridge Road/Beaver Meadow Road is just one of the scenic byways in Colorado. Check out the others.

How to Drive Economically: Fuel economy is a major concern when you're on a driving trip. Learn how to get better gas mileage.