From historic Lewes, a 17th-century Dutch colony, south to Fenwick Island, the Delaware Coast along Delaware's Atlantic shore is a nearly nonstop stretch of inviting sandy beaches and popular beach towns with bustling boardwalks.
Nearly the entire length of this 25-mile drive down Delaware's Atlantic Coast is lined with sandy beaches that draw sun worshipers from all over the region. Twelve miles of beach are located within three state parks. They are quiet, only lightly developed oases between the more commercialized resort town beaches catering to visitors seeking boardwalk amusements and waterside lodging and dining.
Fortunately, the resorts -- Lewes, Rehoboth Beach, Bethany Beach, and Fenwick Island -- have resisted high-rise growth, and each retains a small-town charm. Victorian in look, they remain a nostalgic throwback to the beach vacations of that earlier time. The state parks preserve the landscape mostly as it might have looked a century or more ago. At dawn, shorebirds of all kinds scamper over the sand seeking breakfast, and majestic grass-topped dunes overlook pine forests and salt marshes.
Summer, of course, is the high season, and you might want to undertake this drive in a bathing suit and sandals. But even in winter, the beaches draw strollers who revel in the views of storm-tossed waves crashing ashore.
This tour starts in the historic small town of Lewes and ends at the beautiful Fenwick Island Lighthouse.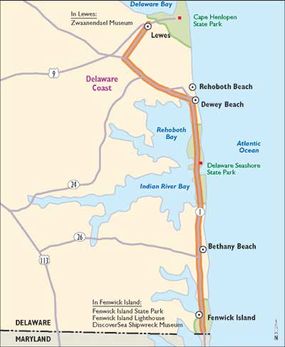 Cape Henlopen State Park: A 5,000-acre natural area, the park thrusts between the Atlantic Ocean and Delaware Bay. Boardwalk steps ascend a high dune to reveal a long beach of golden sand. In season, lifeguards are on duty, and restroom and changing facilities are available. In addition to numerous swimming and sunbathing opportunities, Cape Henlopen State Park has many hiking and biking trails. And, in May, shorebirds migrating north from South America pause at an isolated point of the park to rest for a few days. Each May, horseshoe crabs come to the shores to mate and lay eggs. The Seaside Nature Center also offers glimpses at wildlife, with several aquarium exhibits.
Lewes: Mostly overlooked by summer hordes flocking to Rehoboth Beach, just six miles south, Lewes retains the look and charm of a small town of the past. In fact, it was the first town in Delaware. On Second Street, Lewes' "main" street, visitors can stroll beneath a canopy of giant old trees or sit on a bench and nibble cones from a nearby ice cream shop.
Zwaanendael Museum: Looking like a Dutch transplant of the town hall in Hoorn, Holland, the museum details Lewes' early Dutch heritage, recounts its modest role in the War of 1812, and more thoroughly explores its recent past as a headquarters for ship pilots on the Delaware River. Pick up printed walking tours of the town.
Rehoboth Beach: Founded by a Methodist church group, Rehobeth is a biblical term meaning "room enough." Rehoboth Beach is a very Victorian-looking town. It is Delaware's largest beach resort, and yet it is still very much a small, though very sophisticated, town. Many vacationers visit this beach from the D.C. area. In fact, Rehoboth Beach is sometimes referred to as the "nation's summer capital." Its shops display stylish beachwear, contemporary crafts, and antiques. Families return year after year, invariably spending part of each day strolling the mile-long wood boardwalk overlooking a wide beach. The boardwalk offers an amusement arcade, French-fry stalls, T-shirt shops, and all the other traditional trimmings of a venerable American beach town.
Delaware Seashore State Park: A beach-goer's delight, the 2,825-acre park boasts six miles of ocean and bay shoreline. In season, lifeguards patrol, and restrooms and changing facilities are available. Shallow bay waters make the park a popular sailboarding and sailing destination. There colorful sails glide across the bay in a rainbow dance. Surf fishing on the ocean is a big sport here.
Bethany Beach: A pretty little family resort with a boardwalk, Bethany Beach got its start in 1901 as a church retreat. Even though times have changed, the town continues to bill itself as the "quiet" resort. It hasn't allowed liquor until recently, and liquor laws are still pretty strict. An amazing red cedar sculpture called Chief Little Owl, or Whispering Giant, is a landmark of Bethany Beach. This sculpture is a new incarnation of a previous version that was damaged. Both sculptures were created by artist Peter Toth.
Fenwick Island State Park: A three-mile-long barrier island with 344 acres of ocean and bay shoreline, Fenwick Island State Park claims description as the quiet beach. Here the white sand slopes gradually into the Atlantic Ocean, creating a vast swimming area families can enjoy. In season, lifeguards are on duty, and restrooms and changing facilities are available. A designated surfing area has been established. And at three dune crossings you can surf or fish after purchasing a vehicle permit.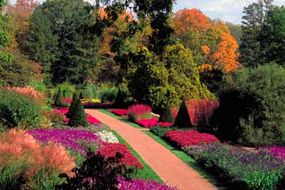 Fenwick Island: The southernmost of Delaware's beach resorts, Fenwick -- another of the quiet"towns -- claims Delaware's finest beach. About a mile long, the town is tucked between the ocean and the bay. The bay attracts sailboarders and jet skiers. A small museum, DiscoverSea Shipwreck Museum, chronicles coastal shipwrecks.
Fenwick Island Lighthouse: Since 1858, the 89-foot-tall lighthouse has warned ships away from Fenwick Shoal. Once it burned whale oil, but today it operates automatically by electricity. You can enter the base, where there is a mini-museum, but climbing to the top is not permitted. The lighthouse sits on the Mason-Dixon line
, and just outside the lighthouse fence is the Maryland state line, which concludes this drive.
Find more useful information related to the Delaware Coast:
Fenwick Island, Bethany Beach, Dewey Beach, Lewes: Find out what there is to do in these cities along the Delaware Coast.

Delaware State Guide: Learn about other things to do in Delaware, and check out the hotels and restaurants in the state.

Scenic Drives: Are you interested in scenic drives beyond Delaware? Here are more than 100 scenic drives throughout the United States.

How to Drive Economically: Fuel economy is a major concern when you're on a driving trip. Learn how to get better gas mileage.