Cool in the summer, mild in the winter, the Russell-Brasstown Scenic Byway beckons you to lose yourself in its luscious timberland. Linger atop Brasstown Bald to absorb all 360 degrees of rolling highlands. Escape the crowds and retire to the cooling mists of the byway's numerous waterfalls.
Got a hanker for a hike, but the Appalachian Trail isn't what you had in mind? Sparkling waterfalls and secluded valley views are just a short stroll from the main road. The average weekend hiker could spend years exploring these trails and never retrace a step.
Share a meal at a cozy picnic site or break bread in a real Bavarian hamlet enveloped in the Georgian mountains. Whether you're looking to hike the hinterland or lounge in a lazy village, the Russell-Brasstown Scenic Byway is an ideal getaway.
Natural Qualities of Russell-Brasstown Scenic Byway
Two Forest Service Scenic Areas have been designated to protect their unique qualities and natural beauty. First, the High Shoals Creek Falls Scenic Area covers 170 heavily wooded acres that surround the numerous waterfalls along the creek. Second, the highlight of the Anna Ruby Falls Scenic Area is the dramatic 150-foot waterfall where Curtis and York Creeks join to create Smith Creek. Protecting 1,600 acres, the Anna Ruby Falls Scenic Area is covered with poplars, white pines, rhododendrons, and many wildflower species.
Three Wildlife Management areas, including Chattahoochee, Swallow Creek, and Chestatee, are designed to provide an undisturbed habitat for many of the native plant and wildlife species of the region.
The Georgia Department of Natural Resources operates two state parks, as well as Smithgall Woods-Dukes Creek Conservation Area. These two parks and the conservation area collectively protect more than 6,800 acres of North Georgia wilderness. Unicoi and Vogel State Parks comprise 1,261 acres of protected lands and offer a variety of recreational and educational opportunities. The Smithgall Woods-Dukes Creek Conservation Area has been designated as a State Heritage Preserve; this designation will protect its 5,555 acres of trout streams, hiking trails, and wildlife habitats for future generations.
Recreational Qualities of Russell-Brasstown Scenic Byway
Hiking trails that lead visitors to tumbling waterfalls or breathtaking mountain overlooks abound in the Chattahoochee National Forest of North Georgia. The most prominent of these is the Appalachian National Scenic Trail. Extending more than 2,000 miles from Georgia's Springer Mountain to Maine, traveling the entire Appalachian Trail is a goal for many hikers. The Russell-Brasstown Scenic Byway provides access to the trail, which covers nearly 80 miles in Georgia.
Atop Brasstown Bald, hikers can explore the Jacks Knob, Arkaquah, and Wagon Train Trails. These trails, ranging from 4½ to 6 miles in length, radiate from the visitor center parking area. Numerous smaller trails snake their way around the area and can be accessed from Andrews Cove, Chattahoochee Campground, Dukes Creek Falls, Raven Cliff Falls, and the other state parks and scenic areas.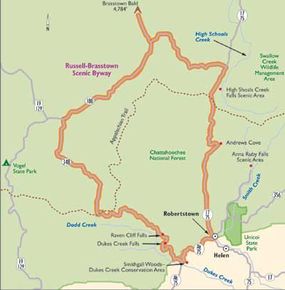 Find more useful information related to Georgia's Russell-Brasstown Scenic Byway:
How to Drive Economically: Fuel economy is a major concern when you're on a driving trip. Learn how to get better gas mileage.