The Historic Columbia River Highway is exquisite: Drive through the Columbia River Gorge for nearly 50 miles, and sweep past majestic waterfalls, including Multnomah Falls. This byway also travels through a spectacular river canyon that you can often view from the tops of cliffs more than 900 feet above the river. During the spring, you experience magnificent wildflower displays, including many plants that exist only in this area.
This is the first scenic highway in the United States to gain the distinction of National Historic Landmark. (To give you an idea of what this means, less than 3 percent of the sites on the National Register of Historic Places become landmarks.)
The Historic Columbia River Highway's construction was considered one of the greatest engineering feats of the modern age. Its engineer, Samuel C. Lancaster, tried not to mar the existing landscape. It was designed from 1913 to 1914 to take advantage of the area's many waterfalls and other beautiful spots.
Make sure to travel the well-known western section of the byway from Troutdale to Dodson and the less-traveled eastern section from Mosier to The Dalles. The difference in vegetation zones and views is amazing.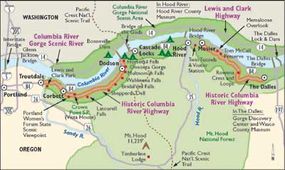 Historical Qualities of the
Columbia River Highway
The Historic Columbia River Highway has many nationally significant historic features on the National Register of Historic Places -- one of which is the highway itself.
It is also a National Historic Civil Engineering Landmark that includes 23 unique bridges. The historic district includes not only the highway, but also the Portland Women's Forum State Scenic Viewpoint, Crown Point and Vista House, Multnomah Falls Lodge and Recreation Site, Eagle Creek Recreation Area, and several other waterfall areas.
Natural Qualities of the
Historic Columbia River Highway
The Columbia River Gorge is a spectacular river canyon, 80 miles long and up to 4,000 feet deep, cutting the only sea-level route through the Cascade Mountain Range. The gorge includes 16 endemic plant species (those that exist only within the gorge) and more than 150 rare plant species. Bald eagles, peregrine falcons, Snake River salmon, and Larch Mountain salamanders also reside here. Wildflower tours of this route are common in the spring.
Recreational Qualities of the Columbia River Highway
Recreational facilities in the Columbia River Gorge National Scenic Area are also of national significance, including the three major highways (Historic Columbia River Highway, I-84, and Washington State Route 14) that are used extensively for pleasure driving. The highways provide access to many hiking trails, windsurfing sites, and the Mount Hood Railroad, a scenic and historic passenger and freight route up the Hood River Valley.
Find more useful information related to Oregon's Historic Columbia River Highway:
Oregon Scenic Drives: Historic Columbia River Highway is just one of the scenic byways in Oregon. Check out the others.

How to Drive Economically: Fuel economy is a major concern when you're on a driving trip. Learn how to get better gas mileage.