Experience first-hand amazingly towering trees by traveling the Cherohala Skyway in North Carolina and Tennessee, and you will agree that nothing could be lovelier. Visit in the fall when vibrant vermilion, golden, and orange leaves drape the trees surrounding the skyway. Or plan a leisurely summer road trip, leaving plenty of time for picnics, hikes, fishing, or many of the other activities available on the Cherohala Skyway.
The Tellico River parallels part of the skyway, delighting canoeists and kayakers from all over. Follow the river with paddle in hand, and bask in the sunlight and beauty of the surrounding forests. With hundreds of miles of hiking trails traversing the national forests, you're bound to find a favorite.
Botany lovers will want to whip out their sketchbooks to capture in ink some of the 2,000 native plant species that thrive around the Cherohala Skyway.
Catch your breath by pausing to admire the wildflowers sprinkled throughout the landscape in the spring, or make camp at one of the many campgrounds and spend several days exploring the backwoods.
This trek winds into the heart of the woodlands in two states, with many opportunities for hiking, fishing, and spotting the local flora and fauna. Find the best places to stop and admire the view in the next section.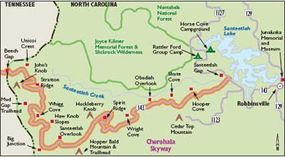 Find more useful information related to Tennessee's Cherohala Skyway:
How to Drive Economically: Fuel economy is a major concern when you're on a driving trip. Learn how to get better gas mileage.