Reaching farther out into the cold waters of the North Pacific than any other point of mainland in the lower 48 states, Strait of Juan de Fuca Highway (State Route 112) is a remote stretch of coastline with rugged cliffs and forests.
The Strait of Juan de Fuca Highway follows the shoreline of a glacial fjord that connects Puget Sound to the Pacific Ocean. Natural wonders that are rare and exciting events in other places of the world are everyday occurrences here. For example, eagles search for food among intertidal rocks, and gray whales feed in the Strait of Juan de Fuca.
The communities along the highway provide pleasant starting points for exploring the surrounding natural landscape. A boardwalk system provides access to remote shorelines, where Pacific Ocean waves crash against sea stacks -- erosion-resistant rock separated from the land by a bit of sea -- and rocky cliffs.
Archaeological Qualities of Strait of Juan de Fuca Highway
Native American artifacts are unearthed with relative frequency in this area. The many American Indian remains found here have been gathered into one of the nation's most significant displays, the byway's own Makah Cultural and Research Center, which sits on the Makah Indian Reservation.
This center features artifacts from two ancient Native American villages that have been unearthed here in recent years. An Ozette village was discovered in 1966; also, a Makah fishing village, estimated to be nearly 3,000 years old, was excavated in the 1980s.
Cultural Qualities of Strait of Juan de Fuca Highway
The longtime residency of Native Americans gives distinctive seasoning to this area's already unique culture. The still-thriving Makah nation contributes particular savor because it resides, continuing in its traditions, at the western end of the byway.
The Makah Cultural and Research tells the story of the Makah and other American Indian groups, such as the Klallam and the Quileutes. The Klallam were especially influential; by the late 1700s, they had established 17 villages between Discovery and Clallam Bays and numbered about 2,000 people. The Makah and Ozette, headquartered near Neah Bay and Lake Ozette, also numbered about 2,000 people each. Evidence of the effect of these people is prevalent in the overwhelming amount of artifacts that have been found.
Historical Qualities of Strait of Juan de Fuca Highway
This byway's communities have taken care to renovate the buildings that tell the stories of its modern history. For instance, the restored train depot serves as the Joyce Museum, which recounts the area's logging history.
Another well-preserved building is the Joyce General Store (originally a hotel in the town of Crescent Beach). The West Clallam Schoolhouse is a finely crafted wooden building, built by one of the region's early timber companies. Efforts are also being made to restore the warning horn of the Slip Point Lighthouse Tender's Residence.
Natural Qualities of Strait of Juan de Fuca Highway
It's no surprise that the Strait of Juan de Fuca's many gorgeous variations -- its rocky shorelines, snow-covered mountains, and nationally featured tide pools -- support a wide range of remarkable and unique flora and fauna. You need only to walk on the beach or take a sea kayak out on the waters to see and feel a kinship with these plants and animals.
Olympic National Park offers wild and remote beaches that are yours to discover and are lined with nationally significant old-growth rain forests. Birds and sea mammals crowd around the sea stacks and rocky cliffs off Cape Flattery.
These nearly mythic wonders continue as you travel farther inland. The glacier water and deep gorge of the Elwha River were once home to a legendary run of chinook salmon, fish that were large enough that Native Americans used single skins as ceremonial robes. Unfortunately, these fish no longer exist in this river because populations have been in decline ever since the development of hydroelectric dams. In fact, no type of salmon has been able to negotiate the dams, but funding has been allocated to begin removing the dams.
The byway's tree-covered hillsides have been managed for timber production for more than 100 years, meaning that the length of time from harvest to "green-up" is minimal. These forests, consequently, are a dynamic mosaic of newly harvested areas and mature woodlands.
Part of the mature woodlands is an area of dense bald eagle nesting, roosting, and feeding. In fact, when the eagle population is at its peak in the spring and fall, it is common to see a dozen eagles in one day.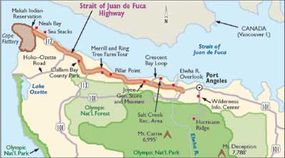 Recreational Qualities of Strait of Juan de Fuca Highway
Salmon fishers have come here from throughout the country for decades, one of which was the nation's most famous sportsman, Eddie Bauer (of retail and catalog fame); he even had a fishing cabin along this route. Visitors love to fish for mighty Pacific halibut, several kinds of rockfish, resident blackmouth salmon, beautiful coho salmon, and giant chinook salmon.
Kayaking and scuba diving are thrilling ways to immerse yourself in the marine life of the area. The Strait of Juan de Fuca from Pillar Point to Cape Flattery offers several places where you can launch and kayak through kelp forests and offshore sea stacks. There are both freshwater and saltwater kayaking opportunities in the area.
For a different kind of adventure, consider scuba diving. The Strait of Juan de Fuca and the Olympic Coast National Marine Sanctuary offer world-class diving. Rocky reefs and kelp forests enable you to catch views of large and colorful invertebrates, including fish-eating anemones, giant mussels, and the world's largest kind of octopus.
The surrounding area is incredibly diverse. The shores of the Strait of Juan de Fuca and adjacent forests accommodate more than 200 species of birds, many of which may easily be sighted during the spring and fall migration periods. In addition, expect the excitement of shores crowded with bald eagles in the winter months.
Swimming in the waters below are a variety of whales. Other marine life will likely catch your eye, including sea lions, porpoises, dolphins, and seals.
Find more useful information related to Washington's Straight of Jaun De Fuca Highway:
Washington State Scenic Drives: Strait of Juan de Fuca Highway is just one of the scenic byways in Washington. Check out the others.

How to Drive Economically: Fuel economy is a major concern when you're on a driving trip. Learn how to get better gas mileage.