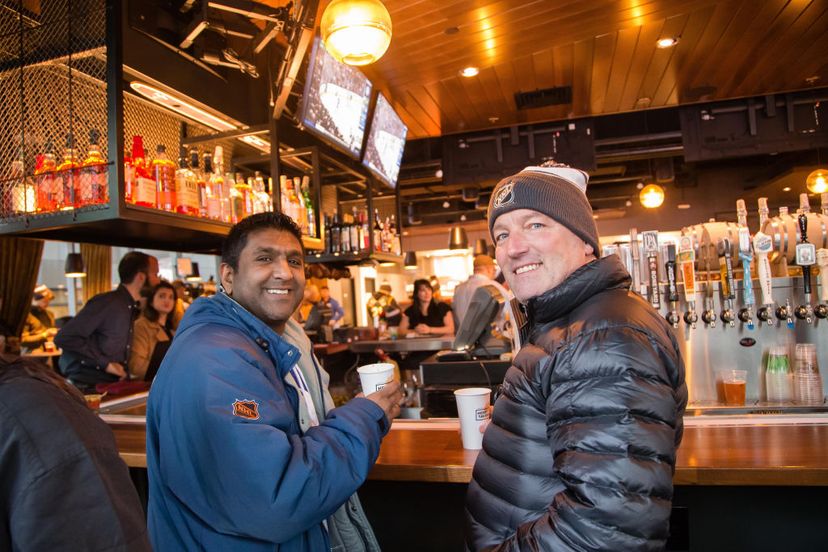 Keeping a bar "secret" in Seattle is surprisingly difficult — many of the best secret bars are well-known through hearsay and word-of-mouth. With some of the city's best bartenders and amazing cocktails, it's not hard to figure out why everyone's always talking about these bars. Here's the ultimate guide to how to find, get into, and enjoy Seattle's secret bars; it's organized in order from "easiest to get into" to "bookmark this guide so you can remember how to get in when you decide to go."
The Backdoor at Roxy's
While they have a website, The Backdoor is adamant that they are a speakeasy: at the heart, the bar is a community of those who will have a good drink, no matter the cost (breaking prohibition laws, or nowadays just $10-14 for a cocktail).
How to get in: Grab parking near Roxy's and head along the east side of the building. You can't miss the entrance.
The Upstairs
Despite the A-frame sign on the sidewalk, it's not hard to pass right by The Upstairs on your way into delicious tapas spot Pinxto next door. Instead, climb the precarious old stairs and tuck into a cozy table or bar stool for a drink or two. There's a set menu, or you can leave it to the bartender to mix you something on the spot.
How to get in: See the sign on the 2nd? Turn and go into the building right there. It's that easy; how have you always just walked right by?
Bathtub Gin & Co.
Virtually unmarked and hidden in an otherwise avoidable alley, Bathtub Gin & Co. is quietly revolutionizing the kind of nightlife everyone assumes is the reason to go out in Belltown. With only a few dozen seats, it's often full but worth the wait; if you can snag a seat at the beautiful, comprehensive bar, you'll sip your own cocktail while watching wondrous concoctions made before your eyes.
How to get in: Head for the brass plaque; if there's no bouncer try the door — usually one will open and let you know how long the wait will be. Then, patience.
E. Smith Mercantile
E. Smith Mercantile is exactly what it sounds like upfront: a small, curated shop featuring a variety of high-quality goods. In the Back Bar, they offer a limited seating cocktail experience that focuses on equally high-quality spirits and ingredients. Opt for the bartender's choice if you're feeling adventurous; it will all be good.
How to get in: Inquire on arrival, or get a reservation. Pioneer Square is becoming a happenin' place, so weekend nights might well be full.
Knee-High Stocking Company
It's almost too easy to walk right by Knee High Stocking Company in Capitol Hill — until you know how good their cocktails are, and then you won't be able to pass without stopping for a quick nightcap (any time of day!). They also do amazing food, in case you decide to have more than one and need something of greater substance.
How to get in: Summon your courage to ring the doorbell of their unmarked door.
The Back Room at Liberty
The Back Room at Liberty is technically not a separate establishment — it's simply an extension of Liberty that isn't always open or easy to find. Grab a drink at the bar in Liberty then head back to grab a seat at one of the squishy couches with plenty of breathing room. They also offer house-made sushi if you need a bite.
How to get in: It's best to inquire when you arrive: sometimes private parties rent the room. Otherwise, it's hidden behind the very large mirror near the bathrooms.
Needle & Thread
Now we're getting somewhere: Needle & Thread is so hidden, they don't have a website, and you'll have to scour the internet to figure out how to find and get in. Luckily this guide can help. There is no published menu and the drink and food options change regularly (the perfect reason to stop by frequently and become a regular).
How to get in: First, you'll need a reservation, as most walk-ins get turned away due to availability. Next, when you arrive at "neighboring" Tavern Law, find the phone by the vault, pick it up, and give your reservation name or password (if you have one). Voila! You now have access to one of the cities best — and truly hidden — secret bars.
Aston Manor & Maison Tavern
If your budget has room to spare, line up to take advantage of the double-hitter one weekend night at Aston Manor and Maison Tavern. Technically, they're separate establishments: Aston Manor is the nightclub, and Maison Tavern is the small-plates bar. But, as the weekend nights wear on, a secret bookcase wall between the two separates VIPs from the rest of us wishing we were able to afford the private bar experience.
How to get in: Call for a reservation. Be ready to spend big.