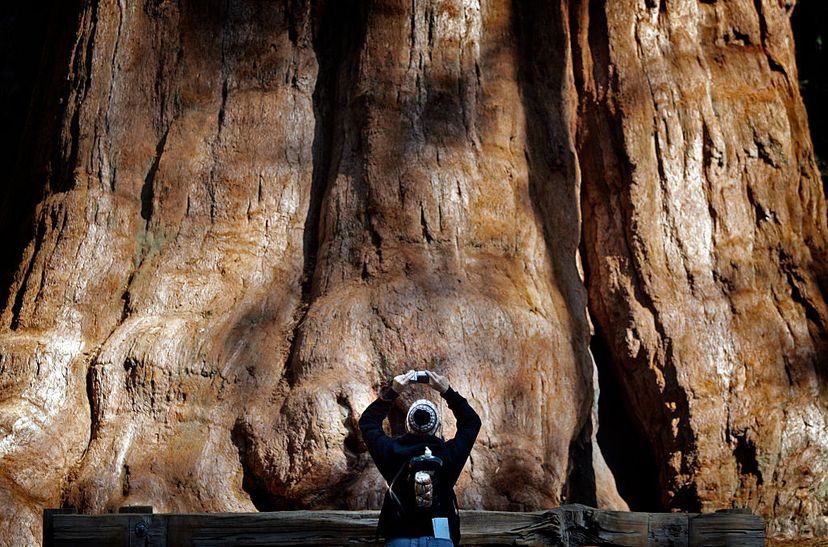 Land of the Giants
Sequoia National Park is jointly administered with Kings Canyon National Park, which lies to its immediate north. While enormous redwood trees can be enjoyed by visitors to several different states and national parks around California, Sequoia National Park is home to giants among giants. Five of the 10 largest trees in the world grow in the Giant Forest at Sequoia National Park. This includes the majestic General Sherman Tree, named for the American Civil War general.
But there's more to do at the park than just visit the trees. With 90 percent of the parks' combined acreage designated as wilderness, the high Sierra backcountry of Sequoia and Kings Canyon are ripe for backpackers to explore. The massive exposed granite walls in Sequoia National Park also make it a popular destination for rock climbers. Winter activities also abound. Cross-country skiers can experience high-altitude skiing at 9,200-foot-high Pear Lake, and families will enjoy sledding and snow play in Wolverton.
There are also a variety of ranger-led educational programs available in the park. Programming changes with the seasons, so be sure to check the park's website for updates.
Activities in Sequoia National Park
Winter, spring, summer, and fall — there's always something cool to do at Sequoia National Park. Summer months are peak season when the park's high-elevation trails are (generally) free of snow and open to backpackers. Winter brings calming solitude and unique sporting opportunities. The shoulder seasons of spring and fall draw visitors with wildflower blooms and brilliant fall colors, respectively.
Hiking and Backpacking
Day hikes through Sequoia National Park include popular routes through the park's namesake attraction, the Giant Forest. The Big Trees Trail is a quick loop that goes around Round Meadow and includes placards that describe various aspects of sequoia ecology. The famous General Sherman Tree is located a half-mile walk from a trailhead on the General's Highway that descends into a grove via stairs. Keep in mind that although these trails may be short, you'll often be hiking at elevations exceeding 7,000 feet. Be prepared for the challenges of altitude — drink plenty of water and don't over-exert yourself!
If you're planning an overnight trip in the extensive wilderness, you'll need to pick up a backcountry permit first. Daily visitor quotas for the backcountry are enforced during peak season, late May to late September. Permits cost $15 inside quota periods and are free outside of quota periods. Many High Sierra trails depart from Crescent Meadow, including the 18-mile journey to Angel Wings in the Valhalla Cirque. Long Meadow and Fish Creek are also popular hiking trails.
Rock Climbing
Rock climbing is very popular in Sequoia National Park. There are many different ascents, some of them rising more than 1,000 feet up exposed granite cliffs. Angel Wings is a challenging climbing destination, called the "alpine El Capitan" — referencing the granite giant in Yosemite — by noted wilderness photographer and rock climber Galen Rowell. Its sheer surface rises more than 1,800 feet, and prospective climbers must venture 18 miles into the park's backcountry just to get to it. Other rock faces that aren't as remote include Moro Rock, Hospital Rock, and Little Baldy, all of which can be accessed from Generals Highway.
Winter Sports
Snowshoeing and cross-country skiing trails abound near the 9,200-foot high Pear Lake Ski Hut. The hut, which is open all winter long, is accessible via a six-mile hike from Wolverton Meadow. Just getting there will likely be a challenge due to the altitude, which gains more than 2,000 steep vertical feet from meadow to hut. The hut sleeps 10 people and costs $22 per night.
If you're not feeling that adventurous, many of the lower-elevation areas of the park are open to skiers and snowshoers. Just be careful to avoid residential areas, plowed roads, and other restricted areas. Wolverton also has an area reserved for snow play with a pair of sledding hills.
Crystal Cave
There are more than 200 caves in Sequoia National Park, but Crystal Cave is the only one that is open to the general public (other caves are open with special permission to scientists who research cave ecology and biology). You can book tours to the cave seasonally from May to October, explore its 3.4-mile length and check out neat calcite formations. Photography is allowed inside the cave, but it's only accessible via guided tour. The latter fact is probably what's kept it so remarkably well preserved, despite years and years of heavy foot traffic.
Visiting Sequoia National Park
Seasons, Fees, and Reservations
Sequoia National Park is open all year round, but certain facilities and attractions are seasonal. Road closures due to snow and ice are common during the winter months. The park covers a huge area and encompasses drastic elevation changes, which can mean variable weather, no matter what season it is. It's always a good idea to check the weather and road conditions before visiting. From springtime wildflower hikes to winter snowshoeing adventures, there's something to do every season in the park. However, peak visitation time is during the summer months. Expect traffic into and out of the park from late May through September. Visitors coming in RVs should review vehicle length restrictions.
Entrance fees for the park are $20 per vehicle and $10 per individual arriving on foot, bike, motorcycle. The fee grants access for seven consecutive days and is good for access to Sequoia, Kings Canyon, and the Hume Lake District of Sequoia National Forest/Giant Sequoia National Monument. If you're thinking of visiting more than once a year, it might not be a bad idea to pick up an annual pass. For $30, the bearer gets unlimited access to the aforementioned areas for one year from the month of purchase.
There are 14 total campgrounds in Sequoia and Kings Canyon National Parks. Most of them are first-come, first-serve. The Lodgepole Campground in Sequoia National Park takes reservations during the peak season. Permits are required for backcountry camping and select other activities.
Food, Lodging, and Facilities
Unlike many National Parks, Sequoia and Kings Canyon have a variety of dining options. Three restaurants in the parks are open all year long, and several more are open seasonally. One option that might be of particular interest to summertime weekend visitors is the all-you-can-eat dinnertime barbecue at the restaurant at Wolverton Meadows. No better way to recharge from a day of walking in the woods, right? There are also grills in some picnic areas if you feel like having your own cookout.
If you're not interested in "roughing it" at one of the park's 14 campgrounds, there are other places to stay inside the park and nearby. The majority of concessioner-operated lodges are located in Kings Canyon National Park, but the Wuksachi Lodge near Giant Forest serves visitors to Sequoia National Park all year. There's a restaurant at the lodge, as well as other amenities like a ski shop and a cocktail lounge. There are also many guest houses and motels within 20 miles of the park.
Here is a list of visitor centers and other facilities inside Sequoia and Kings Canyon National Parks.
Wildlife in Sequoia National Park
Black Bears
While the California state flag displays a grizzly bear, you won't find any in Sequoia National Park — or the rest of the state. There hasn't been a grizzly spotted in California since the early 20th century. But, black bears are very common in the park. Omnivorous, curious, and with voracious appetites for just about any food they can get their claws on, black bears are a force to be reckoned with.
Bear safety is a huge priority of the park service. Whether visitors are camping out in the front country or trekking through the wilderness, there are important rules to follow to reduce the incidence of encounters between humans and bears. The most important rules are to keep a distance of at least 300 feet from a bear and to use bear-safe canisters for storing food. If a bear comes to associate humans with food, it will lose its natural fear, and therefore become a threat to visitors.
Bighorn Sheep
Sierra Nevada bighorn sheep are a genetically distinct subspecies of the bighorn sheep found across the mountains of western North America. Once numerous, these sheep were driven nearly to extinction because of hunting and from diseases carried by domesticated sheep. They have made a slow comeback, particularly in the southern Sierra Nevada, where several herds roam free on the rocky alpine crags high in the mountains. Yet, the sheep remain federally protected.
Marmots
If you're in Sequoia National Park during springtime, watch out — your car might get hit by some unlikely vandals. It sounds ridiculous, but marmots have been known to dismantle and damage the undercarriages of parked automobiles in the park in search of antifreeze. The potentially hazardous chemical attracts the animals, whose natural habitats have been disturbed by the construction of parking lots. Sometimes, marmots even climb up under the hoods of cars that then exit the park. One legendary marmot ended up hitching a ride all the way to Santa Monica this way — a humorous episode that underscores the often competing demands of increased access for tourists and the preservation of habitats.