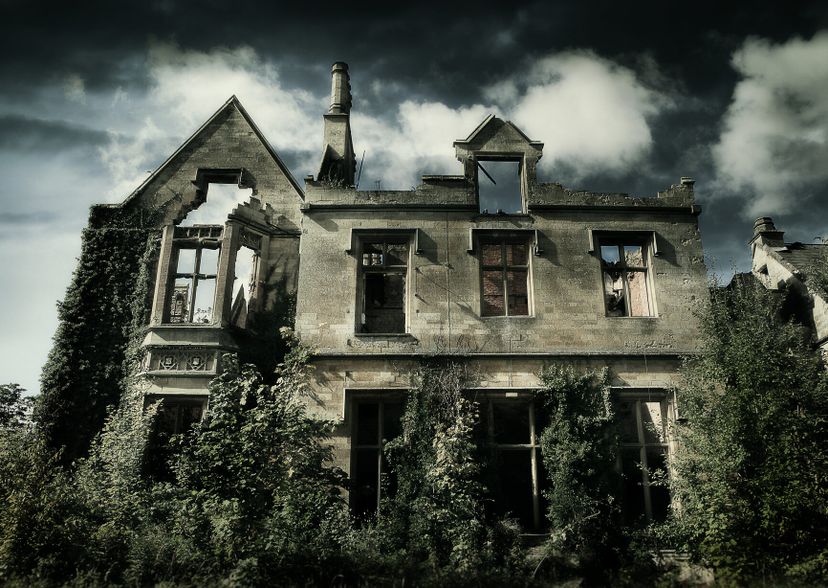 While you may initially associate Halloween with trick-or-treating and scary movies, there's a whole other aspect of the spooky holiday that you may have overlooked: Haunted Houses. There is actually a surprising number of haunted houses across America, many of which use advanced technology and elaborate sets to give their guests the ultimate spooky experience. If you're curious about the best and scariest haunted houses in America, follow along as we roundup the top 7 haunted houses with the scariest reputation. 
7. Bates Motel and Haunted Hayride – Glen Mills, PA
Bates Motel and the Haunted Hayride has been ranked one of the scariest and most entertaining haunted houses in the country by America Haunts, a national association of top-tier haunted attractions. The location includes three chilling features: the high-action Bates Motel, a hayride that will leave your heart pounding and a Revenge of the Scarecrows Haunted Corn Trail.
6. Bennett's Curse – Baltimore, MD
Bennett's Curse in Baltimore, MD is a 40,000 square foot space that actually boasts FOUR haunted houses at one location. You first walk through Medieval Underworld, which takes you through a medieval abyss, complete with dungeon cells and terrifying monsters. The second haunted house is The Sanctuary of Insanity which many consider the most disturbing of the houses. It features an asylum with criminally insane patients, dark hallways, a maze of prison cells and pulsing music. Next, there is the 3D haunted house, known as Inferno 3D, which offers visitors the chance to immerse themselves fully into one of the most feared places imaginable, the depths of hell. You will enter the circles of greed and violence and gluttony, while confronting monsters, demons and other hideous creatures along the way. 
5. Spooky World, Nightmare New England – Litchfield, NH
Spooky World is just 45 minutes from Boston and features not just a haunted house but many other terrifying experiences. The outdoor attraction takes visitors to the spooky countryside to explore a whopping five haunted attractions. If you are brave enough to enter the Brigham Manor, prepare for dark hallways, screams of terror and surprises around every corner. Visitors can expect spooky surprises like chainsaws, clowns and zombies, among others. The attraction also boasts a spooky hayride from hell, which is a one-mile long journey where visitors must face horrors such as a spider-infested campground and a compound riddled with terrifying disfigured experiments.
4. The Disturbance, The Haunted Hotel – San Diego, CA
Located in Mission Valley, The Haunted Hotel is the longest running haunted house in San Diego and known as the scariest in the city. The attraction has many scary elements such as over the top heart pounding effects, the creepiest doll island you will ever come across and a unique clown subway. There are even emergency exits located throughout the house as many who enter cannot finish and luckily have the option to leave. This park is not recommended for children under 10 and visitors should prepare for up-close encounters with actors, fog machines and low visibility. Try to escape the torturous grasps of the Dissectors, take a ride on the Hellevator and try to stay in one piece through the Slaughter House at this terrifying walk-through haunted house.
3. Cutting Edge Haunted House – Fort Worth, TX
The Cutting Edge Haunted House in Fort Worth. Texas, currently holds the record for the largest walk-through haunted house in the world. Filled with live actors, mind-blowing special effects and horrifying monsters, this haunted house features multiple storylines and themes.. Part of what makes this haunted house so scary is its location which is an abandoned meat packing plant that has been turned into a human processing area. The warning on this haunted house includes things such as "You will receive electrical shocks and be enveloped by creeping fog and vapors", along with "You will be videotaped and broadcast on our website with no compensation". This is indeed one of the scariest haunted houses in the country.
2. The Beast and The Edge of Hell – Kansas City, MO
The Beast in Kansas City is one of the largest haunted houses in the country featuring elaborate sets, state of the art technology, a slew of talented actors and an open floor format. What this means is that monsters come at you from all directions, keeping you scared and jumping the entire time. Prepare to get lost in the fog, roam in the real life werewolf forest and try to find your way through the maze. Your heart may just stop on the exhilarating 4-story straight chute slide at the end. The Edge of Hell on the other hand is a converted five-story warehouse that offers old-fashioned high impact scare techniques including vampires, monsters and a real live 20-foot anaconda.These haunted houses are generally way too scary for anyone under the age of 10, or those who fear claustrophobia or snakes.
1. Kersey Valley Spookywoods – Archdale, NC
This haunted house has been running for 30 years now, instilling fear into everyone that visits and boasts the award of being the scariest haunted house in America, as voted by HauntedHouses.com in 2015. Beware that this scary property is not suitable for anyone under the age of 12 and that as soon as you drive onto the property, you are fair game for every creature that resides here. It's not just one haunted house that awaits visitors here, but a slew of back-to-back attractions that features things like psycho clowns, evil witches and trolls, a corn maze stalked by a forgotten spirit and a creepy mental hospital. Prepare for special light effects, sounds and smells, a feeling of claustrophobia and contact with liquid substances. No cameras, no flashlights and no costumes allowed in here; just a willingness to to be scared beyond your wildest dreams.