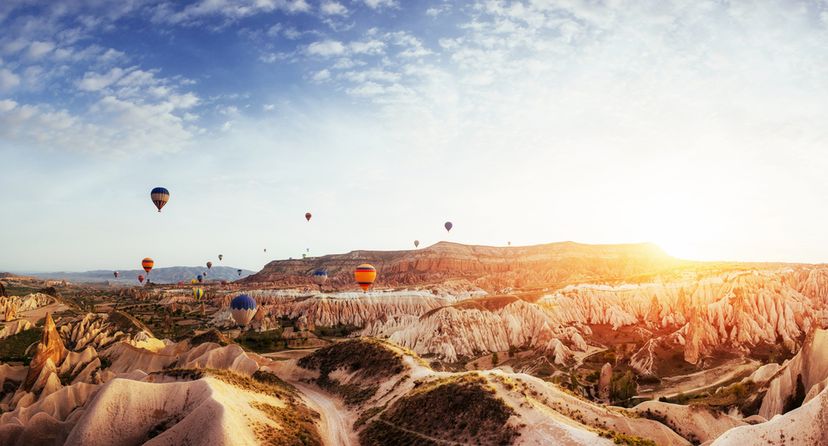 There are surreal landscapes all around the world, many which seem to be from another planet entirely and go well beyond the point of extraordinary. Many of these landscapes are just plain bizarre and seem to be a collection of detailed movie sets but they are indeed as rel as you and I. From the honeycomb homes of ancient cave dwellers in Turkey's Cappadocia to the fiery, blazing crater in Turkmenistan's desert burning for more than four decades, the following landscapes are some of the most surreal visions on the planet.
8. The Wave | Arizona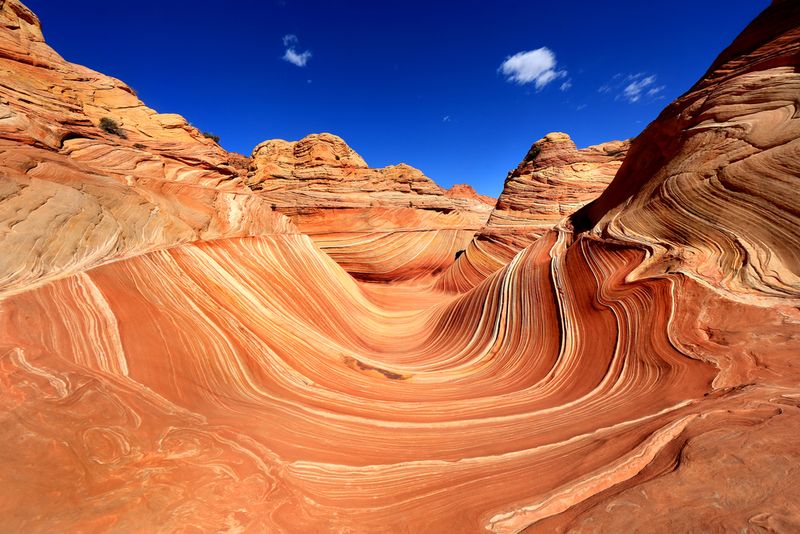 In the Arizona Strip within the area of Coyote Buttes North is The Wave, not a giant hand or anything flapping in the wind but an iconic and surreal stretch of multi-coloured sandstone rock layers that twist and turn across the landscape in an almost unimaginable and dreamlike way. The windblown formations, originally formed by Jurassic winds blowing sand dunes across the southwestern desert cemented striations creating the streaked landscape. Photographers and film makers love the location, which features the main Wave, The Second Wave, and several minor fixtures including Sand Cove, the Hooters, Top Rock Arch, Fatali's Boneyard, The Alcove, and Meoldy Arch and the Grotto. To visit this impressive landscape though, you must get a permit and that can be difficult. There are ten permits granted for each day and generally more than 150 applicants but also walk-in permits so it's not impossible.
7. Grand Prismatic Spring | Yellowstone National Park
Grand Prismatic Spring seems like a computer-generated image for it's eye-popping, vibrant colours but there's definitive science behind the U.S.A.'s largest hot spring in beautiful Yellowstone National Park. This is Yellowstone's most beautiful attraction and its most remarkable one too. Radiating high-temperature water, and astounding kaleidoscopic colours, the spring can be seen via a boardwalk running alongside of it, reachable by a straightforward walk.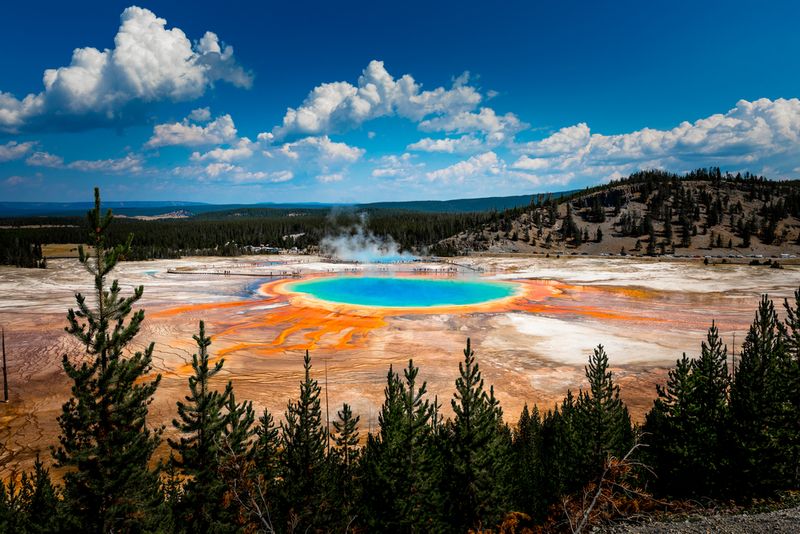 It was discovered in 1871 by the Hayden Expedition, which was the first exploration of what was discovered to be Yellowstone. After abundant research, it was scientifically determined that the colours endure because of bacteria thriving in the heat of the spring and the different colours are representative of different microscopic life forms living within the spring. To see the exceptional sight, hike to Midway Bluff where a panoramic scene unfolds of the spring and adjacent Midway Basin.
6. Red Beach | China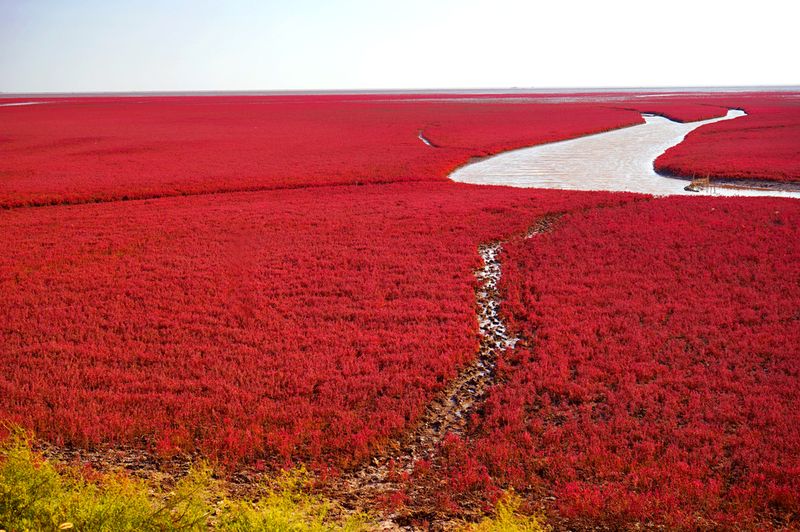 Imagine being surrounded by a sea of blood red as far as the eye can see, with only a wooden boardwalk carving through this natural and curious anomaly. Near China's Panjin City, the Liaohe River Delta holds a one-of-a-kind landscape called Red Beach. During the summer, Red Beach appears s any other, lovely water and some sea weed (called suaeda salsa) in typical green hues but come the season's change, the green sea weed across the entire stretch of beach transforms to a brilliant, fire-red colour. A large part of Red Beach is a protected nature reserve (it's the biggest reed marsh and wetland in the world) but a small part is kept open for visitors to see this astonishing change and view nearly 240 bird species living nearby. Get to Red Beach from Beijing on one of several daily trains or easily from historic Panjin City via bus.
5. Sossusvlei | Namibia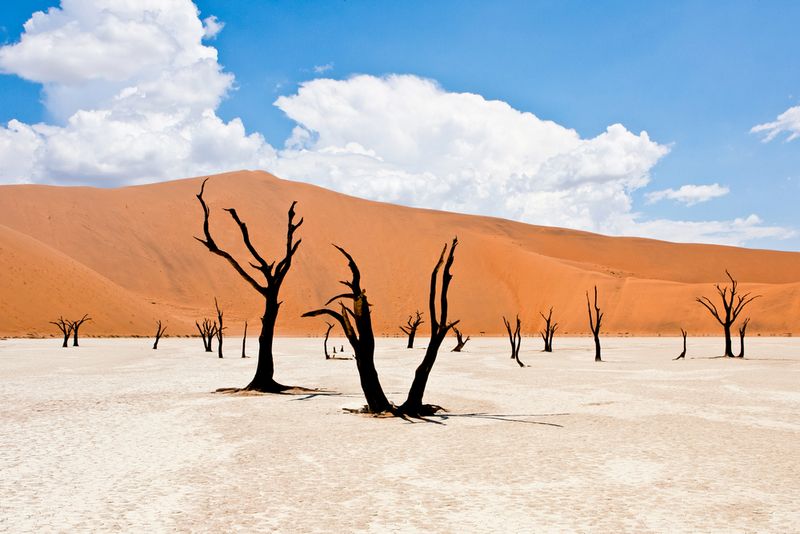 Sossusvlei is a famous salt and clay flat in Namibia in the Namib Desert's southern end within Namib‑Naukluft National Park (Africa's biggest conservation are) and enclosed by a series of massive red dunes creating spectacular contrast with the white flats and painting one of the most beautiful landscapes in the country. The dunes are some of the world's largest reaching more than 1,300 feet, providing photography buffs one of the most snap-worthy scenes on the continent. Sossusvlei translates to "dead-end-marsh," Sossusvlei's dunes create a natural dam, stopping the flow of the river Tsauchab but because of the desert's extremely arid conditions, the river rarely reaches this point, keeping the flats bone-dry throughout but when a particularly wet rainy season occurs, visitors appear from ll over the world to see the magnificent site. The flats transform into a stunning, reflective lake enveloped by the dunes, and can remain that way or up to a year.
4. Cappadocia, Anatolia, Turkey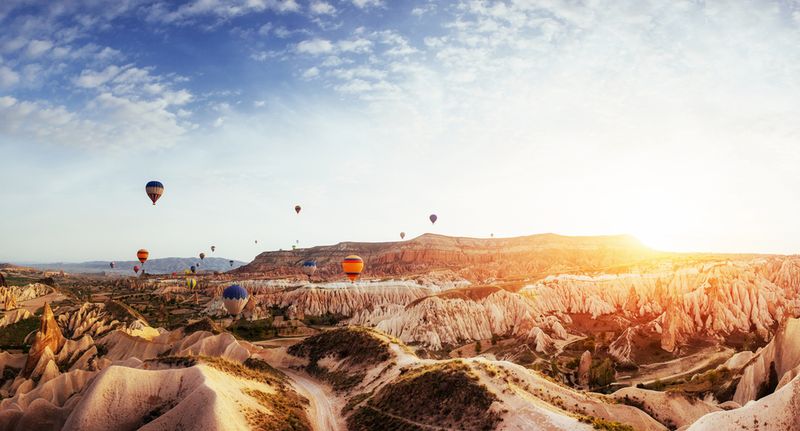 Cappadocia in Turkey's Anatolia region seems to be pulled directly out of a chimerical fairytale and set into the Turkish plains, creating a geological curiosity of lofty boulders and punctured hills and an image that's certainly ethereal. The history of humans in this part of the world though is just as fascinating as the whimsical topography–for centuries, inhabitants have taken advantage of the softness of the stones and used them to create underground shelters, leaving behind a countryside dispersed with captivating architecture. The subterranean havens of Kaymakl_ and Derinkuyu along with the rock-cut, painting-adorned shrines of Göreme are Cappadocia's most famous landmarks. Don't miss the unique opportunity of staying in one of the cave hotels to experience modern cave-dwelling at its best. Whether it's quite literally sleeping in a cave that draws you here, or the incredible hiking possibilities, it's the lunar-esque panoramas that are unforgettable.
3. Giant's Causeway | Northern Ireland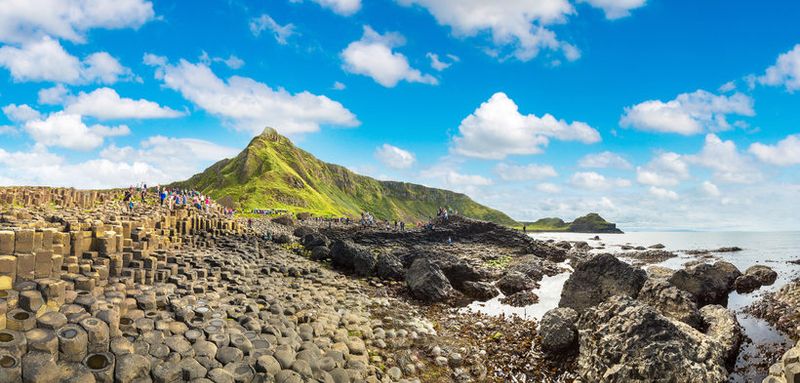 Along Norther Ireland's Antrim Coast is one of the most surreal landscapes in Europe, the Giant's Causeway, a series of more than 35,000 interlinked black basalt columns jutting out of the sea, the result of an volcanic eruption about 50 million years ago. County Antrim, home to this legendary UNESCO World Heritage marvel, sits on Northern Ireland's northeast coast, a landscape settled on lush, green countryside that touches sea under big blue skies just a few kilometers from Bushmills town. The name encouraged tales of giants stepping over the seas to Scotland. Today, the Giant's Causeway draws millions of visitors who walk the coastal stretch with a guide or independently, often climbing the nearby Shepherd's Steps, a cliff top path, reaching a summit for a bird's eye view of the mystical columns. The Visitor's Center is another vision altogether, with basalt columns, glass walls and a stunning interior designed by Heneghan-Peng, a pair of award-winning architects.
2. Antelope Canyon | Arizona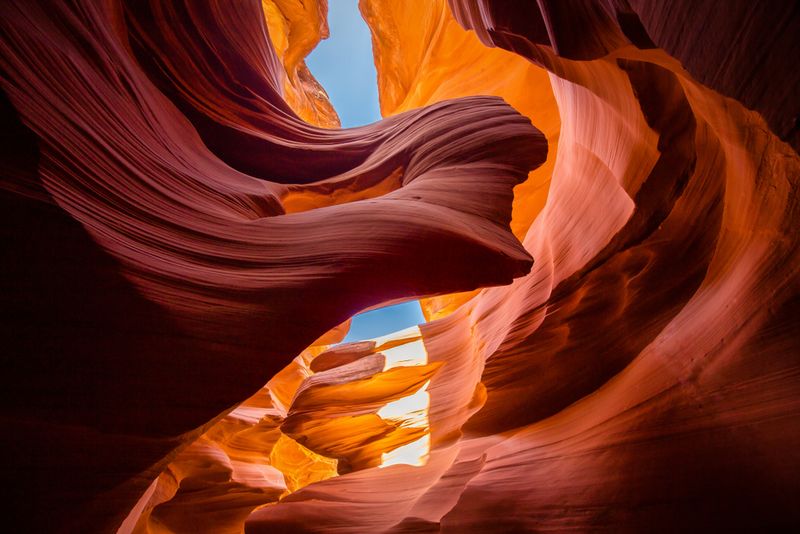 Antelope Canyon is east fo Page, Arizona on Navajo land. It's a slot canyon, a narrow gully created by centuries of wear by water streaming through rock and characteristically much deeper than it is broad. This particular canyon is an astonishing sight comprised of two distinct slot canyon areas referred to as The Crack and The Corkscrew. The canyons are the American Southwest's most treasured natural attraction, and similar to The Wave in Arizona, appear in many films and photo shoots for their incredible formation. To enter the canyon, visitors must walk through narrow and curving crevice spanning only a few feet in width. A drastic temperature change is most noticeable, dropping up to 20 degrees. The filtered sun reaching into the canyon depths is one of the most beautiful sights, creating magical patterns and shadows that are constantly changing and creating a dazzling range of colours.
1. Door to Hell | Turkmenistan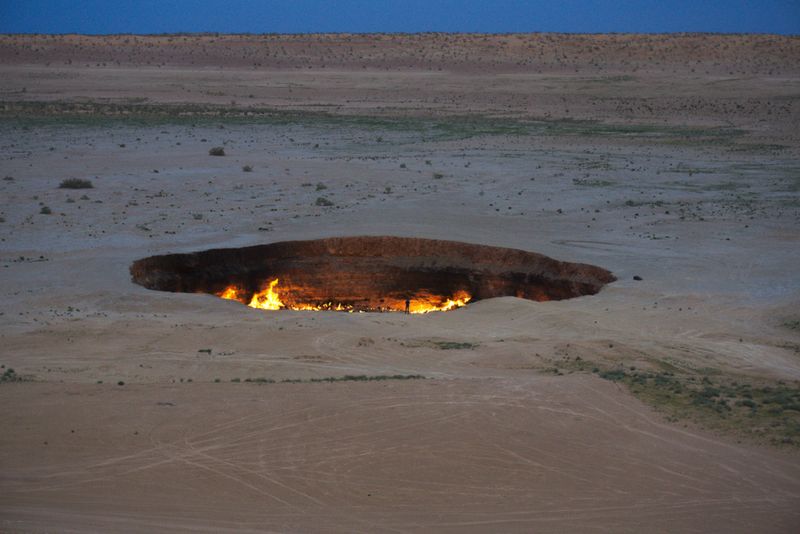 In Turkmenistan's Karakum Desert by the village of Derweze is Darvaza Crater, aka The Door to Hell, a mysterious cavern that's been burning for more than four decades. Soviet geologists discovered phenomena in 1971 when their drilling rig collapsed into the ground unexpectedly. That left a massive hole spanning more than 220 feet. The gaseous crater was thought to be poisonous, leaving the scientists to decide setting it on fire was the best way to get rid of it. The expectation was the fires would burn out in a short time yet several decades after, the fire is as strong as ever. The gas-filled, fiery crater is a visually stunning and fascinating point in a landscape otherwise dull and barren. Tour groups do make the trip as do scientists who actually suit up and bravely rappel in to collect soil samples and snap photos.