Bangkok is often referred to the best city in the world for street food and everywhere you look there is something in common; people and food. You can literally wander the streets for weeks, filling your belly until you want to burst, still trying something new every single meal. From fancy shopping malls to outdoor markets to Chinatown, this city is overflowing with street food. There is no bad thing to eat here but we have rounded up the top 8 street foods you have to try in Bangkok.
8. Pork Belly
Depending on whether you want roasted pork belly, or fried pork belly is going to determine where you get this delectable street food in the city. If you go with the roasted pork belly head to one of the Chinese-style roasters, known by the fact they also sell roast duck. The favorite among locals though comes from the Thai vendors who sell the fried pork belly, served up with a tangy and spicy chili sauce.
One of the favorite dishes that involve pork belly is crispy pork with holy basil. Holy basil is unique to Thailand and brings a fiery kick to the dish. Rumor has it some of the best pork belly comes from the vendors at Or Tor Kor market.
7. Thai Iced Tea
Food isn't the only thing that visitors can find in the city and if you are looking for something liquid, we highly suggest heading to the streets for some authentic iced tea. This sweet, thirst-quenching, delicious and refreshing drink on a hot day is bound to knock your socks off in terms of flavor and missing out on trying this would be a travesty. Thai iced tea is made from black tea that has been infused with spices such as star anise, cinnamon, cardamom and tamarind seeds.
The sweetness in the tea comes from the condensed milk and sugar that is added to the drink. The most common finish is a swirl of evaporated milk and then the tea is poured over ice. There is an abundance of tea stalls throughout the city that often add their own twist to the drink including aloe vera, grass jelly, and macaroons.
6. Grilled Fish
It's a familiar scene in early evenings; roadside barbeques begin setting up shop along Bangkok's busy streets. These makeshift barbecues are where you will find some of the best street food in the city, grilled fish. There are three common types of freshwater fish that are sold at these barbecues; tilapia (Pla Nin), catfish (Pla Duk Dam), snakehead fish (Pla Duk Yan).
The fish is first gutted than stuffed with pandanus leaves and lemongrass, coated with flour and rock salt and then grilled over charcoal. The result is perfection; just make sure to eat the meat and not the skin. The grilled fish is often served with a variety of vegetables for wrapping and chili sauce to add some heat. Head to the front of Central World Mall for some of the best grilled fish in the city and indulge in one of the spectacular street foods in Bangkok.
5. Pad Thai
If there is one thing we can predict, it is that most visitors to Bangkok will head right to the Pad Thai stalls, and that is absolutely okay as this city offers up some amazing choices. Just make sure you try all these dishes on the list, not just the delicious pad Thai. Your basic pad Thai comes complete with fried egg noodles, bean sprouts, egg, lime, chili flakes and ground peanuts.
One of the most popular places to find this dish is in the Khaosan area where a variety of stalls over different choices. The best way to find the perfect Pad Thai is to truly try them all as locals tend to stick with what they know and will only recommend places in their area. Although its cliché, the Pad Thai here is ultimately some of the best you will find anywhere in the world and it's a definite must when you are in Bangkok.
4. Mango Sticky Rice
It is perhaps the best known of Thai desserts and if you think you have tried it back home and loved it, wait until you get to Bangkok and try the real deal. The fresh mango here is the real winner in the dish, and when combined with coconut sticky rice creates the ultimate flavor. The secret to this dish is that the sticky rice is soaked in coconut milk, sugar and salt, before being soaked in pandam leaves, literally allowing the rice to take on the flavor.
Fresh mango is then sliced and put on top and drizzled with coconut syrup and either sesame seeds or mung beans. For a real treat make sure to head to the stall across the street from Soi 38, a downtown alley famous for food stalls which serves up this dish made with three different colors of sticky rice. Trust us; you will never want to eat it at home again.
3. Curry
It wouldn't be a list of street foods to try in Bangkok without the famous Thai curry on it. There is an abundance of curry stalls in the city serving up everything from red to green to penang and every other variety in-between. The greatest part about getting these curries from a street stall, they are more than likely more delicious than any high-end Thai restaurant will ever serve. Curry stands are easily identifiable in the city, with their rows of pots laid out front.
More than likely the stalls will have numerous options for curry, as well as some stir-fry dishes. Whichever curry you pick, it should come on a bed of rice and to fit in like a local make sure to use a fork and spoon to devour this delicious dish. No chopsticks necessary for this street food.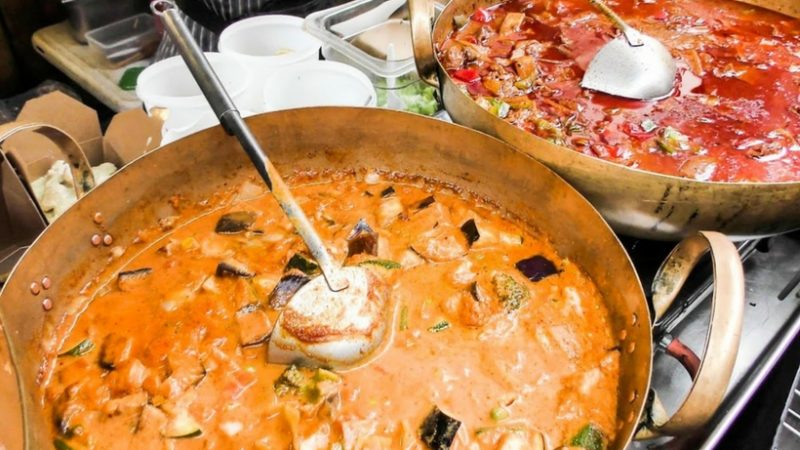 2. Sumtum
Sumtum is one of the most common street foods in the city and it's no wonder due to its absolute deliciousness. This earthy, green, crunchy salad consists of unripened papaya that has been shredded, tomatoes, garlic, chilies, fish sauce and lime juice. The varieties of somtum vary greatly and the customer is asked to choose additional flavors that are added. Authentic northeastern sumtum contains pickled crabs, fermented fish and little else besides green beans and tomatoes.
Thai sumtum, on the other hand includes tiny dried prawns, peanuts and palm sugar to give the end dish a much sweeter taste. A plate of somtum will cost you between 30 and 60 baht depending on the variety, and is best enjoyed with sticky rice. You can find numerous stalls selling delicious sumtum beneath Ratchathewi BTS station.
1. Stir Fry
It is one of the most popular street foods in all of Bangkok, consisting of pork, chicken or seafood mixed with pounded chilies, garlic and plenty of holy basil. It is normally mixed with a fish and oyster sauce creating the perfect combination of sweet and salty. Stack this all on top of a steaming mound of rice, stick a fried egg on top of it and voila, you have yourself the perfect stir-fry.
There is seemingly no bad place to pick up a stir-fry in this city, just look for steaming woks, fresh vegetables on display and an incredible stir fry should set you back no more than 30-40 baht. Simple, delicious and widely available; it is one of the most popular dishes in the city.