From stunning beaches to breathtaking views and even quaint cities, South Carolina seems to have it all. Seeking adventure is always fun but it can put some serious strain on your wallet. We did the research for you so that you can experience South Carolina for FREE. Whether you're a tourist or a true South Carolinian, here are the best free and fun things to do in this beautiful state.
1. Charleston: Visit The 1500 Year Old Angel Oak Tree
The city of Charleston has a lot to offer. Founded in 1670, the beautiful cobblestone streets offer quaint views, horse-drawn carriages, and stunning antebellum homes. However, just 30 minutes from downtown Charleston you can visit something truly remarkable, the Angel Oak Tree.
The Angel Oak Tree is 1500 years old! This magnificent tree is about 26 feet around and nearly 65 feet high. It is highly protected however locals and tourists alike can visit the tree for free. Share a picnic with your family or capture an Insta-worthy picture.
2. Charleston County: Catch Some Rays At Sullivan's Island
Sullivan's Island is located in Charleston county. It offers stunning white sandy beaches that will allow you to unwind and catch some much-needed vitamin D.
It's important to note that both pets and alcohol are banned on this beach. However, because of this, the beach is extremely family-friendly. Head to the residential streets and park for free. Then settle in for a fun beach day that the whole family will enjoy.
3. Folly Beach: Enjoy The Folly Beach Pier
If you haven't been to South Carolina before, you'll quickly learn that there is no shortage of beautiful beaches. Take another detour and head to the ever stunning Folly Beach. This beautiful beach is located just 20 minutes from the core of Charleston.
Both families and college students alike will spend time here year-round. To ensure this experience is budget-friendly be sure to avoid the pay-as-you-park lots and instead, park for free on the street. If you are willing to spend a few dollars you can enjoy a kayak or paddleboard rental or perhaps, a surf lesson too.
4. Swim, Relax And Exercise At Myrtle Beach
Myrtle Beach, located on the Atlantic coast, is one of South Carolina's hottest vacation destinations. Well known for its celebrity-designed golf courses, stunning beachfront boardwalk, and of course the beach. Myrtle Beach truly has something for everyone.
While the arcades, souvenir stands, and restaurants do require money, walking along the boardwalk and taking in the view is totally free. If you love to get in daily exercise, consider taking a long stroll or jog down the beach. If you're more of the relaxing-type bring a chair and a towel and enjoy a blissful day by the water. To make the best of your trip discover more things to do in Myrtle beach at Visit Myrtle Beach.
5. Myrtle Beach: Live Entertainment At Barefoot Landing
If you want to be entertained for FREE be sure to head to Barefoot Landing. Every Friday and Saturday evening you can enjoy live music. Don't forget to bring a lawn chair or a blanket so you can sit back, relax, and enjoy the entertainment.
Barefoot Landing also has many shops and restaurants. Feel free to window shop or spend a few dollars and treat yourself to a delicious dinner.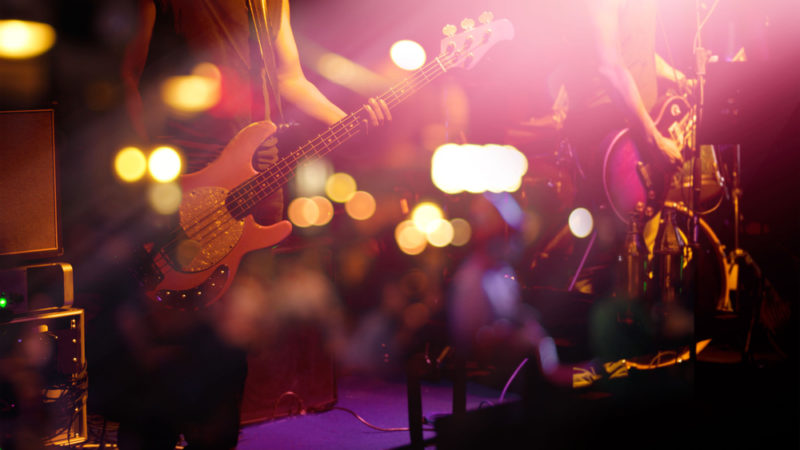 6. Murrels Inlet: Explore The Saltwater Marsh At The Marsh Walk
After you've spent a day in the sun head 30 minutes from downtown Myrtle Beach and find yourself at Murrells Inlet. This historic fishing village offers picturesque scenery that you're seriously going to love.
There are many wonderful waterfront restaurants to choose from but you can enjoy a relaxing stroll on The Marsh Walk for free! The boardwalk shares stunning views of birds, saltwater marsh and even comes alive at night with live entertainment played from surrounding establishments.
7. Murrells Inlet: Huntington Beach State Park
If you drive approximately 8 minutes down the road from The Marsh Walk, you'll find Huntington Beach State Park. The park does have an admission fee, however, it's such a small fee that we decided it still deserves to be on this list. Plus, the park offers many amenities that make the fee well worth it.
Spend the afternoon fishing or enjoy a picnic under one of the picnic shelters. You can also soak up the sun and swim at the designated swimming spot at South Beach where you'll find lifeguards posted during the summer. Further, Huntington Beach State Park offers some of the best bird-watching sites in the Southeast. If you're up for geocaching, you'll be happy to know there are several geocaches located in the park. For more information about the state park read HERE.
8. Beaufort: Explore Henry C. Chambers Waterfront Park
If you find yourself in the beautiful city of Beaufort, South Carolina, be sure to make your way to the waterfront. There you will find the stunning Henry C. Chambers Waterfront Park.
The park is open all year round and has free parking as well as free admission into the park. Spend the afternoon and bring a picnic, go fishing, and let your kids burn off energy at the playground. The park is also equipped with restrooms, and relaxing waterfront bench swings. Finally, walk along the seawall and keep your eyes peeled for dolphins!
9. Beaufort County: Enjoy Fishing & Walking At The Port Royal Boardwalk
Head 12 minutes down the road from downtown Beaufort and you'll find yourself in the quaint town of Port Royal, South Carolina. At the southern top of Port Royal, is a local favorite spot, The Sands. This picturesque beach is not only free but also allows you to drive right up to the beach and picnic right out of your car.
Spend the day relaxing in the sun searching for sharks teeth or take a dip in the water. Finish the day with a lovely stroll along the long boardwalk that features a 4-story lookout tower. Here you can take in the scenic view, check out the coastal birds, and you may even catch dolphins playing in the water!
10. St. Helena Island: Discover Fort Fremont
Less than 20 minutes from downtown Beaufort, is the small coastal city of St. Helena Island, South Carolina. Here you will find Fort Fremont. Fort Fremont, built-in 1899, was 1 of 6 fortifications that were built and designed to protect the southeastern coast during the Spanish-American War.
Visit this historic place for free and marvel at the scenic shell that remains. Keep in mind, a noticed was posted that the Fort Fremont Preserve is closed for construction. The construction is set to build an Interpretive Center, picnic pavilion, walking paths, and public restrooms. For now, you can marvel at a historic diorama at the Saint Helena Island Branch Library.
11. Walk The Longest Cable-Stayed Bridge In North America
While you're in Charleston be sure to check out the Arthur Ravenel Jr. Bridge. It's the longest cable-stayed bridge in North America and connects downtown Charleston to Mount Pleasant.
This breathtaking bridge has 8 lanes and is 13, 200 feet long. Spend the day venturing across the bridge on foot or on a bike and take in the birds' eye view of the Cooper River. The 12-foot path offers enough room for runners, walkers, and bicyclists alike to enjoy their venture across.
12. Visit Surfside Beach
Surfside Beach is a small quaint town in Horry County, South Carolina and is located just 8 miles south of Myrtle Beach. It has gained the nickname of "The Family Beach" because it has more of an amicable setting than the top tourist destination, Myrtle Beach.
Further, Surfside Beach is a part of the Grand Strand. For those that don't know, the Grand Strand is a large stretch (60 miles to be exact) of beaches on the East Coast of the United States. This lovely town offers over 2 miles of pristine beach, several parks, and many other stunning views that can all be enjoyed for free.
13. Columbia: Tour The State House
Head to South Carolina's capital city, Columbia and visit the State House. The old State House was constructed around 1790 but was destroyed in a fire during the American Civil War. However, the reconstruction began around 1875 and was completed in 1907.
In 1976, the State House was recognized as a national historic landmark for its role in the post-Civil War reconstruction era. Today, you can roam the grounds and view several monuments such as the South Carolina Soldiers Monument, Monument to South Carolina Women of the Confederacy, and many more. Further, tours of the State House are available year-round for free! Check out the full tour details as well as the history of the State House HERE.
14. Experience Stunning Views At Caesars Head State Park
If you want to experience breathtaking views be sure to add Caesars Head State Park to your destination list. The Raven Cliff Falls trail is a 4-mile hike and is one of Caesars Head's most popular trails because it leads to the scenic overlook. Here you can view the 420-foot Raven Cliff Falls.
There is an admission fee to access the trails but we decided to include this destination on our list because the fee is minuscule. Admission is only $2 for adults, $1.25 for South Carolinian seniors and children that are 15 years of age or younger are free! That small fee is well worth the picturesque views you will see.
15. Hilton Head Island: Relax And Play At Coligny Beach
You can't leave Hilton Head Island without spending a day (or two) at the beautiful Coligny Beach. This breathtaking beach has no admission fee and even has a free parking lot available.
The beach offers access to restrooms and outdoor showers. Feel free to relax on the porch swings, lounge on the sandy beach, or play ball at the volleyball courts. Coligny Beach also has a splash pad for kids and seasonal lifeguards on the beach.