When viewed from above there are hundreds of islands that look like shapes, animals and objects. What they have in common is the ability to stand out among so many in their unique features. From hearts to dolphins to a penis shaped island, there is fun to be had discovering what islands can really look like if you use your imagination. From uninhabited islands to groups of islands, here are our favorite 11 islands that look a whole lot like other things.
11. Spratly Islands, Asia
The Spratly Islands are a disputed group of more than 750 reefs, islets, atolls, cays and islands in the South China Sea and one just happens to look exactly like a boomerang. The islands here have no indigenous inhabitants, but offer rich fishing grounds and may contain significant oil and natural gas reserves, which is why these islands are in hot dispute. There are actually only four square kilometers of land with six countries staking territorial claims and the vast majority of these islands are uninhabited, closed military bases or off-limits to casual visitors. The best way to take in the shape of the boomerang is to fly directly over it, but depending on the season and flow of current, it doesn't always resemble its shape.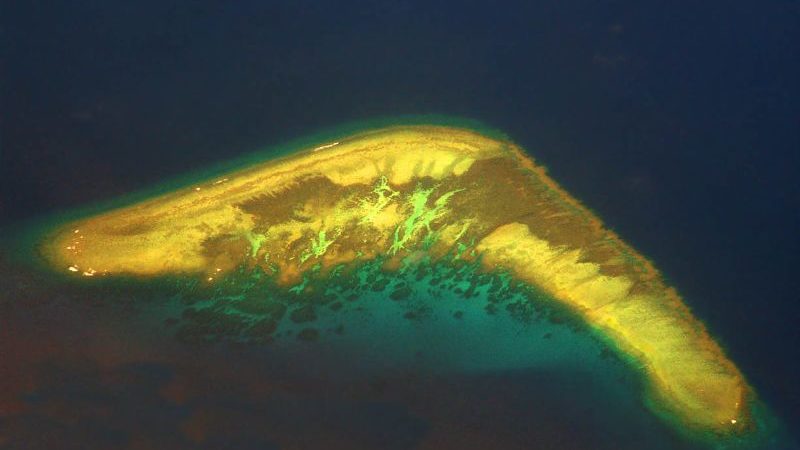 10. Tasmania, Australia
It is the first of two islands that are shaped like hearts and the heart island of Tasmania is located about 150 miles south of the Australian mainland. It is one of the most romantic places on earth with its white sandy beaches, beautiful lakes, fishing villages, rugged mountain peaks and breathtaking coasts. It makes complete sense that indeed this island than should be shaped like a heart. Boasting some of the cleanest air in the world, along with a spellbinding landscape, and just under half a million friendly locals; this island deserves to be looked at from both above and on the ground. Whether you are looking to relax on the beach or fly through the mountains, visitors certainly won't be bored here.
9. Islet of Vila Franca do Campo, Portugal
This small paradise when looked at from above truly looks like a slice of pizza, with a huge pepperoni slice smack dab in the middle. The islet is a result of the crater of a submerged volcano and an almost perfectly round lake at the center is linked to the sea by a narrow channel. It is located offshore of the larger island of São Miguel. It is actually one of São Miguel's main tourist attractions, especially since an event in the Red Bull Cliff Diving world championship was held here. It's crystal clear waters and the small but lovely beach are excellent for swimming, sunbathing, snorkeling and diving. It was once open all year round, but now the islet can only be visited during the high season, between June and September, during which a special boat service takes passengers from Vila Franca to the islet on a daily basis.
8. Crocodile Island, Philippines
The Philippines are known for their crocodiles and it should come as no surprise that they not only have an island shaped like one but the actual name of the island is Crocodile Island. This island is located near the popular beach destination Boracay and takes just 20 minutes to reach by boat. The most popular activities here are scuba diving and sailing due to the abundance of marine life. Currents can sometimes be strong in the area but this island is recommended for divers of all experience. Expect to see schools of colorful fish, moray eels, sea snakes and fan corals here. Visitors won't likely step foot on the island; instead they will dive or snorkel right off the boat that brings you here. In recent years the corals have been damaged and snorkeling isn't as good as it once was.
7. Guishan Island, Taiwan
This island is actually a volcano and just so happens to be the only active volcano in Taiwan. It also most definitely resembles a turtle with its head peaking out of the water. This island has a few claims to fame including being the largest and only island with residents in the Yilan County. Tourists love to come visit this island but in order to preserve it, the number of tourists is controlled and you must apply to come here before visiting. One of the main draws to the island is the whale watching opportunities and the marine life viewing on the island, even though there are large amounts of sulfur and acid in the air. The coastal views alone are worth visiting for and make sure to view it from a distance to get the full turtle shape experience.
6. Mavuva Island, Fiji
Sweeping beaches, crystal clear waters and lots for sale at a great price makes this island seem like a dream come true. There is only one unfortunate thing about it; it has a very…phallic shape to it. The 42-acre private island is located off the northern coast of Fiji's second largest island, Vanua Levu. It has been carved into 97 lots that are up for sale and a beachfront clubhouse, restaurant, bar and organic garden are all part of the development. The island sits in protected coral lagoon and is home to an abundance of marine life. Although many will find building a dream home here on this male genitalia-shaped island, offensive; others snap up the bargain lots on this phallus-shaped island.
5. Molokini Island, Hawaii
This crescent-shaped, partially submerged volcanic crater that forms a small islet just happens to look just like a crescent moon. This carefully protected Marine Life Conservation District is also a Hawaii State Seabird Sanctuary. It is considered one of Hawaii's premier dive spots as the unusual shape protects divers and snorkelers from strong currents and large waves. What awaits divers is crystal clear waters teeming with over 250 species of fish and the chance to see the gentle gigantic whale sharks. More experienced divers can head to the underwater wall area down 70 feet while beginners can dive 35 feet into the crater basin. Visitors aren't actually allowed to walk on the island and fish are not allowed to be caught.
4. Dilumacad Island, Philippines
This island found in El Nido, Palawan catches the eyes of many due to its unusual shape. When viewed from a distance the limestone cliffs resemble the shape of a helicopter, without the propeller. The island is home to a beautiful white sand beach that stretches some 300 meters as well as dark green rainforests and towering cliffs. At the northern side of the island there is an amazing underwater tunnel and the southern edge gives way to a fringing reef. Many island hopping tourists find paradise on this amazing island and choose to picnic of the long stretch of sand, while relaxing in the shining sun.
3. Sirenuse, Italy
Known as Li Galli or Sirenuse, the dolphin-shaped archipelago is located off the beautiful Amalfi Coast in Southern Italy, between the Isle of Capri and the village of Positano. Sirenuse got its name after the Greek mythology's Sirens who were believed to have visited the islands frequently tempted Ulysses on his way back home with their enchanting voices. The island has had many owners and most recently was bought by Giovanni Russo, a Sorrento hotelier who spent 15 years and millions of dollars restoring it. Besides using it as a private residence, Russo has also made the villas available for private rental and employs a staff and a launch to take guests to and from the mainland. Although members of the public cannot land here, they are welcome to swim in the surrounding waters.
2. Isabela Island, Galapagos, Ecuador
Isabela Island is considered the largest island in the Galapagos archipelago with an area of 4,640 square meters and the youngest among other islands as it was only formed about one million years ago. This island truly looks exactly like a seahorse and there is no second guessing what it is when looked at from above. Isabela Island is home to about 1,800 residents who make their living by fishing, farming and tourism. Visitors to the island love to watch the 16 species of whales that live nearby and dive into the waters with sea lions, sharks, stingrays and more at one of seven dive spots located off the shores. Another interesting fact about this large island is that it is home to more wild tortoises than all the other islands combined, with a separate species on each volcano.
1. Tavarua, Fiji
This teeny tiny island in Fiji is shaped like a perfect heart, ringed with white sand beaches and surrounded by a coral reef. Measuring only 29 acres in size, it is hard to believe that Fiji's most iconic surf resort is here. This spot has been visited for a long time by surfers who journey here to catch world-class waves, although it wasn't until 1982 when the island was truly discovered. There is no shortage of activities to do here including swimming, surfing, kayaking, sport fishing, scuba diving and snorkeling. The resort is made up of six cabins and visitors rave about the friendly local staff, great food and incredible surfing spots.