Canada is blessed from coast to coast with incredibly beautiful and unique university campuses. While some feature historic buildings and castles, others are blessed with lush landscapes and an abundance of flora. Canadian universities have done their part to keep up these beautiful landscapes and as more modern buildings are created, they are done so in environmentally friendly ways. From the bustling metropolis of Montreal to the quiet paths of Thunder Bay; here are our top 10 choices for the most beautiful university campuses in Canada.
10. McGill University -Montreal, QB
McGill doesn't just have one beautiful campus but two, both of them gorgeous in their own ways. The downtown campus features the lush greenery from the slopes of Mount Royal, combined with over 70 state of the art buildings. Macdonald Campus on the other hand is located on the very tip of the island of Montreal and features 100 year old buildings, numerous bike and walking paths, an awesome arboretum with skiing trails and just steps away from the mighty St. Lawrence River. Expect buildings here that have commanding stone walls, copper roofs, impressive stained glass windows, concrete plazas that have been turned into gardens. A shuttle runs between the two campuses and no matter where you study, or visit, it will be downright beautiful.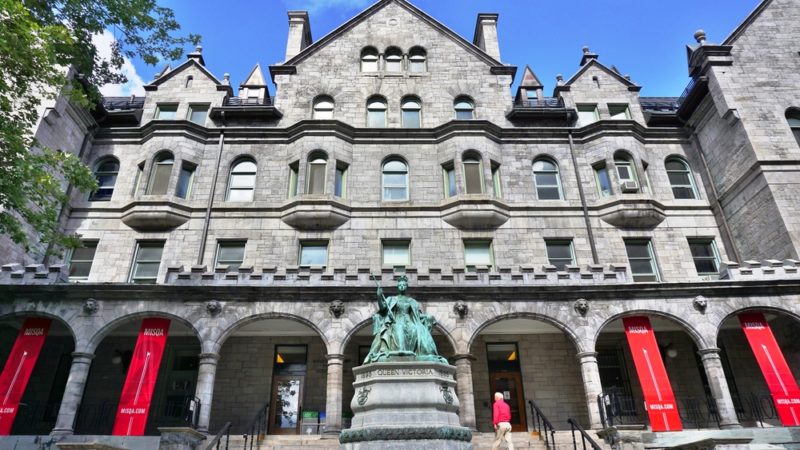 9. University of Toronto -Toronto, ON
The University of Toronto offers three different campuses but it is no contest when it comes to which one is the most beautiful of them all. St. George's campus is located right downtown and manages to blend incredible historical architecture with green space. Visitors should make their way to Victoria College and check out the Old Vic building, the oldest of the college and perhaps the most beautiful. Head over to University College, the founding college of the University of Toronto and check out Laidlaw quadrangle, which looks more like a medieval courtyard than a university campus. The Mississauga campus on the other hand is located on 225 hundreds acres of protected green space on the Credit River and provides a beautiful background for students and visitors alike.
8. Queen's University -Kingston, ON
Think limestone buildings, stunning architecture and waterfront; as that is exactly what Queen's campus offers students and visitors. Fall is one of the best times to visit this campus as the leaves turn into brilliant shades of red and orange, making for a striking scene against the historic buildings. Students here spend a lot of time at Douglas Library and it's not hard to see why, as not only is the building stunning but it features a pretty awesome fourth floor which houses a "Harry Potter" room. Although this campus isn't as large as others on this list, the students and faculty make up for that as school spirit is high. Part of what make this campus so beautiful is the sense of community that is felt; expect to see a lot of blue, red and gold worn around campus as students show off their school spirit.
7. Western University -London, ON
Western offers the best of both worlds, historical architecture mixed with modern buildings and amenities. The campus is situated along the banks of the Thames River in London and offers trails both throughout the campus and along the Thames River. London isn't the most exciting city on this list which means that students have created their own fun and expect to see them whipping down University Hill on skis and snowboards in the winter. The gothic style buildings have been restored to remain charming while the insides have been renovated, giving students the best of both worlds. This university also signed a pledge a few years ago to transform the campus into a model of environmental responsibility. Plans are in the works to add more buildings to this campus and expect great things in the years to come.
6. Bishop's University -Sherbrooke, QB
This small liberal arts university in the tiny town of Sherbrooke offers a lot in term of beauty. Founded in 1843 the goal of this university is to educate the whole person, not just focusing on one subject. The campus is spread over 500 acres, at the junction of the St. Francis and Massawippi rivers and features some of Quebec's most historic buildings. Many weddings are held at this university campus as St. Mark's cathedral provides and absolutely stunning setting to say "I do". This historical chapel features intricate woodwork inside and beautiful stained glass windows. McGreer Hall is the oldest building on campus and stands out as a stunning red castle like building, which looks even more amazing when white snow surrounds it. School spirit and community only adds to the beauty of this school and students who attend Bishops make lasting friends and family.
5. Mount Royal University -Calgary, AB
Mount Royal has a beautiful campus, there is no denying that, especially during the warm seasons when the ponds are shimmering and the gardens are blooming. One of the most notable features of this campus is the outdoor amphitheatre where the students and the community can gather for events, such as plays and concerts. Mount Royal is working hard to do their part in being environmentally friendly and in 2006 opened its first certified LEED building, and has since dedicated to making every new building on campus LEED certified. Make sure to head to the Taylor Centre for the Performing Arts, a beautiful modern looking building in which you can take in a fabulous performance or take some time to reflect in one of the many green spaces throughout the campus.
4. McMaster University -Hamilton, ON
Located in the residential neighborhood of Westdale in Hamilton, Ontario; McMaster is beautiful both inside and out. There are amazing trails to be found throughout the campus and in the surrounding areas, as well as conservation areas and a plethora of waterfalls to explore. The main campus itself is both bicycle and pedestrian friendly with wide paved paths throughout, making it easy to get from one place to another. Make sure to have lunch at the Refectory, one of the original buildings on McMaster, as the top floor features a restaurant that looks over a beautiful treed ravine. One of the highlights on this campus is Cootes Paradise, a wildlife sanctuary owned by the Royal Botanical Gardens which features an abundance of flora and fauna. With a mix of original architecture, new buildings and lush landscape, this university is downright stunning.
3. Lakehead University -Thunder Bay, ON
Lakehead University has two campuses, one based in Orillia and the other in Thunder Bay and it is here in Thunder Bay where you will find one of the most picturesque campuses in the country. Spread out over 116 hectares, under the steep cliffs of Sleeping Giant Provincial Park, this campus features 39 buildings and an abundance of green space. What you won't find here is the rows upon rows of historical buildings like many of the campuses on this list. Instead you will find stunning nature, all around you. Buildings were designed with floor to ceiling windows so both faculty and students could feel like they were outside. With gardens overflowing with beautiful flowers and Lake Tamblyn running through the campus it is easy to see why in the warm months, classes are often taught outdoors.
2. University of British Columbia -Vancouver, BC
It is arguably one of the most beautiful university campuses across the country with incredible surroundings and breathtaking views. The Vancouver campus is located at the western tip of the Point Grey Peninsula, surrounded by forest, ocean and mountains. Getting to downtown Vancouver takes just twenty minutes and there are numerous beaches just a short distance away. To add to this awesome campus are the ultra cool buildings situated here. Visitors should definitely head to the UBC farm and check out the yurt, one of the only yurts on a university campus in the world. The library is light and airy, featuring literary quotes on the outside of the building while the Djavad Mowafaghian Centre for Brain Health is sleek and modern with glass windows and a unique shape. Whether you are viewing this campus by air, walking through it or attending as a student, it is simply breathtaking.
1. Royal Roads University -Victoria, BC
Up until 1995 this University was actually a Military College and features an impressive main building, the Hatley Castle. The castle was completed in 1908 and was once meant to house the Royal Family, but instead they remained in the UK as the world was at war. Lucky for students and visitors alike, this campus is now a public university spread over 260 hectares of parkland with incredible surroundings. Walking through this campus gives visitors gorgeous views of the Strait of Juan de Fuca and the impressive Olympic Mountain Range. Walking, hiking and biking trails wind throughout the campus and you will come across an incredible Japanese Garden, among other hidden treasures. The entire campus is a part of the Hatley Park National Historic Site and between the incredible buildings and extensive gardens; it is clear why this truly is the most beautiful campus in the country.