Indoor water parks promise endless summer, a perfect getaway as the winter months are quickly coming. These water parks are only getting bigger and better, featuring huge wave pools, wild water slides, ziplines, arcades and even spas inside. From Niagara Falls, Canada all the way to Galveston, Texas we have rounded up 15 incredible indoor water parks across North America.
15. Splash Lagoon Indoor Water Park -Erie, PA
This park is loaded with a ton of water slides and rides, along with a tropical colorful atmosphere that sets the stage for the perfect getaway during the long cold winter months. At just over 100,000 square feet, Splash Lagoon is full of exciting thrill rides for the adventurer. Among the unique features here are two bowl rides, The Cyclone which accommodates one and two rider tubes and Hurricane Hole, which sends you flying down at over 40 mph. Watch out for the tipping bucket on top of Tiki Tree House which dumps on unsuspecting riders on the The Cyclone. If you are looking for something a little more relaxing head on over to the Frog Pond Whirlpool where giant lily pads, tall amphibians and splashing fountains set the stage. A large arcade, mini-free fall ride and onsite restaurant compliment this awesome water park.
14. Schlitterbahn Indoor Water Park -Galveston, TX
Although this water park is an outdoor park most of the year, it actually transforms into an indoor park during the colder months and with over 70,000 feet of indoor play, it is one of the best in North America. With four tube slides, three speed slides, a heated pool, a man-made wave and a tidal wave river, there is no shortage of things to do here. The Torrent River is a favorite among visitors as it sends inner tubers along a quarter mile long, 20 foot wide wave filled river, twisting and turning riders throughout. Kids will love their own beach section that is full of tipping buckets, a beached boat, smaller slides and spraying jets. Although this indoor water park is one of the smaller on the list, it deserves recognition for the ability to change from an outdoor park to indoor park, and still offer amazing fun.
13. Palmetto and Palm Water Parks at Dunes Village Resort -Myrtle Beach, SC
There are actually two water parks located at the Dunes Village Resort in Myrtle Beach and guests to this resort get access to both. Palmetto caters to the younger guests with a 250-foot lazy river, a Kiddie Adventure pool with tons of spray features and a lagoon pool with basketball nets. Adults will also enjoy this park with two water slides and two hot tubs. Over at Palm Water Park there is something for everyone to enjoy including a lap pool, teen pool, three hot tubs and more. The Wild Winding Slide and Speed Slide are there for the more adventurous riders. Little ones will love the Silly Submarine, a water play structure that is loaded with spraying water features. The parks are open from 9am-11pm and while there are no lifeguards on duty, there are attendants at the top of each slide to ensure each rider descends safely.
12. Fallsview Indoor Waterpark -Niagara Falls, Canada
It boasts itself as the largest indoor water park in Niagara Falls and visitors will delight in the sheer number of thrilling water slides here. A total of 16 water slides make up this water park, along with a massive wave pool, adult-only whirlpools and a massive beach house play area. From extreme racing slides where riders will shoot down on mats to four different tube slides and one gigantic super bowl; there are enough slides to keep any adrenaline junkie happy. Planet Hollywood Beach Club is the perfect place to grab a bite to eat and is located on the main floor of the water park. Little ones can head to the Tiny Tots Splash Park where they can swim, splash and slide down kid-sized water slides. Don't forget about the year-round outdoor sun deck which is heated in the winter and operates an outdoor pool in the warm months.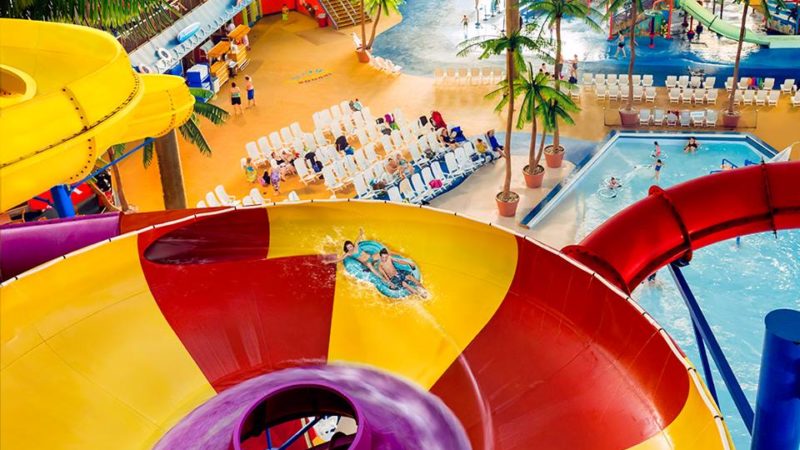 11. Avalanche Bay Indoor Waterpark -Boyne Falls, MI
Michigan's largest indoor water park resort offers plenty of thrills and excitement for the whole family. Always at 84 degrees and open all year around it is easy to make your way here any time of the year, especially in the cold winter months when you are looking to escape the cold. One of the latest additions to this park is The Big Couloir, a water slide which begins in a capsule and shoots riders down a narrow tunnel into a super loop, with powerful g-forces keeping them glued to the sides the entire time. The lazy river on the other hand will lead riders throughout the park, while flowing water features hide around corners. The amazing 800-gallon water avalanche though is perhaps the highlight of this park and when the horn blows you will want to look out below! This climbing structure with its bridges, buckets, slides and climbing wall provides hours of endless fun.
10. Klondike Kavern at Wilderness Resort -Wisconsin Dells, WI
This indoor waterpark offers over 65,000 square feet of water fun for all ages. Guests to this water park rave about the famous Hurricane, a ride that sees riders whip down a 45-degree angle in a four person raft, scoot across a funnel at 20 mph, experience weightlessness and then drop into a splash pool. This ride is made even better with sound effects, fog and strobe lights. For those wanting a little less excitement, head over to the lazy river or the indoor hot spa. Little ones will love Bonanza Bluff, a huge structure that features over 50 squirt features and smaller slides, all situated in a shallow pool. A new ride is currently under construction here and promises to combine exciting water sliding with video game technology.
9. Chula Vista Resort -Wisconsin Dells, WI
Wisconsin Dells is known as the water park capital of the world and Chula Vista is among one of the best indoor water parks in all of North America, and perhaps even the world. The most loved attraction at this park is the Fly'n Mayan; an uphill water coaster that is designed to take riders throughout the park on an exhilarating ride. It prides itself on being on the longest and fastest uphill water coasters in the world! The Jungle Adventure complete with lights and sounds is also one of the famous rides here, a bowl ride that will leave you breathless. The never-ending tropical lazy river is great for relaxing while the oversize wading pool is perfect for little ones to splash around in.
8. Kahuna Laguna at the Red Jacket Mountain View Resort -North Conway, NH
It is New Hampshire's largest indoor water park and features over 40,000 square feet of fun and excitement. This water park has gone all out to bring the tropics indoor and comes off more like a large tiki hut with its colorful decorations and faux palm leaves. There are only four water slides here, two tube slides and two body slides, totaling 900 feet in length, which means you will want to try them all out. The 67,000 gallon wave pool is one of the highlights of this water park, with three patterns of powerful three foot waves, perfect for those who want to body surf. The pool also features two waterfalls and is no more than five feet in depth. The Adventure Tower teems with slides, sprayers, rope bridges and one huge tipping bucket, which anyone of any age can enjoy. At the end of the day make sure to head over to the adult and kid 25-person hot tub that overlooks the entire water park.
7. Big Splash Adventure Indoor Waterpark -French Lick, IN
A retractable roof covers this awesome 40,000 square foot indoor water park, which means whether it is hot or cold outdoors, visitors here can enjoy this space any time of the year. With an abundance of pools, tube slides, body slides and over 50 interactive features; there won't be any time to be bored. Favorite activities here include the Treasure Lagoon Vortex, a round pool with fun whirling water, as well as the Jolly Roger Jetty, a tube ride that takes riders through seven curves and can accommodate both single and double inner tubes. The Splish Splash Pool has been designed for the youngest of visitors, and they can choose to sit in the swings and bounce until their feet hit the water, or slide down the mini slide.
6. Wings & Waves at Evergreen Aviation & Space Museum -McMinnville, OR
This ultra-cool water park is both a water park and an educational experience, but don't fear, kids won't even know that they are actually learning because they will be having so much fun. The water park includes 10 water slides, 91,000 gallon wave pool and a Boeing 747 plane on the roof. Kids are encouraged to learn about water by building tsunami-proof models in the classrooms and then test them in the wave pool. A favorite of visitors here is climbing the 111 stairs up to the plane and then sliding down one of the four water slides, one of which drops a total of six stories. Aquaplay is a favorite among young visitors as the structure is loaded with smaller slides, water guns, spouts, valves and a 300 gallon firefighter bucket that drops on you. Trained and certified lifeguards are on duty at all times at this incredible and educational water park.
5. Water Park of America -Bloomington, MN
It is one of the biggest and the best water parks in all of North America, hence the name and it certainly doesn't disappoint in terms of activities. It houses the tallest indoor water slide in all of America, stretching 100 feet into the air, along with a scenic and relaxing lazy river, indoor arcade and the Lake Superior Wave Pool. The 7th Floor Body Slides are among the favorites here as riders can race each other as they travel down twin body slides that actually go outside the building before a final splash. Friends and families should check out the Family Raft Ride, at over a mile long and 10 stories high, this ride offers tight turns, big splashes and lot of laughs. Learn how to body board, shoot a game of hoops in the pool or take the little ones to the zero depth activity pool where they can safely splash and slide.
4. World Waterpark, -West Edmonton Mall, Alberta
It is home to the world's largest indoor wave pool and more than 17 unique water slides and play features. World Water park is also home to two high water slides, both 83 feet high, and favorites of all visitors. The Cyclone is perhaps the most well known water slide here as it is one of the most extreme slides in all of Canada, where riders enter into a capsule and fall straight down, into a gravity defying loop and ending up in a splashdown chute. The world's largest permanent indoor zipline is also found here and riders will zip across the water park, over the wave pool and end up near the children's play area. Speaking of the little ones, World Water park is home to an awesome kid's area with plenty of water cannons, buckets, rope bridges, slides and pipes to play with.
3. Great Wolf Lodge -Niagara Falls, Canada
The fun never stops at Great Wolf Lodge in Niagara Falls, especially at the indoor water park that offers thousands of square feet of non-stop fun. From tube rides that can fit the whole family to body slides to an uphill water coaster; the whole family will enjoy this park. The Rapids Run tows tube riders up and sends you plunging down a 15.8 meter vertical drop, along with zipping you through enclosed tunnels and around thrilling curves. An indoor wave pool, lazy river, a multitude of slides and specially designed play areas for the little ones makes this one awesome indoor water park.
2. Wild West at Wilderness Resort -Wisconsin Dells, WI
It is the largest indoor water park of four that is located at Wilderness Resort, spanning over 70,000 square feet. Thrill rides are the highlight of this water park, with The Black Hole being at the forefront. This thrilling slide has a huge descent followed by spins and turns, before dumping riders into the unknown. A 4-person raging raft ride provides plenty of laughs and thrills. The four-storey interactive play feature is loaded with body slides, water blasters, cannons and one gigantic tipping bucket! The indoor bumper boats are fun for the whole family where you can battle it out against both family members and other visitors. For a more relaxing activity, make sure to visit the indoor and outdoor hot springs.
1. Kalahari Water Park at Kalahari Resort -Sandusky, OH
It hails itself as being the largest indoor water park in all of America and at 173,000 square feet, we don't doubt it is. Kalahari Resort is an African themed resort and throughout the water park this theme stays true with ride names such as Zig Zag Zebra, Cheetah Race and Crocodile Cove. A 920 feet lazy river runs throughout the park crossing through waterfalls and rapids while thrill seekers can head over to Zimbabwe Zipper where they can reach 40mph. A 12,000 square foot wave pool, kids only play area, tons of exhilarating water slides and indoor whirlpools all make up this awesome water park. An uphill water coaster ride and the two FlowRiders are among the most loved activities here. No matter what the weather outside is like; you can certainly play all day here.