Traveling with children presents challenges, no matter what stage of the game you're at. Traveling with little ones means preparing for anything by packing nearly everything you own; traveling with teens means trying to find cool experiences and activities that will give them the right balance of independence and convince them to put their phones down. Oh, yeah and that aren't totally lame.
7. Hotel Del Coronado- San Diego, California
This beachfront resort near San Diego has something for everyone in your family, including your teen. Teens can take advantage of surfing and paddleboard lessons, or rent a bike and explore the area. Every weekend in the summer, there is a teen pool party at one of the pools, open to teens 13 to 17 years old (sorry, no parents allowed!), complete with games, a DJ and snacks. There are also teen Dive-in movies, so they can watch some of their PG-13 faves under the stars or while floating on a pool noodle.
6. Lapa Rios Eco Lodge- Puerto Jimenez, Costa Rica
If your teen loves to give Mother Earth a hug, taking a vacation at an eco-lodge surrounded by flora, fauna and lots of wildlife may be just the ticket. Lapa Rios is located right in the midst of the rainforest on their 930 acre reserve. Daily activities include guided nature hikes, and ecological educational experiences. Nearby, visitors can arrange for boat tours in the mangroves, dolphin and whale watching, surfing or kayaking.
5. Lake George- Glens Falls, New York
Does your teen prefer shopping, the beach or screaming on a roller coaster? Why not do all three? Scenic Lake George, located in the Adirondacks, is jam-packed with action and activity. It's the kind of town where a stroll down main street means running into something else to do. There are loads of cool restaurants, mini-golf, haunted house attractions and much more. Hit the Six Flags Amusement Park for the day- and don't forget your bathing suit for the waterpark. Unwind for the day on Lake George's Million Dollar Public Beach, which provides some million dollar views of the surrounding mountains. There is also great shopping in Lake George for your teen who covets name brands, with an extensive network of outlets.
4. Hawks Cay Resort- Duck Key, Florida
Located in Duck Key, about mid-way down the Florida Keys, Hawks Cay is a sprawling resort on a key unto itself, with plenty to keep your teen entertained. At the center of the resort is a man-made lagoon, with plenty of water activities like snorkeling, paddle boarding, windsurfing and kayaking. A highlight for sporty teens is the Indies club that has basketball courts, putting greens, volleyball court and a full-size soccer and football field. There is a "Teens Night Out." from 9 pm to 11 pm nightly, where teens can hang out and play in the games room.
3. Royal Caribbean, Oasis of the Seas- Bahamas Islands, Caribbean
Cruises are a good choice for teens because of the wide variety of activities that are going on at any given moment. And if choice of activity is key to a teen's enjoyment of their vacation, than Royal Caribbean's Oasis of the Seas fleet is "the" spot. There is a skating rink, zip lining, rock climbing, surf simulator, arcade, mini golf, 3D movie lounge, teen lounge and disco. And that's not including all the things they can do once in port! Try cruising more low key, but still vibrant excursions like the Bahamas. This way the trip doesn't require as much planning as further international expeditions, but still involves some great cultural indulgences and adventurous ports for the kids and adults to explore.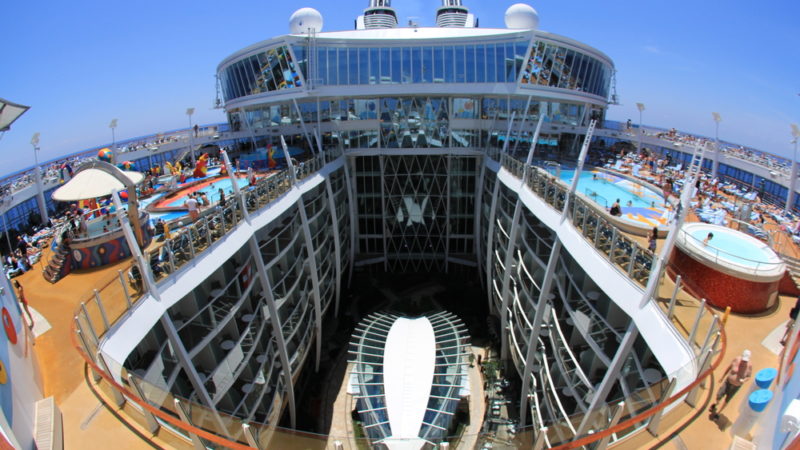 2. Jay Peak- Jay, Vermont
Jay Peak's village at the base of their mountain is an excellent spot for teens. The village is fairly self-contained. Being able to have this kind of pedestrian atmosphere is great for parents (they can know where their kids are) and teens can enjoy some of that independence that they crave while in a controlled environment. In the winter, there is skiing, obviously, along with a host of other winter outdoor activities. Available year-round is the indoor waterpark, the Pump House, which offers a number of different raft water slides, a surfing simulator, and a slide with a huge vertical drop. There is nothing lazy about their lazy river. Attached to the waterpark is an arcade. Onsite in the village is the Ice Haus, where there is skating available year-round, complete with skate rentals, if you forgot yours at home.
1. Beaches Resorts- Providenciales, Turks and Caicos & Negril and Ocho Rios, Jamaica
All-inclusive resorts are often a good choice of teens, and the Beaches family of resorts are particularly good. They have games rooms with a good selection of games and organized activities. There are arcades, music and a great tagline: "Teens do whatever they want; your parents paid the bill, so from here on out, everything's included".