A large swath of Europe's landscape is occupied by the Balkan Peninsula, one of the continent's oldest and largest settlements. Natural wonders and historic landmarks dot the territory, merging with unique culture, making it a popular destination with people from around the globe. From untainted beaches to towering mountains, luxurious resorts to ancient buildings, tempting dishes to homemade brews–the Balkans will draw you in, surprise you, excite you, and ante up abounding and unforgettable hospitality. From Albania to Macedonia and breathtaking Serbia, a journey across the Balkans offers a unique angle on Europe.
9. Bitola | Macedonia
Bitola is the second largest city in Macedonia yet the atmosphere feels so much more small-town than anything large. Sophisticated and charming, central Bitola is an easy place to get around, the food is fresh, uncomplicated, and tasty, and the locals have an easy, friendly way about them. Bitola has a handful of attractions to engage you easily for a few days. Sirok Sokak Street is the main artery, a lively backdrop of bars, restaurants, and shops lining the pedestrian-only, broad lane. Café culture is full-blown, creating endless opportunity for people-watching. Macedonian's, along with the rest of the Balkans, love chatting over coffee, showcasing a social and relaxed way of life. Historical sites also abound, from fetching mosques to the imminent Clock Tower visible from all across the center of the city. The 15th century enclosed Bazaar, imposing Church of Sveti Dimitrij, and views from Bitola's towering position at the base of Pelister Peak, the city is filled with appeal.
8. Belgrade | Serbia
Belgrade is Serbia's most celebrated capital where layers of history, abundant cultural points, and a party almost each and every night has given the city an appealing reputation. Proud, outspoken, and adventurous, Belgrade is one of Europe's most lively capitals, and though it's more gritty than pretty, the rolling city hills showcase immense charm. Slowly, things are changing from good to better with plenty of gentrification happening citywide, seamlessly pairing with Hapsburg leftovers, art nouveau mastery, and socialist quarters, all dramatically contrasting with relics from the Ottoman empire. In Belgrade, the renowned Danube meets the Sava River where parkland unfolds alongside chaotic urban sprawl. A new world is evolving while keeping the old within its clutches. Quirky sidewalk kiosks, magnificent coffeehouses, and restaurants passed through generations flank Knez Mihailova, a vibrant pedestrian avenue lined by historic buildings leading to Kalemegdan Citadel, the city's crown jewel.
7. Kotor | Montenegro
Magic seems to carve through every crevice of Kotor, Montenegro on the stunning Adriatic Coast. Enfolded in the Bay of Kotor's south side, the city is enveloped by panoramic mountain scenery. Charm and authenticity are more than evident here, even with swaths of people spilling into the city during the later summer months, flocking to Kotor's medieval and divine Old Town. Tucked between Kotor's unpredictable bay and lofty mountains, the town of Kotor is ideally at one with its comely backdrop. History here began in the 9th century, evident in old buildings wedged together in one perfect assembly. At night, Kotor's walls are spectacularly illuminated, seemingly protecting the treasures within–labyrinthine lanes of marble, small family-run shops, drool-worthy restaurants, and animated bars set around clandestine colonnades. Marina's are crowded with the yachts of the super elite in warm weather but there's no real downside–decent swimming conditions are lacking–any true history, romance, or architectural enthusiasts will have a hard time finding the heart to leave.
6. Split | Croatia
Croatia's second biggest city, Split is one of the most profound of all European cities showcasing abounding ancient ruins. Traditionally one of the main ports for visiting the Dalmatian Islands, it's become more of a destination than merely a gateway. Split has blossomed, and beautifully so, offering very much to fill the curious mind. Planning in the city has been fruitful with plenty of new, elegant hotels and trendy restaurants and with Krka National Park and the Mosor Mountains close by, the list of possible endeavors is plentiful. As the Riva (seafront) gets an old look updated by marble, the journey into Split is even more impressive and the atmosphere along the old walls immeasurable. Authentic Dalmatian life is at its best here, and always lively, it perfectly balances tradition with vicissitude. The UNESCO World Heritage Site Diocletian's Palace is one of the most dramatic of Roman testaments and more than enough to wow even those who have "seen it all."
5. Ohrid | Republic of Macedonia
Ohrid is one of those must-see places, a traveling cliche but a truth nonetheless. If in Macedonia, it is the place to go. Sitting on the sidelines of dramatic Lake Ohrid, Europe's deepest, oldest, and most endearing lakes, it's one of the Balkans' most prominent summer resorts. Glorious Ohrid is Macedonia's crowning jewel, stunning historic churches lining a rolling hill in the ethereal Old Quarter topped by ancient St. Jovan Kaneo, and with close by Gali_ica National Park and the not-so-distant and fairly isolated beaches on the lake's east side, there's not much to complain about. Most of Macedonia seems to make their way to the lake between mid-July and mid-August. From that point, nightlife is utterly chaotic and prices skyrocket–best to visit outside of the festive season. May and June, or late summer and early Fall are excellent, and far more quiet, times to visit.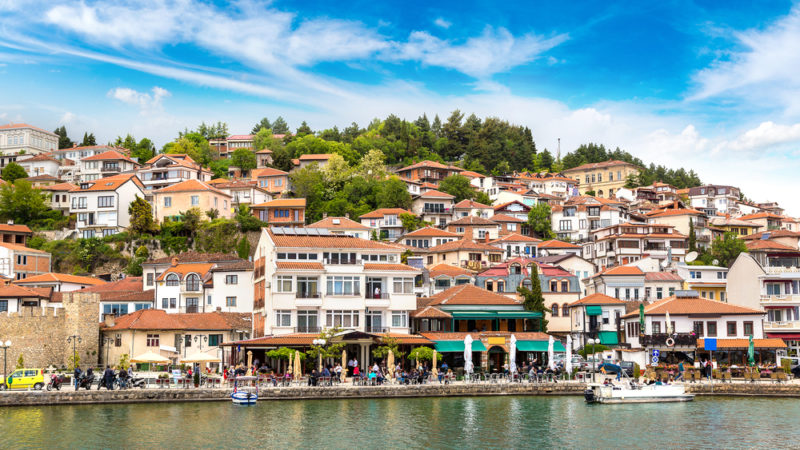 4. Plovdiv | Bulgaria
Plovdiv is an explorer's utopia–smaller than Bulgaria's capital city Sofia but just as interesting. Delve into the ancient Philippopolis amphitheater–this Roman relic is a 2nd century marvel, only stumbled upon in 1968. Plovdiv is considered one of the oldest cities in Europe to have been constantly inhabited–the enormity of this fact is hard to swallow until a walk through the gorgeous amphitheater. The center is entirely charming, with cloisters of houses each topped with unique roof lines and architectural details so pleasing to observe and with just the perfect amount of eye-catching steeples for a small town. Cobblestone streets wind through Plovdiv, diverting to beatnik cafes, high caliber museums, and art galleries, captivating until the sun sets and another kind of entertainment comes alive. The nightlife in Plovdiv is excellent with a good choice of lively bars and clubs catering to the university town that also boasts some of the best Bulgarian, Thracian, Byzantine, and Roman antiquities in Europe.
3. Prizren | Kosovo
Prizren is Kosovo's cultural capital and a top choice to strike out and explore one of the world's most newly formed nations. Under the Ottoman Empire, Kosovo was thriving, and today, architectural details remain from the Ottoman period. Scenic Prizren is a shining star with plenty of infectious post-independence elation and eagerness. In August, Dokufest sees the city come entirely alive and fill up with film-industry people from around the world. The international short film and documentary festival takes over the town with parties, exhibitions, and screenings. When on route from Albania to Pristina, the enchanting mosque and church-laden old town deserves a few hours of your time. The old town is one of the most impressively preserved in the Balkans, with a horde of buildings dating back to the 14th century. Check out an art exhibit in the old Pristzen hammam, explore the remains of the Serbian Quarter, see a panoramic view of Prizren from Roman-era city castle, and don't miss the Shadervan, the city's old stone piazza and social gathering point.
2. Bled | Slovenia
Lake Bled steals the show in Slovenia with seemingly glowing aquamarine water, waterfront homes nestled along the riverbanks, and a 17th century castle smack dab in the middle of it all on its very own island. Idyllic it is, scenic and relaxing, and on almost every postcard you'll find in the country. Blue skies seem to crack open above the lake, shining down on calm waters and illuminating all that's naturally perfect in the surrounding area. Walk the two-kilometer path encircling Lake Bled and you'll what it means to take the "perfect walk." If romance is in the cards, Lake Bled is a great choice but it's also an exciting destination for canyoneering, cycling, hiking, and boating so bring your adventurous side along. As with any fantastic lake, Bled is swarming with tourists come summer–they come from far and wide. A fall or spring visit is just as picturesque and although the water temperature isn't quite as soothing all of Lake Bled's finest points stay strong.
1. Tirana | Albania
A possibly unforeseen addition to the list, Tirana makes the cut as a quirky and vibrant portal into Albania and a city with some of Europe's most beautiful beaches. One of the most unusual capitals on the continent, Albania's isolation from the rest of the globe for more than 50 years has created a city unlike any other. Spirited and dynamic, Tirana is Albania's thumping heart, this diminutive part of the country has high aspirations that have coalesced into an animated scene of unabashed fun and bold consumerism. Since its communist period, Tirana has undergone an evolution of massive proportions, with a transformed city center and bold, vibrantly painted buildings, pedestrian-only boulevards, and public piazzas. Sweeping avenues are flanked with Ottoman empire relics and pieces of its communist and Italian past, from flagrant socialist murals to exquisite cupolas while traffic congests the streets in a stifling way, meeting headlong with pedestrians in a kind of controlled chaos that's dazzling to watch.