So you want to learn how to surf? Let us be the first to tell you that it probably isn't going to be easy, especially if you make the rookie mistake of heading to some famous beach known for its huge swells. But learning this incredible sport doesn't have to be that hard, as long as you know where to go. In this increasingly busy world, surfing is providing people with the chance to get back to nature, challenge themselves against the ocean and have a lot of fun. Heading to one of these 12 places will ensure that you are setting yourself up for success as they are among the easiest places on earth to learn how to surf.
12. Frank Island, Tofino, British Columbia
Tofino and beginners don't often go hand in hand, especially in the winter season when the storms send huge waves crashing in, but head to Frank Island and you will understand why it's the perfect place to learn. Frank Island is situated on the south end of Chesterman Beach and manages to knock down any powerful breaks and creates little baby waves perfect for learning. The water is cold, year round, after all this is Canada, so expect to wear a wetsuit here no matter what season you are surfing in. It is easy to find board rentals along with lessons in the town of Tofino as it is known as being the surfing capital of Canada. Snow covered glaciers, thousand year old trees, wandering black bears and bald eagles overhead complete this stellar location.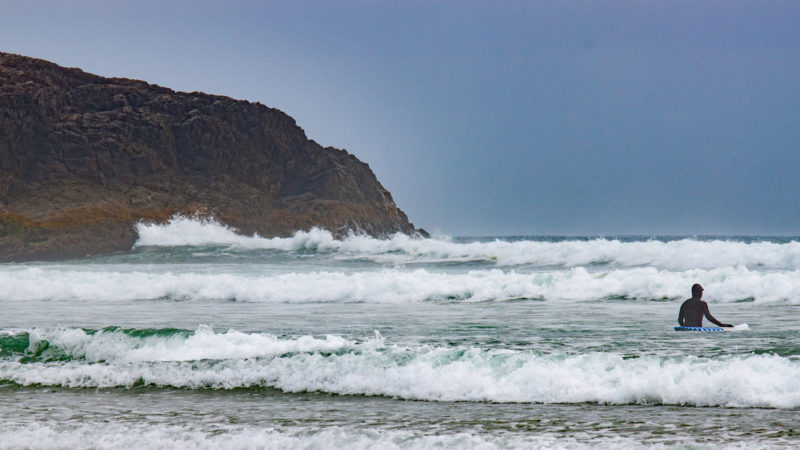 11. Lagos, Portugal
You may not find any waves in the actual town of Lagos itself but a slew of opportunities await beginners with a 30 minute drive. This Algarve town is the base for many surf schools and it has long been know that surfing in Portugal is something to check off your bucket list. Surf Experience is the longest running surf school in the area, operating since 1992 and offers superior instruction and amazing accommodations. Beginner surfers often head to the protected break at Arrifana, a favorite for learning at low tide. In the downtime make sure to explore the town's delicious eats, cheap cocktails and electric clubs that come alive after 10pm. Avoid traveling here during summertime when it is often crowded and prices are significantly higher.
10. Taghazoute, Morocco
Since the 1970's Europeans have been flocking to this destination in the wintertime to get their surfing in. VW campervans used to be parked beside the breaks as hardcore surfers took to the waters. Nowadays though, anyone can learn how to surf here, thanks to the abundance of surf schools that have popped up. Beginners should actually head here in early autumn as the weather is warmed and the swells are smaller. Head to the south where the surf camps almost outnumber the surf breaks for a variety of different options and budgets. Hash Point and the beaches around Agadir put up a good gentle learner wave and offer incredible surf camps. To the most out of your experience here we recommend joining a surf camp for at least 3 days and discovering the multitude of sandy beaches all within a 15 minutes drive.
9. Bundoran, Ireland
Bundoran is known as the surf capital of Ireland and boasts some of the best surf schools in the entire country, making this destination an easy choice for learning how to surf. These waters aren't for surfers who are looking to get a tan though and hailstorms are known to pummel riders out in the waves. There are a number of beach breaks that are perfect for beginners and hooking up with a local surf camp is the best to discover all of them. Visit here from September to November when the tourists have gone home and the water is warm(ish). Make sure to head to The Bridge Bar, situated overlooking the Peak—Ireland's most famous reef break. This local hangout is a mix of old-school Ireland and surf culture, making it warm, friendly and a great place to meet locals and surfers.
8. Waikiki, Hawaii
It wouldn't be a list of learning surfing spots without including the home of surfing itself. The ancient kings of Hawaii rode these waves themselves, on crude wooden boards, back before the 19th century missionaries frowned upon the sport. What you will find in Waikiki are gentle rolling waves littered with other beginner riders. For the most part these waves offer long rides and the atmosphere here is easy going and relaxed; something that can't be said for all of the waters in this state. Canoes, an easy right break near the Royal Hawaiian Hotel is the most popular beginner spot and can become quite crowded, although you are amongst beginners so catching a wave is quite easy. Warm sunny weather, warm water temperature and an "aloha" lifestyle makes this an excellent place to learn.
7. Byron Bay, Australia
It is easily one of the most iconic places to surf in the world, and one of the best places to learn. This sleepy dairy town was turned into a classic surf town in the 1960's and surfers from all over the world travel here to surf in the legendary waters. The best time to visit is from March to May as the weather is warm and the swell is consistent. Beginners will likely want to head to Watego beach where because of its north facing direction; it's completely protected from the big south swells and almost always has gently breaking waves. Make sure to check out Byron Bay Surf School for all your lessons and rental needs. They are one of the few companies licensed to teach on all the beaches in the area and will get you up and riding waves in no time.
6. Nosara, Costa Rica
The town of Nosara is a little more protected than other popular surf spots in Costa Rica and beginners will find the laid back local vibe welcoming and accommodating. There are a number of accessible beach breaks just a short walk from town which are perfect for beginners. Add in year round warm waters, beautiful weather and incredible scenery and you will wonder why you are the only one on the beach. Finding someone to teach you how to surf is easy around here as there are many excellent surf schools and instructors lining the town. On down days make sure to check out the Ostional Wildlife Refuge, which is famous for its olive ridley and leatherback sea turtle populations.
5. The Devil's Punchbowl State Natural Area, Otter Rock, Oregon
Although you will have to squeeze your way into a wetsuit and booties, this sandy beach is the perfect location to learn to surf, especially if you are looking to stay in North America. Unlike the rest of the coast which is full of jagged rocks and high winds; this beach is protected by a huge headland. Known as the "Waikiki of Oregon", everyone from this state who surfs has probably learned here and the locals are well used to beginners in their waters. The vibe is a mix of tourists, families, body boarders and beginners with no bad vibes to be seen. There are a number of surf shops in the area to rent a board or pick up a few lessons. Just make sure you are ready for the water temperature as it ranges between 48 and 52 degrees Fahrenheit over the course of the year.
4. Inch Marlow, Barbados
If you have never thought of Barbados as a surf destination, you would be highly misinformed as the protected southern side of the island offers incredible year round waves, and some of them just happen to be perfect for beginners. What makes this location so special is the consistent trade wind which makes for long clean waves, perfect for beginners. Zed's Surfing Adventures is where most people head to learn as it is run by former competitive surfer Zed Layson and offers both private and group lessons, designed to get you up and riding waves in no time. Along with excellent instructors there is a photographer on hand that will capture all you special moments. Rates are cheaper in the summer, alas it is the rainy season but if you don't mind not getting a tan, there are great deals to be found.
3. Playa El Sunzal, El Salvador
There is a lot of resistance in visiting El Salvador as it isn't known to be the safest country in the world, but if you can get past the dangerous and violent crimes that often happen here, it's an awesome place to learn how to surf. There are 300 days of surfable waves here, water temperature that stays in the 80's and waves that roll on for hundreds of feet. It is the perfect place to learn with a longboard and learning, eating, drinking and lodging are incredibly cheap. You will have to be careful here of the rock bottom and paddling out can be long in the rainy season as currents pick up. Playa San Diego is another beach to hit for some beginner waves and features a huge sandy beach and very few people. Choice of accommodation is limited here but if you can rent a board and find room at the one hostel, you will find peace in the desertedness of this beach.
2. Piha Beach, Auckland, New Zealand
The awesome weather, the warm water temperature and the lagoon-like setup makes this an awesome spot to learn how to surf. The scenery isn't too bad either with stunning black sand beaches. What makes this location so unique is the lagoon-like setup inside the beach's outer sandbank. It allows beginners to stand in chest-deep water and catch "reform" waves—whitewash surf that has reformed into a second, mellower wave. It is entirely normal for complete beginners to catch 70- to 80-meter rides from the get-go, something entirely unheard of anywhere else. There are a number of surf schools around to get you up and on your way, or join a surf tour. If you want to avoid wearing a wetsuit make sure you visit between December and April. The best part about this beach, there are never any crowds to contend with, making your learning experience that much better.
1. Bali, Indonesia
From March to July, Bali is the number one best spot to learn the sport of surfing. The combination of warm weather, warm water and consistent waves makes this the ultimate spot for beginners. If you are learning you will want to head to Kuta Beach where there is a soft sandy bottom and small waves ranging from two to six feet. Although it can be a bit crowded at times, it is easy to hire a private instructor or join a surf school, for half of what it costs at home. If you want to stay away from Kuta Beach make sure to head over to Nusa Dua, which features a protective reef and good beginner waves. Seminyak is another good option if you are learning and offers many options for schools.