Every single one of the American States has its own quirky food scene and signature dish. Whether you are devouring a fresh lobster roll or chewing on a piece of saltwater taffy; these foods all have a history that ties them to a particular state. From the west coast to the east, from delectable marionberry pies to the famous Louisiana gumbo; these 10 foods and states go hand in hand, and it wouldn't be a visit to any of these states without trying these foods.
10. Marionberry Pie, Oregon
This hybrid berry is responsible for this awesome pie that Oregon is so greatly known for. The Marion blackberry, marketed as the marionberry is a cross between the 'Chehalem' and 'Olallie' blackberry and was developed by the USDA ARS breeding program in cooperation with Oregon State University. The berry has somewhat of a tart flavor, larger, sweeter, and juicier compared with an evergreen blackberry. Oregon produces between 28 million and 33 million pounds annually of these berries and the result is some incredible pies. There are thousands of recipes out there for these pies but the best have been handed down generations and every year at the State Fair there is a Marionberry Pie Contest. Many people are now adding cream cheese to the pie in addition to the berry filling, to add a little something extra. It wouldn't be a trip to Oregon without filling your belly with at least one slice of this delicious pie.
9. Philly Cheese Steak, Pennsylvania
The Philly cheese steak is a passionately defended local institution, and rightfully so as this gooey sandwich is absolutely delicious. The cheesesteak was developed in the early 20th century but the identity of the inventor and exact process is the subject of spirited debate but Philadelphians Pat and Harry Olivieri are often credited with inventing the sandwich by serving chopped steak on an Italian roll in the early 1930s. Today the sandwich consists of a crusty roll filled with juicy thin-sliced beef and topped with fried onions, peppers, and Cheez Whiz. The best two places to get yourself one of these amazing sandwiches are either Pat's King of Steaks or its rival Geno's, they have been across-the-street rivals for nearly 50 years.
8. Chicago-style deep-dish pizza, Illinois
Whoever invented deep-dish pizza, we wish they were alive today so we could give them a big old hug, or at least a high five. It was the year 1943 when this style of pizza was invented. Ike Sewell and Ric Riccardo opened Pizzeria Uno in Chicago's North Side neighborhood and served up a new style of pizza with a deeper dish, crunchier crust, and inverted layers. The deep-dish style pizza was invented and Chicago and the rest of the American world never looked back. What exactly goes into this process though? The cake-like pan in which the pizza is cooked is first coated in olive oil and then topped with a flour dough mixture. Before hitting the oven, a layer of sliced mozzarella is covered with vegetables and meats, typically Italian sausage, and then topped with a sweet layer of crushed tomatoes. The inverted layers of ingredients prevent the cheese from burning, while the meat, vegetables, sauce, and crust marry their flavors, leading to one incredible pie.
7. Crab Cakes, Maryland
The Chesapeake Bay is known country-wide for its sweet-fleshed blue crabs and crab cakes quickly became the state food here. Before they became popular though, crabs were not widely eaten as they were considered too dangerous and difficult to eat. However as time went on fisherman began to master the technique of getting the meat out of the shell, and thus crab meat was in abundance. The term "crab cake" was first coined by Crosby Gaige in the 1930s. In his cookbook titled, New York World's Fair Cook Book, he finally gave the popular recipe a name: "Baltimore Crab Cakes". This fishcake is composed of crab meat, bread crumbs, milk, mayonnaise, eggs, seasoning, and may contain red or green peppers. The cake is then sautéed, baked, grilled, or broiled, turning it into a delicious seafood treat.
6. Lobster Roll, Maine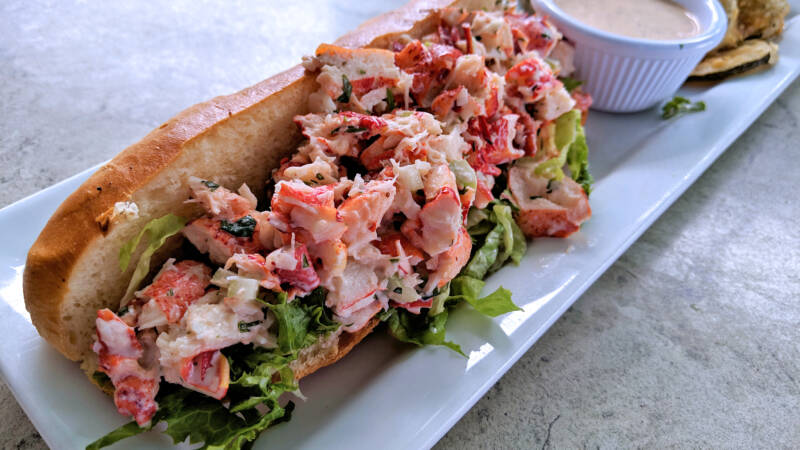 Maine lobster is celebrated from sea to table all over the state and one of the favorite ways to eat this delicious seafood is in the famous sandwich, the lobster roll. Like a lot of other incredible dishes on this list, the history of who actually did the lobster roll first is under much debate. Many locals view Bayley's Lobster Pound at Pine Point as the inventor of the famous seafood sandwich. Then there are the out-of-state claimants. Some say that Harry Perry first offered lobster rolls out of his Milford, Connecticut, restaurant in the 1920s. Others claim the Nautilus Tea Room in Marblehead, Massachusetts, as the original purveyor of lobster rolls. Lobster rolls in Maine have several distinct characteristics starting with the bun. The roll is baked slightly different from a hot dog roll, the sides are flat so they can be buttered, lobster meat is actually served cold in the roll and there is a light spread of mayonnaise either spread in the roll or mixed in with the meat.
5. Hotdish, Minnesota
This interesting variety of casserole is actually produced as "hoddish" and is commonly found at large gatherings and family events. What makes up a hotdish is a variety of ingredients including potatoes, ground beef, green beans, corn, and canned soup. The potatoes can either be hash browns, potato chips, or the most widely used tater tots. Usually served with a side of ketchup, this dish remains popular, to everyone's surprise, that doesn't live in this state. The history of the hotdish goes back to when budget-minded farm wives needed to feed their own families, as well as congregations in the basements of the first Minnesota churches. Since then, the state has embraced this dish and even runs an annual hotdish competition.
4. Salt Water Taffy, New Jersey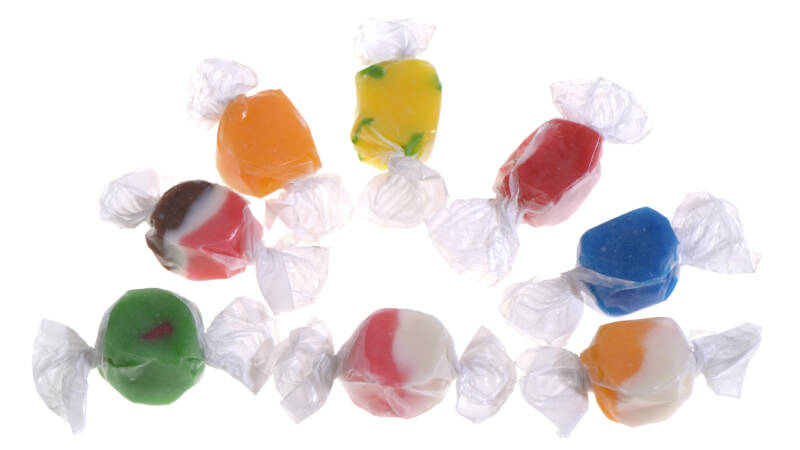 Salt water taffy evokes the Jersey Shore, more than any other candy or food out there. Considering the ingredients in this candy include things such as sugar, cornstarch, corn syrup, glycerine, water, butter, salt, natural and/or artificial flavor, and food color; it is astounding that this candy has remained the food we associate with New Jersey. Joseph Fralinger is said to be the one who popularized the candy when he started boxing it and selling it in Atlantic City. Shriver's, the oldest business on the Ocean City boardwalk – it opened in 1898 – offers a staggering 70 flavors of taffy, with chocolate the overwhelming bestseller. Funny enough, the entire salt water taffy business in this state is owned by one family.  In 1947, four brothers named Glaser bought James and in 1990 they bought Fralinger's. Today, the two famous taffy names are made in the same production rooms, with red collecting pans marked "James" and gray pans marked "Fralinger's."
3. Chimichanga, Arizona
The history of how the chimichanga became a dish is much debated. According to one source the founder of the Tucson, Arizona, restaurant "El Charro", Monica Flin, accidentally dropped a pastry into the deep fryer in 1922. She immediately began to utter a Spanish curse-word but quickly stopped herself and instead exclaimed chimichanga, a Spanish equivalent of "thingamajig". Woody Johnson on the other hand claims he invented this dish in 1946 when he put burritos into a deep fryer as part of an experiment at his restaurant, Wood's El Nido. This delicious deep-fried monster is made up of a flour tortilla filled with a wide range of ingredients, most commonly rice, cheese, machaca, carne adobada, or shredded chicken. Fold it into a rectangular package, drop it in the deep fryer and serve it up with salsa, sour cream, and guacamole.
2. Gumbo, Louisiana
Of all the dishes in the repertoire of Louisiana cooking, gumbo is absolutely the most famous and one of the most loved dishes of the state. Gumbo is found in the houses of both the rich and the poor, across restaurants, and at every single special event. Generally speaking, gumbo is a thick, dark soup containing a mixture of rice, vegetables, and meat or seafood. Yet when it comes to ingredients, the one constant in gumbo is variety. There are just two hard and fast rules: a gumbo must always contain rice, and it must always be thickened with something. The history of this dish is quite a mystery as it has been a staple in Louisiana kitchens long before written records of the dish existed. No one is certain whether the dish is Cajun or Creole in origin, but only one thing really matters; how delicious it truly is.
1. Shrimp and Grits, South Carolina
Shrimp and grits are the typical breakfast for many of the Charleston area fishermen during the shrimping season, which ordinarily runs from May through December, but was discovered as a dish long before these fishermen started eating it. Grits actually originated from the Native Americans and were used as a way to communicate with the white people before they learned how to speak the same language. An important event happened in 1584 when Native Americans gave some of their grits to Sir Walter Raleigh and centuries later, in 1976, grits were declared the official state food of South Carolina and noted for their vital contribution to the culture and the economy of South Carolina, as well as to the sustenance of the people living there. Essentially this dish is Grits (thick ground corn) that form a bed for fresh-from-the-sea shrimp and other mix-ins, like bacon, garlic, and lemon.