The upwards trend in European tourism shows a definitive increase in Western European tourism—the less visited half of the continent. Throughout the west, particularly the UK, France, Germany, and Spain, there have been more visitors over the last five years than ever before. It's no wonder really, with the many amazing historical towns and villages, ancient castles, palaces, and forts, thriving backcountry, natural wonders, and so many other attractions. From Scotland's islands to Portugal's architecture and Italy's renowned Riviera, Western Europe is rich with things to do and see.
11. Jungfrau Region, Switzerland
Switzerland's Jungfrau Region is calculated by magnificent mountains, endless outdoor pursuits, and some of the most interesting resort towns on this side of Liechtenstein. Just an hour and a half south of Zurich and 45 minutes from Bern, Jungfrau is where intrepid travelers head for enterprising vacations. Area attractions include the Kleine Scheidegg watershed at the Eiger North Face foothills. It offers an out-of-this-world cable ride soaring from Grindelwald-First, spanning more than 2,600 feet to Schynige Platte, an area reached by 19th century cog wheel train from Interlaken, the starting point for hiking along the mountain pass. This isn't a destination for idleness, or even half-hearted exploration. Jungfrau demands a lot from visitors who can move at a relatively quick pace—it's not a place to stay still. It begs to be explored with enthusiasm and key attractions require some ambition, but it all pays off in spades.
10. Causeway Coast, Northern Ireland
The ebony-hued, interlocking basalt columns spanning the Causeway Coast in Ireland gave credence to legendary tales of a centuries-old route trekked by giants between Scotland and Ireland. Though the tales still run rampant between Irish generations, we can all acknowledge it's one intensely cool natural marvel. More than 40,000 columns are located in this rich, seafront Northern Irish area which most agree was caused by a volcanic eruption centuries ago. Arriving to the coast is pretty exciting in itself, with a long, curving drive along the highway dotted with residential homes, shops, pubs, and striking natural sights—if you can take your eyes off the water and the road ahead. The vivid drives, cozy, small-town feel, extra friendly locals, and incredible hikes along the extensive cliff-top paths are endearing traits that make this area of Northern Ireland one-of-a-kind.
9. Cordoba, Spain
Travel styles vary from person to person but most get on board with marveling at architectural wonders, relishing savory food, delving into old bodegas, and enjoying easy tours of interesting places. Cordoba is magnified by Mezquita, an example of seasoned and worldly Islamic culture, and a site overlooking the city's heart and drawing onlookers into its fabulously embowed interior. Arteries running throughout the Jewish Quarter (Juderia) reach away from the Mosque like central nerves but with finales upon extremely pleasant plazas. The center of town is the heart and soul of Cordoba, and where almost everyone will wander around, whether for a few hours or every day. Restaurants, bars, and shops are the center of social life here, where the strident vibe is magnetic. In fascinating contrast, west of town is Medinat al-Zahra, an Islamic ruin that piques the imagination with its gravity.
8. Bruges, Belgium
The medieval city of Bruges is a nostalgic reminder of Venice with long, narrow canals, awarding it the moniker "Venice of the North." Exploring is akin to life in a fairytale—not only are the canals lovely but the buildings that compliment waterways are just as sublime, creating a picture-perfect scene you won't want to step out of. Paint in some cobblestone lanes, historic churches, buzzing market squares, and whitewashed houses and you might never want to venture out of town. This loveliness doesn't come without a price; the floodgates open for tourists each year—word  has been out for some time about the beauty of Bruges. With that in mind, most trek in during daylight hours and leave by sundown. To get your piece of Bruges, stay overnight and you're privy to the emptiness and beautiful floodlights at dusk, giving an unequivocal air to the area.
7. Sintra, Portugal
Perfectly tucked between the sea and mountains, Sintra is one of Portugal's most naturally blessed cities and a destination most deserving of its UNESCO World Heritage site designation. Gleaming palaces, alluring gardens, and misty woodlands are each part of the appeal of Sintra, which is historically rich and filled with natural beauty. No wonder the Celts chose Sintra to exalt their god; the Moors constructed a dizzying castle, and the royals of 18th century Portugal luxuriated in its verdant hills and dreamy backdrop. Cultural attractions dot Sintra and the culinary landscape is beyond compare. The number of ancient fortifications and magnificent residences draw tourists in droves during the summer months. It's worth contending with crowds in the thick of things, but there's plenty of merit in seeing it outside of peak tourist season too.
6. Porto Santo, Portugal
While most island-lovers head to Portugal's Madeira Island, there's a little island northwest of it deserving of a lot of attention. Porto Santo is a small, Portuguese island—an ideal place to get your fill of blue skies, white sand beaches, and crystal water. In simple terms, Porto Santo is a slice of land hugged by 40+ kilometers of sand and flanked by a few resorts and hotels. There aren't as many beautiful island destinations with so few visitors with such incredible scenery. There's not too much in the way of attractions, which is music to an island-lovers' ears. The small town square has some shops and a smattering of bars and restaurants. Along the beach, there are eateries and outdoor areas ideal for meals and cocktails. Otherwise, put your feet up, close your eyes, and prepare to daydream your time away.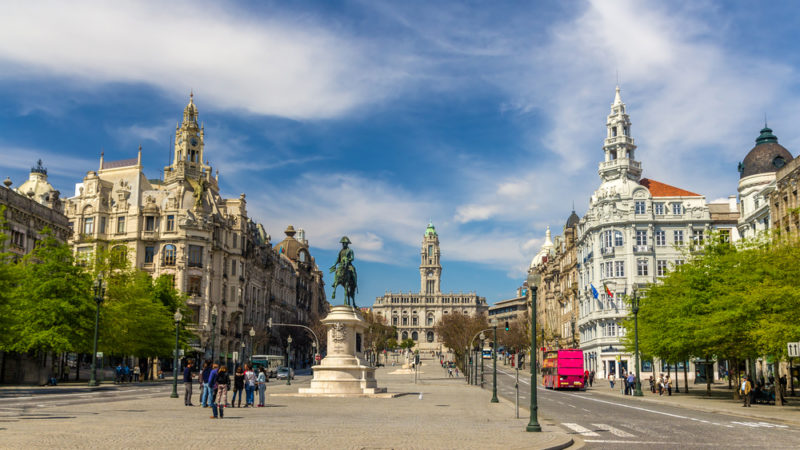 5. Marsaxlokk, Malta
Marsaxlokk is a busy trading port established by Phoenicians in 900 BC, when they first arrived on Malta. It's a tiny dot in the Mediterranean Sea, below Italy's "boot," seemingly kicked out into the vast ocean. Fish drives the economy so of course the port is the most important aspect of life where the daily grind is arduous and busy with fishermen supplying the entire island with fresh seafood. Whether you're a seafood aficionado or just love fresh fish, visit the port when a huge market spills out each week, presenting an incredible variety of fresh food. This seaside town exemplifies a rare side of Malta, devoid of contemporary buildings to deter from its original appeal. The boat designs are said to be based on Phoenician blueprints, adding a captivating charm to their unique look. Stay awhile and enjoy life in the middle of the Mediterranean.
4. Portree, Scotland
Within the Isle of Skye in Scotland is Portree, the biggest island town and a thriving cultural hub and port with a small population. As with any port town, the harbor is the central point of activity, presenting a tight knit network of seafood restaurants and numerous pubs all with incredible waterfront views. The region is wild and unruly and best explored from Portree, a base where unwinding from adventurous excursions is easy and extra pleasant. Portree is near many of the island's best outdoor attractions including the incredible Quiraing pinnacles, famous Kilt Rock, and northern Trotternish Ridge. Films, theater shows, and concerts are put on at Aros Center while the water plays host to boat cruises, swimming, and fishing. Take in some salty air and bed down at any of the town's higher end hotels, guesthouses, B&Bs, private apartment rentals, or even the nearby campground.
3. Loire Valley, France
Historical tales of the Loire Valley in France paint a picture of opulence and indulgence. The royals, along with their large courts, used the valley as a stronghold, constructed magnificent fortifications, and built their grand residences throughout the wide, outstretched valley that today is strewn with some of the most impressive and lavish fortresses and castles in the country. Loire Valley is ripe with rural, dramatic, and architectural wealth. Skyscraping turrets, lush vineyards, and time-honored towns are all a part of a massive UNESCO World Heritage Site exemplifying 10 centuries of France's history throughout a storybook landscape. If you're looking for the finest example of history and architecture in the Loire Valley, look no farther than the mammoth and beautiful Chateau de Chambord, the valley's most distinct attraction. The best modern highlights, besides award-winning wines, are the historical landmarks left behind by centuries of hedonistic aristocracies.
2. Ronda, Spain
Within the Malaga region and set inside a tapering gorge is Ronda, once inhabited by some of history's greatest people; the Arabs, Celts, Romans, and Phoenicians were taken with Ronda, pioneering the region with progressive philosophies and architecture. The historic district exemplifies the age of Arabs, with a fascinating medieval design dotting the southern reaches of Guadalevin river. More contemporary Ronda rose to its peak during the 16th century. The city is sprawled across Guadelevin's north point, joined to the south by several magnificent bridges. Ronda will make you feel small (everything seems to vault skyward) but this Andalusian city is also empowering, a reminder of humankind's powerful capabilities. Revel in incredible panoramas of El Tajo gorge from Puente Nuevo, explore maintained Arab bathhouses, and enjoy a meal while exploring Duquesa de Parcent Square, a modern center filled with ancient indications.
1. Manarola, Italy
Across the bay from Monaco is Manarola, Italy, a little seaside town and the stuff of Old World dreams. Set between Nice and Genoa, there's plenty around to get your fill of city life, but when looking for downtime, and a backdrop of vibrant architecture on the waterfront, Manarola is the place to be. From the water is a resplendent scene: a cluster of tall stone buildings in a rainbow of colors, set high across grassy cliffs and flanked by rugged shoreline. Manarola is part of the Italian Riviera called Cinque Terre where a series of five small coastal towns are connected via rustic hiking trails with ample vistas. Manarola is second in size within the streak of towns, it is also the oldest, and is marked by 14th century San Lorenzo church. Social centers include the town square and the busy little harbor and vineyards dot the entire area.