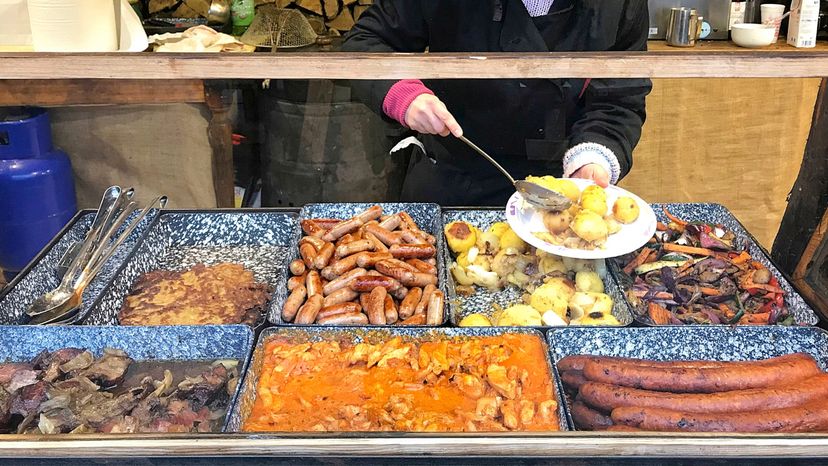 Scrumptious strudel, filling goulash soup and sweet Tokaj wine are just some of the amazing Hungarian delicacies we were fortunate to try on a Taste Hungary culinary walking tour. We are strong believers that food and travel go hand in hand, so whenever we visit a new country we make sure we sample the local cuisine, and what better way to do it than spending four hours walking the streets of Budapest and eating food as you go.
Taste Hungary Culinary Walking Tour
The tour began at 10.00 am by the entrance to the central market hall, which is the oldest and biggest indoor market in Budapest, and can be located at the end of the famous Váci Utca shopping street. We met with our fantastically funny guide Sabi, plus three other fellow Brits who were to join us on the tour. Before we get any further, a special mention must go to our guide Sabi, not only did we learn a lot regarding the food and history of Budapest and Hungary, he made the tour fun and pleasurable experience. Now on to the tour!
One for the road…
Sabi kicked off the tour leading us up to the 1st floor, to a small bar in the corner of the market, and proceeded to order shots all round, of one of Hungary's national drinks, Unicum. Pronounced oo-nee-coom, it is a Hungarian herbal liqueur consisting of more than 40 herbs and is drunk as a digestif. The recipe is a closely guarded secret and the original recipe is still being used today. Even during communism in Hungary, the Zwack family managed to keep it secret by giving a fake recipe to the Russians.
To be honest, neither of us enjoyed it as it's very bitter, but as we don't like wasting anything we downed it for good measure. There is a plum version available, which apparently is more appetizing. It had just gone 10.00 am and we'd had our first drink, what a way to start a tour!
Salami's & Sausages!
Once back downstairs in the main market hall, our group was led over to a butcher's stall all the while learning about paprika and the huge role it plays in Hungarian cuisine. Arriving at the butcher's we were presented with a fine platter of salamis and meats, and what a selection it was! Starting with a winter salami and ending with a horse salami, we tried a whole range of different meats including the very tasty Mangalica (hairy pig) and a surprisingly delicious cow's tongue.
Super Strudel & Pickled Chili's
Altogether we spent around an hour in the market hall wandering the stalls taking in the sights and watching the locals going about their daily life. As we made our way around Sabi was always on hand to answer any questions we had and gave us a great rundown regarding the food on display and the history of this great market hall. Along the way, we stopped at a little bakery that served some amazing strudel with a great range of fillings to choose from, we both went for the sour cherry apple filling, guess what? It was delicious (there seems to be a common theme with Hungarian food here). We also visited a pickling stall, where we sampled a range of different pickles, including a range of chili's and watermelon, apparently, you can pickle anything!
For the Chocolate lovers…
Leaving the central market hall we made our way up Váci Utca heading towards Belvarosi Disznotoros (the butchers) for a Hungarian lunch, via a stop at Mantra coffee minibar, a cozy place that takes coffee very seriously, their attention to detail in their coffee making is second to none and the expresso is the best we've ever had.
There was one more stop before lunch and for chocolate lovers, it was quite simply heaven. Rozsavolgyi Csokolade is an award-winning chocolatier who source cocoa beans directly from growers in Venezuela. The chocolates we sampled were some of the best we've tested, and between us, we've tried a lot! Of course, we couldn't leave without buying some for later, and was good to know that they support the Dian Fossey Gorilla Fund!
Meat, Meat, and More Meat!
Finally, the time had arrived, the moment we had been waiting for since the tour began, lunch at Belvarosi Disznotorus. We waited outside crowding around one of the tables, patiently waiting while Sabi, the guide went and ordered a selection of food. Moments later we were presented with a fine array of typical Hungarian dishes, There was goulash soup, crispy duck leg, roasted pork chunk, blood sausage, local Hungarian sausage, fried potatoes, pickles, braised red cabbage, and a huge slice of bread to clean up.
Needless to say, the food disappeared into our ever-expanding waistline as quickly as it arrived. (unfortunately, we didn't manage to take a photo of the food, as you can well imagine our minds were on other things!). Lunch was certainly worth the wait and it didn't disappoint, although we're not sure we could eat it every day, we'd have to roll everywhere.
Did someone mention cake?
There were two more stops left on the tour, the first a traditional patisserie called Auguszt. Established in 1870 four generations of the same family have been making quality pastries and cakes for locals and tourists to enjoy. We tried a few different cakes including Esterházy, a traditional Hungarian walnut cake with vanilla cream. The cakes were amazing and we'd recommend this place to anyone visiting Budapest who has a sweet tooth.
We left the patisserie, making our way through the local neighborhood to the finalé of the tour, Taste Hungary's headquarters the Tasting Table, to sample a glass of local wine or two.
We arrived at the final stop of the tour, the Tasting Table, and was introduced to the wonderful Annette who would talk us through the different Hungarian wines and the countries twenty-two wine regions, we went on to learn each region has its own unique grape and wine, before arriving in Budapest we never knew Hungary had such a large wine industry! While Annette was talking us through the different wines we got to try three different types, a white 2013 Babylon Furmint, a red 2013 Bulls Blood, and last but no means least, a 2009 Tokaji dessert wine, a very sweet and quite thick wine, which has a very fruity taste to it.
The wine tasting concluded the tour, which was, without a doubt, one of the best things we did while visiting Budapest. Not only did we taste some amazing food, but we also learned a lot about the history of Budapest and Hungary, Sabi, but the guide also made the tour that little bit more special. We highly recommend anyone with an interest in food to book this tour, just don't eat breakfast in the morning!