Being a tourist can be exhausting so by 5 pm you'll be ready to check out these happy hour spots in South Beach for half price cocktails and apps. It's also a great way to try out upscale restaurants without shelling out regular prices. Get ready to ease the stress of the day and curb pre-dinner hunger at the best happy hour spots on the beach.
10. The Sandbar
With its laid back vibe and floor filled with ocean sand, The Sandbar is almost like sipping cocktails or having a beer on the beach. It might be a dive bar, but they do it in sunny, tiki bar style. Stop by the watering hole in North Beach at 6752 Collins Ave, a local favorite. Get there between 4 and 8 pm for $2.50 draft beers and if you're really brave, two for one shots. Don't forget the complimentary buffet of chicken wings, pasta, and finger foods. After a day at the beach, stop in and chat with locals, business travelers, or sports fans watching the game.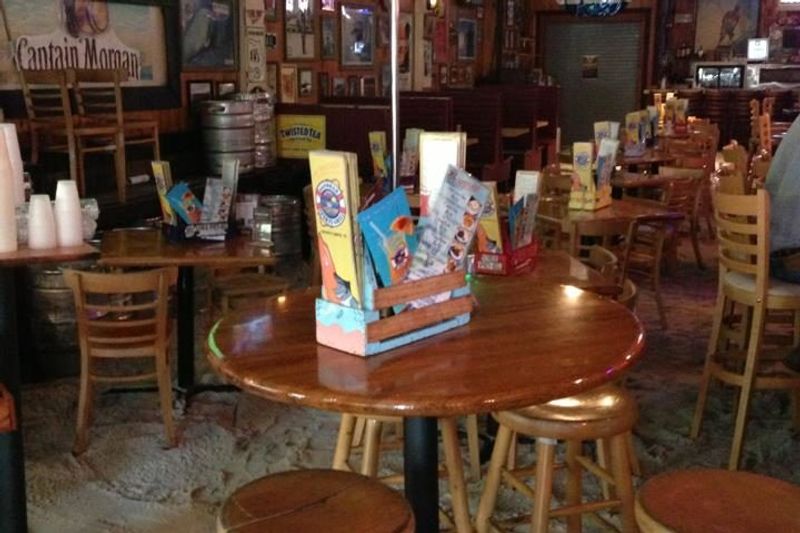 9. Piola Alton Road
At this Italian pizza joint, get ready for double the happy hour delights with complimentary bruschetta and other traditional finger foods, plus $4 beer, $5 wine, and $6 caipirinhas, the popular Brazilian ex-pat beverage. During the week from 5 to 8 pm, you'll find a more local South Beach crowd at this laid back but trendy spot on Alton Road. If you're near the Lincoln Rd shopping district, grab your friends for a cheap after work man soda and al fresco appetizers.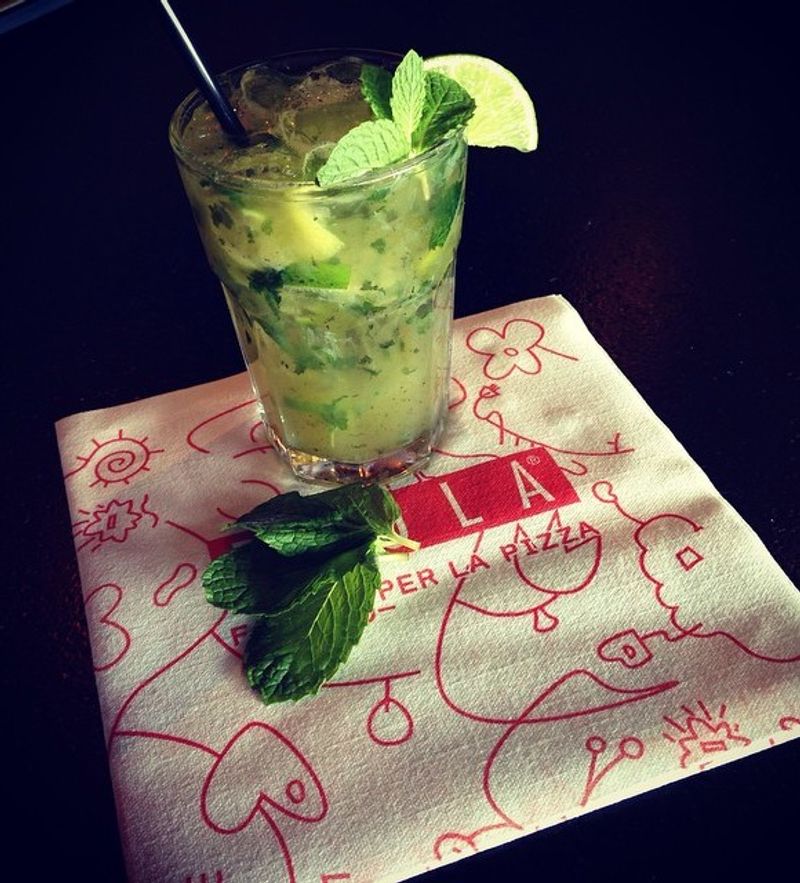 8. Segafredo L'Originale
At the fashionable Lincoln Road shopping district, stop in Segafredo L'Originale, a lively European style café with beautiful expats sipping cocktails and cappuccinos at the plush patio seating by the fountain. With its house music and peacocks in their casual, pre-clubbing outfits, it's the perfect place for a pre-dinner snack and round of drinks. Plus, if you go on a weekday from 6 to 8 pm, they don't have discounted drinks, but free small Italian plates like bruschetta, watermelon and feta salad, and a variety of charcuterie. Just like in Italy, now is the time to enjoy an aperitivo between lunch and dinner. After a day of shopping, sunbathing, and sightseeing, take the edge off your hunger and stay cool by the fountain with a decadent marshmallow martini.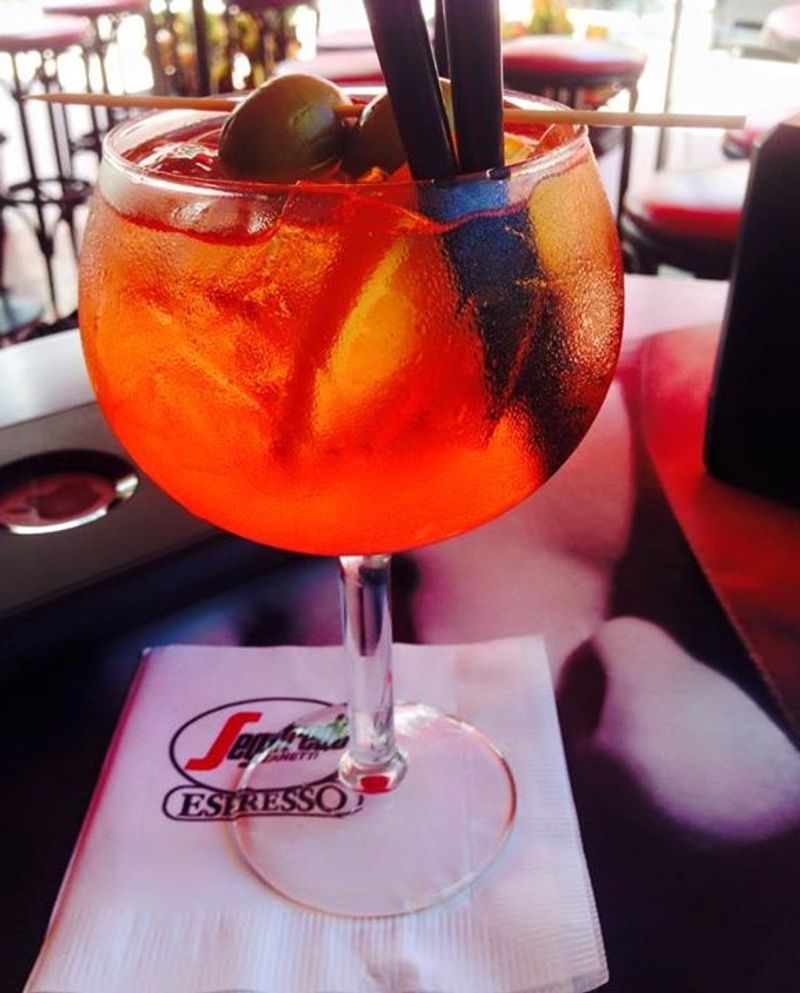 7. Rosa Mexicano
For modern, upscale Mexican fare, head to Rosa Mexicano at 1111 Lincoln Road on the west side of the popular Sobe shopping district. Besides their fresh guacamole handmade at the table, Rosa Mexicano's other strong suit is their excellent happy hour. Between 4 and 7 pm on weekdays, join locals after work or the occasional tourist for half-priced margaritas, sangria, and tequila shots, $3 import beer, plus tacos de pollo, and queso fundido ($3.90 – 6.40) for alcohol-induced munchies.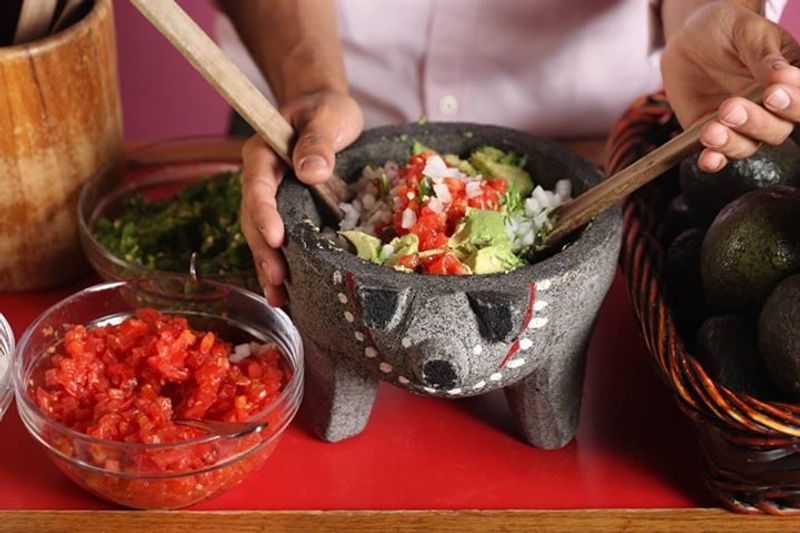 6. Books and Books
Among the many chain retail stores along Sobe's popular Lincoln Road, the trendy indie book shop Books and Books is the best place on the beach to inspire your intellectual side. At 927 Lincoln Rd you'll find a selection of limited edition art books, fiction, and a travel section with an entire shelf dedicated to Miami. Owned by Mitchell Kaplan who organizes the Miami International Book Fair (November), grab a seat on the patio for people watching and two for one import beer or sangria.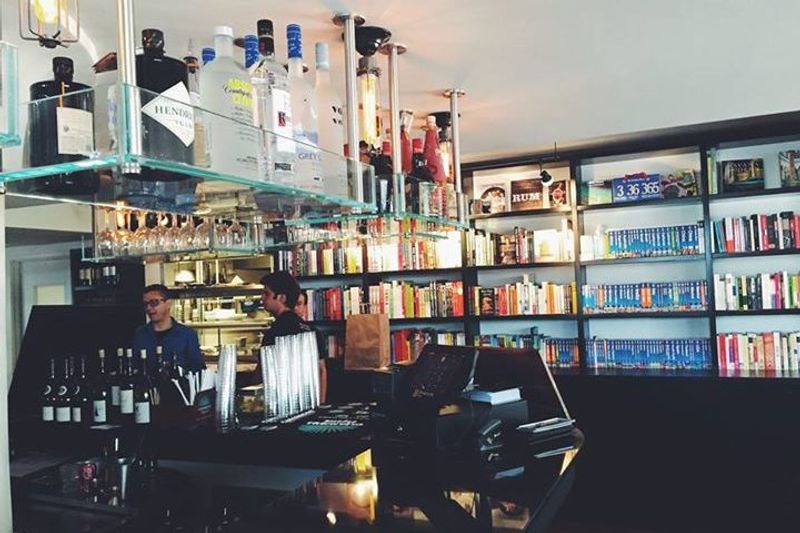 5. Lou's Beer Garden
At this upscale but laid-back gastro pub beside the pool at North Beach's The New Hotel, enjoy dining al fresco with food and beer pairings on the weekends from 11:30 am to 4 pm. For an early after work respite, stop in for the Garden Social weekdays from 5 to 8 pm. They've got two for one craft micro brews, wine, and cocktails plus scrambled eggs, toast and bacon for $6. Surrounded by friends, spirits, and tasty food, you'll be able ward off the stress from the everyday grind. But keep in mind, if Lou has a hangover, the kitchen might not be open for a few hours, although it's well worth the wait.
4. Balans
For more international style food and drinks, try Balans, an upscale, European style brasserie at 1022 Lincoln Rd. With their posh outdoor patio seating and new Roots menu, this hip bistro ups the ante for Sobe happy hours. Indulge in something decadent like spinach dip with parmesan, fresh garlic, and tortilla chips ($6) or the Prince Edward mussels marinated in white wine and served with garlic toast points ($6). Another favorite is the tuna avocado tartare ($7). Sample their global menu specials Monday through Saturday from 3 to 7 pm, or Sunday through Thursday 10 pm to close, and Sunday 4 to 7 pm.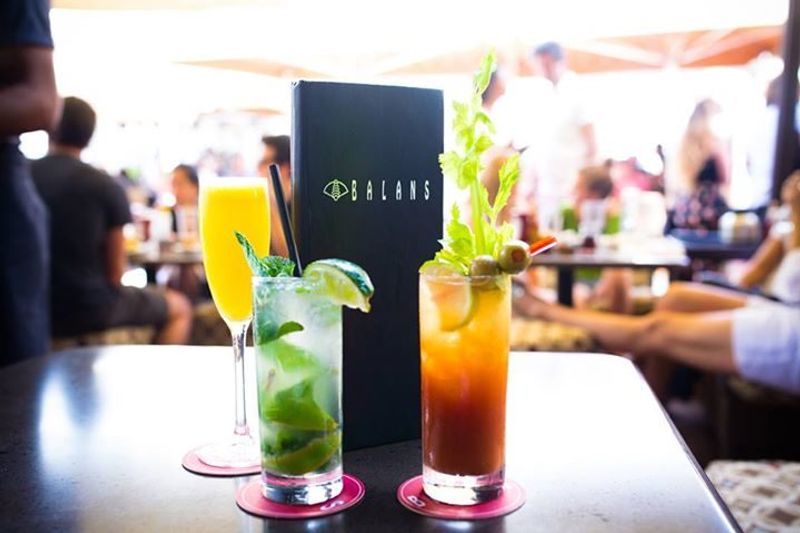 3. Tongue and Cheek
Further south on the mainland is South Point's Tongue and Cheek, a modern, upscale bistro at Washington Ave and 5th St. For an imaginative menu inspired by local, seasonally available ingredients, try the family meal ($10), a gourmet dinner served in a cafeteria tray. It's like fine dining, Orange is the New Black style. They also have bar snacks like warm pretzels with purple mustard or lettuce wraps with crispy pig ears, Florida oranges, spring onions, and peanuts ($8). If you need to calm the nerves, a handcrafted cocktail with bourbon, fresh herbs and bitters should do the trick ($5). Plus, if you have a hipster in your entourage, they have craft beers like Sunshine State of Mind or Betchy Brown for $5.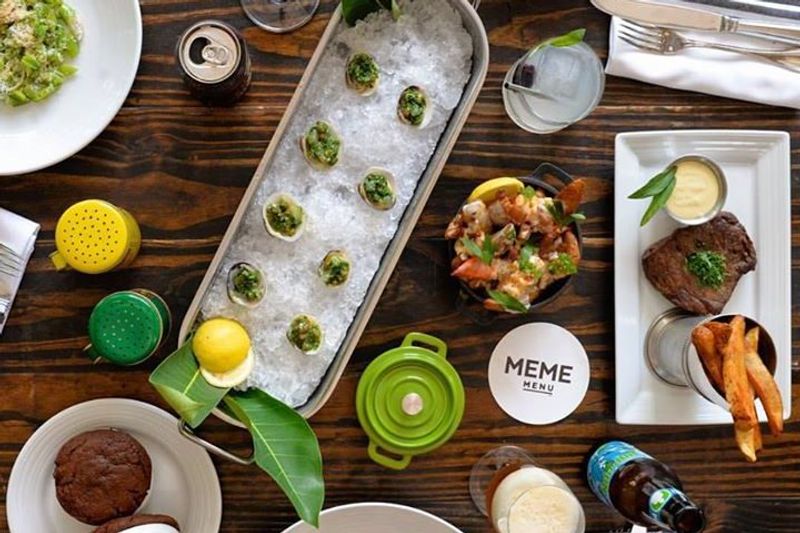 2. Meat Market
Celebrate the end of a busy workweek or vacation at Meat Market, a Lincoln Rd favorite. Situated at 915, the upscale steakhouse is a sleek, upscale spot to mingle with Miami elite and take advantage of the drink and apps specials on Fridays starting at 5 pm. If you're still humming from your retail high after an afternoon of shopping, add another layer of fun with premium cocktails ($7) and a selection of ceviche from their Florida Fresh Raw Bar ($9).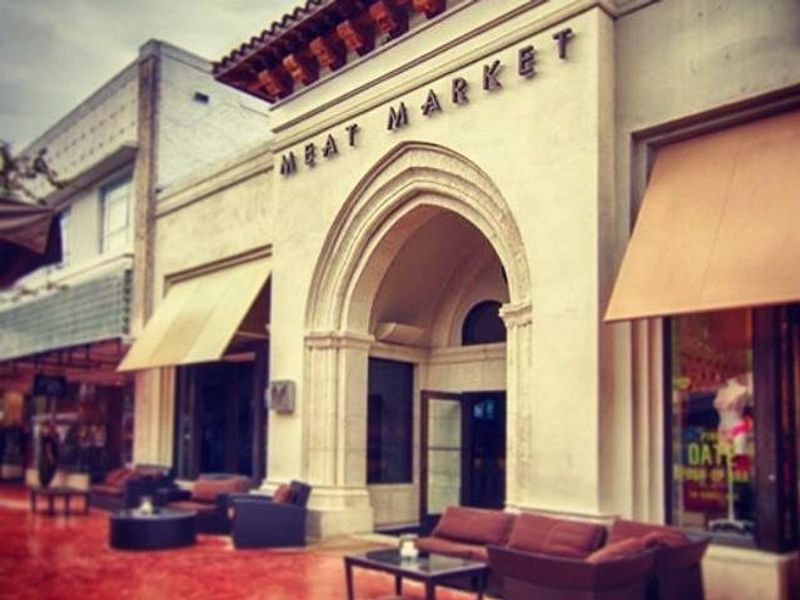 1. Doraku
If you find yourself indulging in retail therapy on Lincoln Rd between 5 and 7 pm, dip into Doraku near Alton Rd for one of the most rockin' happy hours in South Beach. Local business types typically fill the bar by 6 pm, talking boisterously with colleagues and drinking away the stress of the day with a two for one lychee martini or sangria. Doraku is the perfect after work watering hole to mingle with friends and show off that new business suit. Grab some friends because there is something about tuna tataki ($7) and fried rock shrimp ($6) that makes work gossip more fun. Sit in a dark booth among the swanky interior or on the patio for people watching in the bustling shopping district.