For some of us, our pets are our best friends and we often want to share experiences with them. Pet-owners who travel also worry about the quality of care Fido's receiving when they're out of town—and the costs associated with that care. No wonder so many of us would rather just bring our furry companions along for the ride. One of the biggest barriers, though, can be finding pet-friendly accommodations that are up to snuff for both you and your pet. Here are 10 of the best hotel brands with pet-friendly policies to keep in mind for your next trip.
10. Ritz-Carlton
One of the better-known hotel brands in the world, the Ritz-Carlton is synonymous with swanky. Today, the iconic chain is part of the Marriott hotel group, although it differs significantly from other brands in the Marriott portfolio. One of the biggest differences is pet policy. While not every Ritz-Carlton is a pet-friendly hotel, those that are offer toys and treats, beds and bowls, as well as special services, such as a canine spa and loaner Burberry raincoats for your pooch. Some properties offer special pet packages, which include canine room service and special hikes. All of this has a price, of course: expect to pay between $125 to $250 in non-refundable fees if you want to share a luxury experience with Fido. Policies vary from hotel to hotel, so be sure to call ahead and check the details.
9. Choice Hotels
The Choice Hotels group encompasses many, many brands, most of them names we'd recognize from roadside travel throughout Canada and the U.S. And, for many of us, brands like Comfort Inn and Econolodge, while maybe not the ritziest of destinations, are synonymous with reasonable pricing and good service. These chains are popular with budget travelers and people traveling for any number of reasons, whether it be business or pleasure. Choice Hotels knows we can't always we leave our pets behind—nor do we want to; in fact, 80 percent of people see their pets as family members. The Choice Hotels brands have made the decision to bring your pet along easy; there's no need to choose between comfort, value or keeping your pet by your side as long as you're booking with a member property of the Choice Hotels group. For some, that means more comfort away from home.
8. Novotel
Novotel is a relative newcomer brand in a lot of places, but they're definitely becoming major players on the business travel circuit. Most of their properties offer generous business amenities, from large, catered meeting spaces to free internet connections and print-and-copy centers. They're also known for their pet-friendly policies, which allow guests to bring up to 3 dogs with them for their stay at a Novotel property. With operations around the globe, in cities like London, Amsterdam, Beijing and Bangkok, Novotel offers options both close to home and in more far-flung places, which means you don't need to compromise your travel plans just because you want to share the experience with your pet. In an environment where finding a place to put up your (literal) dogs can be challenging, Novotel provides one of the best pet-friendly atmospheres for travelers.
7. Four Seasons
Welcoming dogs up to 60 pounds and cats, Four Seasons' website specifically states that "everyone deserves a vacation!" That includes your furry traveling companions, who are welcome at most of the Canadian-based luxury chain's properties around the world. Four Seasons has long been lauded for its focus on people—not just their customers, but their staff as well. With a focus on providing exceptional customer service through knowledgeable staff, it's little wonder that Four Seasons has a comprehensive pet policy that's focused on giving their guests—even the four-legged ones—the best possible hotel experience while they're on the road. To that end, traveling pets receive a bed and dishes during their stay. Check the individual hotel's policy—Four Seasons Singapore has no additional fee for 1 pet, but Four Seasons Chicago charges a $40 fee per pet, so ensure you're not in for a surprise before you head out.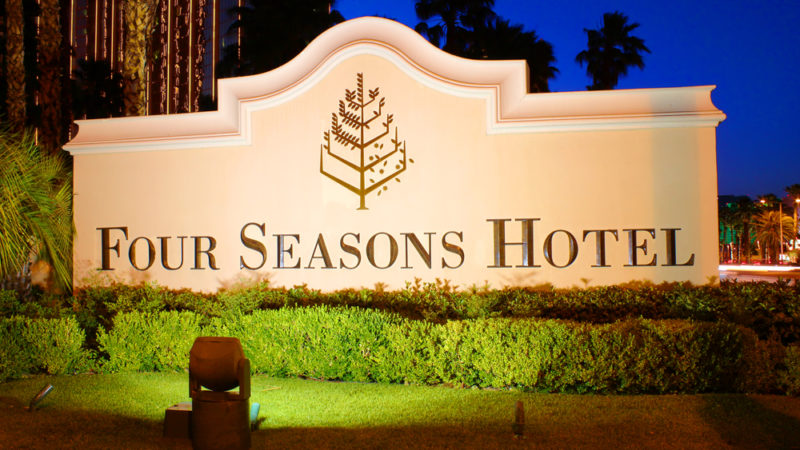 6. Delta Hotels
This decidedly Canadian hotel chain recently joined the Marriott umbrella, but for now they've kept many of their own policies. Unlike some Marriott brands, which tend to have a bad rap for pet policies, Delta has a comprehensive pet-friendly policy that allows guests to travel to their destination with 2 pets (per room). Cats and dogs (up to 50 pounds) are both welcome on almost all Delta properties, which are to be found across Canada. Although there are some restrictions on where in the hotel your pet can accompany you and there is a $35 fee for accommodating your furry friend, the hotels get bonus points for having a single policy applied to all of their properties, which means you don't need to double-check the fine print when you book with a Delta hotel.
5. InterContinental Hotel Group (IHG)
Whether you're looking for the luxury experience of the Crowne Plaza brand or the economic sensibilities of a Holiday Inn, IHG has you covered. Understanding that many of their guests travel for business or are often away for long periods of time, IHG realizes how important it is for many travelers to bring their pets with them. Pets are allowed to stay at most of their properties, although the policies can and do vary by locality, so always be sure to check the fine print when you book your stay. Some properties may charge additional fees for furry guests, and not all of them will roll out the welcome wagon for your cat, dog or other furry companion. But with numerous properties around the world, and different brands in every economic bracket, you're bound to find a place where you and Fido can kick up your heels, from Andorra to Ecuador and every stop in between.
4. Radisson Hotels
Search "Radisson hotels pet policy" and you'll find, among the usual corporate links, a number of customer reviews on sites like Tripadvisor, and almost all of them agree: Radisson hotels are not just pet-friendly, they're super pet-friendly. If you want somewhere to bring your four-legged friend while you're traveling, a Radisson hotel is a good choice. Although a fee applies—anywhere between $10 and $50, depending on the duration of your stay and the location—the hotels accept 2 pets per room. Although there's an official corporate policy and most of the websites for individual properties have their pet policies posted, it's always a good idea to call ahead and inquire about the policy of the hotel where you plan to stay, since not all hotels maintain accurate and up-to-date policies on their websites.
3. Hilton Hotels
You knew the Hilton Hotel group's variously branded properties would be pet-friendly, especially if heiress Paris Hilton had anything to say about it. The eldest Hilton's love of animals is clearly a family trait, one that's reflected in the pet-friendly policies in place at most Doubletree, Hilton, International Plaza, Embassy Suites, Garden Inn and Hampton Inn hotels. That means there are a lot of places to choose from if you want to bring your pet along with you, whether on vacation or on business. Hilton is also international, so your choice of destination shouldn't limit your options either. Hilton also goes the extra mile for your furry family member—not only do they get their own bed, they get their own room in some hotels. Equipped with beds, bowls, toys and other goodies, these rooms ensure dogs are treated as guests in their own right.
2. Best Western
Not all Best Western hotels are pet friendly, but a growing number of them—1,900 and counting, in fact—do welcome pets on premise. Their site even offers a pet travel blog, planning tools for traveling with your pet and tips from the Dog Whisperer, Cesar Millan. Although policies vary from property to property, often in accordance with local by-laws and legislation, Best Western as a company recognizes that people love their pets and want to travel with them, which is why they provide the resources they do. Since they're one of the most extensive and trusted chains in the world, you don't need to limit your travel options either; whether you're staying on this continent or traveling across oceans to reach your destination, chances are there will be a pet-friendly Best Western nearby, no matter what shore you turn up on.
1. Starwood Hotels
The Starwood umbrella includes recognizable names like Sheraton and Westin and unites them together under one management group. That means that many Starwood properties function under the same pet policy, although there may be some properties that have different provisions, often because of different local health codes or by-laws. Sheraton properties are particularly pet-friendly, extending guest status to dogs 40 pounds or under and offering visiting pooches a Sweet Sleeper bed. Westin properties are mostly pet-friendly, for both cats and dogs, although some hotels have only a few designated pet-friendly rooms—so be sure to double-check the fine print before you book. The W property in New York offers a pet welcome kit, including a toy and a treat. Starwood was also one of the first hotel chains to create a pet-friendly policy, and they've been welcoming furry companions for over 10 years now.