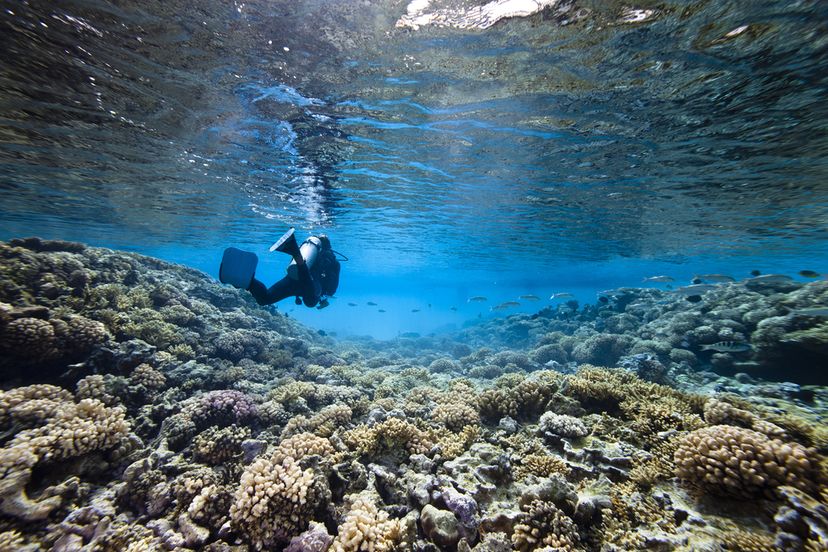 There is no better way to explore the underwater world of marine animals, shipwrecks, fascinating coral towers, limestone formations and schools of colorful fish than scuba diving. Whether you are a beginner or an expert with decades of experience, the amazing underwater world you can discover around the planet is absolutely mind-blowing. From hammerhead sharks to manta rays to ancient cenotes; these 10 locations around the world are the best of the best.
10. Cozumel, Mexico
Divers will certainly have their choice of dive operators on this island as there are more than 100 offering everything from deep dives, wreck dives, night dives, and underwater photography dives. This world-class diving site offers everything from swim throughs to tunnels to walls of coral to cenotes to sharks to rays. It is best to dive here in the summer when the water temperature is warmer and the hotel prices are cheaper. Cozumel is also known for its incredible visibility and deep dives. Divers can expect up to 100 feet of visibility. There are plenty of dives both for the beginner and advanced but visitors should be aware that the current can be especially strong in some sites and diving experience is recommend for these. With the 600-mile long Maya Reef that stretches from Cozumel to Central America, and boasts an abundance of colorful fish and coral, it is easy to see why Cozumel is a premier diving spot.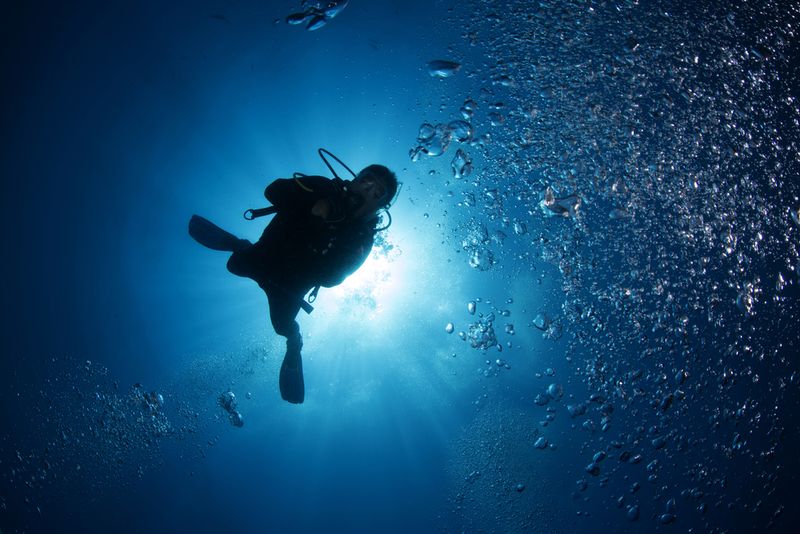 9. Hawaii, U.S.A
This Pacific paradise attracts divers from all over the world, both beginners and experienced. The remoteness of Hawaii means fewer fish species than waters like the Caribbean, but offers the chance to discover marine life found nowhere else on earth. One of the most popular dives in the world occurs off the island of Kona, the manta ray night dive. Divers descend into the darkness while giant manta rays swim overhead, most describe it is as truly magical. Diving off Lana'I is popular amongst those looking to discover new fish and rare invertebrates while Moloka'i offers divers the chance to catch a glimpse of the rare Hawaiian monk seal and hammerhead sharks. Kaua'i is home to an abundance of collapsed lava tubes and huge green sea turtles that aren't afraid to get their pictures taken. Divers who are in the water from December to April may be able to hear the song of the humpback whales as they migrate through these waters.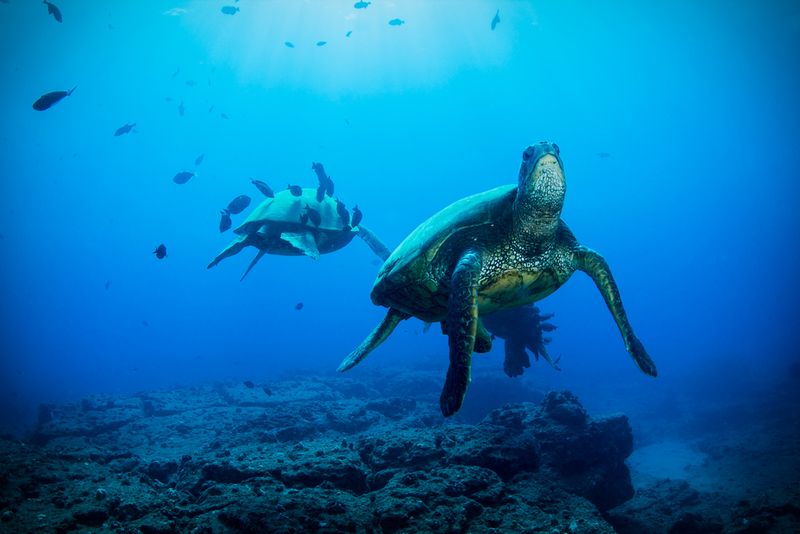 8. Great Barrier Reef, Australia
The Great Barrier Reef is so large that one can actually see it from space and has been known over the years for being one of the world's most premier diving spots. It stretches 1,430 miles along Australia's northeastern coast and offers over 4,000 separate reefs, cays and islands. It could truly take more than a lifetime to explore this entire reef which features over 1,500 species of fish and shipwrecks. It is the world's largest and healthiest coral reef system that teams with biodiversity and an array of species you won't find anywhere else. Divers here will come face to face with large sea turtles, reef sharks, sea snakes, barracudas and dolphins. The size and variety of this reef makes it perfect for any type of diver and visitors won't be hard pressed to find an operator in one of the many seaside towns.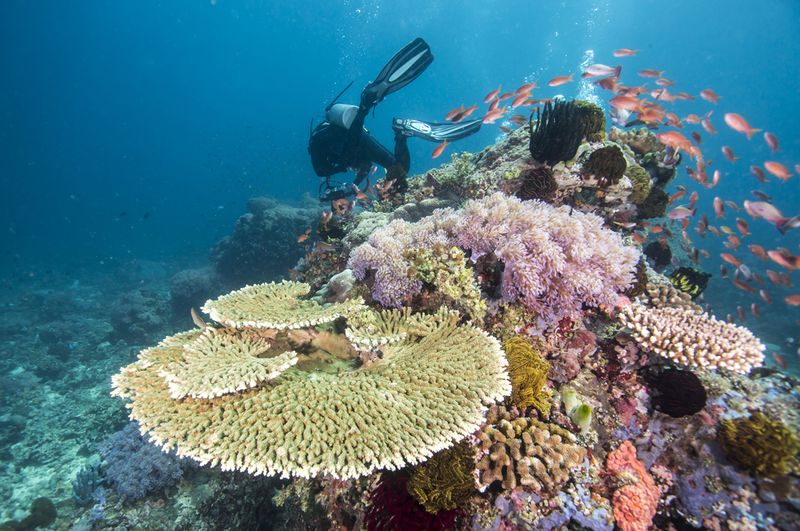 7. The French Polynesian Islands
It has long been known as a destination for honeymooners and other species of lovebirds, but besides the gorgeous white sand beaches over the water bungalows and framed palm trees lays a world to discover under the water. There are over 118 islands and atolls throughout this vast area and with 11 of them offering diving centers; it is easy to be overwhelmed with choices on where to dive. Fortunately there is an array of varied dives, from the shallow lagoons for beginners to the drop-offs and passes for the advanced divers. Moorea Island is also known as 'Shark World' and is famous for its hand-fed shark and stingray dives. The atoll Rangiroa is also known for both its calm lagoon that teems with marine life and it's thrilling passes that feature sharks, big fish species and turtles. These waters explode with colorful coral, fish, sharks and other marine species that proudly show themselves off. No matter where you dive, this promises to be unforgettable.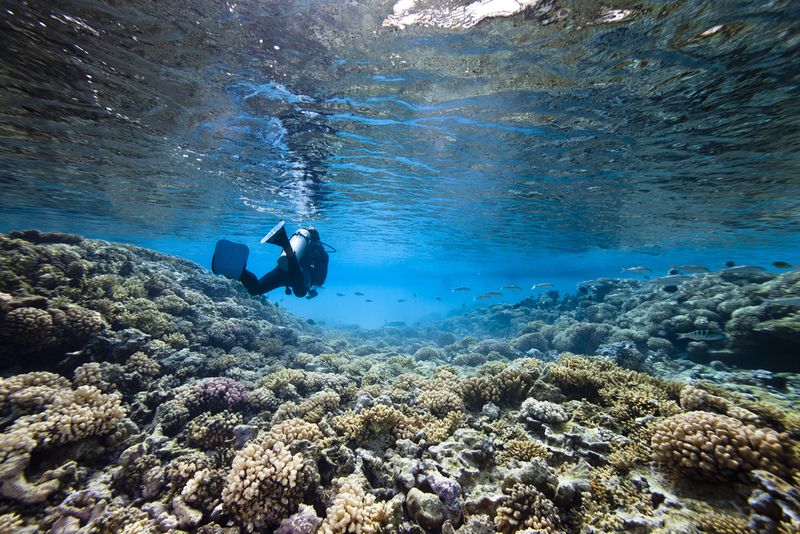 6. Roatan and The Bay Islands, Honduras
This popular diving spot has been attracting divers for decades as it feature amazing shipwrecks and endless colorful coral. It is here that the world's second largest barrier reef is located and divers will be privy to swimming with eagle rays, schools of colorful fish and the all mighty whale sharks. Utila is where divers will head if they want to swim with these majestic creatures and it is one of the only places year round that the whale sharks can be seen. This destination is inclusive for all levels of divers and whether you are just getting your feet wet, or you have been diving for years, there is an experience here for you unlike anywhere else in the world.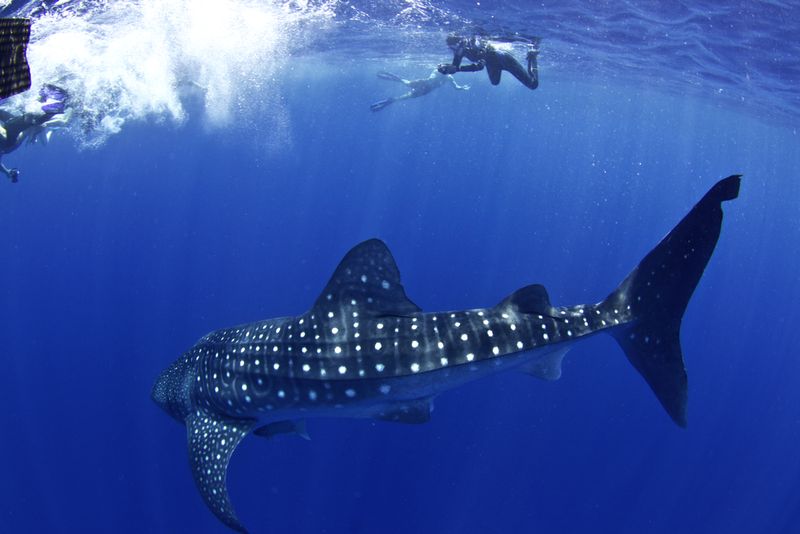 5. Malaysia
It is blessed with some of the richest waters and diving here offers experiences unlike any other in the world. Sipadan, the little island off the east coast of Borneo is what most divers come to experience. It lies in one of the richest marine habitats in the world and boasts an extremely high number of turtles, grey and whitetip reef sharks, and large schools of bumphead parrotfish, barracuda and trevally. Layang-Layang is another reason to dive in these waters as this little speck of an atoll is fringed by some of the best coral fields in the world along with its huge schools of scalloped hammerhead sharks. Where you want to dive and what you want to see will determine the best time of year to visit these waters as different seasons bring different water conditions.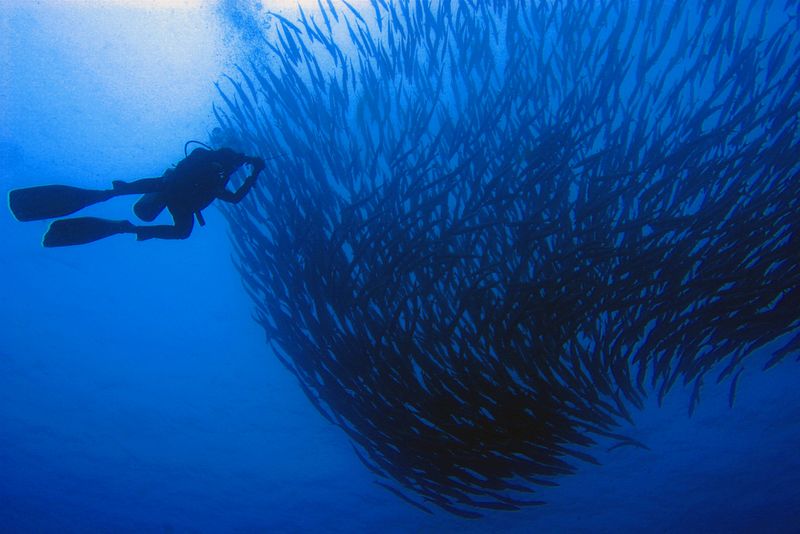 4. Galapagos Islands, Ecuador
It is where Charles Darwin came up with his theory of evolution, a place where countless mammals, reptiles and birds thrive and its waters are some of the most pristine areas left to dive in this world. These waters work best for experienced divers as currents are strong and conditions are often choppy. The tiny Darwin Island is an excellent choice for divers as the waters are full of fur seals, sea lions, whales, marine turtles, marine iguanas and schools of sharks. Isabela Island, the largest island in the Galapagos is home to penguins that shoot by you, sea lions, sea turtles, and a challenging underwater volcano that is swarming with Galapagos sharks, along with schools of hammerheads and barracudas. July to November is when divers choose to head here as the sharks tend to be the most active and plentiful. These waters deserve at least two weeks to explore and promise to surprise you at every twist and turn.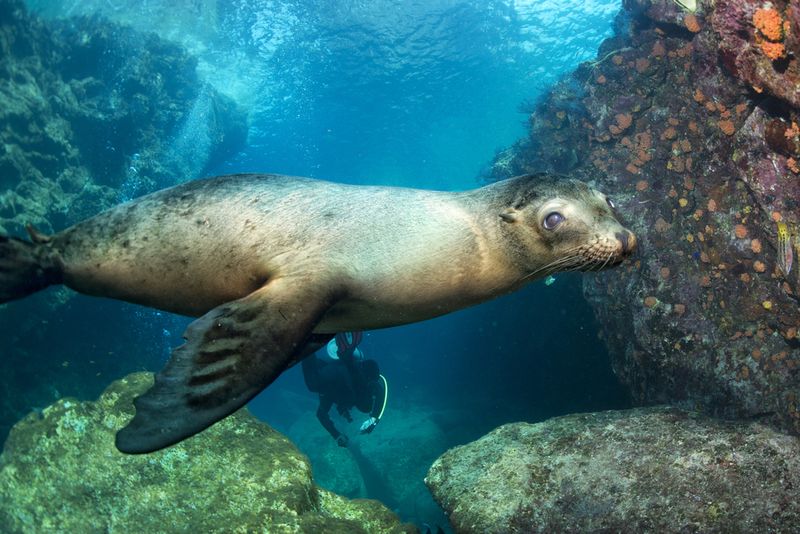 3. Turks and Caicos
It boasts some of the clearest water in the world and with so many islands that are uninhabited; it makes for a perfect place to escape the crowds of the Caribbean. Turks and Caicos is not only known for its brilliant turquoise water but also for its incredible wall diving. It is here you will dive into the world's third largest coral reef system and find drops that plunge hundreds of feet into the deep. The Columbus Passage, a 35-kilometer channel that separates the Turks Islands from the Caicos Islands is a water highway for migrating fish, rays, turtles, dolphins and Humpback whales from January through March. With incredibly calm waters and an abundance of marine life, every dive here promises to be thrilling.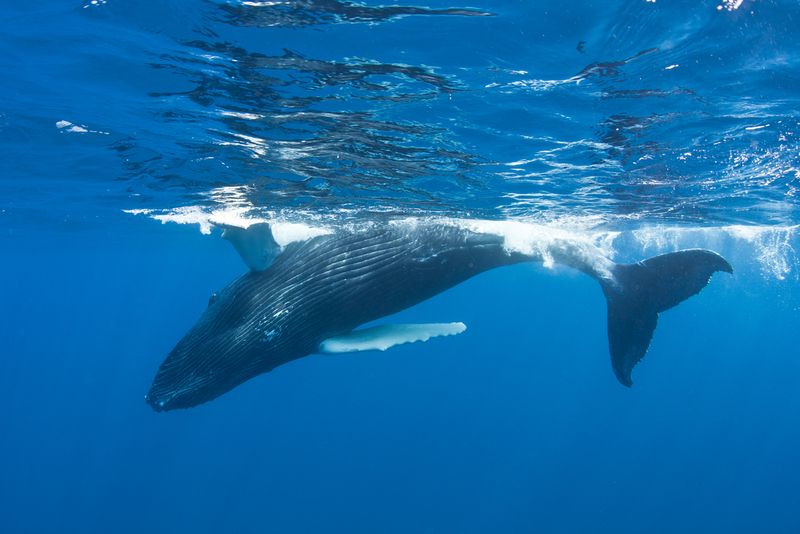 2. Belize
Belize is most widely known for its famous dive spot the Blue Hole, an underwater sinkhole that descends over 400 feet. To dive the Blue Hole it is recommend that you are an experienced diver and you are well prepared for this magical experience. The Blue Hole doesn't teem with colorful fish or coral; in fact the only marine life you might see deep in the depths of this hole is a hammerhead or reef shark. Instead you will dive into an ancient geographical phenomena complete with an array of limestone formations and bizarre stalactites. If you want colorful fish and coral, Belize offers plenty of that along the reef and is home to many species of sharks, rays, barracudas and many species of fish. Belize is known as a destination for the more adventurous divers and you will certainly benefit if you have some experience under your belt before you travel to this country.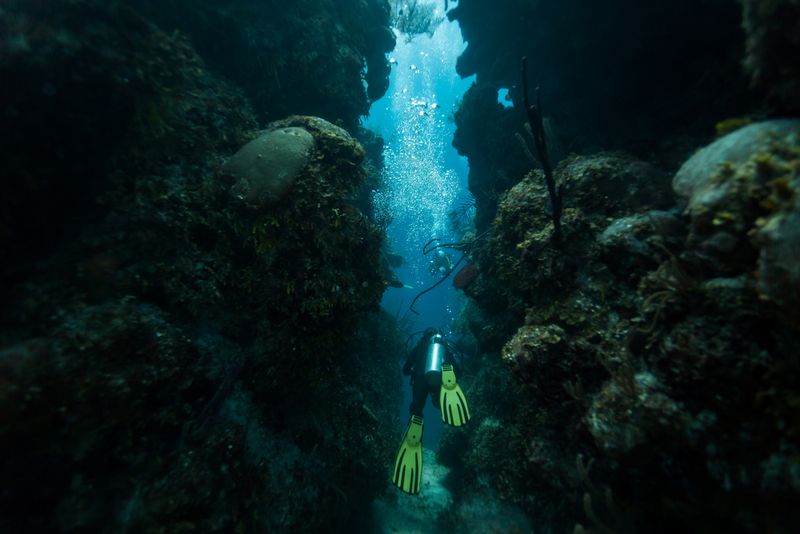 1. The Red Sea, Egypt
For many people, Egypt is known for its incredible above the water attractions and although one should not discount the ancient monuments and pyramids, it is below the water that is the real jewel of the country. Divers here are privy to hundreds of miles of coral, millions of fish, warm water, great visibility, sheltered reefs, walls, coral gardens and wrecks. This destination is also known for having an excellent availability of instructors which makes the Red Sea a perfect spot for learning how to dive. Drift dives are quite common in the Red Sea due to currents as are night dives amongst towering coral and schools of fish. Whale sharks, moray eels, barracudas and tuna are all spotted throughout these waters. The warm water temperature year round makes diving here at anytime an unforgettable experience.