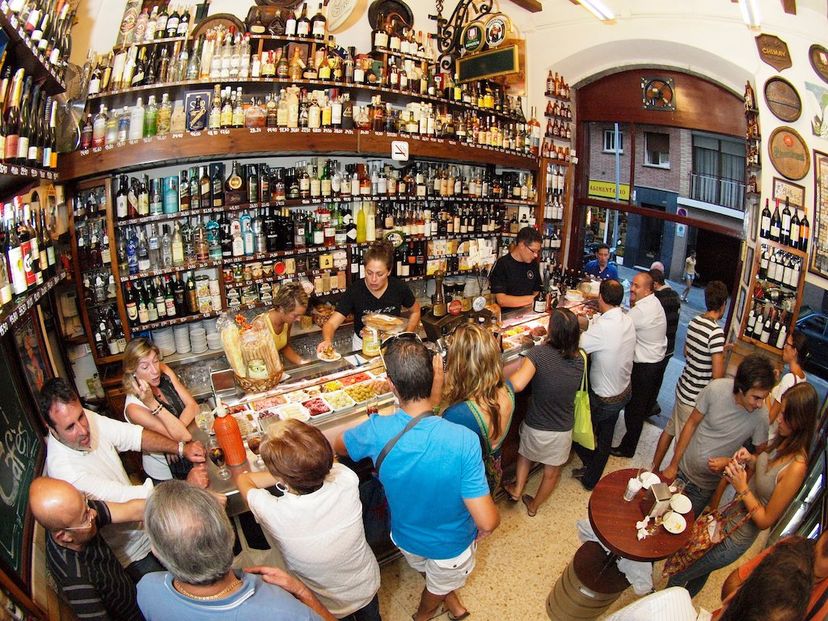 Experience one of Spain's favorite activities—evening tapas at these 10 popular spots in Barcelona. Join the locals for an afternoon or early evening feast of small plates ranging from blood sausages and Spanish omelets to more inventive small plates like tuna topped with caviar and platters of garlic prawns. When it comes to local flavor, you won't find any chain restaurants on this list but trendy, old-fashioned hideaways serving up classic Spanish dishes.
10. El Rincon del Cava
In the heart of the Poble Sec neighborhood of Barcelona, get ready to feast on pre-dinner tapas like prawns, mussels, chorizo, and all the classic dishes at El Rincon del Cava, a popular local taperia. While unknowing out of town travelers get gauged at nearby tourist traps, you can rest easy since most tapas are around 3 Euro and pints of beer only 2.50. Not bad for the budget traveler feeling peckish in between meals. You'll find it situated on Carrer de Blasco de Garay, which lies in the middle of a cultural mecca of chic restaurants, lively bars, and historic landmarks like the Museu Nacional d'Art de Catalunya (MNAC), a treasure trove of art history relics.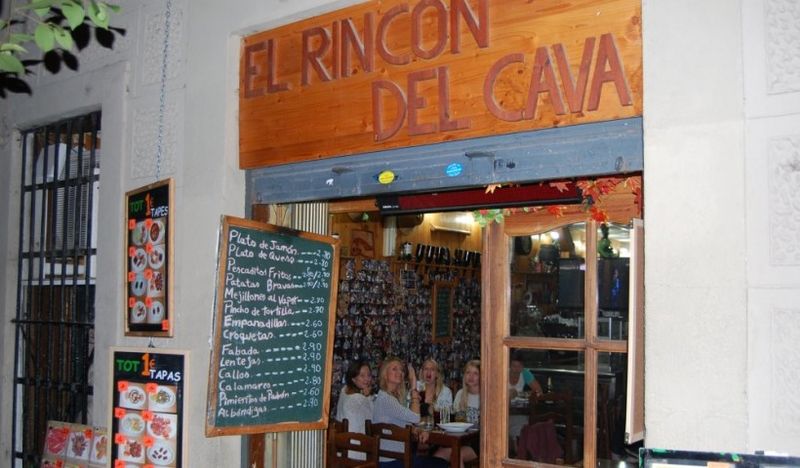 9. Maitea
Along the well-grooved tapas trail of Basque-style taperias, follow the locals to Maitea and happily indulge in generous portions of cured meats, Spanish cheese, and seafood casually served with toothpicks, a hallmark of the tapas tradition. They also serve pintxo, a decadent bite-size treat made with a large date wrapped in bacon. Maitea also has a large selection of wines, plus Almogaver beer on tap and txakoli cider. Follow the signs to Carrer de Casanova and grab a seat at the bar for an early evening feast of cold montaditos, which are small sandwiches made with a variety of ingredients ranging from bacon and goat cheese to fried quail eggs and walnuts. Grab a sampling of the most enticing tapas and leave the toothpicks, which will be counted at the end of the meal, the Spanish way of paying the bill.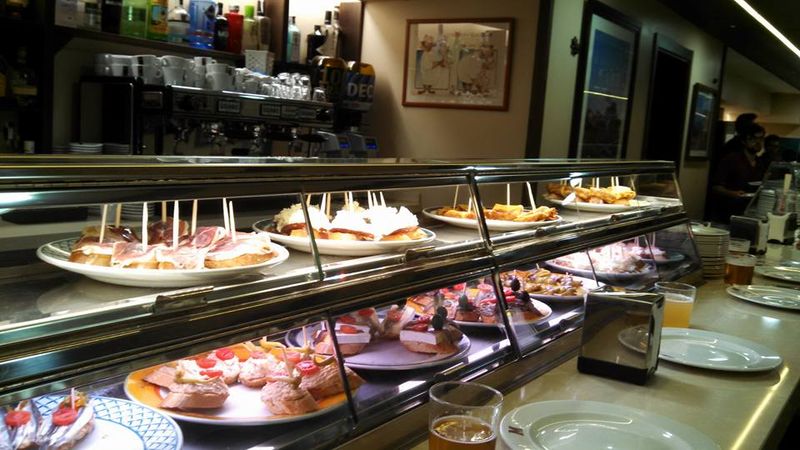 8. Elisabets
Head to Elisabets on Carrier d'Elisabets and join the local workers and students for reasonably priced tapas at this well-loved institution. If you're feeling adventurous, skip the classic Spanish omelets and garlic prawns and try the patatas rabiatas, a rich dish of fried potato chunks and piquet bolognse or the morcilla amb confitada de cebolla (blood sausage with braised onions). Its central location and cheap prices make it a popular spot for hungry locals looking for a pre-dinner snack before venturing out for a late night dinner, one of the interesting habits of Spaniards. The choricito and pimientos de pardon might be on the spicy side for the average palatte, but a jug of Spanish beer is the perfect antidote.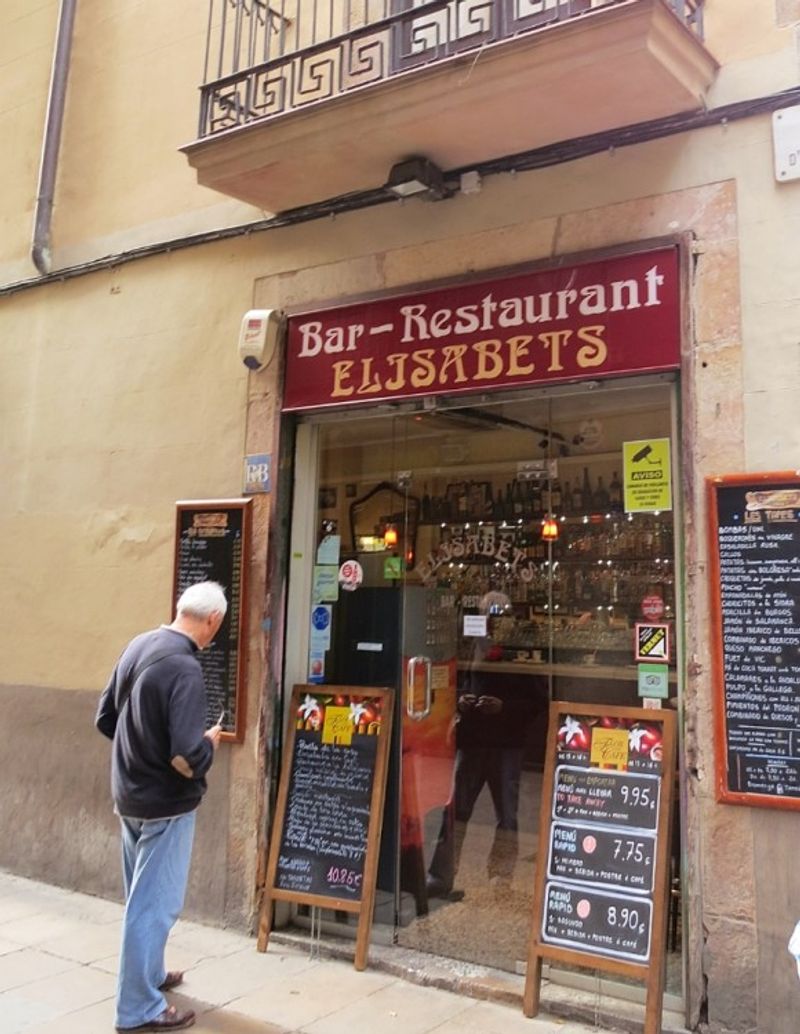 7. Los Toreros
Bullfighting might be a thing of the past in Spain, but its long tradition can be felt within the walls of Los Toreros, Barcelona's favorite bullfighting themed tapas bar. The faded relic of the 1960s is full of bullfighting memorabilia. Now more of a museum, the décor is a nostalgic tribute to Spain's centuries-old tradition of bull verses matador. Around the corner from the Ramblas, settle in and get into the Barcelona spirit with rabo de toro, the classic oxtail stew or lighter tapas like a platter of garlic prawns. Sombreros are optional, but a glass of their house-made sangria is highly encouraged.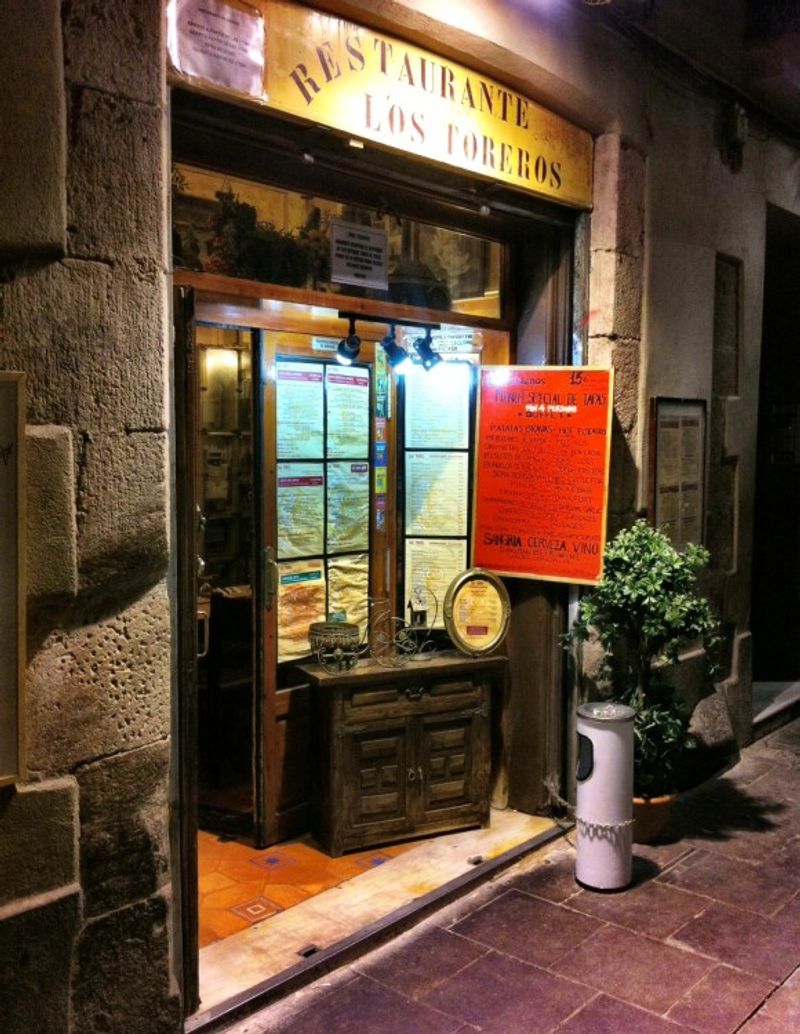 6. Casa Jacinta
Casa Jancinta, a tapas bar on Carrer de Tamarit, might look like a hole in the wall tavern, but it's typically packed with locals who keep coming back for some of the best albondigas (meatballs) in Barcelona. What the taperia lacks in posh décor and ambiance is made up for with their tasty tapas like papas arrugadas, which is made with smashed potatoes in a rich coriander sauce. They also serve a delectable aubergine mousse with sesame seeds and toast points. With enough pretention to go around at the fine dining restaurants, Casa Jacinta is a laid-back alternative to the more posh hotspots in the city.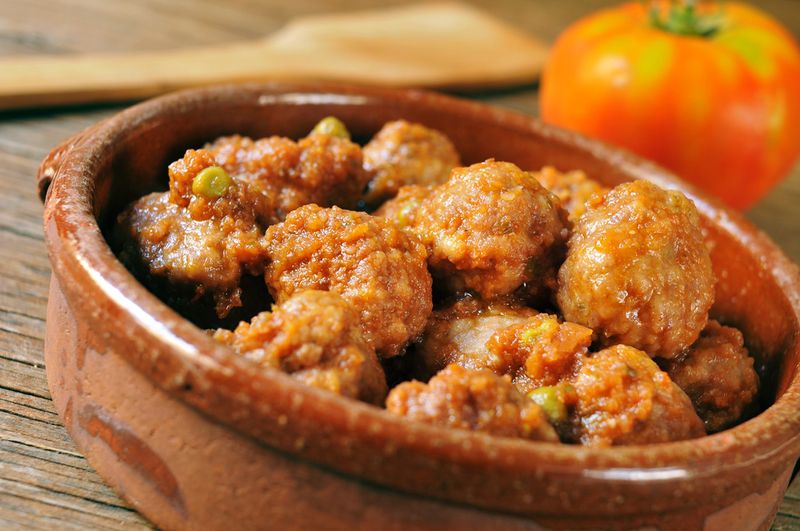 5. Tossa
After a stroll through the Sagrada Familia Church, the world famous Modernisme style marvel designed by Antoni Gaudi, stop in at Tossa and feel like a local over an al fresco tapas feast on the terrace or inside the bar for a more intimate experience. What sets Tossa apart from the many tapas bars scattered across Barcelona are their homemade croquetas, which are considered by many to be the best in the city. From their interesting tapas menu, you can sample classic dishes like stuffed eggs and tuna-filled jacket potatoes or lighter faire like salpicon de marisco (seafood salad) or Navajos (razor clams) covered in garlic and butter. For more traditional tapas, Tossa also serves blood sausages and cured meats, the staples of Spain.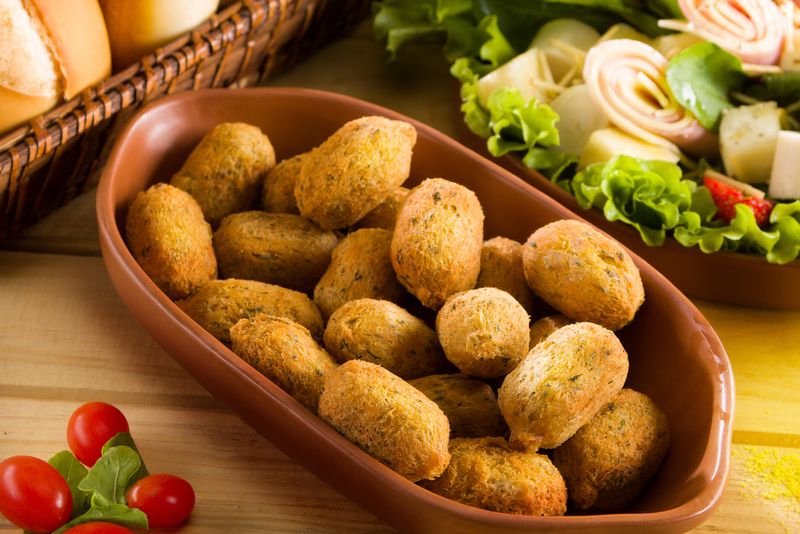 4. Morryssom
Situated on Carrer de Girona, Morryssom is always busy with locals feasting on their favorite tapas like pescadito frito (whitebait), custom paella made to order, mussels, and all the Spanish classics. They even have vegetarian paella with goat cheese if you happen to have a vegetarian in your party. After the lunchtime rush, you'll find the bar scattered with stragglers lingering over coffee and licores, a popular rich-flavored digestivo. Hopefully by then you'll be able to grab a spot at one of their pavement tables to catch the last rays of the late afternoon sun while curbing pre-dinner hunger with a few small plates.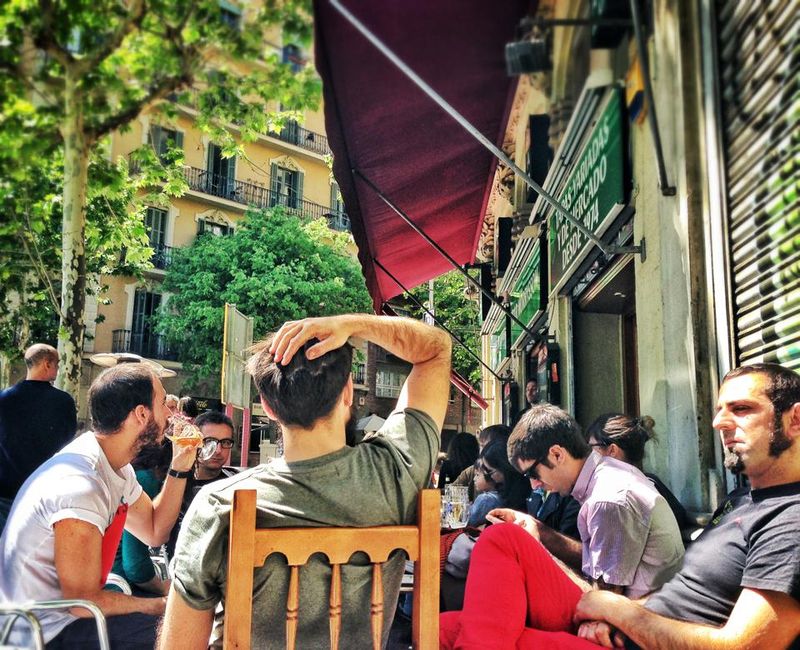 3. El Roure
This Catalan style taperia is a favorite local hangout for friends meeting up for a few small bites before heading out onto the town. During the day, it feels more like a quiet canteen filled with older clientele and university students in between classes or study sessions. Before the rowdy evening crowd shows up, Roure on Carrer de Luis Antunez is a peaceful spot that is ideal for writing or reading over a platter of garlic prawns or cured sausages. After wandering around Gracia, head to this tavern for the best paella in Barcelona, although it's only served on Thursdays. The owners are used to fussy locals ordering their paella custom prepared or serving every variation of traditional tapas imaginable. They also serve Moritz, a popular malted beer from Spain.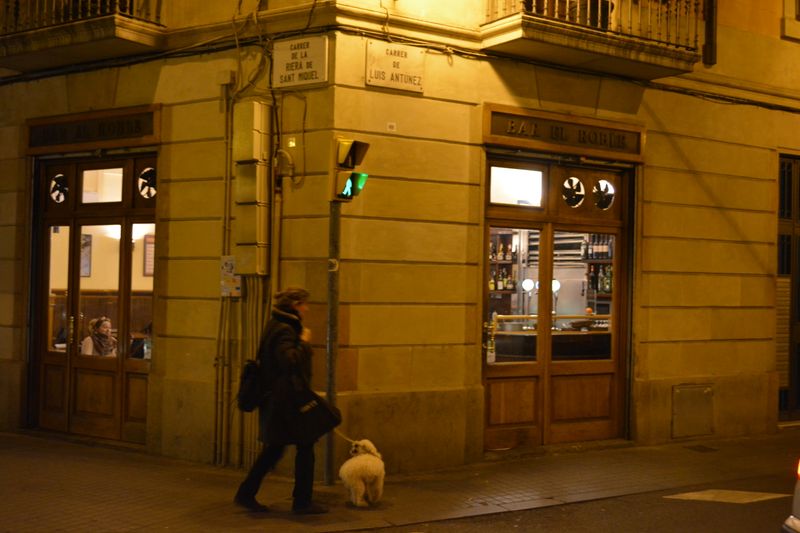 2. La Cova Fumada
La Cova Fumada might be a local hole in the wall, but it keeps out hordes of tourists, letting locals and savvy travelers enjoy their tasty tapas in peace. This busy family-owned taperia is known for its handmade bombas, which are meat-filled mashed potato balls rolled in bread crumbs and served with a range of hot sauces that vary in strength. The bread is also something special with huge slices grilled and slathered in fresh garlic mayonnaise. It might sound simple enough, but it's still bursting with local flavor. For one of the most authentic Spanish tapas experiences in Barcelona, head to this hidden gem on Carrer Baluard.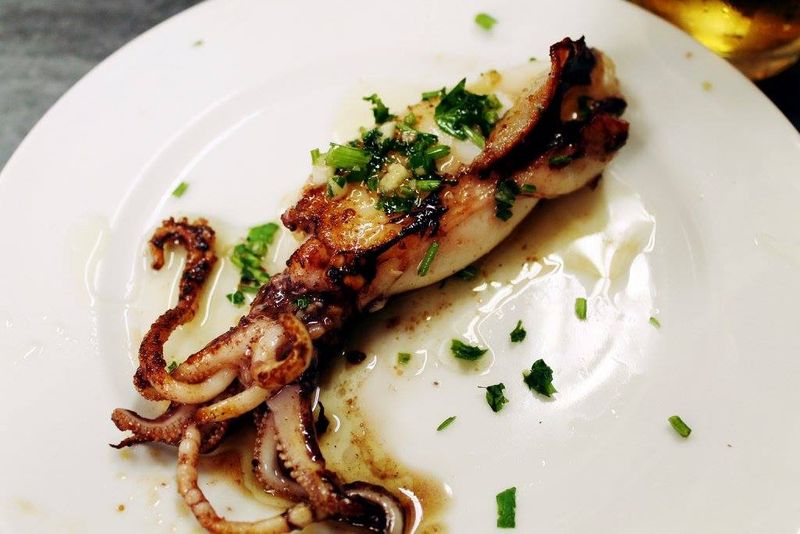 1. Quimet y Quimet
What makes Quimet y Quimet stand out among the many Barcelona tapas bars is their impressive wine and spirits collection that fills the shelves from floor to ceiling. This boisterous bodega on Carrer del Poeta Cabanyes is also famous for their interesting montadito combinations that range from tuna topped with caviar to salmon with truffle honey. They also have all the classic small plates like croquetas, cured meats, and seafood dishes. If you can't decide what to order, let the maestro put together a platter of popular dishes for a sampling of the chef's choice.