Nothing screams summer more than embarking on a trip to one of the many waterparks across America. Some of the largest and most outrageous waterparks in the country are full of new attractions, slippery waterslides and wave pools that will knock your socks off. Discover realistic surfing waves, super speed water coasters and an abundance of kid-friendly water play areas. From Orlando to Denver to the town of Santa Clause discover the 10 most exciting, best in class waterparks in America.
10. Water World -Denver, Colorado
It's not a city that one necessarily associates waterparks with but Denver has a lot going for it when you consider Water World. With over 50 attractions for all family members it is considered one of the premier waterparks across the country. Some of the highlights of this park is the two waves pool, one tamer than the other; the lazy river and the multitude of tube rides. The most famous of attractions here is the 'Voyage to the Center of the Earth' ride which takes place completely inside and is a multi-rider raft ride which takes you back to when the dinosaurs lived, throughout caves, down steep drops and feels more like a theme park ride. For those seeking thrills make sure to try out the 'Mile High Flyer', which is the first hydro-magnetic water coaster in the Rockies; that's right we said water coaster.
9. Wet 'n' Wild -Orlando, Florida
It is considered America's first waterpark and it is remarkable that they still remain one of the best across the country. What visitors love most about this park is the amount of multi-rider slides and the absolutely amazing kids play area. Families it seems are drawn most to this park and kids love to visit the family orientated 'Blastaway Beach'. Here a giant sandcastle, 17 slides and over 160 water attractions meets kids and parents in the biggest water playground for kids in the state. For those looking for a little more excitement, try the Bomb Bay where you plunge from six stories high or the newest slide, the Aqua Drag Racer where you can race three other people over 360 feet of adrenaline pumping thrills. Located just a stone's throw away from Disney, this park is often less crowded than those located at the parks.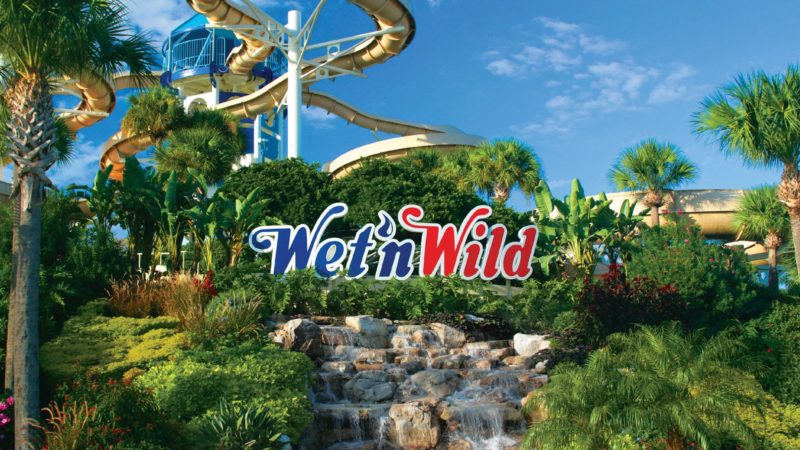 8. Disney's Blizzard Beach Water Park -Orlando, Florida
Speaking of Disney, Blizzard Beach Water Park is next up on the list of the best in America. It was the third most visited waterpark in the world in 2014 and it's not hard to see why. The majority of the attractions are located on top of Mount Gushmore, an artificial hill that splits into three different sections. Park goers can choose to either walk up the staircase or ride the one-way chairlift to the top. 'Summit Plummet' is one of the most popular slides as riders whisk down this 13 story slide at about 60 miles per hour. 'Teamboat Springs' is a family favorite and sends the whole family down a series of twisting and cascading waterfalls in one giant tube. An excellent kid's area with mini-waterslides, a variety of shade and sun and great dining options await you at this ever popular waterpark.
7. Wet 'n' Wild Hawaii -Kapolei, Hawaii
It is one of the most beautiful parks on this list, set in a lush tropical setting surrounded by natural cliffs and breathtaking landscapes. It is also one of the most popular waterparks in the country and it is easy to see why people love to visit. The simulated surfing experience is one of the most popular attractions and gives visitors the chance to take on a continuous 40-foot wave, with either a surfboard or body board. The newest addition to this park is the 'Waimea Whirl', a two-person thrill ride that drops riders into bowls of waters, spins them around and shoots them back out. A multi-level kids water playground, a lazy river through the tropical gardens and an adults only area makes this waterpark a must visit this year.
6. Sea World's Aquatica -Orlando, Florida
It's part waterpark and part marine animal attraction but the fact of the matter is people absolutely love this waterpark. The park features attractions and water activities for people of all ages but there most signature ride is the 'Dolphin Plunge'. Enclosed tube slides send riders through the home of the black-and-white Commerson's Dolphins, known for their playfulness and super speeds. A new slide recently opened here that claims to be the fastest and steepest waterslide in Orlando and sends riders straight down 40 feet before twisting and turning them through tunnels. The lazy river here takes riders through an underwater world full of exotic fish and dolphins. Visitors love the side by side wave pools, one offering constant high rolling waves, the other a mystery. A white sand beach with plenty of shade and lounge chairs complete the pools.
5. Noah's Ark -Wisconsin Dells, Wisconsin
It is the largest waterpark in America and features a whopping 51 waterslides, a surfing simulator, two wave pools and an abundance of other attractions. It is also known for its extreme rides and thrill seekers will love their time here. The 'Scorpion Tail' draws the adrenaline junkies as it is America's first nearly vertical waterslide loop, sending riders down an initial drop at 50-feet-per-second. The 'Black Anaconda' on the other hand feels more like a rollercoaster than waterslide as it sends raft riders up and down its course, with speeds reaching 30 miles per hour. This park also features numerous group rides in which you can choose to race your partner down the hair raising mat slide or pile alongside each other in one of the circular tube rides. Families will love the many kid's areas that are scattered throughout the park and this is truly a day of non-stop fun.
4. Six Flags White Water -Atlanta, Georgia
This family friendly waterpark offers something to do for all ages and is full of thrilling waterslides, family friendly activities and plenty of area for the kids to run around and get wet. The biggest decision at this park will be deciding what to do first. Adrenaline lovers will want to start with the recently added 'Dive Bomber' which sends riders plummeting 10-stories down at nearly 90 degrees into a splash pool. The little ones will want to start off at 'Tree House Island' where a four-story tropical treehouse features slides, spray jets and a big ole tipping bucket of water on top. If you can manage to get the whole family together in one place, head on over to the wave pool, lazy river or one of the family raft rides down the slides. No matter how old you are, this park promises to have you having fun in no time.
3. Disney's Typhoon Lagoon -Orlando, Florida
It is the third waterpark from Orlando to make this list and it comes as no surprise that Disney has managed to make yet another epic waterpark. Typhoon Lagoon is a family favorite and lives up to all expectations. This park is home to North America's largest wave pool that features 6-foot waves every 90 seconds, certain to keep your heart pumping. This park definitely caters to families with older kids, teens and adults themselves as many of the slides are fast and thrilling and the additional attractions cater to an older crowd. One experience visitors won't want to miss out on here is snorkeling at Shark Reef where you can get up close and personal with leopard and bonnethead sharks, stingrays and schools of blue tangs. Available at no additional charge, this underwater experience is like nothing else. The added bonus of this park, visitors can bring in food and drinks to save a little money.
2. Schlitterbahn -New Braunfels, Texas
This is the first and perhaps the best known waterpark in Texas due to its size and amazing water attractions it offers. It is actually two parks that are connected by a tram, the original park that was created using water from the nearby Comal River and the newer park that features more thrilling slides and attractions. Their claim to fame might just be the 'Master Blaster Uphill Water Coaster', standing at over six stories tall and 1000 feet, this uphill water coaster takes riders up, down and around in circles on their two-passenger rafts. For those with kids, there are numerous areas around the park designed especially for them, with many slides and pools. One of the best things about this park is the ability to bring in your own food and drinks (non alcoholic). This park encourages visitors to bring in coolers and picnic baskets, and has scattered tables throughout the park.
1. Splashin' Safari Water Park -Santa Claus, Indiana
This waterpark could make its way on this list with just two attractions, the two hydro-magnetic water coasters that claim to be two of the longest in the world. The 'Mammoth' and the 'Wildebeest' have given this waterpark its reputation for being one of the best in the world. The two coasters will thrill riders as they push them up and down the hills, through tubes, spin them backwards and leave them soaking wet. But these two coasters aren't all this awesome park offers. Beyond them are two wave pools, a lazy river, numerous areas for children and even more waterslides. What makes this park even more unique is the family friendly service they provide. Free sunscreen, free soft drinks, free parking and admission to both the waterpark and theme park is enough to convince us that this is truly one of the best waterparks in America.