A trip across the Atlantic Ocean over to the Old World of Europe may only be a fantasy for a number of North Americans. With airfare, accommodations, food, spending money and all the other little things that add up it can be an exceedingly costly trip. Though many people may dismiss the thought of a European getaway as just a fantasy that isn't fiscally obtainable, that doesn't necessarily have to be the case. One may be surprised to learn that certain cities are much more affordable to visit than others and the reasons for this can range from lower airport taxes to economic struggles. Below is a look at 10 of the best places in Europe to visit by cost:
10. Athens, Greece
Athens International Airport is the obvious international hub of Greece, though that may not be the best plan of arrival for potential visitors. In bound flights to Greece are rarely cheap, and it usually makes more sense for travelers to land elsewhere in Europe and make a short land trip into the country instead. Due to recent economic struggles in the country, hotel prices have dropped quite a bit in the past few years.
Tourism is a major industry and a key part of the Greek economy. Greece ranks as the 10th most visited country in Europe, and saw over 15-million visitors in 2012. Major attractions in Athens include: the Acropolis, the Parthenon, the Agora and the National Archaeological Museum. For travelers on a budget, Greece is an ideal candidate to visit on a trip through a number of countries as prices for hotels and other amenities have dropped from the aforementioned economic struggles.
9. Milan, Italy
The choice between Milan and Rome is a difficult one, but Milan comes out slightly cheaper in comparison for tourists. Milan is one of the most important tourist destinations in all of Europe, and will never truly be a bargain destination for visitors. The addition of Emirates flights to Milan, however, means that there are more reasonably priced flights to a destination considered to be truly first class among travelers.
The city is home to two professional soccer clubs that share the famous San Siro stadium, considered a Mecca of sorts to traveling fans that are as vocal as they are loyal and exist all across the globe. Milan is also home to Pinacoteca di Brera, Piazza del Duomo, and the Milan Cathedral. Italy ranks as the 3rd most popular European destination behind only France and Spain, and Milan provides an opportunity to experience a cultured city for a relatively reasonable price.
8. Prague, Czech Republic
A country known to savvy travelers as a little-known gem, the Vaclav Havel Airport in Prague is where visitors land. The country has started to gain notoriety for being a great place to visit, and has experienced a major boom to its tourism industry. The secret is starting to get out, however, as prices have started to rise in the past few years as more and more people become aware of the beauty of the Czech Republic.
Younger travelers may be interested in the nightlife offered in Prague, as it is known for being low cost, and home to a large number of bars and clubs that are in close proximity and open late. There are a number of castles, breweries, and quaint towns to visit throughout the Czech Republic, but potential visitors should act quickly as prices are expected to continue to rise in this historic and unique Eastern European nation.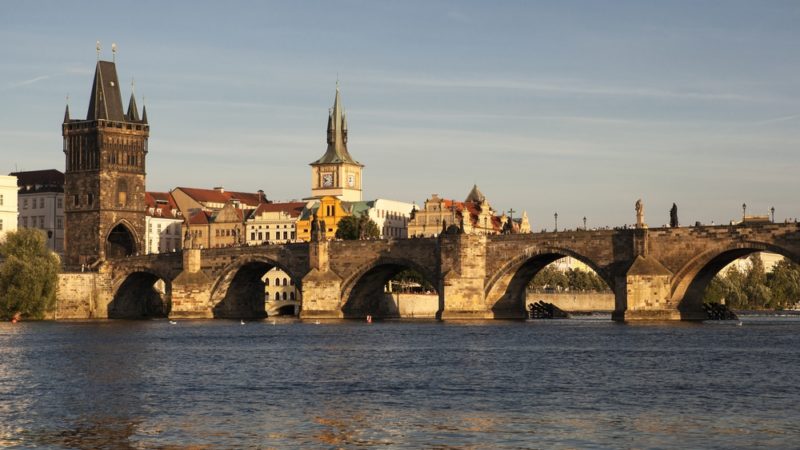 7. Madrid/Barcelona, Spain
Though the two cities provide a vastly different experience, both cost travelers an almost identical price. Madrid is home to Barajas Airport, while Barcelona has El Prat Airport. For those with an interest in the "beautiful game" both Madrid and Barcelona provide an opportunity to catch some of the best soccer players in the world plying their craft in the confines of the magnificent stadiums.
The Spanish economy has become fairly reliant on tourism as an industry, which has seen a decline due to economic issues. Luckily for potential tourists, this means costs will be less for a very popular destination. Each city provides a unique experience, with the high-tempo Madrid contrasting perfectly to the quieter Barcelona. Take advantage while the opportunity is there, as Spain is still the 2nd most popular destination in Europe. If possible (and if desirable), visit Ibiza for a crazy night or two, as it is recognized as the party capital of the world.
6. Budapest, Hungary
Much like Prague in the Czech Republic, Budapest in Hungary is another less-obvious tourist haven that has started to become more recognized. The cheapest tickets for a flight into Budapest's Ferenc Liszt International Airport usually involve a stopover in Moscow or Helsinki, though a stop in Zurich is not much more in terms of cost and saves a great deal of time. Similarly, like Prague, prices for Budapest have begun to climb in 2014.
Popular attractions in Budapest include Buda Castle, which includes: the Hungarian National Gallery, the Matthias Church, the Parliament Building and the City Park. Thermal baths are another popular tourist destination, and the Danube River passes through the city providing for great scenery. While Budapest may not be top of mind in terms of European cities to travel to, take some time to learn about its great history before crossing it off a list of places to visit.
5. Lisbon, Portugal
The westernmost large city and capital in Europe, Lisbon has been on the rise as a popular and affordable tourist destination. Tourism has started to become an increasingly important industry in Portugal, with Lisbon becoming one of the most visited cities in all of Europe. Flights to Lisbon Portela Airport, the international airport in Lisbon are reasonably priced, and the city is known to be much less expensive than other premier destinations in Europe.
Some of the more popular destinations in Lisbon are the Sao Jorge Castle, Belem Tower, Lisbon Oceanarium and the Church of Santa Engracia. Potential visitors should aim to get to Portugal before the tourism industry truly takes off in the country, while flights and local prices are still more accessible for travelers. Take in some soccer before leaving, and maybe get a chance to witness world-famous Cristiano Ronaldo as he continues his quest to break long-held records.
4. Paris, France
The dream vacation for a number of North Americans is a trip to the world-class city of Paris. The popularity of the city has led to Charles de Gaulle Airport being one of the busiest hubs in Europe. Because of this, travelers can find surprisingly competitive prices for a flight to Paris. As of 2014, costs have even slightly improved for tourists as well.
Paris is home to a number of France's most famous attractions, starting of course with the Eiffel Tower. The Arc de Triomphe is another famous monument built to honor those who fought and died for France during the French Revolution and Napoleonic Wars. The world-renowned Louvre Museum is also in Paris, home to the Mona Lisa and many other iconic pieces of art. The diversity of sights in Paris also features the iconic Notre Dame cathedral, a gothic-style church that is as gigantic as it is awe-inspiring.
3. Istanbul, Turkey
Despite the significantly further distance to travel to Istanbul in comparison to the rest of Europe, Istanbul can offer some reasonable prices for airfare. Turkey ranks as the 4th most popular destination in Europe, and 10th most popular in the world. With tourism in mind, the government in Turkey has undertaken the development of what will be the world's largest airport in Istanbul, with the first (of a four part plan) being completed in 2017.
Due to the historical significance of Istanbul, the city is one of the most important tourist destinations in the world. Some of the major tourist sights in the city include the Haiga Sofia, the Sultan Ahmed Mosque, Topkapi, Basillca Cistern and Galata Tower. Istanbul is also home to Cevahir Mall, the biggest shopping mall in all of Europe (and 7th largest in the world). The city is also home to a number of museums, sports teams and cultural events.
2. Dublin, Ireland
Ireland is a remarkably cheap country to visit in comparison to the rest of Europe. Though Dublin is the capital of the country, the airfares for flights landing at Dublin Airport are less than that of Shannon Airport, Ireland's other international hub. Tourism provides a significant amount of income for Ireland's economy with more than 6-million people visiting the country in 2012.
Destinations in Dublin include St Patrick's Cathedral, the National Museum of Ireland, Trinity College, Christ Church Cathedral and of course the Guinness Storehouse. While at the Guinness Brewery, taste brews that are only available in Ireland, and take a break in their famous lounge. In 2010, the United Nations even awarded Dublin the title of UNESCO City of Literature due to the number of famous writers who are from the city. Travelers should also be pleased to know that Ireland also has no departure tax or comparable fees for air travel.
1. Moscow, Russia
Even though the distance to Russia is quite far, travelers shouldn't be intimidated by the fear of an expensive trip. Russia's national airline, Aeroflot, is one of the cheapest tickets in Europe, and many cheap flights to other countries stop over in Moscow. Russia has seen a rise in tourism likely as a result of the previous Winter Olympics, but the current economic landscape in Russia benefits potential tourists right now.
There are a number of world-famous tourist destinations in Moscow, most notably the Kremlin and Red Square, the political heart of Russia. The city also features the impressive architecture of Saint Basil's Cathedral, the Winter Palace and the Cathedral of Christ the Saviour. The city is also home to the iconic Mausoleum of Lenin. It is important to note the cultural differences between Russia and the west, so it is best to read up on recent political and legislative changes that unfortunately may deter some travelers from wanting to travel here.