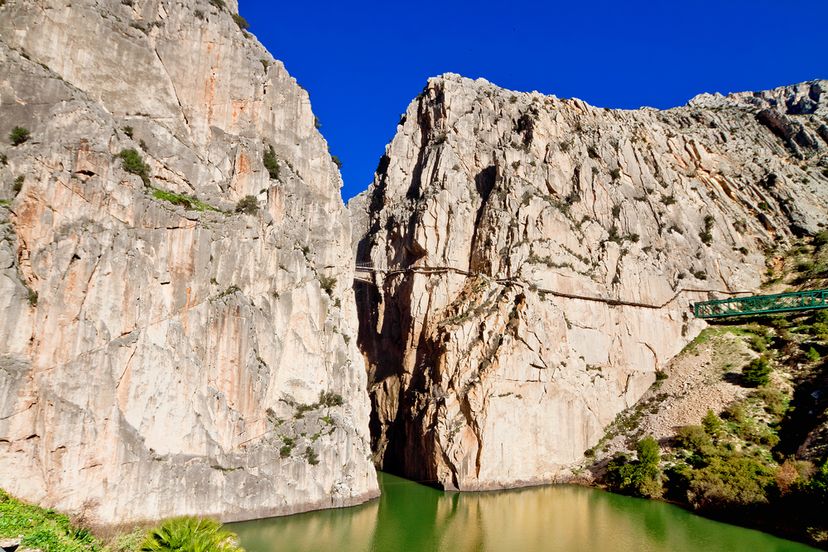 Adventure seekers, experienced hikers, climbers and anyone else that has ever poured over a picture of someone standing at the precarious ledge of a cliff, wonders how they got there. From the deathly trail that kills one hundred people a year to a frozen river deep in the Himalayas; these treks are not for the inexperienced. Requiring special equipment, bravery and a lot of preparation –these are the keys to making these treks a success. Dangers such as wildlife, falling rocks and roaring oceans, to worn-out wooden planks and no trail markers have determined the top ten toughest treks in the world. From South Africa to Spain to the United States to everywhere in between; discover these unbelievable adventures treks that are not only tough but ultimately rewarding.
10. Kokoda Track, Papua New Guinea
This last trek is rich in history and is a World War II site where Japanese and Australian fighters battled it out on the front lines. Besides the ghosts you might spot along the way, this is one tough trek that takes anywhere from four to ten days to complete. Hostile and remote are the two words most often used to describe this trail and if something goes wrong out here; it could be a very long time before someone finds you.
The trail leads you into the heart of the Owen Stanley Range of Mountains where deep dark gorges block out sunlight, lush green vegetation grows and narrow crests offer passage. Hot humid days coupled with frigid nights make this trek suitable for only the fittest of hikers. Health threats including malaria and other tropical diseases are very real here. Foreign insects, wildlife and poisonous plants also make up the landscape.  Despite the numerous dangers, rushing streams with single log crossings and spectacular views of the valleys and rivers make this one unforgettable experience.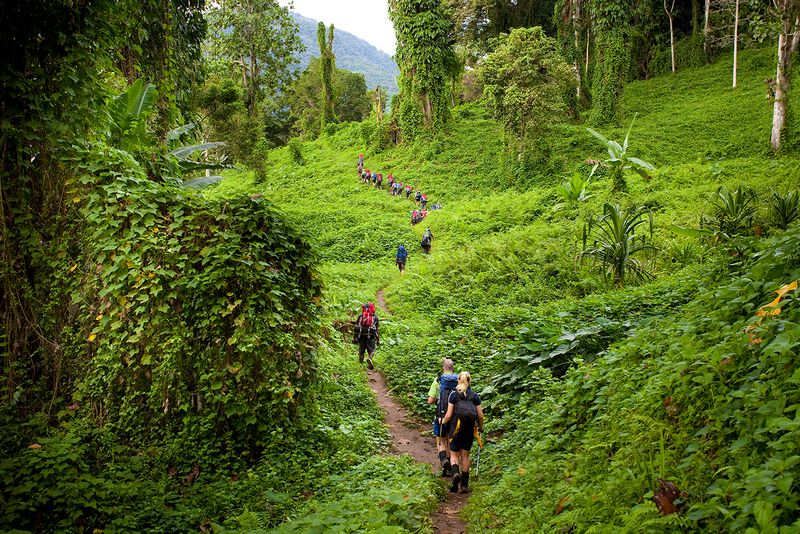 9. Devil's Path -New York State
Located just a short two to three hour drive outside of Manhattan lies one of the country's most challenging hiking trails. Devil's Path is located in the Catskills Mountains and runs only 25 miles but due to its extreme characteristics it can take you days to complete. Completing it will lead you to a total of six peaks and we suggest you prepare for a tough trek.
The trail is full of extreme rocky terrain, vertical slopes, extreme downhills and very slippery sections. Waterfalls are found throughout as well as a number of bears, so it's highly suggested you carry pepper spray and hang your food above ground. Winding your way through rocky chutes, down steep gaps that require you to use your hands and feet and up sheer rock cliffs will challenge even the experienced trekker. Upon completion, the trails gifts you with spectacular views of the Catskill Range making it a most worthwhile challenge.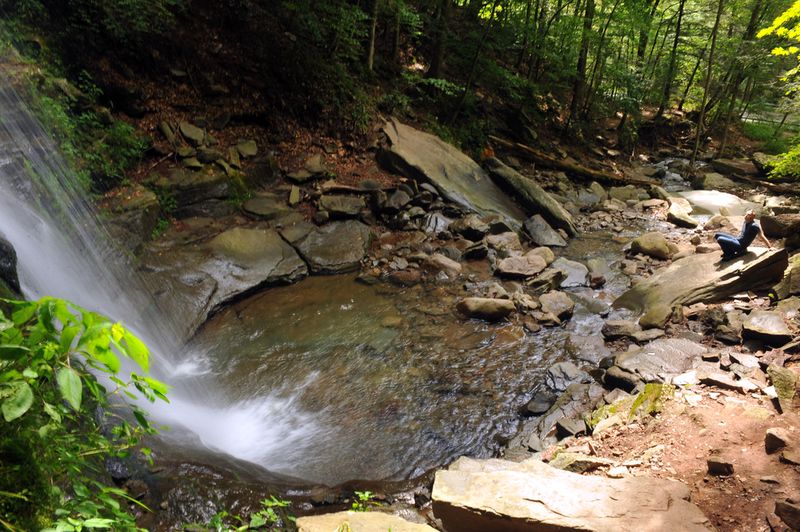 8. Kalalau Trail -Kauai, Hawaii
This 11-mile trail sits high above the crashing waves on cliffs that tower 4,000 feet above the ocean. This trail is graded but almost never level as it winds the hiker through five lush valleys to the tops of towering cliffs. It is the only land access to this part of the breathtaking Na Pali Coast and will lead you through jungles, hairpin switchbacks and past thundering waterfalls.
Common occurrences in this area include flash floods, falling rocks, thick mud and lots of rain. The slippery trail must be walked with caution as one misstep is enough to send you plunging into the ocean thousands of feet below. Extreme inclines and declines, crumbling rocks beneath your feet and narrow passageways combined with strong riptides and currents make this trek only for the adrenaline lover. Plenty of water is needed as the sun is strong and there are no facilities along the way.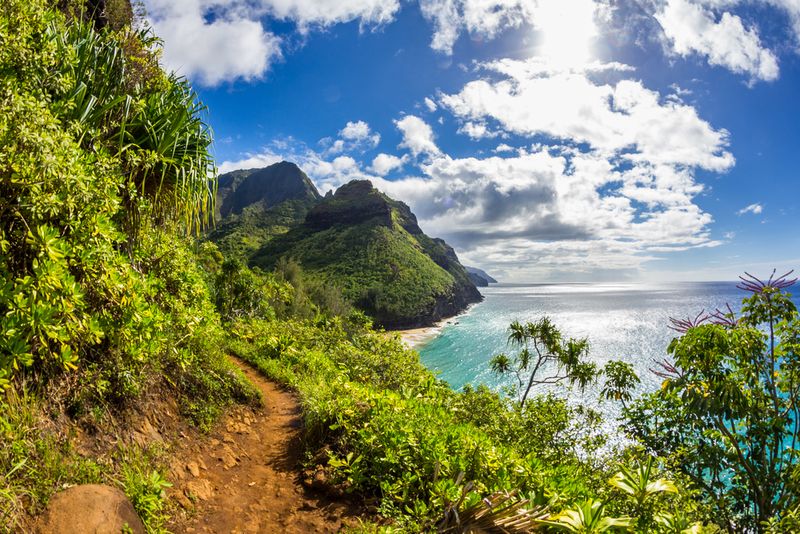 7. West Coast Trail -Vancouver Island
This popular 48-mile trek is hiked by hundreds every year and although there isn't the toughness of snowstorms, lava or other "extreme" factors; this trail requires experience and determination. Steep slopes, wooden bridges and long ladders are all a part of this trail and with the wet weather Vancouver Island often experiences; things can get slippery and out of control very fast.
Often joked that every hiker twists their ankle while hiking along the West Coast Trail, it is too often a very real experience and hikers are lucky to only have that one injury. Predators cause another danger on this trek. Black bears, cougars and wolves live in the same forests you are walking through, breathe the same air you breathe and have been known to attack hikers on occasion. There are waterways to be slogged through, beaches impassable at high tide and limited services to buy food and water. Although this trek is completed by many hikers, do yourself a favor and do not take it lightly; this one must be prepared for.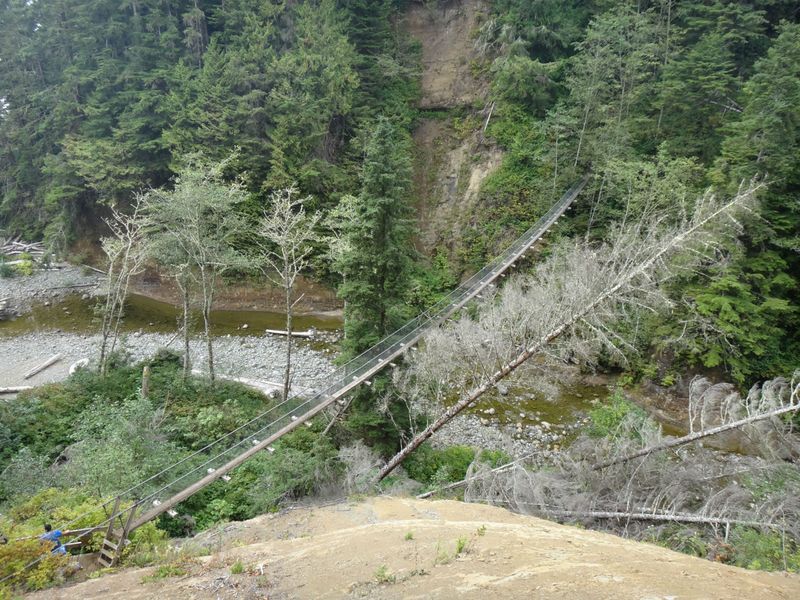 6. Chadar Trek -Himalayas
One of the toughest treks in India, the Chadar Trek lasts approximately six to ten days and reaches altitudes up to 10,900 feet. This trek is also one of the most famous treks in India as pictures of Buddhist Monks barefoot walking along the river have surfaced in magazines all over the world. Don't let the barefoot Monks fool you though, this trek is not for the weak or faint of heart.
This trek requires crossing over the frozen river of Zanskar, which can be a solid sheet of ice or can be heard gurgling bubbles as the water escapes the ice. The river can shift and ice can break and the only way to continue on is by way of slippery rocks along the riverside. The breaking river isn't the only dangerous aspect of this trek; the cold weather plays a big part of why this trek is tough. Temperatures average below freezing and can reach minus 30° Fahrenheit at night. Sleeping in caves with these temperatures are enough to test any experienced hikers willpower.  With experience, warm clothes and the right attitude this tough trek is doable and absolutely a spectacular unforgettable adventure of a lifetime.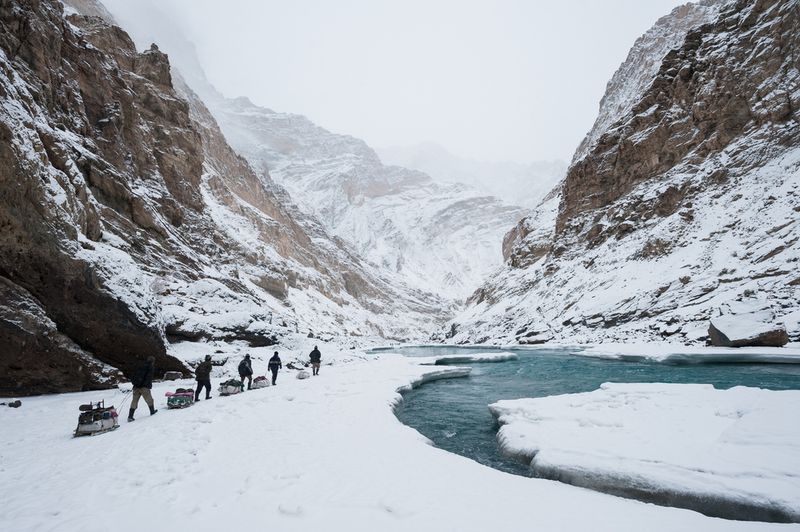 5. Skyline/Muir Snowfield Trail -Mount Rainier, Washington
You may be surprised to see this on the list as this fairly short 9-mile trek appears to be just that; a short 9-mile trek. Hikers start off by sauntering through a beautiful mountain meadow full of scenic wildflowers. The views get even nicer as you pass through lush forests, shimmering lakes and breathtaking views. But this trail quickly becomes intimidating even for the experienced climbers.
The real challenge begins when you come upon the 2,800 foot vertical Muir Snowfield climb. Cold, snowy and vertical; this challenging part of the hike is also met with unpredictable weather. In fact the most dangerous part of this trek may in fact be the vicious storms that blow in off the Pacific Ocean without warning. Around 100 climbers have slipped, fallen or become frozen while trying to climb this hike. The close up views of Mount Rainer are spectacular though and the scenery along the way is breathtaking. Did we happen to mention that Mount Rainier is also an active volcano?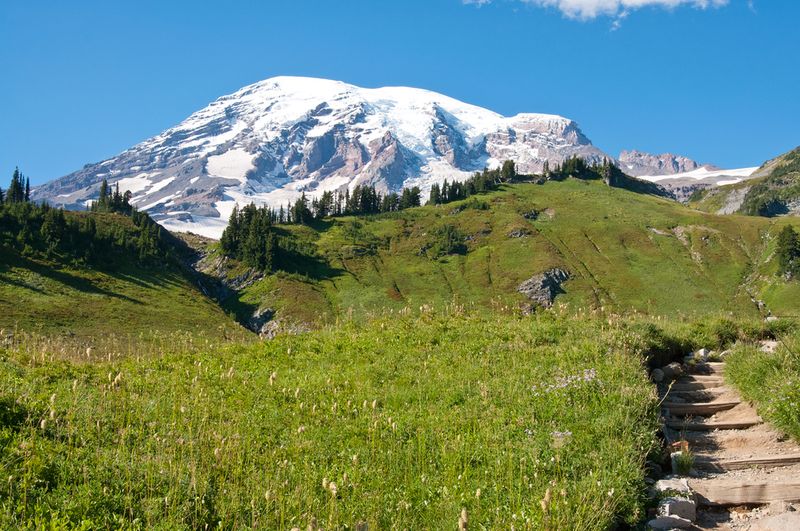 4. The Snowmen Trek -Bhutan
High altitudes and steep assents make The Snowmen Trek Bhutan's toughest trek. Starting in Paro and ending 24 days later in Nikka Chhu; this trek is not for the weak. Altitudes will continuously stay above 4000 meters (over 13,000 feet) and can reach upwards of 5332 meters (nearly 17,500 feet) at the highest pass. Consistent high level passes, the remoteness of the trip and difficult weather conditions contribute to the many challenges of this trek.
It's a trek only passable during the summer months as the path is often closed due to snow, so there's a short window of opportunity for hikers wanting to embark on this adventure. Prepare for unparalleled views of the Himalayas, lush valley landscapes, dense forests and snow capped mountain peaks. Experience the once in a lifetime opportunity to explore the separate mountain kingdom of Lunana. This unforgettable landscape will challenge and exciting experienced hikers and make for a trek you will never forget. This tough trek is recommended for experienced hikers only and because of the remoteness and constantly changing weather conditions, flexibility is a must.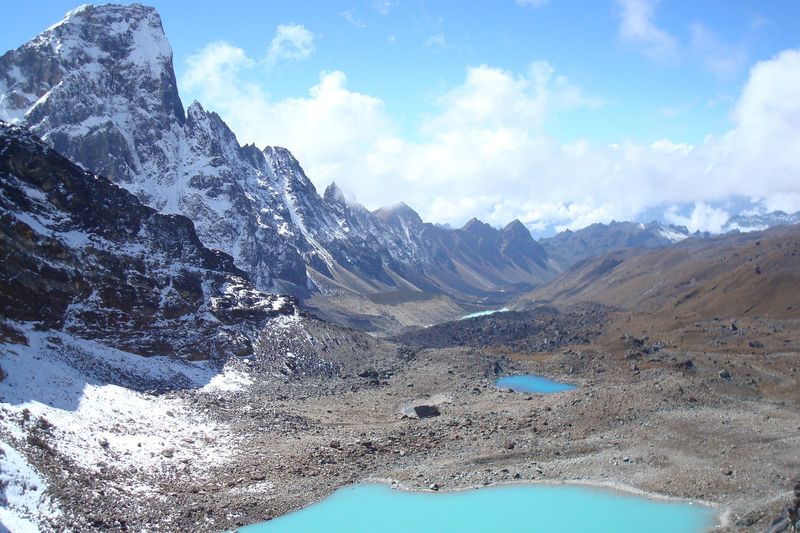 3. El Caminito del Rey -Spain
Known as one of the world's scariest hikes in the world; it is no surprise to see El Caminito del Ray or "Little King's Path" as it's known on this list. Although technically illegal to walk on as of 2014; daredevils still take to the steep path that heads up the cliff. Set to re-open in 2015, this path was closed due to crumbling pathways and the amount of deaths. Since the closure it has only sparked more adventurous hikers to explore it.
The decrepit pathways run alongside the Guadalhorce river gorge, hanging 100 feet up on sheer cliffs. These pathways were made by hydro-electric workers over 100 years ago and tattered safety ropes remain to help guide hikers. Vertigo is the main source of fear with this trek. If you don't like heights you might want to sit this one out. For now, bring your rope along if you want to challenge the spots where the concrete has fallen. Once the restoration is complete this trek will still remain tough enough to stay on our list.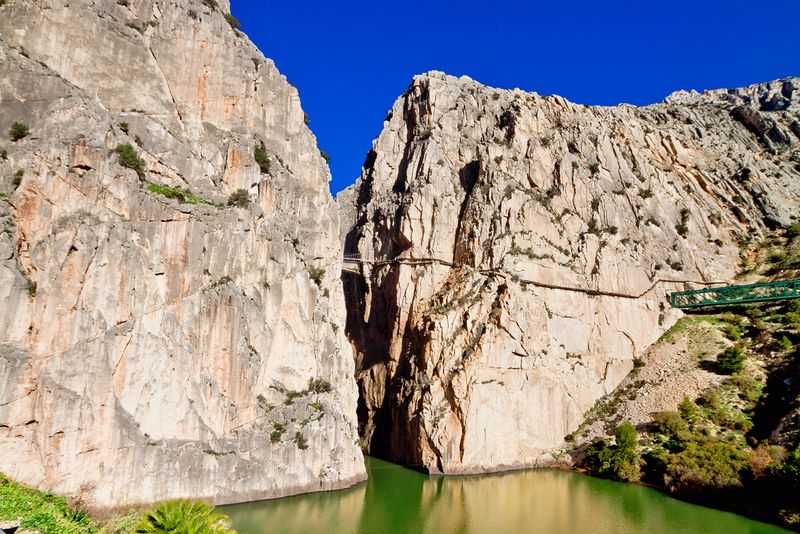 2. Drakensberg Traverse -South Africa
Our next tough trek comes to us from South Africa and is a combination of tough and long. This trek ranges between 220-240 km (about 150 miles) and is lacking a prescribed route or marked trail. The first day of the trek is spent clamoring up rickety chain ladders that take you to the ridge. Animal tracks, footprints and rocks at the top will get you going the right way.
Intense hills, windy conditions, snow and mud all await you on this trek. Along with the danger of thieves that also set out to steal from unsuspecting campers you have to be completely self-sufficient on this hike. No check points, no facilities and no markers ensure that you are on your own and you must be fully prepared. Altitude sickness, cold weather and uneven terrain are just a slice of what awaits. But the views of the towering waterfalls, the sun rising over the breathtaking landscape below and the stop at the enormous rock formation "The Amphitheater" makes this hike hard to pass up.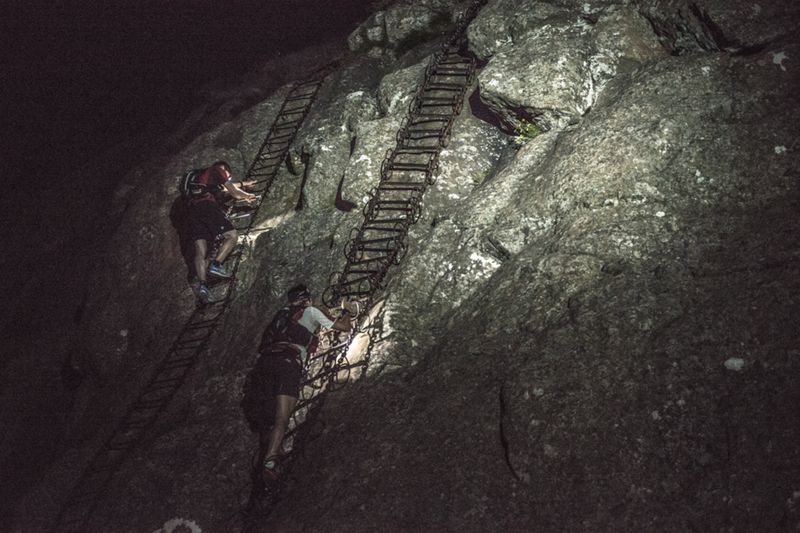 1. The Death Trail -Mount Huashan, China
Home to what is known as the "world's most dangerous hiking trail in the world", Mount Huashan stands 2,154 meters (7066 feet) tall and is the most precipitous mountain under heaven. All trails up the Mountain tend to be treacherous and dangerous with narrow vertical staircases and few handholds but none as deadly as the plank trail to the South Mountain.
Appropriately called "Death Trail" it is comprised of narrow passages made of wooden platforms that are nailed to the mountainside. Getting to the trail is hard enough making visitors climb up a vertical rebar staircase. Rusty chain handles, worn wooden planks and altogether the absence of planks make this one treacherous trek. Couple that with the overflowing amount of people that come to climb here -especially in the summer when they come to climb to the historical Taoist monasteries, and the danger increases. With no official death statistics it is hard to judge how many people have perished from this trek but rumor has it over 100 people a year perish on this pilgrimage. Whether you are a beginner or expert, "death trail" on Mount Huashan is one of the scariest treks around.