Forget watching Netflix at home or going to a regular movie theatre, all around the world from the United States to Norway to the UK there are some extremely unique theatres to visit. Some take credit for being hundreds of years old while others use new technology to wow moviegoers. From an elementary school turned brewpub/theatre to an outdoor cinema set up in a cemetery; here are our top 12 choices for the most unique movie theatres in the world.
12. Kennedy School, Portland, OR
This one time elementary school has been turned into a 35-room hotel, restaurant, and movie theatre, all thanks to McMenamins, a local empire of brewpubs and entertainment venues. The movie theatre located in the school's old auditorium is a mix of comfortable sofas, armchairs, and tables for two. It can fit up to 300 guests inside where second-run feature films are shown nightly.
Mommy matinees are shown during the day from Tuesdays to Thursday s where kids and their parents can come enjoy the first show, and it won't matter to anyone if the wee ones fuss. Admission here is a steal, at just $4 per person and just $2 a child. There is a special theatre lounge and lobby to grab a drink and bite to eat before the show, or put in your order, as servers will come to your seat throughout the movie so you don't have to miss a minute of it. Not surprisingly there are a number of McMenamins Craft Beers on tap here!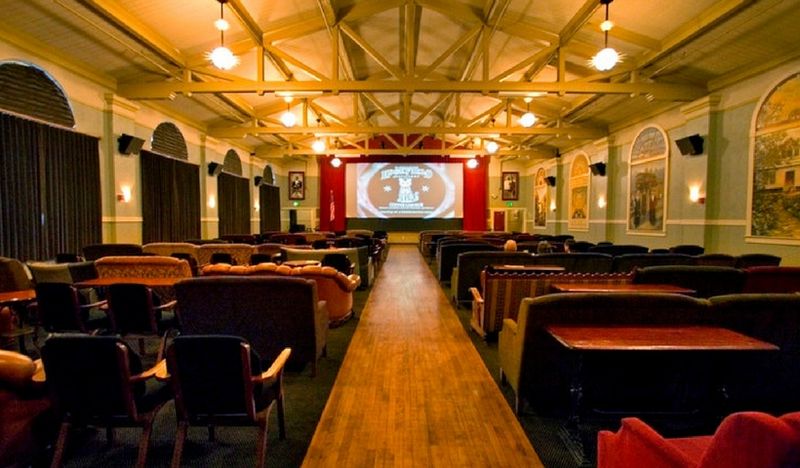 11. Colosseum Kino, Oslo, Norway
It is the largest cinema in Northern Europe and the largest THX cinema in the world and is dominating in structure due to its large spherical dome. The grey and cream dome looks more like a futuristic spaceship rather than a movie theatre but it was actually built in 1921.
Throughout its 90 year history, the Colosseum Kino has managed to keep up with technological advances such as sounds systems, and ticketing systems. In 1998 the theatre closed down for a period of time in which major interior and exterior renovations were made.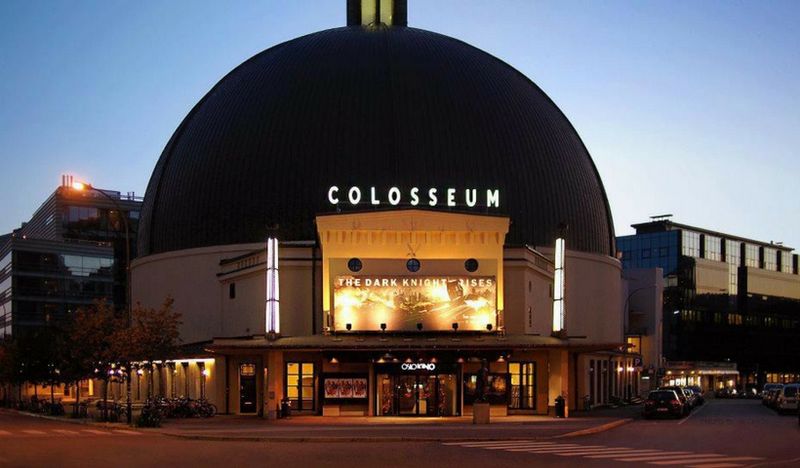 10. The Castro Theatre, San Francisco
Built in 1922 by pioneer San Francisco theatre entrepreneurs, this is one of the last remaining movie palaces in the nation that was built in the 1920's that is still in operation. Both outside and it is breathtakingly gorgeous with the inside being just a touch more luxurious. Expect to see foamy balconies, wall-mounted busts of heroic figures and an auditorium that seat over 1,400 guests in a fantasy setting that is both lavish and intimate.
On either side of the screen are large organ grills, a large art deco chandelier hangs from the room and two dramatic staircases lead to the mezzanine and balcony. Showing here are foreign films, classic revivals, festivals and some of the most intense audiences in town.  In recent years the sound quality has been improved, new stage lighting was installed and larger and more comfortable seats were put on the main floor.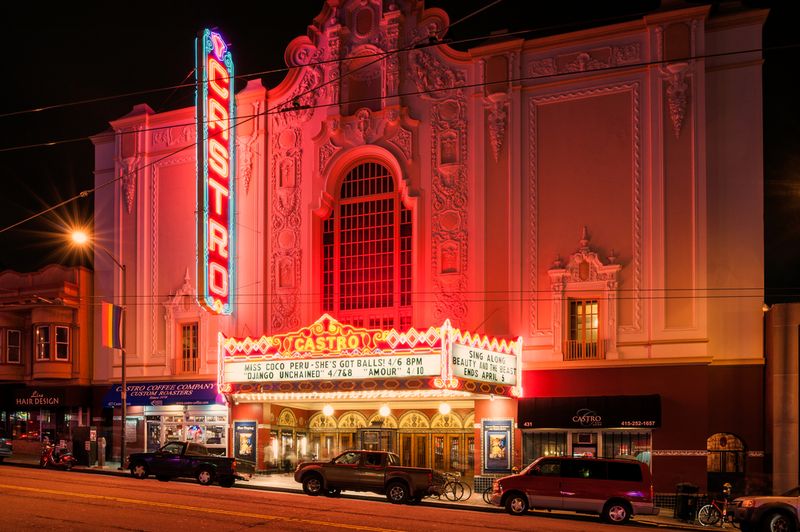 9. Electric Cinema, London
Visitors to the Electric Cinema in London should expect luxury service in this adults aimed hideout in the chic Notting Hill Neighborhood. It is one of the oldest working cinemas in the country, opening in 1910 and has run almost continuously since that time. The interior of the theater is made up of 65 leather armchairs with footstools and side tables, three 2-seater sofas at the rear and six double beds in the front row.
To make things even better, individual cashmere blankets are provided for guests. The bar opens 10 minutes before screening time, whereas the movie starts 30 minutes after screening time. Offering wine, beer, champagne and a variety of snacks; one must get their food and drinks ahead of time. On Monday mornings babies and their caregivers are invited to Electric Scream, a screening designed especially for them.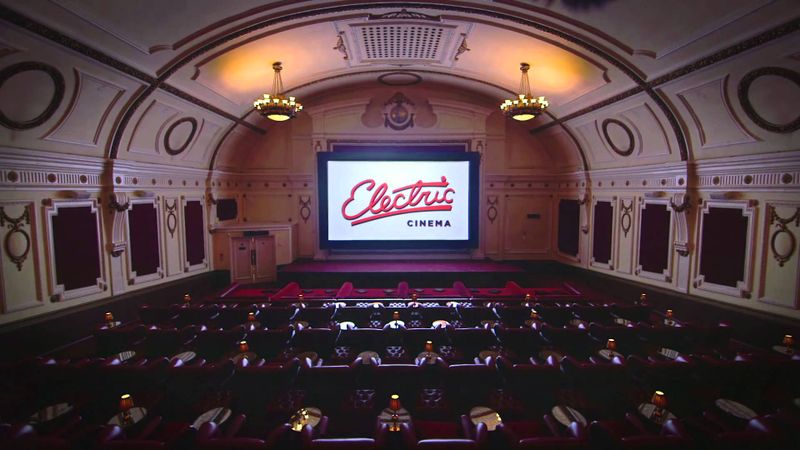 8. Raj Mandir Cinema, Jaipur, India
It is nicknamed the "Pride of Asia" and is considered the crown jewel of India's cinemas, and certainly lives up to its reputation. The theatre was created to make guests feel as though they were royal guests of a palace, a place full of style and elegance. Walking into this theatre is an experience unlike any other, high ceilings hung with huge chandeliers, lighting that changes from white to blue and walls covered in artistic artwork.
The seating here is divided into four sections, Pearl, Ruby, Emerald, and Diamond and once you are seated you will be faced with a huge screen covered by velvet curtains. This is such an experience that every single movie showing over the past 25 years has had a full house, now that is something to brag about. There certainly doesn't seem to be any better place to take in the colorful sights and sounds of a Bollywood film.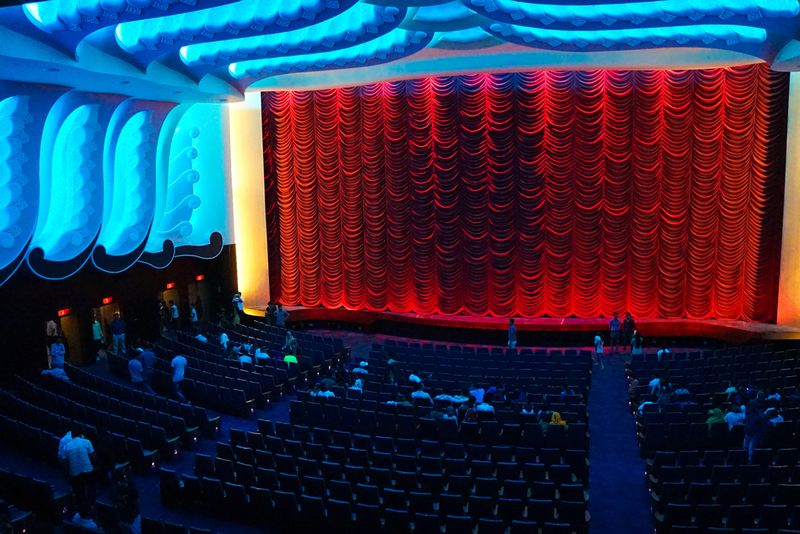 7. Cine de Chef, Seoul, South Korea
This cinema gives a new meaning to "dinner and a movie" with its small luxurious theatre. Couples will begin their night by dropping their car off at the valet and taking the private elevator up to Cordon Bleu café for a quick meal before the show. Think upscale cuisine with a twist. Moviegoers are than put into a private screening room that seats just a handful of patrons.
The comfortable reclining chairs were designed by the same people who design seats for the United Arab Emirates Royalty and once you sit down you may never want to get back up. Footstools, side tables, and lamps complete the picture of this awesome yet small venue. Tickets start at just $54 per person for both dinner and a movie.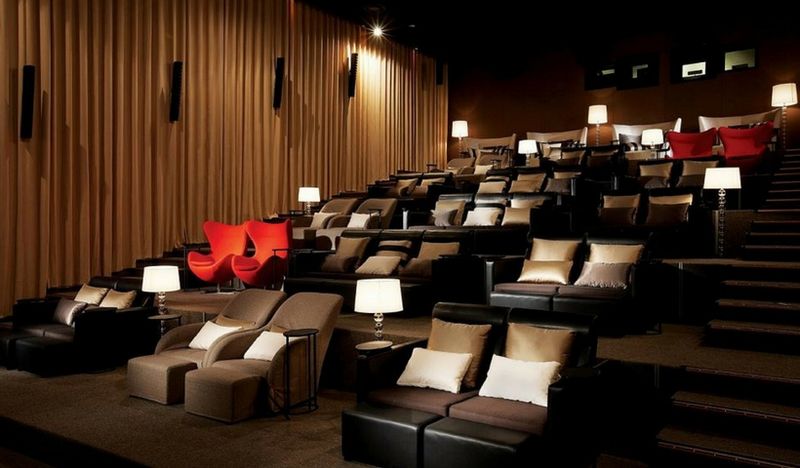 6. Rooftop Cinema, Melbourne, Australia
Sitting on a rooftop bar watching a movie play on a large projection screen sounds like a dream come true. In fact, it is actually reality at the Rooftop Cinema in Melbourne Australia. Open daily from 11am-1am it is easy to grab a drink before the movie starts and hang around long after the credits roll. The rooftop cinema is open from December to April and prices start at $22 per person.
The seating up here is incredibly comfortable deck chairs and blankets are available to rent for just $5 for the course of the movie. Showings include art house films, classics, and recent releases. It is fully licensed up on this roof and moviegoers often bring up their cocktails and brews from the bar below. Enjoy the sky above you, the grass beneath you and an incredible view of the Melbourne skyline.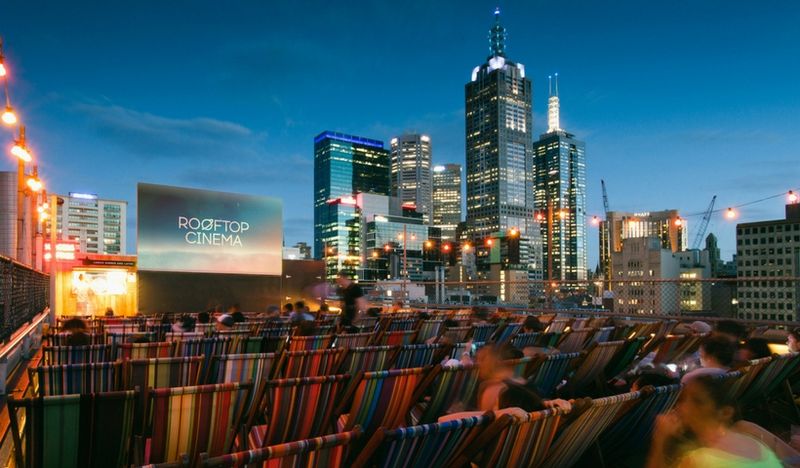 5. Cinespia at Hollywood Forever Cemetery, Los Angeles, CA
The outdoor movie screenings here are hard to beat in terms of being unique as they are held on Fairbanks Lawn, an open grassy field inside the Hollywood Forever Cemetery; yes we did just say cemetery. Moviegoers here are responsible for bringing their own low lying chairs, blankets and pillows as well as picnics, wine and beer (note that no spirits are allowed). The Forever Cemetery is the final resting place for many, including John Huston, Peter Lorre, Bugsy Siegel and more.
The showing range from comedies to horror to old school classics and tickets generally cost $10-$15. Guests arriving at the showing will walk through the beautiful and historic cemetery before plunking down in front of the screen. There are restrooms on site to use and there are no in and out privileges. If you thought that watching a scary movie in a normal cinema was scary, wait until you watch one in a cemetery.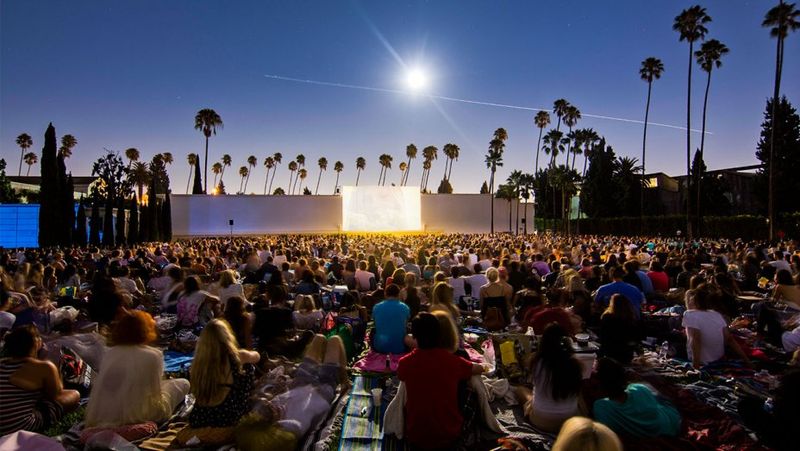 4. Alamo Drafthouse, Austin, TX
This quirky indie movie chain was started by a husband and wife team that had no movie qualifications, other than being devoted movie fans. Striving to create the perfect viewing experience for movie lovers there are some strict rules to follow here in order for everyone to enjoy. Some of these rules include absolutely no talking, no cell-phone usage, no unaccompanied children, no babies and no ads before the movies.
What you can expect is high quality and locally sourced food and beer that are served to your seat. This movie chain also runs some incredible events across their theatres. It once showed the Lord of the Rings Trilogy where viewers were only permitted to eat when the characters ate on screen, or how about the events when they call for every viewer to dress like a certain character. Its how movie showing should be, uninterrupted, fun and enjoyable.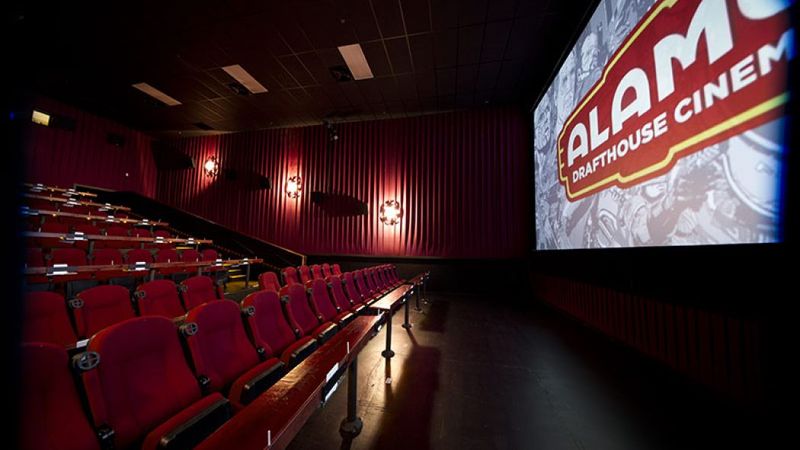 3. Secret Cinema, Unknown
Once a month moviegoers can be part of a secret audience, secret location and essentially a secret world. Secret Cinema brings together film, music, art, and theatre to create a larger than life experience in abandoned spaces. This is an entirely immersive experience where audiences must dress up as the characters or of the era of the film. They also have the chance to interact with the spectators and actors while having food and drinks, living in the world of the film before setting in to watch the film.
Tickets are not cheap for the event and start around $75 Great British Pounds per adult. Viewers must register online to receive the secret email for which film will be next on the list. Although this is not a standalone theatre, the concept and the delivery of these movies is a once in a lifetime opportunity.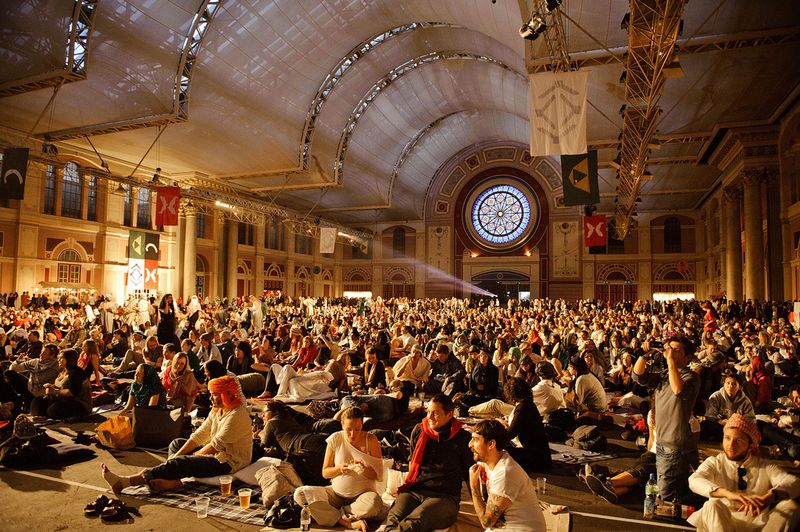 2. Hot Tub Cinema, UK, USA, Ibiza
One way to get people talking is to combine hot tubs and movies, because who doesn't love both! This company started by combining great films with amazing space, lots of hot tubs and incredible people. The mantra here is that they don't want you to watch films but instead celebrate them. This means your movie experience will be unlike any other you have had before.
Moviegoers are encouraged to dress up, sing, dance, drink and play, as well as spending plenty of time in the hot tub. With movies such as Dirty Dancing, Free Willy, Back to the Future and other classics, tickets sell out fast. Whole tubs can be rented out by buying 6 tickets for a friend or you can buy a pair of tickets and make some new friends as you share a hot tub. There are personalized tub waiters for each hot tub and you can assure this may just be the best night of your life.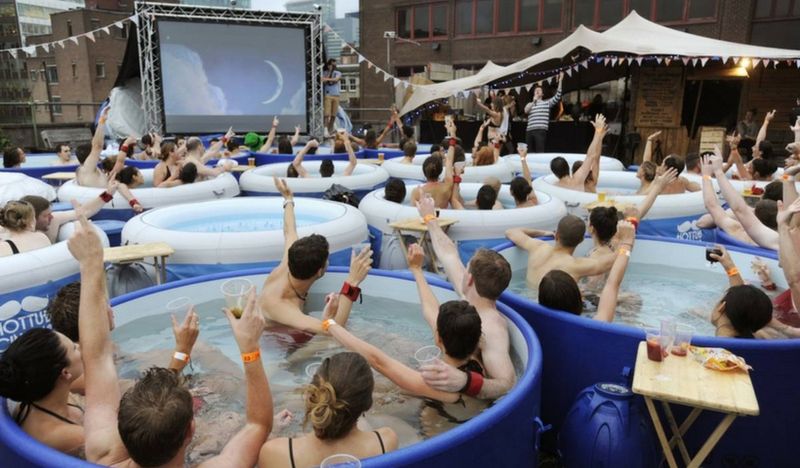 1. Sol Cinema, South Wales
It prides itself as the world's smallest solar movie theatre and we have to say this may, in fact, be the most unique movie theatre in the world. The Sol Cinema is actually a mobile cinema in a caravan that is powered entirely by the sun. It can accommodate up to 8 adults comfortably and the choice is yours as to which movie is playing. Inside comfortable benches and surround sounds create the perfect viewing experience.
Guests here will get the utmost luxury treatment complete with a red carpet, usherette service and popcorn to snack on. The idea behind this solar movie theatre came when they wanted to reduce their own CO2 emissions but also show what is achievable with solar power. Creating this small cinema allows hundreds of people to be entertained on a daily basis and gives something unique and incredible to both creators and viewers.