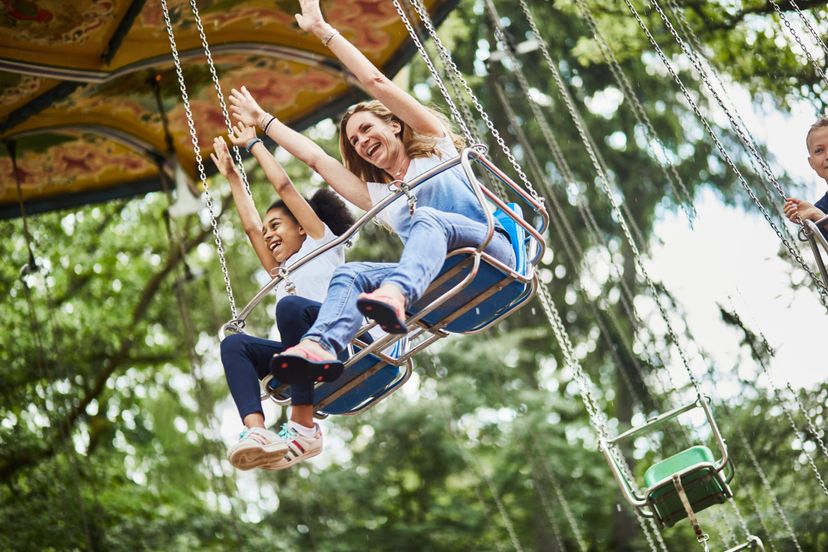 Theme parks are known for their thrilling drop towers, exhilarating rollercoasters, exceptional shows, and breathtaking attractions. For anyone who loves to visit theme parks, it is good news to know that they are only getting bigger, better, and even more exciting. New technology is making roller coasters faster, taller, scarier, and smarter. These parks invite you to take a ride on the tallest coaster in the world, see if you are brave enough to ride the rails backward and spend the day with the entire family having fun. Prepare yourself for a serious adrenaline rush and discover the best 12 theme parks in the world!
14. Europa Park, Germany
The largest park in Germany and second most popular behind Disneyland Paris lies in Rust, south-western Germany. Europa Park which is currently celebrating its 40th anniversary features a total of 12 rollercoasters plus tons of other thrill rides, water rides, entertainment, and shows. Kids will definitely enjoy such attractions as the Panorama Train which takes passengers on a ride around the entire park, or the 4D Magic Cinema. The 17 unique areas of the park represent different European countries offering both fun and education for your young ones while exploring this incredible park.
13. Carowinds, North Carolina
This amusement park is actually part of both North and South Carolina; originally built to try and bring the two states closer together. The newest ride in 2015 is by far the most thrilling ride in the park. The Fury 325 reaches a height of 325 feet making it the tallest Giga Coaster in the world. Riders will reach speeds up to 95mph and enter into both North and South Carolina on this three-minute and twenty-second mind-bending ride. Other epic rides include a slingshot that shoots riders 300ft into the air reaching speeds of 65mph and the first stand-up roller coaster in the South. A wonderful kid zone complete with rides and coasters completes this awesome family theme park.
12. Kings Island, Ohio
This adventure park is full of record-breaking rides and controversy and still, today remains one of the most thrilling parks around the world. It is hailed as the largest amusement park and waterpark in the Midwest and has received an award for having the world's best kids area complete with over 18 themed 'Peanuts' attractions. It is also home to the longest inverted roller coaster in the world along with the longest wooden coaster, making it perfect for adrenaline junkies. Sadly the one and only wooden coaster with a loop were shut down in 2012. Visitors to this park shouldn't miss out on Dinosaurs Alive; an attraction that features over 65 life-sized dinosaurs in a Jurassic Park setting. Offering over 80 rides, a newly renovated waterpark, 14 coasters, and a slew of family fun activities; this Midwest Park is not to be missed.
11. Belantis, Germany
Although this theme park has only been around since 2003, it is quickly becoming one of the best in the world. Favorite thrilling rides at this park include a log ride through Europe's only pyramid that stands at 38 meters high and a super steel coaster that is among the world's tallest. Control your own destiny rides are a unique twist to this park with boats and airplanes being steered by the riders; choosing how exhilarating of a ride you want to take. The park already features over 60 attractions in eight themed worlds, complete with two picturesque lakes. Belantis also happens to be the only theme park in the world where you can get your Segway driving license. It also boasts the only off-road quad course at a theme park and Europe's only tilt tower. With plenty of room to expand and plans to bring even more attractions, this theme park is one to keep an eye on as it gets bigger and better.
10. Hershey Park, Pennsylvania
This is one of the best theme parks for the entire family and features some of the best chocolate in the country. The grounds are well kept, the rides are top of the line and there is something for everyone to experience. A waterpark, many thrilling rollercoasters, and enough chocolate paraphernalia to keep your mouth watering all day long is what awaits you here. New in 2015 is the much anticipated Laff Trakk coaster, the country's first indoor, spinning, glow-coaster. The Laff Trakk takes families through a vibrantly colored modern funhouse in a spinning car that reaches speeds up to 40 mph. As an added bonus when you visit this park you also get free admission to the nearby ZOOAMERICA, definitely worth checking out.
9. Holiday World and Splashin' Safari, Indiana
Part theme park and part waterpark, this is Southern Indiana's thrill destination. This theme park boasts that it was the first of its kind, opening in 1946 as Santa Claus Land. Here you will find family-friendly service, complete with free soft drinks, free Wi-Fi, free parking, free sunscreen, and Santa Claus; every single day. Did we mention that it also has the two longest water coasters in the world? Don't forget about the nation's first launched wing coaster and the fact that this park has been voted for 'Cleanest Park in the World' for more than a decade. This park truly focuses on a family with lots of shows and rides that cater to the little ones but they don't forget about the thrill seekers; making it the best of both worlds for visitors.
8. Six Flags Magic Mountain, California
A whopping 19 roller coasters give this park the world record and it doesn't disappoint in terms of excitement and thrills. Bigger and better is the motto at this park and in 2015 a new wooden steel hybrid coaster will be the first of its kind; allowing riders to race from start to finish on dueling tracks and features a Zero-G Roll during this thrilling four-minute ride. Over half of their coasters are rated at the top of the thrill intensity meter but that doesn't mean there is a lack of family activities as well. The park is separated into 9 zones each with its own distinct rides, attractions, and foodservice venues. This is one busy park and it's best to try and visit mid-week to avoid long lines and crowds.
7. Beto Carrero World, Brazil
Beto Carrero World makes this list as it's the largest theme park in all of Latin America. The sprawling 14-kilometer park sits in Penha Brazil and was brought to life by Brazilian businessman Beto Carrero. The park is divided into 9 sections, each with thrilling rides and vibrant entertainment and shows. Part of the allure of this theme park is that it also features a zoo where children and animal lovers alike can get up close and personal in the petting zoo or check out the horse show. In 2012, this facility formed a partnership with Dreamworks and Universal Studios, bringing some well-known favorites to the park in the form of the Madagascar Circus Show and you'll also find your favorite characters like Shrek and Kung Fu Panda roaming the park ready to take photos with fans.
6. Knoebels, Pennsylvania
This free entry park welcomes families of all ages, including four-legged friends to have a day of fun without breaking the bank. It remains to be one of the best theme parks in the world with its old-fashioned feeling, powerful coasters, and homemade apple dumplings topped with vanilla ice-cream. A high-end steel coaster was added in 2015 that features four upside-down twists and a 90-degree free fall, adding to the already thrilling lineup of rides. A day of fun is guaranteed for the little ones in the family with plenty of gentle rides, carousels, and swings. Rides here are priced individually and range from $1.00-$3.00 or visitors can purchase a 'ride all day' pass that gives them access to all the rides, all day long. Old meets new here in this ultra family-friendly park that offers affordable fun, without sacrificing any of the excitement.
5. Six Flags Great Adventure, New Jersey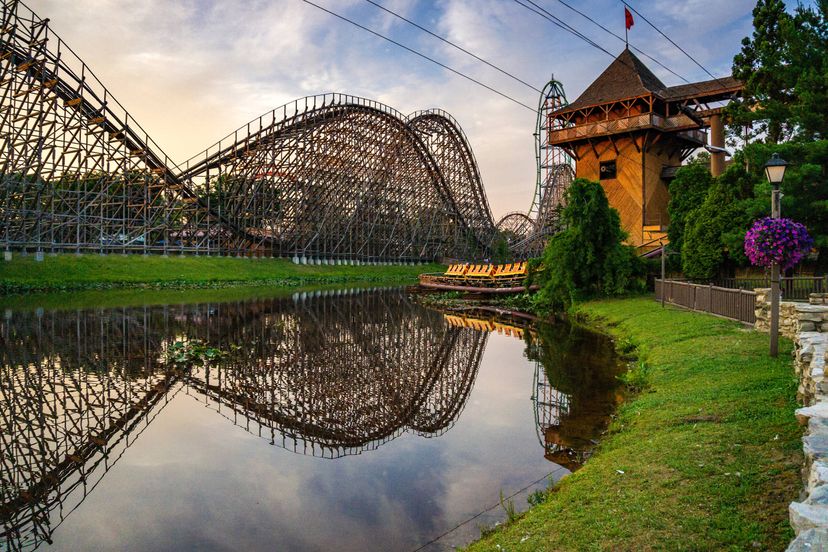 Part amusement park and part safari attraction; this huge theme park offers exciting fun for the whole family. Daredevils will want to head to the Golden Kingdom section to try out the Kingda Ka; the world's tallest roller coaster as of the year 2015. The Drop of Doom; the tallest drop ride in the world is also housed here and on clear days the skyline of Philadelphia can be seen from the top. A unique aspect of this park is the Safari Off-Road Adventure where you can get up close and personal with over 1,200 animals from six different continents. Visitors will have the chance to feed the giraffes or take a zip line adventure at Camp Aventura, the main stop on this ultimate safari. Great live shows, music concerts, family rides and a visit from the Looney Tunes makes this an ultimate adventure.
4. PortAdventura, Spain
The largest theme park in Spain is full of exhilarating roller coasters, towering waterslides, and home to the future Ferrari World. The park is divided into six different themes complete with coasters, family rides, shows, and restaurants. Visitors come from all over the world to experience this theme park as it is the largest and most visited in all of Spain. For those brave enough to try the Shambhala: Expedición al Himalaya expects to whip down at 83 miles per hour on the tallest hypercoaster in Europe. Or head to the water park where the tallest free-fall waterslide sits at a whopping 31 meters tall. This park just announced that in 2016 FerrariLand will be coming and featuring the highest roller coaster in Europe along with amazing attractions and exhibits. Parades, fireworks, and incredible shows round out this awesome theme park.
3. Cedar Point, Ohio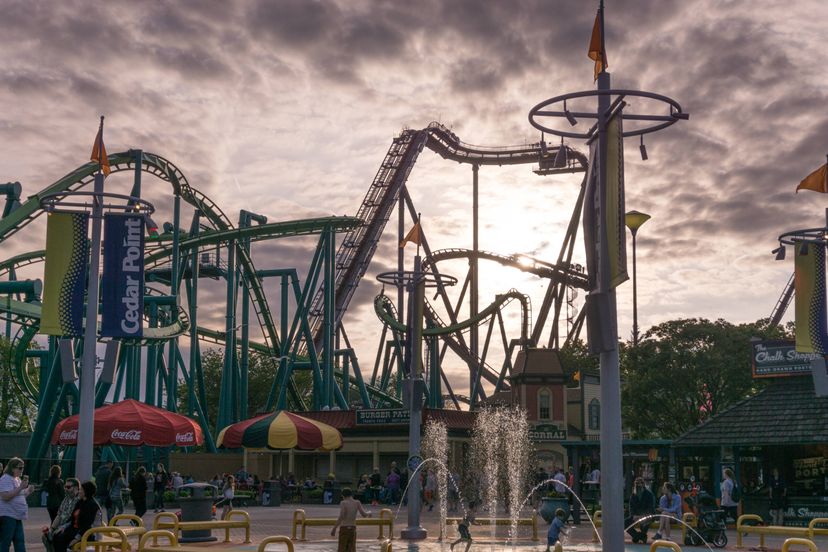 Known as the roller coaster capital of the world it is no surprise this exhilarating park offers much in the way of fun and adrenaline. It is often cited as the best park for 'grown-up kids' as one can spend the entire day riding the coasters. This park has won numerous awards and set many records for having the most coasters over 200 feet, the most visited seasonal amusement park in the US, and more. Eleven out of their seventeen coasters are rated at the highest thrill level including the highest and longest steel wing coaster in the world. Drop towers, screaming swings, log flume rides and upside-down twisty thrillers are all part of the appeal here.
2. Universal Studios, Florida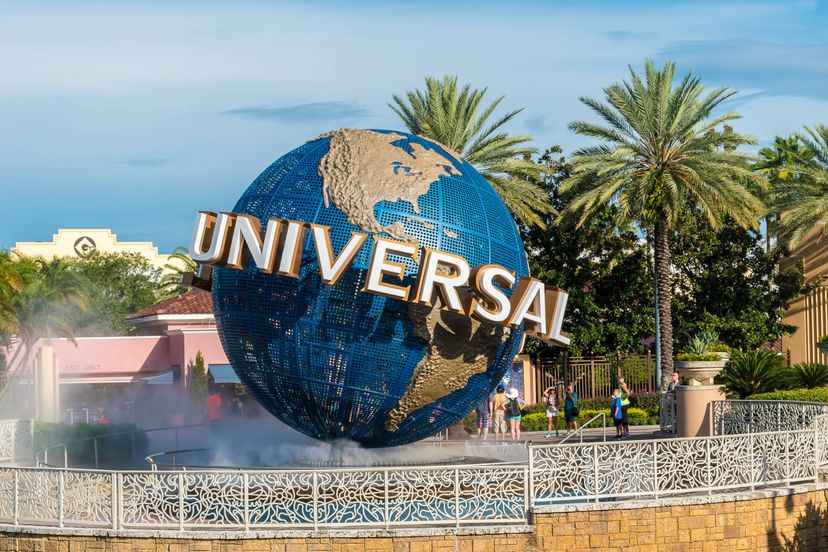 Universal Studios has long been known for its amazing rides, shows, and attractions that are growing bigger and better with each year that passes. Harry Potter, The Simpsons, Men in Black, Shrek and so many other characters appear at this park in thrilling rollercoasters, hilarious 3D rides, and live shows. Visitors to this park should be sure to check out Orlando's tallest roller coaster, the Rip Ride Rocket. Not only can you pick your own music but this coaster also features several exciting, "never been done" elements, including the world's first non-inverting loop. This theme park can be explored for days on end and by bundling your ticket with the next park on this list; you can explore the top two best theme parks in the world over a matter of days.
1. Universal's Island of Adventure, Florida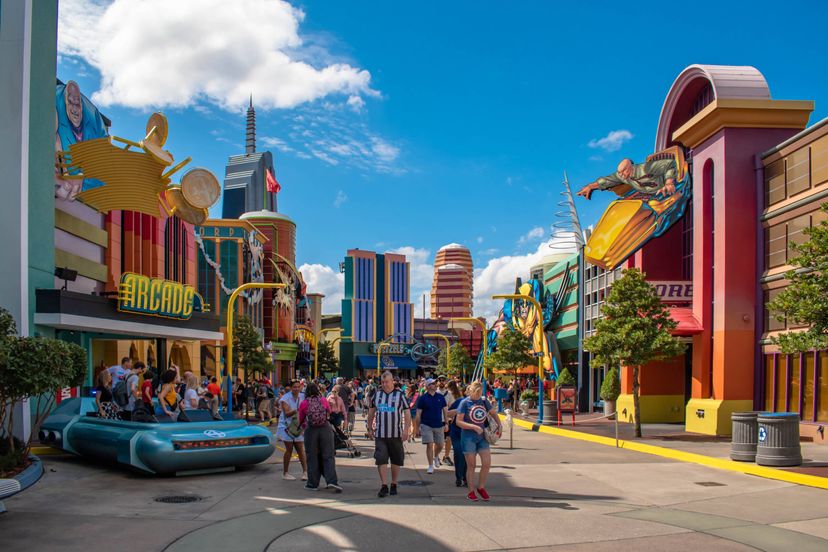 The Wizarding World of Harry Potter opened back in 2010 and remains one of the most popular attractions in the world, thus making this theme park number one on our list. Fans can jump aboard one of the many rides that bring Harry Potter to life or have a sip of Butter Beer in the replica tavern. Besides Harry Potter though, this theme park offers other amazing rides, shows, and attractions. Escape the jaws of a T-Rex, ride high through Dr. Seuess's imagination and swing above the streets in 3D with Spiderman. The cutting-edge rides and attractions bring magic to life for anyone of any age. Cheer on the heroes of the shows, get splash happy on one of many water rides and ride on the famous Hogwarts Express in a land full of imagination, creativity, and the most fun you will have in your life.