Themed cruises are becoming so popular that it can be hard to keep up with the variety of choices that now await sea lovers. Try something new and explore the many themes from cruises for chocolate lovers to Star Trek fans and beyond. Follow along as we discover 14 of the coolest themed cruises out there right now!
1. High Seas Rally
Bikers Unite; this is one cruise you won't want to miss out on. The motto of this cruise is "Cause there's a little pirate in every biker" and boasts the title of being the world's only motorcycle rally on a cruise ship. The ship is the fabulous Royal Caribbean Freedom of the Seas; a mega-ship that can hold up to 3,000 guests and has enough space, amenities, and activities it is more like a floating city rather than a ship. The dress code on this ship is casual, although bikers will have to bring along their leather for a couple of the 'leather required' dinners. The entertainment ranges from comedians to treasure chest contests to pirate biker bingo to topless men's competitions. Heck, they even pay you to get a tattoo of the rally somewhere on your body. Between the vendors that are onboard giving away free stuff to the all you can eat 24/7 buffets to the gorgeous islands you visit; there is no better place to attend a motorcycle rally than on the high seas.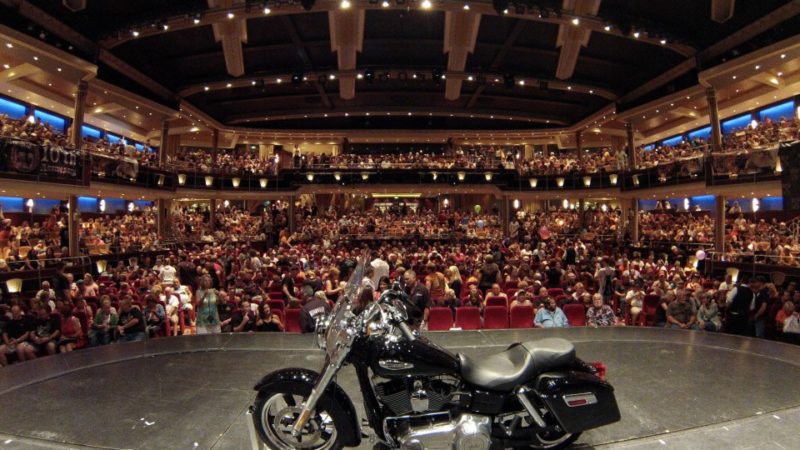 2. Chocolate Lovers Cruise
Cruises for chocolate lovers used to include chocolate-covered strawberries to your room, nightly chocolate desserts and perhaps a special chocolate event night. But over the years the love of chocolate has taken over and cruise lines are truly making a real effort to make these chocolate cruises spectacular. From chocolate fountains at lunches and dinners to chocolate cooking lessons to chocolate spa sessions to seven-course chocolate meals it seems no stone has been left unturned. On cooler destination cruises hot chocolate is served on deck all the time. Some cruise lines are offering off-shore chocolate excursions including visiting chocolate factories and participating in the making of chocolate. From the chocolates on your bed pillows to the chocoholic menus at the restaurants to the chocolate cocktails at the bar; we suggest getting your sweet tooth ready if you choose one of these amazing cruises.
3. Clothing Optional Cruise
For the adventurous or for the naturist; there is a cruise where you can bare it all. These cruises are adult only and offer sailings through the Caribbean. There are in fact a few places where you must be clothed including at the ports of call and the main dining room so patrons of this ship should be sure to pack at least a few items, but other than those places it is encouraged that guests remain nude. Theme nights are a big part of nude cruises and can include toga parties, fetish Fridays, wild wild west, James Bond, Mardi Gras and many more; depending on when and who you cruise with. These cruises boast some of the world's friendliest people and measures are taken to ensure that these cruises remain tasteful and private. If you have ever wondered what it would be like to bare it all while sailing through the open waters; here is your chance.
4. Psychic Cruise
Awaken your psychic senses as you cruise through the tropical waters of the South Pacific on this connecting the spirits cruise. This themed cruise has seemingly taken off in Australia and in 2015 numerous big cruise lines were getting on board including Carnival and Celebrity. These cruises feature world-renowned psychics who put on amazing live shows, workshops, practice sessions and personal readings for a few lucky guests. All of these take place while the cruise is at sea so cruisers can still enjoy the ports of call. Guests aboard these cruises will have access to all normal amenities aboard the ships but instead of talent shows or comedians, they will dive deep into the world of dreams, past lives and energy vibrations. A fairly new concept to the theme cruise world; this is one to keep your eye on to judge its success.
5. Dancing With the Stars: At Sea
Holland America is the cruise line you will need to cruise with for a Dancing With the Stars experience as these two companies have teamed up to bring fans the ultimate experience. Guests aboard this ship will be treated to spectacular shows put on by dancers and celebrities that mimic the television show. Complimentary dance lessons in which guests can learn actual routines, dancing with the stars competition for guests of the ship and a special fashion show are just a few of the perks on this cruise. The main production with the actual celebrities showing off their moves is the highlight of this cruise; along with the photo session where you will meet and greet the stars and the pros and perhaps even score an autograph. Get to know your favorite personalities from the TV show, brush up on your dancing moves and experience a cruise unlike any other out there.
6. Duck Commander Cruise
Sail away with your favorite family, the Robertsons and their duck commander experiences with this exceptionally unique cruise. Carnival Cruise Line is the lucky company that gets to host this awesome experience where you will actually set sail with the family members. Highlights of the cruise include southern cooking classes with Miss Kay, marriage workshops with Al and Lisa, morning preaching with Phil, and storytime for the kids with the ladies of Duck Commander. Enjoy hearing tales about what it's like to work with each other day after day and don't miss out when it's Si's turn to tell them. Redneck door decorating contests, camo contests and look-alike competitions are all a part of this adventure for the Duck Commander lover. Prices are comparable to a normal Carnival cruise and we have to wonder why everyone isn't signing up for this epic adventure.
7. Disney 'Frozen' Cruise
Starting in the summer of 2015 Disney is bringing everyone's favorite characters onboard from the highly popular movie 'Frozen'. Anna, Elsa, and Olaf will be joining the cruises in the Walt Disney Theater for the stage shows, on deck at the fabulous new deck party featuring a winter wonderland and getting up close and personal with fans at the meet and greets. For an extra special experience, Disney is offering an offshore adventure in Alesund Norway that is created exclusively for Disney Cruise Lines. Guests will have the opportunity to explore this enchanting storybook village with the help of Anna and Elsa in an experience unlike any other. If your kids can't get enough of 'Frozen' these cruises are one way to make their dreams come true. Check before you book to make sure these characters are a part of your specific ship.
8. Ghost Hunter Cruise
Do you love the unknown, the paranormal and believe in ghosts? If you have answered yes, then this is the cruise for you. With special guests from 'Ghost Hunters International' and TV medium stars, this cruise promises to be unforgettable. Highlights include daily seminars on various topics, paranormal investigations and ghost hunting expeditions. Shore excursions are based on the most haunted places and guests aboard these cruises can be sure to brush up on their ghost hunting training. Sail through the tropics on the Caribbean cruise and explore places where only the dead and the brave will go. If that isn't enough to entice you on this cruise; the Norwegian Epic ship that you cruise on should be. This breathtaking cruise ship is full of amenities, activities, and a variety of room choices; perfect for the whole family.
9. Holy Ship Cruise
Electronic music lovers unite on the Holy Ship Cruises. These three-day cruises feature the best of the best in electronic music artists performing on multiple stages. This popular cruise sells out quickly and starting in 2016 is now offering two sailings due to increased popularity. Besides the amazing music, guests will be treated to theme nights, private beach parties and artist-led activities. Throw in the amazing company, onboard casino, spa, and awesome destinations and you have yourself one amazing cruise. Past performances include Skrillex, Fatboy Slim, Baauer, DJ Snake and Kaskade. This is truly the biggest dance party of the year and fans will not want to miss out on this epic once in a lifetime experience.
10. Murder Mystery Cruise
This cruise is for the true detective and while many companies offer single or two-night murder mystery cruises there are companies now offering week-long adventures. Not only will passengers have the chance to participate in an on-going murder mystery event but they can also participate in workshops. Passengers become players in this game and whether you get into character fully or choose to watch from the sidelines it is sure to be a ball. There are downtimes on the ship so passengers can enjoy the entertainment and the game is paused at the port of calls. These cruises promise a lot of adult humor, laughs and a 'deadly' game of fun. Not recommended for small children as there is a lot of adult humor but if you do choose to bring them along they will be granted a part to play. Beware of the sneaky crew onboard that loves to get involved in the game!
11. Tattoo Cruise
The Ink or Swim Cruise is truly a unique concept and is the first luxury tattoo cruise in the world. Operating out of the US and traveling to Mexico; guests of this cruise will have an exclusive opportunity to get inked from their favorite artists. Besides getting tattooed there will be numerous events such as tattoo contests, bikini parties, celebrity DJ events and plenty of entertainment. This cruise is also an opportunity for guests to jump ahead in line with their favorite artists as the waiting lists are years long for some of these incredible tattoo artists. It is yet to be known whether this cruise will be a success or not and currently there is only one sailing scheduled that focuses on getting inked.
12. Boston Red Sox Fan Cruise
Die-hard Red Sox fans; we have found a cruise for you. Celebrity Cruises has teamed up with the Boston Red Sox MLB team to offer fans of the game the opportunity of a lifetime. A seven-night cruise with legendary players and WEEI announcer Dave O'Brien with exclusive onboard events just for fans. Experience quality time with former players at the Karaoke night, have a meet and greet and photo session with the players and participate in a game of pool volleyball with them. This portion of the cruise is limited to 300 people so guests should sign up early for this once in a lifetime opportunity. Sail dates in 2016 include players such as Steve Lyons, Mike Timlin, and Jim Rice.
13. Star Trekkie Cruise
An out of this world experience awaits Trekkie fans on the Star Trek-themed cruises that companies are offering. A unique convention and vacation in one awaits fans as they cruise the seas with favorite actors that appeared in Star Trek. From babies to grandparents everyone is welcome aboard this ship. Highlights of this cruise include meet and greets with the actors, custom cruise trek games, autographed celebrity photos, Star Trek themed parties and more. These cruises include premier accommodations, all meals and entertainment and destinations all over the world. Passengers are encouraged to dress up all week and if you dress normal you may, in fact, feel out of place. A cruise truly meant for the diehard fan; we don't suggest booking one of these if you have never watched Star Trek.
14. KISS Kruise
For over 40 years KISS has been legendary in the business of rock and roll and has gained fans from every corner of the world. Now they are taking their show to the open water and a custom cruise has been created for the biggest fans on earth. Starting with a live show by KISS unmasked as you sail away from port followed by more bands, more shows, and more stages; this musical journey will not be one you forget. Along with the music, guests will have the opportunity to interact with special guests, participate in theme nights, and other activities. Keep your eyes peeled as you are playing bingo or shooting baskets as one of the members of KISS may be right beside you. Autographs, photos and meet and greets with the bands just make this cruise even sweeter!