Flying from one end of the world to the other takes a long time, but luckily for passengers it is taking much less time with the introduction of non-stop flights. What used to be a two-day journey from New York to Hong Kong can now be done in just about 16 hours. Engineers have worked hard over the years to come up with innovative ways to make airplanes go faster and longer distances, without having to stop. Although these 16 hour journeys may take a long time, there are plenty of on-board amenities to keep passengers happy. Discover 14 of the longest non-stop flights in the world, and why flying long distance is easier than ever.
14. Chicago to Hong Kong: Cathay Pacific
Residents of the windy city can take a 15.5 hour journey all the way to the bustling metropolis of Hong Kong, a journey that covers 7,793 miles. Cathay Pacific is known around the world as one of the favorite airlines to fly and it's no wonder they now have daily flights, as well as an extra direct flight three times a week between these two cities. While their planes don't have the fully enclosed suites in first class, they still offer one of the best products out there for passengers who want to fly in style. Expect to spend the 15 hours sleeping in the ultra comfortable beds, in the provided pajamas while watching an unlimited amount of movies and television shows. One thing to note about this flight, if you do need something make sure to press the call button as the flight staff like to leave you alone as much as possible to get the rest that most people want.
13. New York to Taipei: EVA Air
This 7,808 mile route started back in 2011 and has only grown in popularity, despite the fact that it takes a whopping 15.5 hours to reach Taiwan's booming capital from the Big Apple. Passengers aboard this flight will have three options of classes from regular Economy to Elite Premium Economy to the much loved Royal Laurel Class. Taking a flight and sitting in the Royal Laurel Class is unlike any other 15.5 hour flight as it offers one of the most comfortable sleeping areas. Each seat can convert to a two-meter long fully flat bed complete with lush linens and pillows. Added touches such as the shoe cabinet, retractable armrest and closet space just add to the experience. In-flight dining complete with champagne and fresh lobster are what passengers will find here. Economy passengers will still be subject to delicious dining, comfortable reclining seats and touch screen entertainment.
12. Toronto to Hong Kong: Air Canada
It is the longest flight originating out of Canada and sits at 7,810 miles and takes a total of 15.5 hours to complete as passengers make their way from Toronto to Hong Kong. The aircraft for this long flight is Air Canada's Boeing 777 that is complete with the loved Executive Pod Business Class cabins. With 48 of these classic pods, passengers can lie-flat, watch their own personal touch screen TV's and charge any electronic devices in their personal power outlets. There is only the choice of economy and business class on these aircrafts but economy passengers can expect a wider seat pitch than others, a power outlet in-between the seats and access to the in-flight entertainment. Enjoy a hot meal with complimentary wine and spirits as you take the long journey from Toronto to Hong Kong.
11. Los Angeles to Melbourne: United
What was once a route run by Virgin Australia, who moved its fleet to its L.A-Brisbane route, is now a route run by United, and this 7,921 mile journey takes about 16 hours. United flies its Boeing 787 Dreamliner which seats 252 passengers divided into three classes; Business, Economy and Economy Plus. Passengers in business class can expect seats that transform into lie-flat beds, an ottoman in front of the seat featuring storage and in-seat power with USB and reading light. Passengers aboard this 16 hour flight will have access to 150 hours of entertainment including movies, RV programs, music and games. Service with a smile, friendly passengers and enough options to keep you occupied for those 16 long hours, makes flying with United both easy and pleasant.
10. Dallas to Doha on Qatar Airways
This 7,931 mile journey takes passengers from Dallas, Texas to Doha, a new destination in the gulf region for Qatar passengers. This route debuted in July 2014 after the success of the Houston-Doha route that has been operating since 2008. Passengers will pass the 16.5 hours by using the awesome on-board entertainment system, getting some shut eye with the provided sleep mask or upgrading to the generous Business Class seats. This trip doesn't come cheap though and passengers should expect to pay around $2,000 for a round trip economy ticket. It also happens to be one of the last of the 7,000 mile journeys on this list
9. New York to Guangzhou: China Southern
China's biggest airline launched this flight in 2014, hoping to attract transit customers coming from other countries who will connect in Guangzhou. The journey from New York to Guangzhou is just over 8,000 miles and takes about 16 hours to complete. Along with the launch of this service came the delivery of their new 777-300ER aircraft that can carry 309 passengers in the four-class configuration. Featuring First Class, Business Class, Premium Economy and Economy, passengers now have an array of options on how they want to travel. Although you won't find the same luxuries as Emirates, for example, there are still plenty of in-flight options, power outlets and food and drink choices to keep passengers happy. This route also happens to be very budget friendly and those looking to score a great deal, should look at China Southern.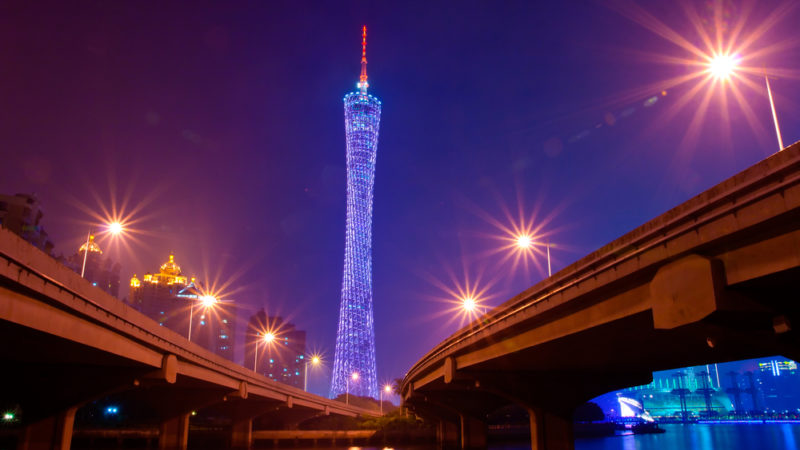 8. Houston to Doha: Qatar Airways
It takes a total of 16.5 hours and covers over 8,047 miles taking passengers from Houston's George Bush Intercontinental Airport to the megacity of Doha, on the cusp of the Persian Gulf. Luckily this Boeing 777 comes loaded with options such as the flat-bed first class suites, generous economy seats and flat seats in business class. Every passenger here is treated to an amenity kit complete with eyeshades, socks and other essentials. The acclaimed Oryx Entertainment system is available to all passengers on this flight. Most likely this plane ride will be full of business travelers as they fly from the oil-rich Houston area to the Middle East. For six years this flight has been in operation and demand continues to grow for this airline which operates 131 planes to over 137 destinations worldwide.
7. New York to Hong Kong: Cathay Pacific
On this flight from New York to Hong Kong, passengers will actually fly close to the North Pole, before descending back down south over Russia Siberia. At 8,072 miles, this journey takes about 16 hours. Cathay Pacific happens to be one of the best airlines to fly in Economy Class, good news for those not wanting to shell out big bucks for Business or First Class. Economy seats feature extra width and legroom compared to other airlines as well as a plethora of in-flight entertainment options. Small touches such as a printed menu with food options the same as in First Class, a USB and power outlet, along with a well-designed seat back, makes flying this 16 hour journey easy!
6. Dallas to Hong Kong: American Airlines
It is one of the most recent routes on this list as it only launched in May 2015 and now features the incredible Boeing 787 Dreamliner aircraft. The journey from Dallas to Hong Kong is approximately 8,123 miles and takes about 16.5 hours. The custom designed Dreamliner aircraft is unique to American and offers Business Suites with fully adjustable lie-flat seats and direct aisle access for all. Every passenger here will enjoy the onboard Wi-Fi, power outlets and personal in-flight entertainment with up to 250 movies, 180 TV programs and 350 audio selections. It became the first flight from Dallas to China as a whole and we expect it won't be the last.
5. Houston to Dubai: Emirates
This 8,168 mile journey from Houston to Dubai takes about 16. 5 hours, but for those oil tycoons who can afford to fly in style, it certainly won't feel that long. First class brings "do not disturb" signs, personal mini-bars and on-demand dining. Business Class features privacy screens and leather seats that transform into beds, complete with a built-in massage feature. Even in economy, passengers are treated to the onboard entertainment system that features up to 1,500 channels of content. It is easy to book a seat on this flight as Emirates offers two connections between the cities daily, often at bargain rates at just over $1,000 round trip. This is one long journey that you may want to splurge on First Class, trust us, you won't regret it.
4. Los Angeles to Dubai: Emirates
This 16.5 hour flight that covers over 8,339 miles flies from one end of the globe to the next, although you wouldn't know it on arrival as these two cities both boast deep blue seas, luxurious hotels, fashion malls and miles upon miles of beaches. The aircraft used here is a double-decker A380 which features 14 First Class suites, 76 flat beds in Business Class and almost 400 seats in Economy. Premium fliers also get access to the exclusive upstairs cocktail lounge. Emirates is typically known for its over-the-top amenities on their flights and expect thousands of entertainment choices, a generous baggage allowance and both Wi-Fi and mobile phone connectivity on-board. If you happen to be taking this flight in first class, amenities range from bottles of Dom Perignon, in-flight shower spa sessions and 27-inch flat screen TV's. You may never want to leave this aircraft!
3. Los Angeles to Abu Dhabi: Etihad
The third longest non-stop flight in the world also takes just over 16.5 hours and covers over 8,390 miles; connecting the desert boom town of Abu Dhabi with L.A. This flight is one of the most comfortable on this list though as Etihad offers generous legroom in all of its classes. Passengers will choose from three different classes including the award-winning Diamond First Class suites, Business Class flatbed seats and Economy class. Expect 6-foot reclining beds and 23-inch flat-screen TV's in the First Class suites as well as your own personal closet. For families that are flying this route, they may want to take advantage of the "Flying Nanny" program, where parents are given a break from their little ones. Wherever you sit on this plane, expect first-class service, excellent in-flight entertainment and a lot of hours in the air.
2. Atlanta to Johannesburg: Delta
Anyway you cut it, it is a long way from the United States to South Africa and at 16.5 hours, this flight covers over 8,439 miles. The 777 Boeing planes that are used to make this long flight provide awesome comfort though, if you are willing to spend a bit of extra cash. The business elite class is the favorite amongst many as it features lie-flat seats that allow your feet to face the aisle and offer the ultimate privacy, and as an added bonus every seat has aisle access. Even in economy, the new seats on these aircrafts provide enough room to stretch out and sleep. Economy comfort is also a great choice, not near as expensive as business class but still offers extra leg room and alcoholic beverages. The flight crosses over the entire breadth of the Atlantic Ocean before touching down in a country that teems with culture and wildlife.
1. Dallas to Sydney: Qantas
At a whopping 17 hours this is currently the longest non-stop flight in the world and travels an insane 8,578 miles between the two cities. This route also boasts the biggest passenger plane in the skies; the double-decker A380. Qantas can fly this route in either direction and passengers have their choice of four different classes on-board. Choose from one of 14 seats in first class, 64 seats in business, 35 seats in premium economy or one of 371 seats in coach. Either way, expect more leg room, ergonomically correct seats, better in-flight facilities and even a self-serve snack bar. The on-demand entertainment systems ensures passengers have access to over 100 movies, 500 TV programs, 800 music options and 18 radio channels; ensuring this 17 hour flight will whiz by.