Australia is known for its friendly people, sandy beaches, the famous Great Barrier Reef, warm temperatures and unique countryside. It is one of the least densely populated countries in the world and there may be no better place than right here to buy property. Cities throughout the country have hit affordable prices and are now seeing positive growth in terms of infrastructure and tourism, meaning that these bargain deals are about to get a whole lot more expensive in the coming year. If you have ever wanted to own a second house, retire here or simply invest; these five places are currently among the best place to buy property in Australia:
5. Brisbane
If you are looking to buy investment property in Australia, Brisbane has been dubbed the hottest place to do so. One of the reasons is because Sydney and Melbourne are already fairly over-saturated. Although tourism has remained slow in Brisbane in recent years, it is being predicted that these numbers are about to climb, especially with the predicted boom in Chinese tourists.
The boost in Chinese tourists, helped by the falling Australian dollar will bring more tourism workers to this area, who will need somewhere to live, thus making it a great time to invest. Did we mention it's also absolutely stunning and the warm winters even draw visitors from the cooler areas of Australia?
4. Cairns
This Northern city with its tropical climate is a hot spot for foreign tourists, and just happens to be one of the best cities to buy property in. Chinese tourism is about to play a big part in making this city even more popular as its airport is the closest in the country to many major Chinese cities. Cairns also happens to be the main starting point for visitors to the Great Barrier Reef. What this means is a lot of demand for rentals, from both tourists and tourism workers.
Because this city has not seen a lot of development over the past decade, rental demands are at an all time high. On the other hand if you are looking to buy a second home for yourself, as a retirement home or otherwise, this is also the perfect place to do. Surrounded by world-class golf courses, deserted beaches and some of the friendliest people in the country; there really isn't a reason why everyone shouldn't invest in property in Cairns.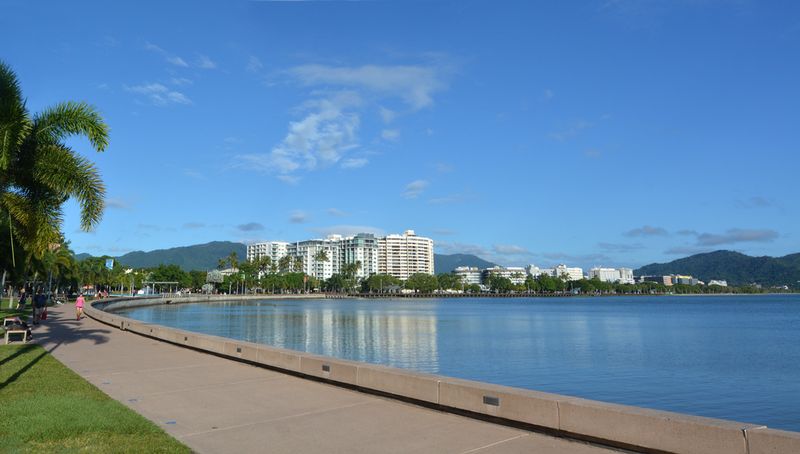 3. Bribie Island
If you are looking to spend your days playing golf, relaxing on the beach and being surrounded by gorgeous national park; Bribie Island is the perfect place to buy property. Bribie Island is the smallest and more northerly of three major sand islands forming the coastline that shelters the northern part of Moreton Bay in Queensland. With the average age of residents here being 55 years old, it is perhaps the perfect retirement destination.
It is somewhat off the tourist radar, which means a great community of locals and enough activities and amenities to keep everyone happy. One can live in a golf course estate here, complete with a 3-bedroom house, with a marina berth for your boat and a double car garage for under $400,000. Quite the steal for a piece of paradise. Did we mention it's really easy to retire over here, as long as you have no criminal record that is.
2. Gold Coast
It is 57 kilometers of stunning coastline bordered by lush hinterland, and investing in property is what you should be doing when it comes to the Gold Coast. A high rate of population growth combined with low property prices means that there are some great buying opportunities right now. Tourism is now returning to the area with the strong American dollar and two major five star hotels are being built right on the beachfront.
Whether you are buying to rent or buying to live here, now is the time when the prices are low and the demand is growing. Experts are recommending that buyers look for houses that are close to transport, facilities and water. With the addition of 5,000 jobs coming to the area when a new hospital opening, the demand for housing here is only to grow as the year goes on.
1. Sunshine Coast
This coastal city has struggled in recent years but is now well on its way to a full recovery experts say, which means buying here now could offer big rewards in the future. Thanks to infrastructure spending and improved affordability this city is committing to building a strong future for residents and future generations.
This tourism center attracts over 3 million visitors a year with its unbroken stretches of beaches, national parks and attractions like Underwater World Marine Park and Steve Irwin's Australia Zoo. Buying investment property here is recommended as major projects are drawing families to the Sunshine Coast, who once here, rarely ever want to leave.