North American airports are notoriously busy, especially when you look at holiday times. It's not just the influx of passengers that makes these airports so busy, although that helps, it's also the weather that cancels and delays flights and the security lines that get extra slow. Luckily some of these airports do what they can to make flying over the holidays easier, such as bringing in Santa Claus to amuse the little ones or even bringing out adorable puppies for weary travelers to pet. Discover the busiest Christmas airports in North America, and which ones are the best and worst to fly through during the holidays.
6. LaGuardia New York Airport
It is one of the worst airports in the country, that we can all agree on, however you choose to measure it. Crowded and stranded travelers often pace the terminals as there is inadequate gate seating, a lack of power outlets and even a lack of restrooms for the 27 million travelers a year that cross through the gates of LaGuardia. At Christmas time this gets even worse and as the bad weather often hits, the runways become congested leaving passengers trapped in the airport. Luckily at Christmas time the staff try to make your day a little more pleasant by offering holiday greetings as you board the plane, unfortunately that's about the only Christmas spirit you will find here. We recommend you try to avoid this airport at all costs during the Christmas season.
5. Calgary International Airport
Although it is one of the busiest airports in Canada around the holiday times, this airport is big on sharing the Christmas spirit with traveling guests. As the hub of WestJet airline, you can expect friendly service from these workers, donning blue Santa hats and festive Christmas sweaters. As you walk through the Calgary airport expect to find a brightly lit Christmas tree and carolers singing merry tunes. Mrs. Claus will even be offering story time in the terminal. Although security lines tend to get long here, flyers are often quite friendly and the line will pass quickly as you are swapping stories with a cowboy boot wearing guest behind you. It may be busy, but this is one of the friendliest airports to fly out of at Christmas.
4. Ronald Reagan Washington Airport
This airport promises to be busy, especially considering all the government employees that fly home to see their families around Christmas time and expect to be fighting lines and crowds of people. Luckily this airport makes it a little less stressful around the holidays with some awesome ways to pass the time. Make sure to check out the humongous Christmas tree that gets erected and this year keep your eyes out for more than just one. Kill time by browsing through more than 100 shops and restaurants located throughout the three terminals. The Gallery Walk located in historic Terminal A is a great place to view paintings, sculptures and other works of art from local artists. This airport also hosts singers, dancers and performing artists throughout the holiday season.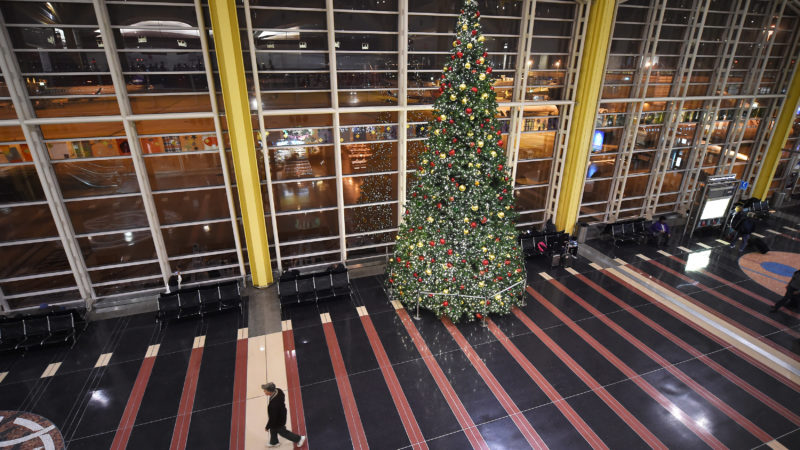 3. San Francisco International Airport
It's no wonder this is one of the busiest airports during the holiday season as people flock to the warmer temperatures often found here. The bad news for fliers is that this airport does get overly crowded with long line ups as more than 2 million passengers come through over the two weeks surrounding Christmas. Luckily everyone at this airport is committed to making the holiday travel season as enjoyable as possible. Think festive holiday lighting, live music, social media events and mobile performers delighting passengers with music, magic tricks and storytelling. With kids spots located throughout, plenty of power outlets to charge those iPads and art displays throughout, passengers will forget it's even the busy season, that is until they hear those carolers busting out their holiday tunes.
2. Toronto Pearson International Airport
An airport that is notorious for its long security lines, cancelled and delayed flights because of weather and its business at Christmas. Toronto Pearson promises to be busy during the holiday season but in recent years has done its best to ease stress on travelers. Airport ambassadors are now out roaming the terminals, helping guests figure out where to go, helping with bags and otherwise on hand to deal with any questions. Christmas carolers are set up throughout the airport bringing merry tunes to all who pass them and Mrs. Claus is often seen reading stories to little ones. There is even a spot set up where families can have their picture taken in a holiday setting. Yes, you will be waiting in line, yes you will be dealing with throngs of other passengers and yes you will most likely be delayed, but hey at least there are carolers.
1. Los Angeles International Airport
It is one of the busiest airports in North America and at Christmas time it only gets worse, although thankfully they don't have to worry about weather delays on their end. Still snowstorms that blanket the Northeast will delay flights in LA. There are an estimated 3 million passengers that go through this airport over the two weeks near Christmas but luckily LAX is determined to make traveling a little stressful. Santa is often found roaming the terminals, taking photos with little ones and handing out candy canes. Last year members of the LAX Pets Unstressing Passengers (PUPS) program fanned out across the airport and were making their furry selves available for petting, a simple stress reliever for weary travelers. Expect to see plenty of Santa hats and holiday cheer here!