The Big Apple can get pricey and with so many gourmet restaurants and notable chefs in the city, food sometimes doesn't seem to come cheap either. It might seem like the only place to grab something for a reasonable price is at a big-name fast food joint—which is not the case at all. But eating out in the 5 boroughs doesn't need to break the bank; in fact, there are some places where you can pick up delicious food at a price your pocketbook will love too.
7. Pizza
Okay, it might seem like a bit of a cheat to start off with something so generic—of course pizza can be cheap. Pizza can also be really expensive, especially in NYC. But since the city is one with such a rich Italian heritage, you just know that there have got to be a few great mom-and-pop style pizzerias, places where you can grab a slice (or a whole pie) for what amounts to pocket change. The Big Apple is full of shops like Joe's Pizza and John's Pizzeria, both in Greenwich Village and both highly regarded by locals. A classic New York slice will run you $2.75 at Joe's—very reasonable considering Joe uses nothing but the best, including imported Italian mozzarella and tomatoes to make fresh sauce for the pies.
6. Taqueria Izucar
This place might as well be billed as "all you can eat tacos." Tacos are just $1.25 a pop, and come stuffed with things like braised veal, pig stomach or stewed potatoes. Although the Taqueria itself is a counter-serve establishment, there is an attached Mexican restaurant where you can pause for a sit-down meal. For those on the go, however, Taqueria Izucar serves up good food at low prices and even has vegetarian options for those who prefer their food sans-carne. Open from 11 in the morning til 10 at night, this Brooklyn eatery is the perfect place to grab lunch during a busy workday, dinner after a long day at the office or even to grab a snack with some friends before heading out to the bar on a Friday night.
5. Northside Bakery
Northside Bakery is a European-style bake shop in Williamsburg, Brooklyn. A division of Old Poland Foods, the bakery has been voted "Best European Bakery in New York" by various outlets. Their baked goods are all handmade, without preservatives, and the company is now looking at introducing a line of organic baked goods. They stock everything from baguettes to bagels to donuts, but you can also drop by for a lunch special. A cabbage roll will cost $2.50 (and be warned, these are decidedly filling). Other Polish specialties and daily soups round out the lunch menu; the buffet will set you back around $4. And after lunch, you can also grab a slice of cake or another treat to take home with you and enjoy later. All in all, Northside Bakery is a pretty sweet deal!
4. Lakruwana
You might not think that trekking out to Staten Island would yield much in the way of cheap eats, but you'd be wrong. Don't believe it? Hop the ferry (which is free) to the island and check out Lakruwana, an artsy Sri Lankan restaurant serving up traditional dishes from the Indian Ocean island. Their weekend lunch buffets are a great deal; priced at $13.95, it might seem a touch dear, especially compared to some of the other entries here, but the value is great given the extensive menu. The restaurant also offers take-out, which is a great option if you happen to be on Staten Island anyway. And although most of the entrees are priced around $14, the portions are generous; if there are two people dining, you can likely pick one dish and split it—although it tastes so good, you may not want to share.
3. Yun Nan Flavour Garden
Not only is this Brooklyn restaurant a tasty and cheap option for diners, it's also one of New York's only Yuunan restaurants. In a city littered with Chinese eateries, Yun Nan Flavour Garden is a refreshing option, serving up a menu with flavors from China's southernmost province. The restaurant specializes in noodle dishes, like guoqiao mixian, and the noodles themselves are made fresh in-house. Although the eatery itself is tiny and you'll likely share a help-yourself bin of utensils with your fellow diners, the food is a great deal: bowls of noodles go for around $5—and are generally large enough to feed 2 or 3 people, or to make another meal out of. Service is usually quick, but remember to bring cash, since the establishment doesn't accept credit or debit cards.
2. Gray's Papaya
Given the name of this establishment, you might not think of a hot dog stand, but that's exactly what Gray's is. The long-time New York eatery specializes in dishing up low-priced dogs to hungry crowds. The Papaya in the name comes from the papaya drink the restaurant sells, although they also sell a variety of other beverages. Gray's has been featured in films, television shows, literature and music, making it something of a cultural touchstone for New Yorkers. Open since 1979, Gray's had expanded into additional stores, although only the 2090 Broadway location is open nowadays (however, reports have surfaced that Gray's will be opening a new Midtown location by end of 2016). The restaurant is open 24 hours a day, year-round, which means you can grab a cheap, delicious, high-quality dog any time you visit the Big Apple. A single dog is just $1.25 and the "Recession Special" will set you back only $3.50.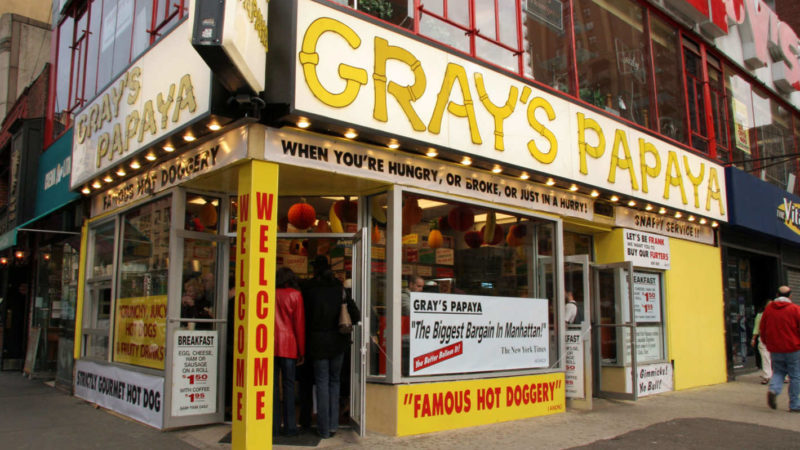 1. Rahman's Kwik Meals
There are a heck of a lot of food carts in New York City, especially in busy areas like Midtown and the Financial District, where both hungry office workers and tourists will congregate, looking for a quick bite to eat. With so many vendors, it can be a bit overwhelming to pick one. Many sell foods like pretzels and bagels, but the best food carts have full meals, like falafel with grilled chicken, on offer. New York Magazine recently named Rahman's Kwik Meals one of the best food carts in the whole city. The cart is something of a legend in NYC; after brief stints cooking for other establishments, cart owner Muhammed Rahman is back selling lamb, fish and rice dishes at 45th Street, near Times Square. There are also two additional carts in the Kwik Meals empire, Quick Delight (45th and 3rd) and Kwik Gourmet (47th and Park Avenue).