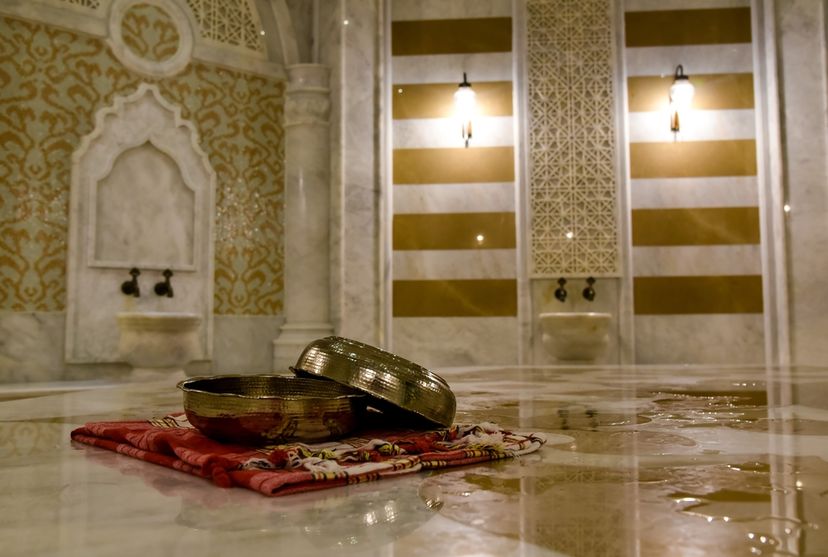 Visiting Istanbul can't be complete without visiting one authentic, historic hamam, or bathhouse. Steaming, bathing, and rejuvenating massages in one of Istanbul's hamams is the one quintessential Turkish experience to have and an ancient amenity that has outlasted centuries of modernized social norms. The experience is easily customized, whether just for a soak, a steam, a massage, or all three. But perhaps the most notable aspect of this experience are the visuals, from massive marble slabs, to towering columns and intricate, colorful, artistic details. Don't miss these seven note-worthy hamams while exploring Istanbul.
7. Cagaloglu Hamam
Istanbul's Cagaloglu Hamam is undoubtedly the city's most spectacular and most impressive hamam, favored by locals and drawing thousands of visitors each year. The sweeping arches and curved domes within the hamam's gorgeous steam rooms are lavish and reveal some of the most ancient and enduring design models of the several centuries. Within the famously documented design are thousands of single tiles adorned in colorful tulips, adding depth to the already exquisite style. Cagaloglu Hamam was constructed in 1741, ordered by Sultan Mahmut I, and though originally only offered facilities for men (a long-standing tradition), today there are baths and a wide scope of services for both men and women within their own separate quarters. Treatments though, are not as long and lavish as one might hope: the basic washing, scrubbing, and range of massage treatments are fairly expensive considering they are pretty short.
6. Cemberlitas Hamam
During the late 1600s, renowned Ottoman architect Sinan designed and built Cemberlitas Hamam which has offered one of the most quintessential bathing experiences in the city for centuries. As one of the oldest Turkish hamams in Istanbul, Cemberitas is revered and therefore a popular haunt for relaxing, steaming, and bathing. Built during the last and greatest period of Sinan's life, this hamam emphasizes his life-long experience, exemplified by the tranquility, practicality, and elegance throughout the entire design, which is fantastic in its simplicity: the hamam is not overly adorned yet still doesn't lose a bit of appeal. Studied by professionals in many different fields, Cemberlitas features a massive central dome, which is especially beautiful when the sun is shining, lighting up the interior magnificently and heating up the gobektasi, a huge, hot stone where visitors can lay and soak in the warmth.
5. Galatasaray Hamam
The legend behind Galatasaray surrounds Ottoman Sultan Bayezid II: following a hunting party he walked through the dense forest and came across a revered man called Father of Roses (Gul Baba), in his small cabin. A celebrated poet and exalted Muslim dervish, conveyed wishes to Beyazid, who vowed to follow them through. Gul Baba requested a mosque and kulliye (adjacent building with facilities including a hamam), to be constructed and the hamam include a massive dome. Beyazid took one yellow and one red rose as offerings, accepted his wishes, and in 1481, built Galatasaray with the beautiful kulliye. The sogukluk (hamam's cooling off area) is defined by large marble slabs where massages are given following a steam and/or soak. Extremely hot steam rooms are favored by the Turks, and since Galatasaray is a local favorite, the steam room and gobektasi hot stone are just that: piping hot.
4. Beylerbeyi Hamam
Near Beylerbeyi pier and ferry, Beylerbeyi Hamam is next to its namesake mosque and easily identified by its wooden façade built in Ottoman style. Sultan Abdulhamid I ordered the building of Beylerbeyi in the late 1800s and dedicated it to Rabia Sermi Kadin, his mother. Traditionally, mosques were always built with adjacent hamams because of the revenue the bathhouses generated for maintenance and updates; Beylerbeyi was built with that in mind, and has been an important source of income for the entire complex. The marble fountain located in the cooling area (the stop between cool-off area and hot bath) is a definite highlight as is the expansive wooden ceiling in the changing area, called the Camekan. Here, there is also a hot stone, which many ancient mosques have, four private rooms (halvets), and 13 fountains (kurnas). Beylerbeyi is a must-see, accommodating women in the morning and men in the late afternoon.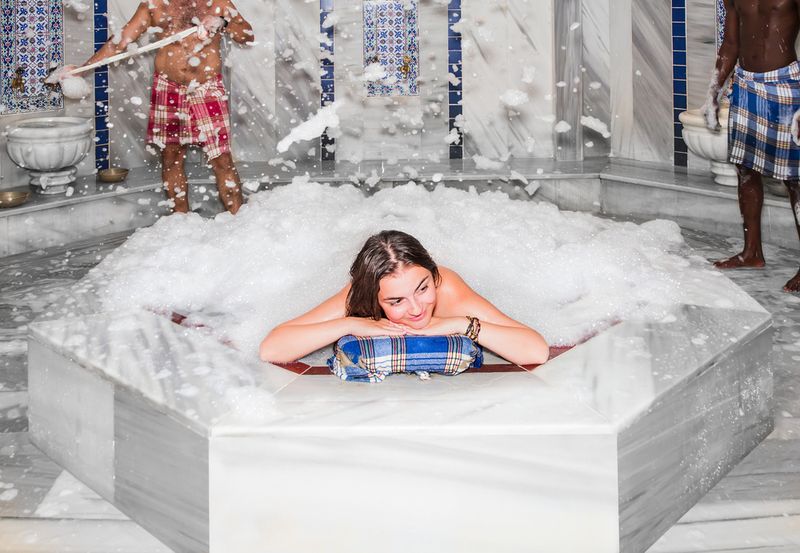 3. Kilic Ali Pasha Hamam
Another Sinan-designed favorite, Kilic Ali Pasa takes on the name of a slave who journeyed to Constantinople, eventually becoming a powerful captain, and was renowned throughout the region. He became a mighty 16th century admiral and an integral part of many Ottoman Naval army victories. Kilic Ali Pasha is entirely captivating, with a beautiful Camekan (changing area) and glorious dome atop of the Camekan. Rising about 51 feet in height and 45 feet wide, this hamam is Sinan's biggest endeavor and one of the most impressive in Istanbul. In more recent years, the hamam underwent a massive, seven-year renovation to repair structural features but the best of original details have been restored. Elephant eyes made of glass, a Kulhan Chimney, marble slabs, stone carvings, and leaded domes are just a few of the original repaired design elements, maintaining original style and structure implemented by Sinan.
2. Haseki Hurrem Sultan Hamam (Hagia Sophia)
The majority of popular hamams were built by Ottoman architect Sinan, and so is Haseki, as he was the most talented and favored of the Ottoman hierarchy. Ordered for construction in the mid 16th century by Suleiman the Magnificent's wife Roxelana, Haseki is built on the land formerly occupied by Zeuxippus ancient public baths in 100-200AD. Centered within Hagia Sophia and the Blue Mosque, it has ancient ties: Haseki was once where the Temple of Zeus stood before relocation to Constantinople from Olympia. In commission until the early 20th century, the hamam was a prison, an oil and paper storage building, and—up to 2007—a popular carpet market. From 2008-2011, the final restoration brought the hamam to its original luster with thousands of square feet of marble. Today it's considered the fanciest, with cotton and silk bath wraps and gold plated bath bowls.
1. Mihrimah Sultan Hamam
Constructed in the mid-1500s, Mihrimah Sultan Hamam is another gift from Suleiman the Magnificent, this time to his daughter Mihrimah. Two facilities were built, one in Edirnekapi and the other in Uskudar. Both were also built by Sinan, the Edirnekapi hamam is a storied bathhouse, with legends tied to a tale of love between Sinan and the Suleiman's daughter—and so Sinan built Edirnekapi for Mihrimah, without royal approval, and dedicated to the object of his devotion. The Camekan area is shaped squarely, and constructed upon twelve towering columns, presenting a magnificent view. Also within Mihrimah Sultan Hamam is a huge dome that houses four luxurious private rooms (halvets) and the octagonal central heating stone (gobestasi where visitors can lay and warm up. Modern updates (which are often criticized by historians as taking away from original value), include a hot tub and a large pool.