Rio is a city in which you could easily spend your entire vacation but what if you are looking to escape the hustle and bustle of the lively city for a day or two? Escape Here has the top picks for day trips out of this state capital, whether you choose to spend just one day or you enjoy it so much you spend several days, the choice is yours. From sleepy beach towns with breathtaking landscapes to tiny villages that have been transformed into hip towns; the possibilities are endless to explore the areas around Rio. Rent a car, book a flight or hop on the bus to reach these destinations. Whether you are looking to relax, hike in the jungle or try your hand at surfing we have a destination for you. Here are our top choices for best day trips out of Rio.
1. Buzios, Brazil
Located only a couple hours out of Rio is a culturally rich and sophisticated village that was once a tiny fishing village. Since then it has been transformed into a place full of breathtaking beaches, charming shops, endless adventure opportunities and an epic nightlife scene. Rua das Pedras is the main drag and this cobblestone street is lined with bars, clubs, hotels, art galleries, restaurants and shops.
Home to 23 beaches, this village is a popular spot for surfers including kite and wind surfers as well as snorkels and divers. The Eastern side of the peninsula is windy and caters to the surfers with crashing waves and big surfs whereas the Western side tends to be calmer and more tranquil. If you are interested in witnessing the beautiful endangered golden lion monkeys head over to Emerências Reserve. Choose to fly into Buzios with local airlines offering regular flights or catch a bus from Rio. Explore this lovely town for a day or two and understand why it's so hard to leave.
2. Paraty
A slightly longer trip out of Rio will get you to the beautiful city of Paraty where cobblestones streets and colonial architecture will delight your eyes. With the Bocaino Mountains at its back you won't find a more perfect picture setting to explore the jungle, waterfalls and beaches. The pedestrian only streets in this town house well-preserved buildings and the national historic monument.
Boating out into the water to visit the flotillas of islands and caves is a favorite activity in Paraty; as is boating around the beautiful bay where millionaires and fishermen own gigantic homes hidden on the bay. Sugarcane plantation tours, hikes to the waterfalls and a train ride through the Atlantic Forests are just a few activities to do while in Paraty. Make sure to keep your eyes peeled for the monkeys that can often be seen roaming the cobblestone streets. With hundreds of beaches nearby and a plethora of nearby towns; Paraty is the first day trip of many you are sure to have out of Rio.
3. Petropolis
Petropolis is the closet Mountain Resort to Rio and here you will find a large number of locals coming to escape the heat and find new adventure. Along with cooler weather, this city offers historic architecture, plenty of eco-tourism opportunities and charming hotels. Most of the city's attractions are located in the historic downtown making this an easy city to explore.
The Museum Imperial houses some of the most important objects in Brazilian history including the gold quill that was used to sign the law that liberated slaves in 1888. Make sure to stop by Crystal Palace, the beautiful São Pedro de Alcântara Cathedral and Museum Casa de Santos Dumont; where the Brazilian father of aviation and inventor of the wristwatch used to reside. Once you are done exploring the history of the town head out to one of the many charming restaurants and treat yourself to a traditional Brazilian meal. There is no shortage of history, culture, adventure and great food in this city.
4. Ilha Grande
A prison island twenty years ago is now a fiercely underdeveloped protected area made up of lush tropical forest. Breathtaking beaches and hillsides combined with an abundance of wildlife makes this "Big Island" a must do day trip out of Rio for every visitor. Trails span 150 kilometers through forests that are home to endangered species such as the maned sloth and brown howler monkeys. The emphasis on this island is hiking, canoeing, kayaking and swimming.
A few things to note about this Island, there are no cars and no banks on the island. We do suggest taking some cash with you as not all shops and restaurants accept cards. The largest village is Vila do Abraão where most of the visitor facilities are located. The atmosphere of the island is largely laid back with plenty of youth, guitars on the beach and inexpensive accommodations. Boasting one of the top beaches in Brazil; Lopes Mendes, you will find ultimate relaxation and tranquility here. Ilha Grande is the perfect getaway from the busy city of Rio and once here you will find it very hard to leave.
5. Prainha Beach
Our next day trip out of Rio mixes things up a little and is not a village or a city but one particular beach. Prainha Beach is worthy of its own day trip as this crescent shaped beach is one of the best surfing spots near Rio. The fact that it's bordered on each side by rocks and cliffs only adds to its breathtaking beauty and makes this beach a must visit.
The best time to travel to this beach is during the week as the weekends often get very crowded. The protected area is something unique to this beach but when it's too crowded authorities will restrict the access to it so avoid disappointment by traveling throughout the week. Explore the rocks and cliffs and the wildlife that hides within them, or try your hand at surfing in the swells. Strong swimmers only should go in the water as it conditions can get rough. Access this beach by car or by hopping aboard the orange surf bus that runs through Copacabana and Ipanema. Discover this beauty of a beach and spend the day outside of Rio.
6. Angra dos Reis
The amazing archipelago of 365 islands of Angra dos Reis is a must visit, whether it is a day trip for one, two or even three days. This amazing port city offers its fair share of churches, markets, pretty buildings and an abundance of opportunity for adventure. Whether you choose to explore Angra dos Reis independently or take a day trip to the sea; this city will not disappoint.
Day trips out onto the sea will give you a chance to experience some of the regions 2,000 beaches where you will have the chance to scuba dive, snorkel, fish and more. If you are feeling independent head inland and discover the towering waterfalls and beautiful treks. If you are feeling adventurous make sure to try the white water rafting or parasailing that is offered here. Snuggled into the rainforest mountains and with breathtaking blue ocean and lush vegetation being in Angra dos Reis feels like you are in a different world entirely. Don't miss this short day trip out of Rio while you are vacationing in Brazil.
7. Minas Gerais
Northwest of Rio lies Minas Gerais; a state that is known for its cowboys, dairy farms and cachaça distilleries. A must visit here is the 8,000-acre Reserva do Ibitipoca. Although this Reserva is privately owned, any visitor can now experience it by staying at its perfect lakeside farmhouse; Fazenda do Engenho. This luxury accommodation begs to be explored for at least one night and you will soon feel at home on the wraparound porch with hammocks, complimentary yoga classes and cuisine that's to die for.
The reserve is home to wildlife, waterfalls and is best explored by horseback, hiking or electric bikes. Guided tours will take you throughout the reserve and around every bend you can expect a new surprise. From the art installations to the merry brass bands to a fire-lit dinner beside a waterfall; this place is a natural oasis you can enjoy with some luxury. Listen to the frogs as they lightly croak at night, wake to the sounds of the squabbles of the parrots and soak in the stars as the sun sets and dusk falls. Treat yourself on this day trip out of Rio and we promise it will be unforgettable.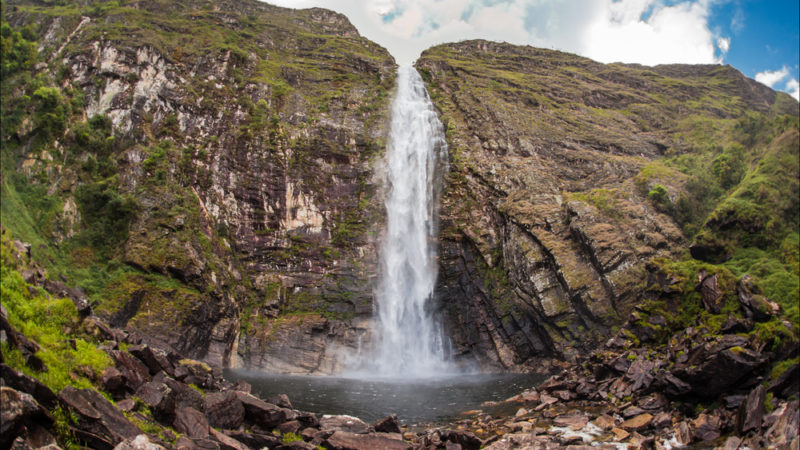 8. Niteroi
A short 20 minute ferry ride across Guanabara Bay brings you to this small city where you can enjoy watching the magnificent sun set over Rio. "The City of Smiles" as it's often called offers some of the less-crowded beaches in the area along with some of the best surfing spots in South America. Art lovers flock to Niteroi to take a peek at the world-class Museum of Contemporary Art (MAC). This Oscar Niemeyer designed building is the shape of a flying saucer that appears to be landing just above the crashing waves.
Other futuristic Niemeyer buildings line the town including the undulating theatre, but it's not just futuristic buildings here. For the visitor looking for a little history make sure to head over to the Santa Cruz Fortress for its colonial-era architecture. The Fortress offers spectacular views back to Rio so be sure to bring your camera along. By far the closest day trip from Rio; Niteroi is a perfect blend of old and new.