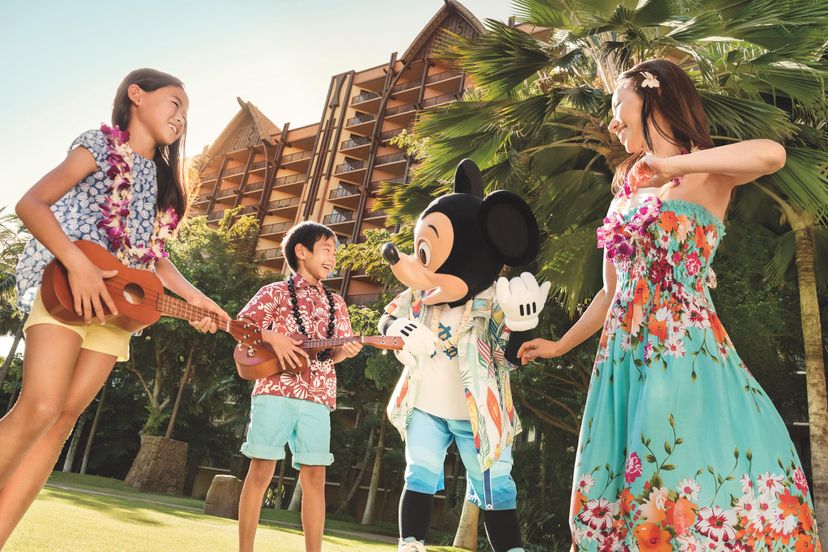 Who says you have to leave the kids at home to enjoy a magical Hawaiian vacation? Nowadays it is incredible easy to pack up the whole family and whisk them off to a vacation of a lifetime, with warm sun, white sand beaches and enough activities to keep everyone in the family entertained. Explore the following nine resorts, with their epic waterparks, awesome kids clubs and enough kid-friendly menu options for the pickiest of eaters, and you will understand why these are the best of the best in terms of family friendly resorts in Hawaii.
9. Hilton Waikoloa Village, Big Island
Often referred to as the "Disneyland" of the Big Island this resort promises to be one of the most family friendly, and indeed feels more like a small village rather than an overcrowded resort. A tram and canal boats are actually located throughout the property, ensuring that guests can get around quickly and easily, a bonus for parents who don't feel like giving one more piggyback. Kids under the age of four eat for free around the resort and there is even a spa package just for kids. Don't forget about the comprehensive daily children program that runs for ages 5-12. With three large pools areas, including one adult only and featuring a 175-foot water slide and waterfalls, along with a huge ocean-fed lagoon with a white sand beach and plenty of beach activities, the kids will find it hard to complain about being bored here.
Four Seasons Resort at Manele Bay, Lanai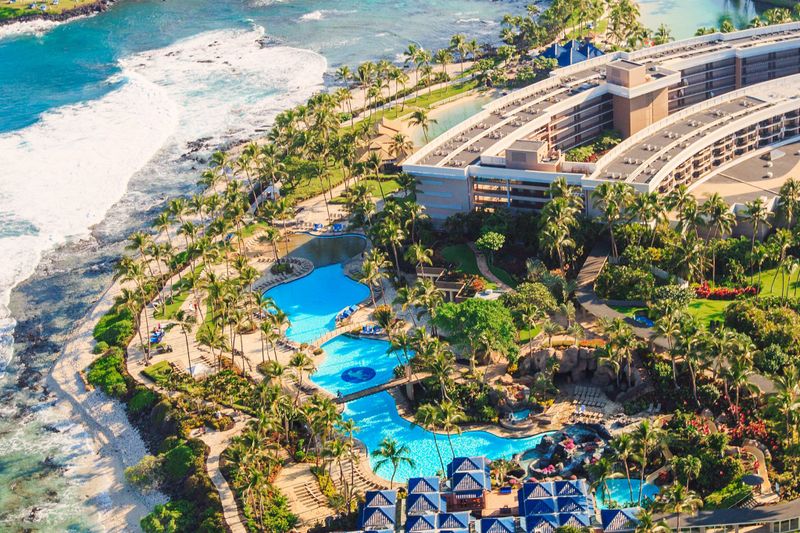 8. Marriot's Ko Olina Beach Club, Oahu
If you are looking to avoid the large, noisy and often overcrowded mega-resorts, make sure you head to Ko Olina Beach Club. What you won't find here is screaming children and long lines. Instead you will find snorkel boats and sunset cruises, four different pools with two of them being extremely kid-friendly, and four-man made lagoons perfect for young ones wanting to snorkel. Most of the rooms here are apartment style which means full kitchens, a helpful addition when it comes to toting kids along, as an added bonus cribs are provided free of charge. One of the coolest features about this resort are the MAZE huts; poolside huts that provide everything from towels to swim diapers to shave ice, in order to make your day run as smoothly as possible. Kid-friendly menus, childcare options and a resort where you don't feel overrun with other guests makes this one awesome choice in Hawaii.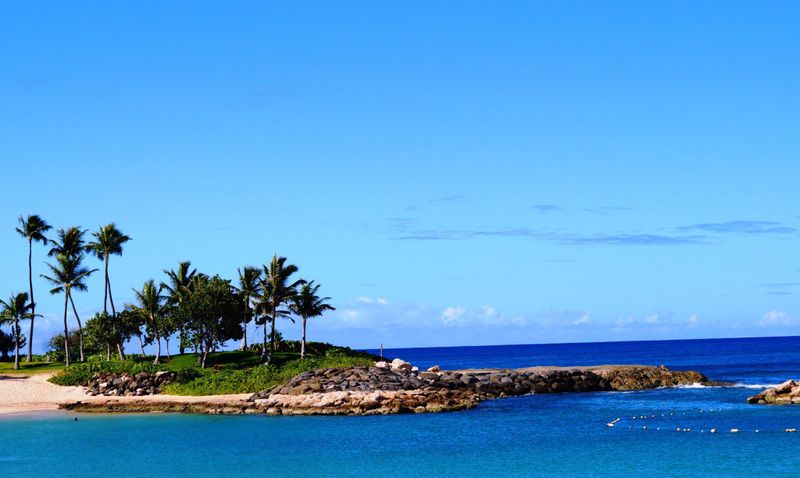 7. Hyatt Regency Maui Resort and Spa, Maui
Part zoo, part hotel, part waterpark, part food court and part mall is how this large resort can be described. Essentially what this means for families is that the kids will never run out of things to do! On-site you will find parrots, penguins, flamingos and cranes to admire, along with beach activities such as kayaking and snorkeling. But it is the pool complex that is perhaps the most impressive of all. The children's area features a rope bridge and a 150-foot water slide, along with two free form swimming pools with waterfalls and a bar for the adults. There are a total of five restaurants with many kid friendly options and the large standard rooms are big enough to accommodate a roll away bed for the wee ones.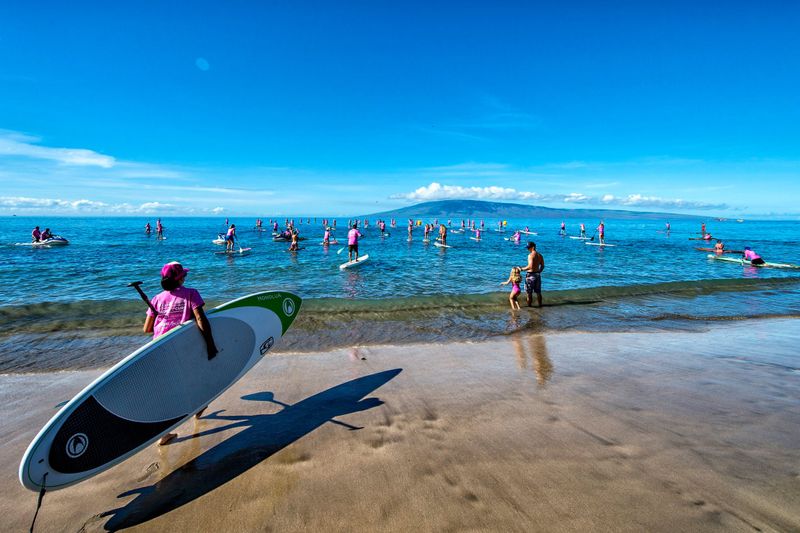 6. Four Seasons Resort at Manele Bay, Lanai
The location can hardly be beat, built on the cliffs above the pristine Manele Bay; this resort blends family-friendliness and luxury. Don't expect too many screaming children or long lines here. Standard beach and pool activities include surfing lessons, paddle boarding and games. Along with these activities guests here are privy to the beautiful protected reefs that are full of marine life including dolphins and whales, and an absolute delight to snorkel in. If that isn't enough to keep the kids interested why not sign them up for tennis lessons, horseback riding or even cooking lessons. And don't worry if it rains one day, this resort offers hula dancing, lei making and ukulele lessons for kids. Leave them at the awesome Pilialoha Keiki Camp, the daily kids camp while you go enjoy the day at the spa.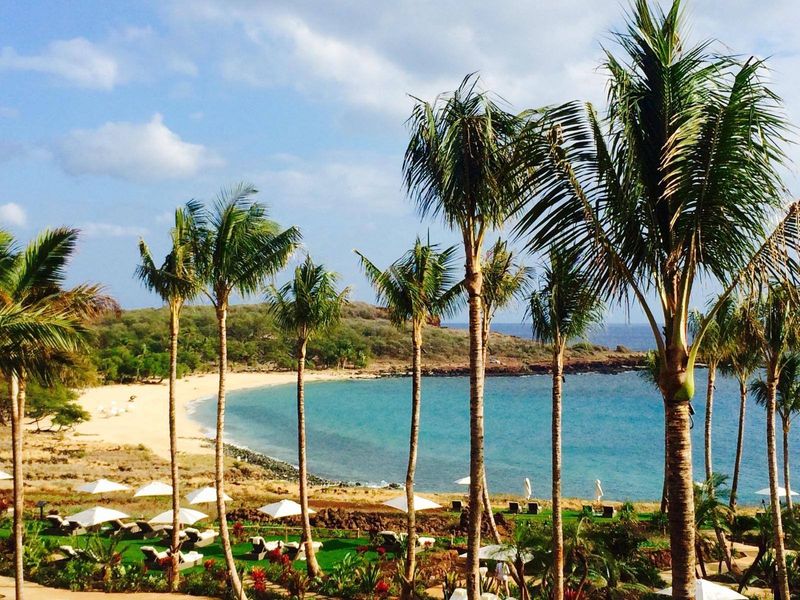 5. Grand Hyatt Kauai Resort & Spa, Kauai
It is easy to understand why the Grand Hyatt is rated as one of the top family friendly resorts in Hawaii, considering its bursting with activities for the little ones. Kids who attend Camp Hyatt, the daily kids program will not only get to play the typical games and participate in activities but the program is designed to teach kids about Hawaiian culture, thus turning this fun activity into a learning opportunity. Kids menus are available at most of the restaurants on-site as well as there is a special kids room service menu. Free roll away beds and free babysitters are just a couple of the perks here. And if that isn't enough to convince you, consider the four pools that are open 24 hours a day, the saltwater lagoon to kayak in, the lazy river to float in and the water slide to go down.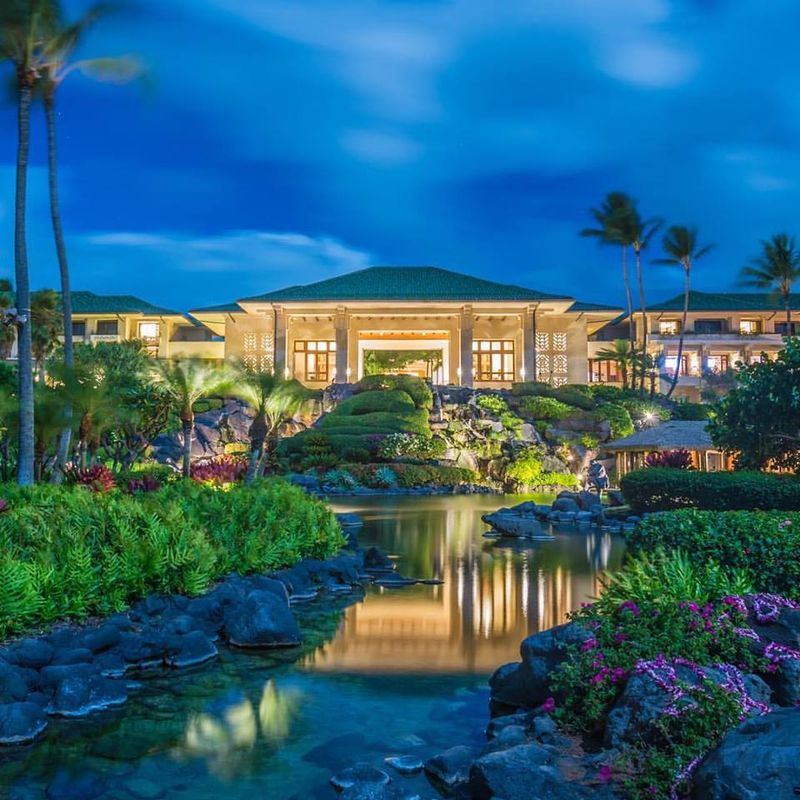 4. Sheraton Waikiki, Oahu
It is the second largest hotel in Hawaii, which means lots of people as well as a ton of amenities. Even better for families, children under the age of 17 actually stay here for free! The Helumoa pool complex is where kids seem to spend most of their days, splashing in the two freshwater pools, sliding down the huge water slide and playing in the interactive fountain area. The kids club here is among the best in Hawaii and offers full days programs that include trips to the Honolulu Zoo and Aquarium and Hawaiian arts and craft lessons. Families won't go hungry at this hotel, as the opportunities are endless. Make sure to check out Hapas Pizza who does kid sized dishes and the Kai Market where kids under 5 eat free.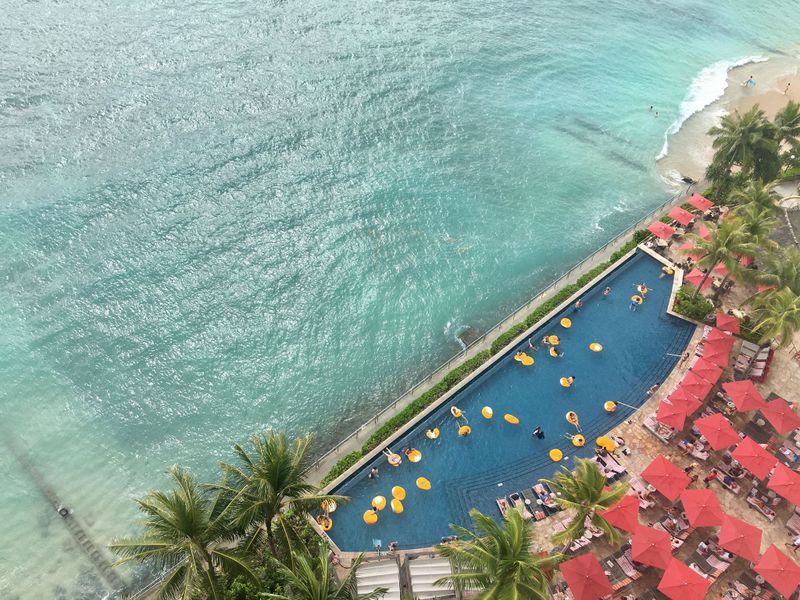 3. Grand Wailea, A Waldorf Astoria Resort, Maui
It is one of the best family friendly resorts on Maui, in part due to the one-of-a-kind pool system that offers some pretty incredible features. Here families will find a lazy river, four water slides, a rope swing and a water elevator at the center of a faux volcano. The kid's camp is another thing they are proud of, a 20,000 square foot space offering a video arcade, Ping-Pong, a movie theater and activity room for kids 5-12. The rooms are spacious and many of them connect, giving families with older children space and privacy. The beach has incredible waves for body-surfing and boasts calmer waters for snorkeling. Families will appreciate the kid's menus throughout the resort restaurants and special treats like homemade ice cream.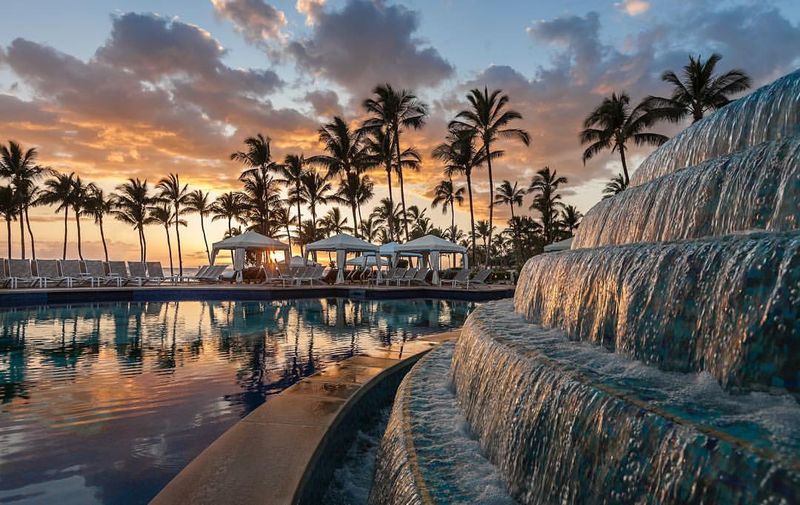 2. Four Seasons, Maui and The Big Island
The Four Seasons certainly know how to do family friendly resorts, while breaking the mold of the typical crowded, noisy and bustling kid-friendly hotel. On the Big Island the Four Seasons offers a whopping seven swimming areas including one especially for tots. Other free activities here include rock climbing, canoeing, crafts, beach games and more. The Resort in Maui sits on one of the best beaches on the island where kids love to body board, snorkel and paddle board. It is here where kids under 5 eat free at two of the resort restaurants and all restaurants provide kids menus, right down to the room service menu. The free children's program is boasted as being one of the best and adults can relax while the kids attend. The whole family can even head to the video game room, basketball nets or tennis courts for a wide range of family fun.
1. Aulani, A Disney Resort & Spa, Oahu
This resort deserves to be at the top of the list, hands down when it comes to being family friendly. Offering a lazy river, two water slides, kids-only pools, a man-made reef and a carved in lagoon it is easy to understand why families of all kinds flock to this resort. Classic movie characters constantly roam the grounds stopping to have their picture taken alongside guests of the resort. Along with daily dance parties at the pool, this resort boasts an extensive menu of activities, shows, entertainment and excursions. The restaurants at this resort are extremely kid friendly, whether families are looking for a quick snack or a sit-down meal. The rooms here help push this resort to the top of the list, extremely family-friendly with spacious layouts and a mini-fridge in each room, perfect for stashing snacks for the kids. Enjoy spa treatments for the whole family, a plethora of activities and a gorgeous resort for both the kids and the adults.