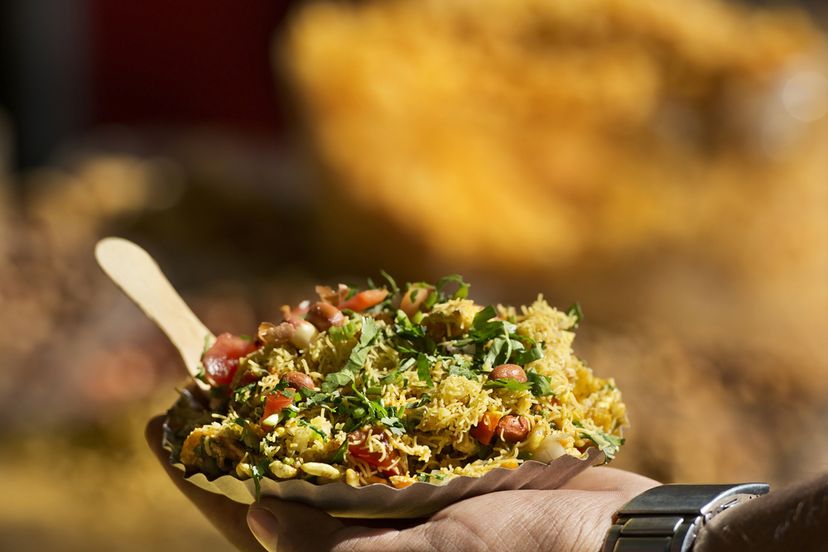 India and street food truly go hand in hand with streets in every city lined with vendors looking to fill your belly with delicious eats. These street vendors have been operating for generations and although each city has its own specialties, the following are street foods that must be tried on any trip here. From rolls to puff pastries to spicy green chutney; these mouthwatering delights will have you booking your trip to India in no time.
9. Pani Puri
You will find this street food pretty much anywhere in India and you certainly cannot go wrong when you stop to grab some Pani Puri. What exactly is this dish though? A crisp fried sphere which is hollow is filled with a delicious combination of potato, chickpeas, onion and sprouted lentils. The sphere is then dunked into a mix of tamarind and jaggery and then into a liquid blend of coriander, mint and masala. The end result is an incredible ball of flavor that pops in your mouth as you eat it. One thing to watch out for with this dish is ensuring that the vendor is using mineral water, unless you have a stomach of steel. Find it everywhere, order and pull up a stool with the locals as you chow down on one of India's most favorite street foods.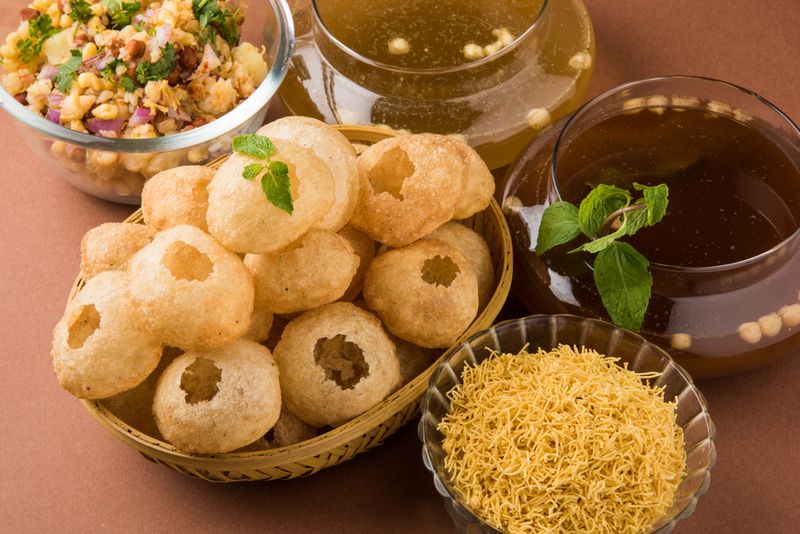 8. Chole Bhature
This dish is famous all over India but most eaten in Delhi where there seem to be vendors on every corner. This heavy breakfast food consists of a combination of spicy and creamy chick peas and puffy hot fried bread called Bhatura. This bread is achieved after the dough is fermented for almost an hour then sprinkled with Indian masalas and stuffed with fresh crumbled paneer. It is generally accompanied by a yogurt-type drink and onion, pickle and green chutney. If you happen to be in Delhi eating this dish, most locals recommend going to Sita Ram Diwan Chand. Here the filling is both sweet and spicy; the bread puffy but not overbearing and it is served with incredible sweet and sour chutney.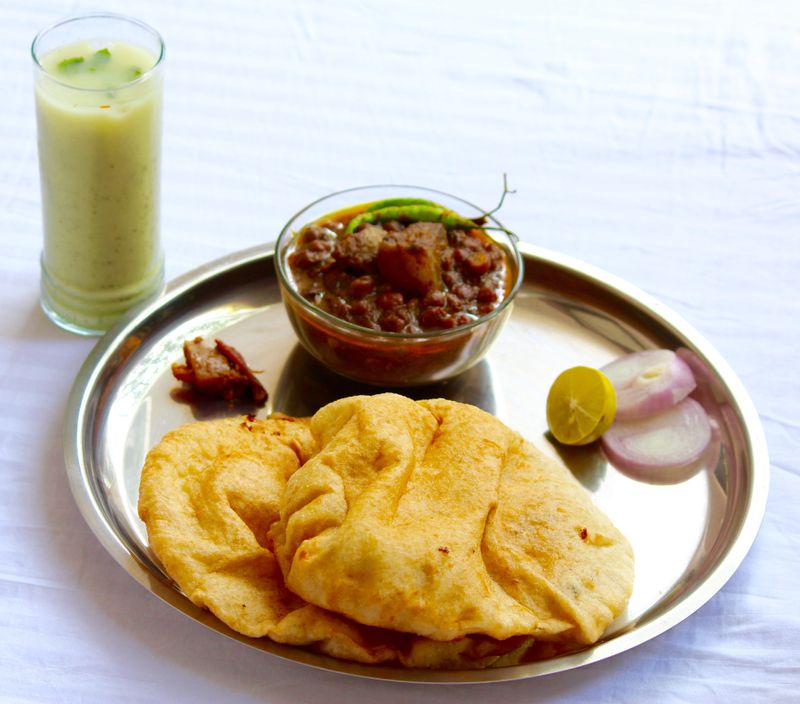 7. Vada Pav
It is truly the Indian version of the American hamburger, and everyone's grab and go snack in India. It is one of the most loved street foods across the country and is not only cheap but incredibly delicious as well. What this "burger" consists of are potato patties that have been mashed with garlic, chilies and coriander that are then dipped in chickpea flour, fried golden, then laid in the bun or as they call it the "pav". The pav is a springy white bun that's well buttered, spread with coriander chutney and sprinkled with garlic and chili powder. It is often accompanied by red or green chutneys and fried green chilies. Most famous in Mumbai, it seems anywhere you get this treat, it's amazing.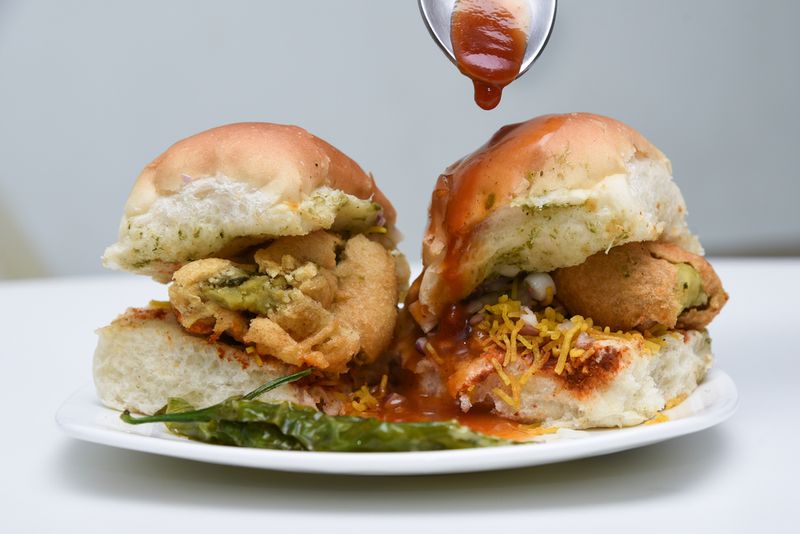 6. Chaat
It is a North Indian staple that is now offered across every city and state in a variety of different options. Over the course of time this dish has evolved and every town and every vendor serves up something a little different. Legend has it that Chaat was born out of the royal kitchen of emperor Shah Jahan who was ordered to consume foods that were light in his stomach but high on spice. What Chaat actually consists of will vary from vendor to vendor but they will all have something in common; they are crispy, sweet, spicy and sour all rolled into one. Some of the more famous chaats are bhel puri, dahi puri, paani puri and papdi chaat.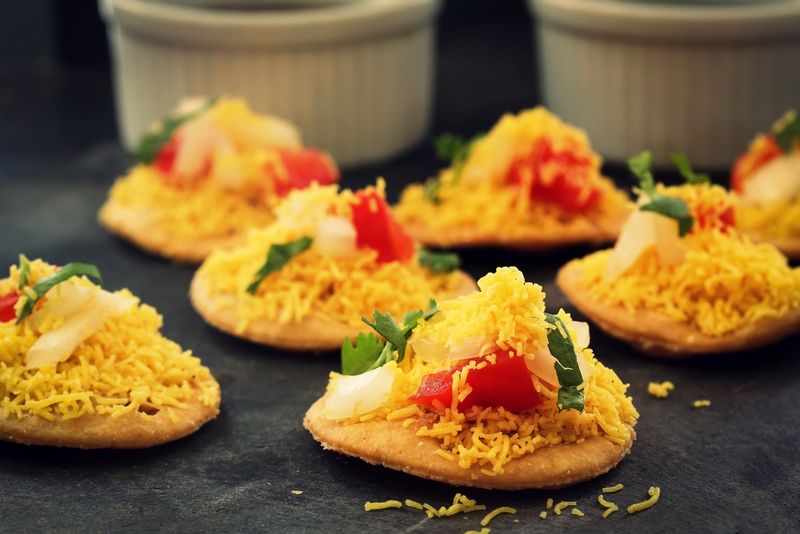 5. Litti-Chokha
This street food is mostly found in India's Bihar state and although one often confuses it with Baati, it is actually prepared completely different and has its own unique textures and taste. Litti consists of wheat and powdered gram or lentil that is formed into balls and covered with spices. They are then injected with clarified butter by a hole and cooked in a wok of boiling oil. Ingredients used in this dish include sattu, chana, and chokha. Most people tuck this treat into breakfast, lunch or dinner, as there is no bad time to indulge in this awesome street food.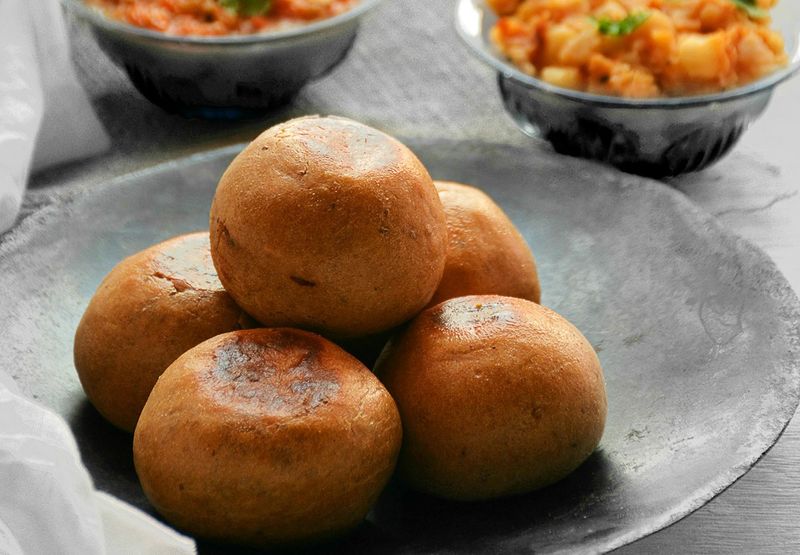 4. Aloo Tikki
This North Indian snack means potato croquette when translated and can be found in almost every shop and stall in Delhi and throughout the country. This piping hot snack is prepared from boiled potatoes, onions and various spices. Along with the potatoes and onion you can expect red and green chutney, coriander-mint sauce or sometimes even yogurt and chick peas.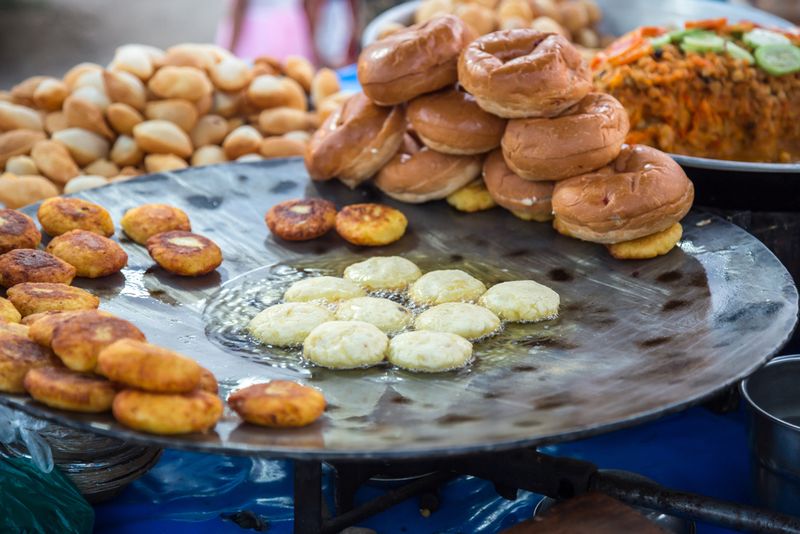 3. Kachori
This spicy street snack is found all over India although rumor has it the best place to have it is in Bikaner, a former princely state in Rajasthan. Kachori are small, crisp, golden fried puri, stuffed with a dry, spiced filling and sometimes served with curried potato. There are different variations of the Kachori including the Pyaaj Kachori (onion kachori and the Mawa Kachori which is a sweet dish dipped in sugar syrup. Crispy, tasty and readily available, it doesn't get much better than that.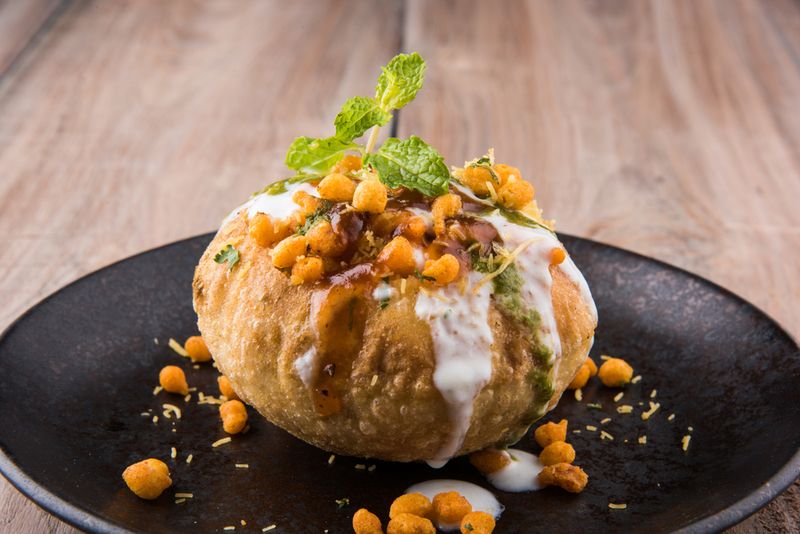 2. Bhelpuri
Often associated with the beaches of Mumbai, Bhelpuri is a mixture of Muri (puffed rice), crushed papri, chopped onions, potato and coriander, sev or bhujiya and mix of sweet chili chutney and tamarind sauce. It is most often served in a cone of newspaper and it comes with a wooden ice cream spoon, making it not only delicious but a lot of fun to eat.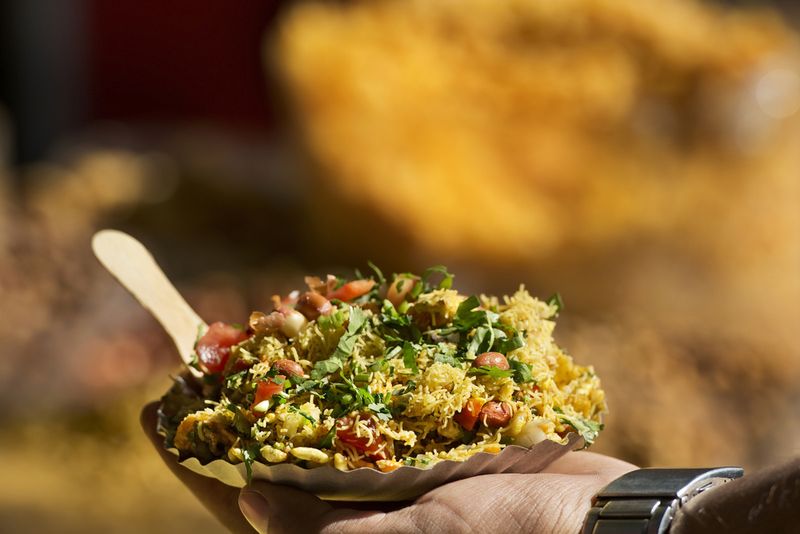 1. Kati Roll
Originating from Kolkata, India, this skewer-roasted kebab (chicken, lamb or sometimes meat) wrapped in paratha bread is perfect for the meat eater. It is layered with onion, sauces including ketchup and chili, and normally a spicy green chutney. Some people like to add on a layer of egg to add even more taste and protein. The whole thing is wrapped in newspaper and although countries around the world are trying to replicate this dish, there is nothing better than an authentic Kati Roll in India.