Country living at StarHill Farms was just what the doctor ordered to get kids away from their screens and reconnected to the joys of the natural world.
Last weekend, I took my 7-year-old grandson out to a Texas farm retreat for the weekend. At StarHill Farms we made friends with horses, skipped rocks on the pond, admired Longhorn cattle, strolled around the acres of beautiful property, went fishing and made s'mores. And he didn't once exhibit the desire to jump on his tablet or play video games.
Now don't get me wrong — I'm definitely not here to preach about people letting their kids on screens too much, or act as if we can't or shouldn't be guardians of their time on devices. Jude, my grandson, loves them like most kids do, and his mom and I actively monitor both his activity and his allowed time on them. I also think they have real value when used wisely; many of the games and programs he uses are educational or build some real strategy and programming skills.
That said, sometimes enough is enough. And sometimes, us adults as much as the kids need to take a break from our devices, no matter how useful they are.
There's no better way to do that, I believe, than with getting back to our true selves by reconnecting with nature. Back in December I wrote about an experience I had discovering forest bathing, based on the Japanese ritual called shinrin-yoku. Also called nature bathing, it's an intentional immersion into nature, using all of your senses and letting it wash over and fill you.
That is exactly what Jude and I did at StarHill Farms — and we had a lot of fun doing it!
Glamping
I learned about StarHill Farms through Glamping Hub, the leading online booking platform for unique outdoor accommodations. It was launched in 2013 as a resource for the glamping industry (if you don't know what glamping is — basically camping in style and comfort! — read about my previous experience in a treehouse here).
Co-founder Ruben Martinez says that glampers are those who want to sleep under the stars, without having to sleep on the ground. Martinez adds that families and older travelers tend to gravitate toward the easier lifestyle of glamping, while still getting to experience nature.
Ding, ding, ding! That's me and Jude all over!
Check out what glamping's all about at this video:
The Farm
StarHill Farms is a rolling 300+ acre setting nestled between Mill Creek and Sandy Creek in Austin County, Texas. It's situated about halfway between Austin (where I live) and Houston. Another family who was staying in the four bedroom Ranch House while we were there were visiting from Houston; it was their second time at the farm, and Jude went fishing with them and made some friends with their three children!
A little bit about StarHill's history: The property was bought in 1850 by Friedrich and Julia Sternenberg, who had left Germany in 1849. Their son, Carl Otto, purchased the property in 1877 and raised 12 children on the farm with his wife Elizabeth. That family owned it until 1966, and their homestead still stands on its original site. Two other families owned the property until the Frappier family purchased it in 1996 and has since been restoring it back to its original roots, calling it StarHill Farms.
The Activities
There are tons of activities available at the farm, like horseback riding, fishing, canoeing, skeet shooting and hiking miles of trails along the beautiful property. Jude and I had the most fun making friends with the horses; one in particular was quite taken with Jude, and would run up to the fence whenever she saw him approaching. She greeted him each morning and was there waiting for a nuzzle when we returned to our cabin. Jude loved her just as much!
But when it comes to activities, don't underestimate the pleasure of simply sitting in the rocking chairs on the expansive porches — the sunsets out there are incredible, and it was the perfect place to admire one! We also really enjoyed the firepits and fireplaces — Jude particularly loved roasting s'mores!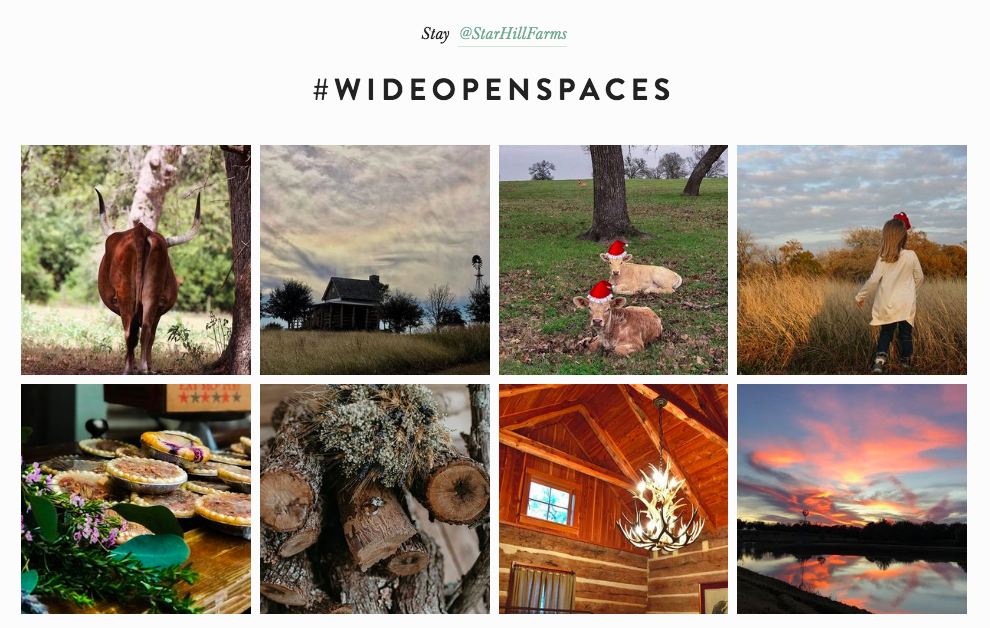 The Accommodations
We stayed in the Hinze Cabin, and I really appreciated it's history. It is the real deal, built in 1845 and relocated to the site. It's situated next to the pasture (a real plus for Jude and his horse friends!), overlooking StarHill Farms pond and pastures. The cabin was fully restored using reclaimed wood, custom fixtures and beautiful antiques.
There's a separate living room with wood-burning fireplace which we used each night, and the bedroom had one of the most comfortable mattresses I've ever slept on. A full bathroom and kitchenette where we cooked breakfast each morning completed the cozy accommodations. (Oh, and there were all the modern amenities like AC and heat, upscale bath products and even Wi-Fi!).
There are two other rentals at StarHill Farms: the Ranch House mentioned previously, an original late 1800's Dogtrot House that's been restored; and the Cabin on the Hill, an 1849 cabin that's been fully renovated with custom fixtures, reclaimed wood and stone improvements as well as one of a kind antiques.
I can't recommend StarHill Farms highly enough — nor the value of a "disconnected" weekend spent in nature for families to reconnect both to each other and to the physical world around them. We can't wait to go back!