Planning your vacation is always one of the best parts about the vacation itself and if you happen to be taking a sailing trip in the near future, the first thing you have to decide is where you want to go. Are you looking for the crystal clear waters of the Caribbean, complete with palm trees and white sand? Or are you after a more rugged and wild adventure? From the Southwest Pacific to the Mediterranean there are hundreds of amazing places to charter a yacht. Looking at an array of factors we have narrowed the list down to our favorite 12 places to charter a yacht around the world.
12. Fiji
In the Southwest Pacific there are 300 stunning islands over a large area of ocean waiting to be explored. These islands are surrounded by an abundance of sea life, spectacular reefs, crystal clear waters and beautiful lagoons. Fiji is also known for having some of the most welcoming people around. The remoteness of Fiji makes exploring these water and islands unlike anything else in the world. Discover the land of amazing beaches, coconut plantations, tropical rainforests and underwater adventures. Experiencing Fiji is easy, as English is widely spoken and it is known to be very safe. If you are looking for those long sandy beaches with palm trees and coral reefs make sure to get to the Mamanuca Islands. If you want to experience the traditional way of life, make sure to head to Yasawa Islands where the amazing scenery and crystal clear lagoons go perfectly with the laid-back lifestyle here.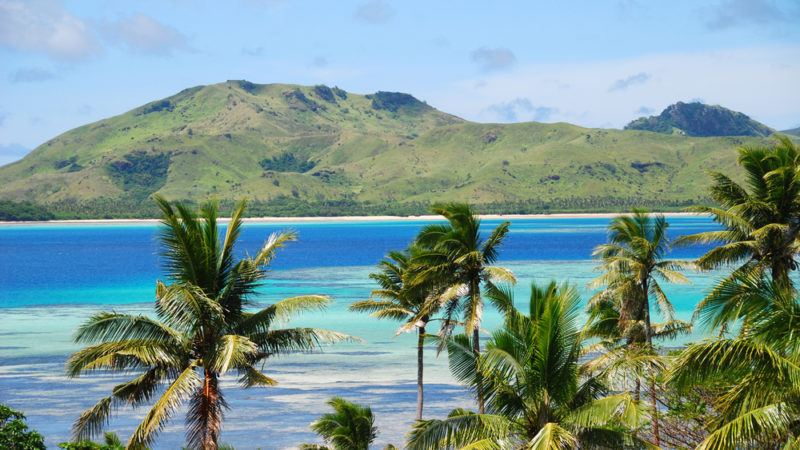 11. Seychelles Islands
The Seychelles Islands can best be described as paradise on earth with towering granite rocks, swaying giant palm trees and turquoise inlets that are framed with sparkling white sand beaches. These 115 islands lay off the east coast of Africa, just south of the Equator and are absolutely breathtaking. The outer islands are low-laying, mostly coral atolls and sailing is done mainly within the inner islands, all close together which make for easy island hopping. They are blessed to be situated in a balmy, calm part of the Indian Ocean and exploring these secluded islands is a once in a lifetime experience. Mahe is the largest and most developed isle and deserves to be explored at the mountains soar to almost 3,000 feet above sea level and the tropical forests are laced with hiking trails. Picturesque bays and coves line e 44 miles of coastline and boast 65 world-class beaches.
10. Tortola, British Virgin Islands
The British Virgin Islands boast that they have more yachts there than anyone else in the world, reminding everyone that this destination is the perfect place to charter a yacht. What makes this destination so perfect? To start, the consistent trade winds, line-of-site navigations and abundance of sheltered anchorages. The ideal blend of easy deep water island hops is perfect for the whole family. Combine all of this with crystal clear waters, picture perfect beaches, breathtaking rock formations, abundance of on-shore activities and a great selection of dining options, and you can see why so many people love to sail here. Make sure to visit Anegada with its pristine white sand beaches and colonies of pink flamingoes. If you are sailing as a family you won't want to miss Marina Cay, a flower covered island nestled in the calm, sheltered warm water lagoon that is perfect for young children.
9. Thailand
Thailand is truly an awesome destination for sailors from anywhere in the world. Sandy beaches, towering palm trees, mountain ranges and bright blue sea make for an unforgettable landscape. Chartering a yacht here allows you to find both peace and tranquility while still letting you indulge in the sensational nightlife. Each island will share the same tranquil waters but feature different beaches and amazing landscapes. Head to Phuket if you want to escape the busyness and explore the exotic flora and fauna, hidden coves and bays. Everywhere you go in Thailand expect wonderful food and the warmest of welcomes from the locals. They don't call this place "The Land of Smiles" without good reason. Warm waters mean plenty of snorkeling and diving throughout the day and we promise a yacht trip here won't be boring.
8. Sicily, Italy
Sailors are attracted to this part of the Mediterranean for its famous beaches, secluded anchorages and quiet fishing villages. You will want to spend some time in the port of Palermo as this ancient city begs to be explored. Visitors can expect historic squares, impressive cuisine and stunning architecture. Also found in Palermo are an abundance of galleries, museums and opera houses. Don't miss out on heading to the Aeolian Islands which are located just 35 miles north of Sicily. This chain of volcanic islands offers seas as clear as the Bahamas, exceptional cuisine and breathtaking landscapes. Also plan on visiting Catania where you will have extraordinary views of Mount Etna, as well as Trapani and Marsala.
7. Whitsunday Islands, Australia
The 74 Whitsunday Islands are located along the northeastern coast of Australia, right in the heart of the Great Barrier Reef. Water sports along with snorkeling and diving excursions brings yachters from all over the world to experience these waters. The eight main islands here offer resorts but there are plenty of deserted islands and sandbars to visit as well. Make sure to anchor at Bauer Bay and walk to the top; as you will get the best view of the islands. Blue Pearl Bay is the spot you will want to anchor at if you want great snorkeling and plenty of whale sightings. Make sure you don't miss Whitehaven Beach, considered one of the best beaches in the world. True to its name this beach offers pure white sand, some of the purest on earth and charms visitors with beautiful sunsets and breathtaking views.
6. French Rivera
This coastal region along the Mediterranean is just packed full of breathtaking beaches and stunning scenery. Full of sunshine all year round, to charter a yacht here will be an experience unlike any other. This area manages to do an incredible job of combining the rugged landscapes with the large cosmopolitan resorts of Cannes, Nice and Monte Carlo. For vibrant nightlife and exceptional cuisine, head inland to any of these places. To escape the crowds, yacht down to Port Cros and Porquerolles where the atmosphere is relaxed and gently swaying palm trees is all the action you will see. Historical architecture along this coast combined with white sandy beaches and small marinas make this one of the most fabled places to charter a yacht.
5. Canary Islands, Spain
Located just off the coast of Africa, the Canary Islands are a popular European vacation destination, especially for those looking to take to the seas. Unspoiled nature and favorable winds make this a year round destination. The islands are a mix of different cultures, people, historical influences and warm local hospitality. The best way to explore the islands is to travel to and from them by yacht. The beaches of Gran Canaria are among the favorite of all visitors as well as the bustling nightlife of Tenerife. The island of La Palma is what makes this destination stand out among the rest though, and some visitors here refer to it as the most beautiful place in the world. With sheltered marinas, breathtaking beaches and favorable winds; this is one of the best places to be on the water in the world.
4. Croatia
Croatia is one of the Mediterranean's hidden gems, offering over 1,000 islands and is truly a sailor's paradise. The Dalmatian Islands are wild, rugged and mostly uninhabited and offer some of the best sailing in the area. Ancient villages steeped in history, pristine beaches and the isolated Kornati archipelago await you here. If you do plan on sailing here and want seclusion, plan on coming from in early spring where you can find your own private little cove. The water in April and May can be warm enough to swim in. If you are looking for exceptional cuisine, wine and culture; head on over to the West and South Istria where the people are proud to offer you these goods. Croatia happens to be a very popular spot for yacht owners who wish to keep their yachts in Europe but not in the EU, as it gives them a tax break.
3. Turkey
Turkey boasts over 8,300 kilometers of coastline, four seas and an abundance of coves, inlets, bays, beaches and marinas. Sailing in turkey is amongst the best in the world due to the crystal clear blue waters, the steady winds and the abundance of beautiful beaches and secluded anchorages. Turkey has long since been the meeting point between the Far East and Mediterranean and the culture and cuisine in this country can reflect this. The stretch of Turkish coast line is divided in four different yacht charter areas; each offering their own unique experience. Head up the Ionian Coast if you are looking for the best climate and to discover the shores which brought forth the rich culture of the Ionians or if you feel like discovering mountainous shores head to the West Lycian Coast. Rock tombs make up much of the Easy Lycian Coast and the Carian Coast is the most popular sailing ground.
2. St. Martin
St. Martin has to be one of the most popular sailing destinations in the world and it's no wonder why as this island is overflowing with beauty. The island is ruled by both French and the Netherlands and you truly get to experience two cultures in one place when you visit. When you charter a yacht here there are plenty of other islands to explore including St Barths, Anguilla and Saba. Expect beautiful deserted beaches full of silky white sand, exceptional waterfront restaurants and exceptional shopping. Explore the waters and learn why Saba is a diver and snorkelers paradise. The enchanting tropical scenery combined with enough nightlife, world-famous beaches and other islands to explore make this the number one Caribbean escape.
1. Greece
Greece boasts over 3,000 islands and islets and truly is one of the best places on earth to charter a yacht. The ancient archeology, stunning natural landscapes and rich culture draws yacht goers from all over the world. Some of the most popular islands to explore include Santorini, Mykonos and Crete. In Santorini you will find white washed houses, striking hillside towns and sunsets to die for. Crete offers visitors exceptional Greek food and the chance to go back thousands of years in history at one of their many archeological sites. Mykonos is where you will find the busyness of the Greek Islands, so head here if you want to experience the epic nightlife and packed main beaches. Sail through the ancient seas here exploring the many islands, both inhabited and not, under the glorious Mediterranean sun.
si