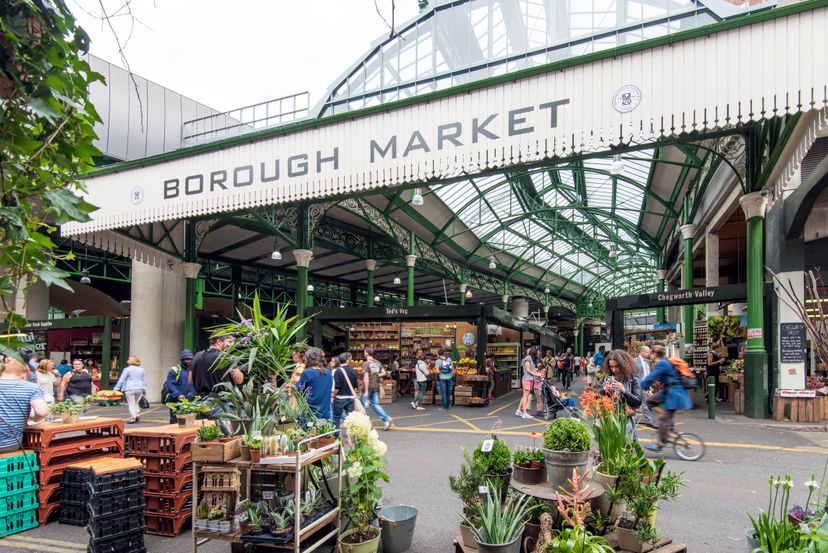 If you really want to immerse yourself in the culture of a country, there is no better place to start than with a visit to a local food market. For many years, food markets have been selling local delicacies as well as the basic essentials that everyone needs. What makes food markets better than your average grocery stores or supermarkets, is that they offer you the freshest ingredients, often from local sources, and you can often find unique foods here too. From the United States to Hong Kong here are the best food markets in the world that are worth traveling to. 
Castries Market -Castries, St. Lucia
The sounds and aromas coming from St. Lucia's Castries Market are enough to lure anyone into the exciting market environment. Be prepared to spend a few hours wandering throughout. The bright, orange roof is easy to spot, a mainstay since the market opened in the late 1900s. Set in the capital of St. Lucia, Castries has attracted millions of visitors. 
The market has something for everyone from shopping for daily staples, clothing, souvenirs, and more. Be prepared to endure the noise–the sounds inside the market are loud–but that's all part of the experience. This is the place to find the exotic spices and herbs flavoring the island's most enticing foods from cinnamon and mace to star anise, and hot peppers. You can also enjoy some amazing locally made Rotis or seafood that's straight out of the ocean, and be sure to stock up on favored condiments like hot pepper sauce. Catch the action from Monday through Saturday and get ready for the crowds, especially during weekends.
Cai Rang Floating Market -Mekong Delta, Vietnam
There are markets, and then there are floating markets. Cai Rang Floating Market in Vietnam's Mekong Delta is an unparalleled experience and a way of witnessing one of Vietnam's most interesting and timeless cultural traditions. 
There are plenty of tour boats leaving Saigon's riverbanks between opening hours and 7 am so hop on and get ready for an incredible sensory experience. Vibrant, traditional boats offer everything from produce to clothing and often showcase their goods from an extended pole protruding from their boats. Market days finish up around midday so set your alarm for dawn as the market is most impressive when it gears up around 5 am.
St. Lawrence Market -Toronto, Canada
Toronto's St. Lawrence Market has been a source of fresh food and other goods since 1803 when it teamed up with Toronto City Hall. The market was redesigned and updated between the mid-1970s and has since been a staple in Toronto's shopping market. You will find everything from fresh, fairly traded coffee to a variety of seafood. 
The market boasts 120 different vendors and is open Tuesday through Saturday and closed on Sunday and Monday. Keep in mind Saturday is the busiest day of the week so be sure to get there early. Three large buildings make up the market: North, South, and St. Lawrence Hall within Toronto's Old Town area. Generations of families continue to operate stalls in the market and sell everything from world-famous Canadian bacon also known as peameal to freshly baked pies, crisp produce, and freshly made jams and pickled goods.
Viktualienmarkt -Munich, Germany
Viktualienmarkt is in the heart of Munich, a robust location close to Marienplatz where traditional Bavarian foods are a high priority for shoppers. Next door at the beer garden, tall, cold glasses of freshly brewed beer washes down warm, flaky pretzels and Weisswurst sausages. This experience coupled with a walk-through of Viktualienmarkt is one you don't want to miss when visiting Munich! 
The market is open daily and boasts more than 200,000 square feet. Viktualienmarkt offers a large range of choices including cheeses, wild game, poultry, fruits, vegetables, freshly squeezed juices, baked goods, and flowers sold from 140 vendors. Official opening hours are from 8 am to 8 pm Monday through Saturday but arriving earlier is better as a large group of stalls shut down at 6 pm. Close to the market you will also find some terrific restaurants, bakeries, and flower shops that are also worth visiting.
Kashgar Sunday Market – Kashgar, China
Kashgar is one of the westernmost cities in china. It is also home to the biggest market in all of Central Asia. The market's history dates back over 2000 years from the Silk Road area and is still an important trading center to this day. Despite its name, the market is open every day of the week. That said, the bustling livestock market opens for business on Sundays only.
Split into two distinct sections, the bazaar is lively, welcoming thousands of shoppers each week. It offers a large array of foods and goods that are sourced from the region. Fruits, spices, tea, nuts, exotic produce, and hundreds of other items can be snapped up any day of the week. Most notable and raved about are the lamb kebabs cooked up by several different vendors every day. If you arrive in the morning you'll witness merchants arriving at their coveted spots with carts pulled by oxen and donkeys.
Kowloon City Wet Market, Hong Kong
Start your day off in Hong Kong by feasting on the city's best and freshest food at the Kowloon City Wet Market. Food is caught and brought in daily offering the absolute freshest options possible. The Kowloon City venue is a favorite among Hong Kong's many wet markets. 
Vendors can be found in the main building and in the small shops on the perimeter that spill into the streets. Three full floors comprise the market. The first and second floors are dedicated to the wet market while the third floor houses food stalls and tiny cafes. 
Borough Market, London, England
Any market existing for more than two centuries is worth exploring and that's exactly the case with London's Borough Market, located southwest of London Bridge. You'll want to make sure you head to the market with an appetite because the aromas of freshly baked pastries and bread are going to make you hungry! There's definitely enough variety here to browse for hours on end. 
The market features many market vendors that offer up a host of fine foods from confectionery and bakery to European style charcuterie, dairy, seafood, fruits, vegetables, condiments, spices, preserves, and beyond. If you arrive earlier in the day, be prepared for a belly full of sublime food samples as well as other takeaway items. Surrounding the market are abounding "fast" food stalls where dishes like Malaysian curry, paella, and pasta are available. Grab a bite and head over to Southwark Cathedral gardens for a picnic.
Mercat de la Boqueria, Barcelona, Spain
Barcelona's famous La Boqueria market is located in El Raval. The entrance to the market can be found on La Rambla. La Boqueria has been operating for many years and offers an array of fresh local products. Even if you don't need to buy anything, a visit to experience the atmosphere is worth it in itself. 
Described as a "gastronomic temple," the market is one of the most colorful European food stops with amazing, kaleidoscopic displays of fruits and veggies, nuts and seeds, herbs and spices, and plenty of sweet baked goods. Large booths in the central area of the market are where you can find Barcelona's best fishmongers. On the left and right you can find some of the best stalls that serve up Catalan specialties, bread, smoked meats, cheeses, and more. Historically speaking, the market started in the early 13th century, selling meat by the city's old gate.
Mercato Coperto, Italy
Italy has always been celebrated for food and is renowned as a Foodie's fantasy. From cross country culinary tours to incredible restaurants and lush olive groves, there's little to be associated with Italy that somehow doesn't come back to food in some way. Mercato Coperto, located in the city of Trieste, showcases an all-encompassing celebration of Italian food on a daily basis. 
You'll enjoy the selection of amazing wines, olive oils, balsamic vinegar, and rich cheeses. But the list of specialties goes on. Further, the markets' exterior facade is a sight to see in itself. The market hall was built in 1936 to protect market traders from bitter winter winds. Today,  the building is quite true to its original grandeur. 
Mercado Central, Santiago, Chile
Mercado Central in Santiago is situated in a long, pale, rectangular building with broad awnings and features some of the best ironwork in the capital. Seafood is a major seller here. There are plenty of fresh offerings from giant squid and exotic fish to shrimp, lobster, and more. 
The market has been operating since the early 1870s and is located just a few blocks from the Santo Domingo church If you want to skip the pricey vendors that are geared towards the tourist, head straight for the smaller stalls around the outer perimeter. If you don't end up buying fresh seafood from the market be sure to try the delicious offerings sold by one of the nearby restaurants. 
Grand Bazaar, Istanbul
Istanbul's 15th century Grand Bazaar is a massive market that stretches over more than four dozen streets. The market features 5000+ vendors and offers everything from lamps and rugs to leather and culinary delights. If you're a tourist, the one thing to try out is Turkish Delight. Seasoned with pistachio, lemon, and rosewater and made by local families. Not to mention, it's one of the most culturally significant foods to pick up. 
The spice shops are the real attractions here, bursting with aromatic mint, pungent cinnamon sticks, saffron, as well as a large assortment of other herbs and spices. Another food worth trying is the quintessential Turkish meal, the kebab. It's arguably one of the most delicious local foods and a must-try when visiting Istanbul.
Union Square Greenmarket, United States
When visiting New York City, it's almost a crime to skip Manhattan, home to many of NYC's attractions including Union Square Greenmarket. The market was founded in 1976 and even though it's not the oldest market on this list, it's still definitely worth seeing. The market came about when a dozen farmers began selling their harvests in a parking lot. Now, the bustling market features goods from more than 225 fishermen and family farmers.
Union Square Greenmarket is renowned for bringing the surrounding countryside's bounty directly into the city. Promoting regional agriculture and offering NYC residents access to the freshest, most nutritional food around. The charming vendors range from grocers and bakers to farmers and fishermen. The market is open four days a week from 8 am to 6 pm.