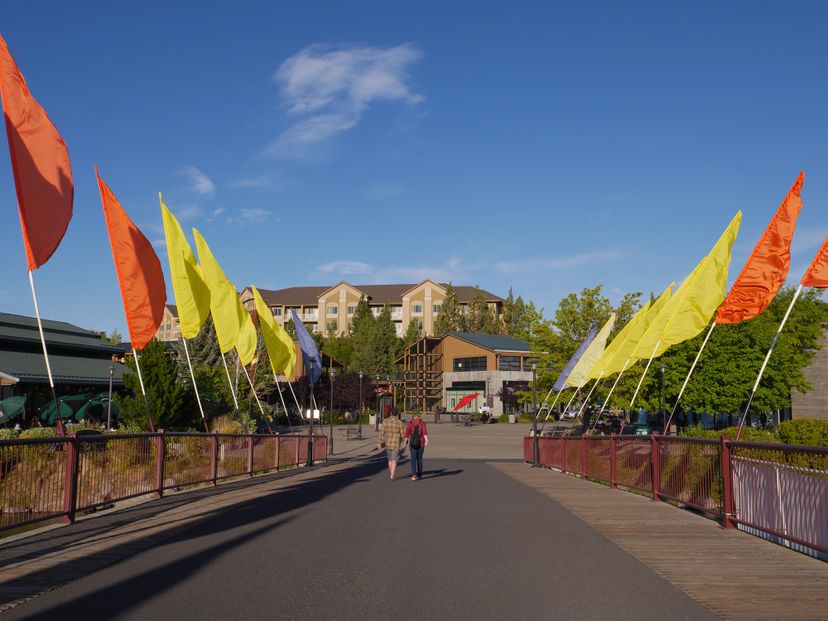 Bend is a lively city located in Central Oregon near the base of the impressive Cascade Mountains. Many tourists come to the city to take in the breathtaking views and indulge in exciting activities. Central Oregon offers year-round outdoor fun for everyone from snowboarding in the winter to paddleboarding in the summer. But with all of that activity, you're going to need a place to relax and unwind. Luckily for us, central Oregon also boasts amazing resorts that range from family-friends lodges to luxurious boutique hotels. These resorts offer amazing amenities such as hot tubs, heated outdoor pools, golf courses, farm-to-table dining, and beyond. Before you make your itinerary check out our list of the best resorts near Bend, Oregon. 
Seventh Mountain Resort
Seventh Mountain Resort is the closest lodging to Mt. Bachelor and is the perfect home base for any visitor looking to spend their vacation skiing or snowboarding. Nestled along the beautiful Deschutes River, this resort focuses on accommodations that match the western feel of the outdoors along with an excellent range of amenities that create the perfect outdoor playground. The resort features everything from luxury townhouses to comfortable studios. Whether you're coming with friends, family, or making a solo trip, there is a lodging option for you!
Although there are no dining options on-site this resort makes up for it in terms of activities is has to offer. During the winter you'll appreciate the two outdoor heated pools, the three outdoor hot tubs, the ice skating rink, and full access to Mt. Bachelor. In the summertime, the championship golf course, mountain bike track, nature trails, basketball courts, and beach volleyball courts are sure to appease any visitor. Further, the full-service recreation department on-site will help arrange any activity that visitors want from kayaking to white water rafting. Come for the great views, awesome accommodations, and convenient location that Seventh Mountain Resort has to offer.
Mount Bachelor Village Resort
In a breathtaking location that overlooks the Deschutes River at the gateway to the Cascade Mountains is Mount Bachelor Village Resort. You can choose from a range of accommodations including hotel rooms, ski house condos tucked in the forest, river view condominiums, or luxury houses. Amenities will vary within accommodations but most include a gas fireplace, hand-crafted furnishings, and some even include personal outdoor hot tubs. Further, the condos and houses offer fully stocked kitchens or kitchenettes that allow for easy meal making and thus making this resort perfect for large families or groups.
The resort also features an on-site athletic center giving guests access to pools, hot tubs, a rock wall, steam rooms, and dining options. There is also a trail located just outside the doors which can be hiked or snowshoed depending on the season. With great access to both Bend and Mt. Bachelor, this village resort is the perfect location to stay at. 
Black Butte Ranch
Black Butte Ranch is the perfect location for vacationers seeking a relaxed environment. The resort is also set in a stunning landscape of towering mountain peaks, abundant wildlife, and soaring trees. For more than 40 years this ranch has drawn visitors from all over the world with promises of world-class golf courses, award-winning dining, horseback riding, spa treatments, as well as a variety of other activities. The resort boasts 120 ranch vacation homes that range from lodge rooms and condos to cabins and custom homes with your choice of mountain, meadow, or golf course views. There really is something for everyone. 
The culinary team at Black Butte Ranch follows a farm to table philosophy growing much of their own produce right on the ranch and selecting locally raised meat. Not only are their dishes delicious and creative but they're made from the freshest ingredients and can be enjoyed at any of the on-site restaurants. The resort also offers ample activities for all seasons. During the summer you can enjoy canoeing, kayaking, stand up paddleboarding, and exploring their 1800 acres by foot or bike. During the winter you can ski, snowshoe, sled and ice skate. With so much to see and experience, it's easy to see why Black Butte Ranch is one of the best resorts near Bend, Oregon. 
Tetherow Lodges
Offering 50 rooms of absolute luxury, Tetherow Lodges is one of the only boutique-style hotels that border both the Deschutes National Forest and downtown Bend, Oregon. Guests at this lodge can expect only the finest with custom-crafted furnishings, original artwork from local artists, gas fireplaces with stone masonry, high-quality linens, and a mini-fridge throughout the rooms. 
Tetherow offers two exceptional dining options The Grill and The Row. The Grill offers stunning views of the Cascade Peaks and a menu that includes a variety of local favorites while The Row is a family-friendly casual pub experience with twelve beers on tap featuring local microbreweries and a menu that features American-Scottish cuisines. Outdoor activities are the theme of this resort and golfing, skiing, hiking, and biking are literally located right outside your doorstep. The Deschutes National Forest offers incredible hiking and biking trails throughout that lead you to waterfalls, mountain tops, and unmatched views. For visitors looking to be close to Bend without sacrificing nature, tranquility, and luxury; Tetherow Lodges is where you want to be.
Pronghorn – An Auberge Resort
Set amidst a beautiful 1,000-year-old juniper forest is a resort full of luxury and world-class activities. Pronghorn resort offers accommodations in their Huntington Lodge, vacation rentals, and vacation homes. The suites are decorated with upscale furnishings, stone fireplaces and private terraces are more than enough reasons to visit. Visitors won't want to leave this resort with its endless amenities from kid's camp to exceptional cuisine. On-site visitors will also have access to mountain biking, hiking, golf, tennis, basketball courts, pools, and a fitness area. 
The staff at Pronghorn is committed to making your experience exceptional and offer custom adventure experiences including rock climbing, downhill skiing, white water rafting, and fly fishing. Pronghorn also has visitors covered in terms of dining with three choices of restaurants ranging from light fare meals with exceptional micro-brewed beer to fine dining as well as family-style meals. 
Brasada Ranch
The Brasada Ranch boasts several awards for its wonderful lodging, dinging, and experiences making it one of the absolute best resorts near Bend, Oregon. This 1,800-acre resort is nestled in the Powell Buttes just east of Bend and overlooks nine Cascade Peaks as well as the city of Bend itself. Nothing was spared in the design of this resort with its rustic yet elegant accommodations that offer understated luxury in your choice of suites or cabins. 
The Range Restaurant and Bar is legendary in itself with breathtaking sunsets, indoor and outdoor dining and delicious cuisine. The culinary team at this ranch practices sustainability by focusing on community partners with farms, creameries, orchards, ranches, and wineries. Further, the athletic center offers everything you'll want and need from two outdoor pools, a slide, and even a lazy river. Kids of all ages are welcome at Brasada Ranch and most likely will want to spend all their time in "The Hideout" that includes rock climbing walls, ping pong tables, wave riders, a playground, and many crafts and games. Adults can head to the organic spa for natural and holistic treatments that promise to melt stresses away. Finally, the resort also features a world-class equestrian center where riders of all ages can gain experience and find joy atop one of their beautiful horses. 
Sunriver Resort
Sunriver Resort is a beautiful resort located in the heart of the Cascade Mountains. This resort offers a combination of vacation rentals, lodges, luxury cabins and homes. The community of Sunriver is truly meant for visitors, with a permanent population of only 1,700. That said the town is perfectly capable of housing up to 20,000 people during peak vacation times. At Sunriver Resort guests have access to full amenities including pools, hot tubs, a fitness center and spa, advanced tee times for the on-site golf course, complimentary resort-wide transportation, and access to all the restaurants. 
The accommodations are beautiful from stone wall fireplaces and private balconies to handcrafted furniture. All the places are stunning at this resort. Along with your accommodations, you can also choose your view from a view of the golf course to the mountains and the Deschutes River that tumbles by. Sunriver Resort is also conveniently located just 15 minutes from Bend and only 20 minutes from Mount Bachelor. Located next door to this resort is The Village at Sunriver which offers ample shopping and dining opportunities. Keep in mind, a visit to Sunriver Resort wouldn't be complete without a stop at Sunriver Brewing Company where the kids can play in the "kids zone" while the adults sip on some of Central Oregon's finest craft beer.