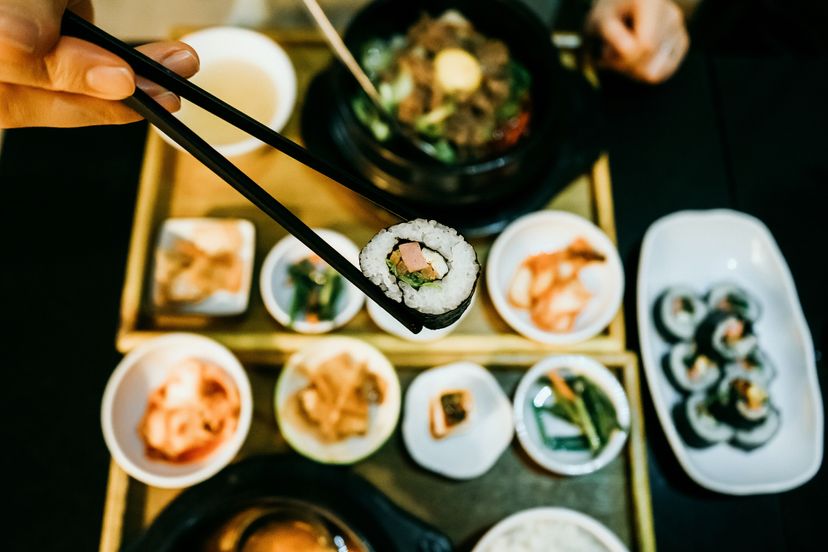 Las Vegas isn't just famous for its casinos, bustling nightlife and entertainment, it's also a culinary destination. Top-rated chefs from all over the world come to Sin City to open restaurants and share their award-winning dishes with you! Here you can find some of the best sushi in the world! Even though Las Vegas isn't nestled next to a coastline, restaurant chefs will fly in fresh seafood daily to ensure their dishes are prepared with the freshest ingredients to obtain the best flavor. 
When you find yourself craving sushi be sure to indulge at one of the best sushi restaurants in the city! Some of these restaurants can be found on the famous Las Vegas strip, while others are located just off the strip. Follow along as we round up the best sushi in Las Vegas you don't want to miss.
Kabuto
Take a short drive west of the strip and you'll find Kabuto. This restaurant is famous for its traditionally prepared Edomae sushi and it is highly recommended that you try it! Almost 200 years ago, Edomae sushi was introduced in Tokyo as street food. Today, this style of sushi has emerged to be a sophisticated experience. For those that don't know, Edomae sushi consists of small pieces of raw fish that are added to bite-sized pieces of vinegar rice (also known as nigiri). 
Kabuto's menu features three Omakase courses that are all very well priced. The least expensive option costs $48 and includes 10 pieces of nigiri, a hand roll, sake, and a dessert. For those that don't know, Omakase is a Japanese saying that means "I will leave it to you" which allows the chef to choose your order. In addition to the three Omakase offerings, there is also a small a la carte menu which features five-star sashimi, miso soup, seasonal dessert, as well as other delicious options. From the fresh ingredients to the carefully crafted dishes it's easy to see why Kabuto offers some of the best sushi in Las Vegas. 
Kumi Japanese Restaurant and Bar
If you're looking for a unique experience unlike anywhere else be sure to visit Kumi Japanese restaurant and bar! It's conveniently located inside the Mandalay Bay Resort and Casino on the south end of the strip. What makes Kumi unique is it offers Japanese food with a Korean-American twist! 
The restaurant's Michelin-Starred chef, Akira Back, who actually used to be a professional snowboarder, takes pride in his one-of-a-kind dishes. Previous patrons have raved about the Pop Rockin' sushi roll which starts with spicy tuna, crab, salmon, and avocado, and here's the twist, it includes Pop Rocks sprinkled on top!  
Along with the creative dishes, Kumi's menu also features signature rolls,  sushi, or sashimi, as well as Kobe short ribs, uni shrimp pasta, and so much more. You may also enjoy that Kumi hosts a Late Night Happy Hour every night at 9 pm. The happy hour offers excellent deals on a selection of dishes and drinks. 
Nobu Restaurant and Lounge 
Japanese celebrity Chef Nabu Matsuhisa owns restaurants all over the world but the Nobu Restaurant and Lounge located at Caesars Palace in Las Vegas is his largest restaurant yet. The restaurant boasts over 325 seats, a private dining area,  a sushi bar, and three teppanyaki tables.
The menu features a remarkable selection of top-notch dishes. Previous guests have raved about the Rock Shrimp Tempura and Yellowtail Sashimi with jalapeno and squid "pasta". If you're not sure what to order you can always enjoy the multi-course Omakase menu which features Nobu signature items or the chef's daily creations. The elegant atmosphere and innovative menu is an experience that you do not want to miss! Keep in mind, Nobu at Caesars Palace is the second Nobu location in Las Vegas. You can also check out Nobu at the Hard Rock which is located just off the strip. 
Tao Asian Bistro
If you want to feel like an A-list celebrity head to Tao Asian Bistro for an unforgettable experience. The restaurant is located at the Venetian Resort in Las Vegas. The eye-catching decor and famous 20-foot Buddha that "floats" above an infinity pool filled with Japanese koi is a sight to see in itself. The Asian Bistro dining room is the perfect destination for date night and features a menu full of intriguing dishes all inspired by culinary components from  China, Japan, and Thailand. 
Previous guests have raved about their halibut ceviche roll, spicy tuna tartare on crispy rice, and more. If you're feeling really adventurous you can let the chef choose for you by ordering the omakase sushi platter. But your night out doesn't stop in the dining room. When you've finished your dinner you can head upstairs to the adjoining nightclub and dance all night long! Take a virtual tour of the restaurant, bar, and nightclub and you'll quickly see why this is one of the best sushi restaurants in Las Vegas!
Yui Edomae Sushi
Nestled among the restaurant community in Chinatown is Yui Edomae Sushi. Not only do they offer their guests delicious sushi but the restaurant takes pride in their traditional Japanese Omotenashi service. Omotenashi means to wholeheartedly look after guests and it's a type of service that you can quite describe, you have to experience it!
The restaurant is certified with the Japanese Food and Ingredient Supporters Group. This means, their menu is required to feature mostly Japanese food and alcoholic beverages. If you're looking for a good deal, previous guests recommend Yui Edomae's omakase. For $120 you will get a variety of delicious offerings that include sake, an appetizer, soup, a sashimi platter, a grill platter, nigiri, a hand roll, and a dessert. Even though this sushi destination is located off the famous strip, a trip to experience some of the best sushi in all of Las Vegas will be well worth it! 
Mizumi
If you're seeking a night of luxury, Mizumi located at the Wynn hotel is where you'll want to go. Star chef Min Kim creates unmatched flavors of the far East. At Mizumi, guests will enjoy the freshest sushi, sashimi, and modern Japanese specialties unlike anywhere else. Keep in mind business casual attire is required. Shorts, sports apparel, and open shoes are not permitted
Not only do guests rave about the food, but the restaurant overlooks a private Japanese garden too. The gardens are surrounded by a picturesque koi pond that features a 90-foot waterfall. From the fresh and flavorful food to the exquisite cocktails, and the unparalleled view that overlooks their private Japanese gardens, it's easy to see why this is one of the absolute best sushi restaurants in Las Vegas.