If you have children (or are young at heart) you've no doubt been asked the question: when are you going to Disney? It's almost expected as a rite of passage for young and old alike to hit that Magic Kingdom at least once. The other question that a prospective Disney World traveler will be asked: do you plan to stay onsite at Disney World or are you staying offsite? With the huge variety of accommodations available in a wide cross section of price points both onsite at Disney World and in the surrounding areas, determining where to stay is no small decision; it will figure greatly into your overall experience. There is no wrong or right answer to the onsite vs. offsite question either. It comes down to budget, taste and your vacation objectives, so lets take a look and review the pros and cons of each option:
1. What's Your Budget?
Perhaps the greatest decision making factor for any vacation: what is your budget for your accommodations? Disney World splits their onsite accommodations into several categories that will suit a wide variety of budgets (i.e. from $100 or less a night, all the way up to $500+ a night): value hotels, moderate hotels, deluxe and deluxe villas. Disney World even has a campground onsite (Fort Wilderness) for those who want to go that route. Truth be told, you do pay a premium to stay onsite, mostly because of a number of perks afforded to guests of Walt Disney World and the convenience of staying so close to the parks. You can find cheaper rooms for sure offsite- or at least more room for the same money, but it's a trade-off. It really comes down to what you value most during your vacation.
2. The Food Question
A big benefit of staying offsite is that you can easily find accommodations that have a kitchen. Having the flexibility to make your own meals can be a savior -both from a convenience and from a cost standpoint. Even if you are planning on eating out for many meals, having the option to throw together a cheap, quick breakfast can save a significant amount over the duration of your stay. However, if being on vacation means leaving all of your household duties at home, staying onsite at Disney may appeal to you more. Disney World hotel guests can purchase a dining plan that can be utilized at over 100 different restaurants within the theme parks themselves and at different hotels. The dining plans offer choice, depending on your budget, from quick-service (i.e. counter food and fast food) to deluxe dining. Some character dinners are included as well. Onsite guests are not required to purchase a dining plan, and are free to dine a la carte wherever they'd like. There are varying schools of thought on which provides more value; it depends on how much and what kind of dining you'd usually do.
3. Park Perks
Guests that stay onsite get to take advantage of Magic Hours- which grants them exclusive access to the parks during select hours when they are closed to the general public. These parks rotate daily, and give guests access for an hour or two either before the park opens or after the park closes officially. This means less crowds and more rides, which for some it totally worth it.
4. Experience Expectations
Is this your once-in-a lifetime visit to Disney World, or is this the first of many visits to come? If this is the "big one", you may want to consider staying onsite, simply as part of the overall Disney experience. Disney is all about details, and their onsite hotels embrace this ideal wholeheartedly. Onsite hotels abound with Disney characters and theme hotels, recreated in detail to craft a particular experience. From the Polynesian Village to the Art of Animation to the Animal Kingdom, these hotels provide a unique accommodation experience. However, if your trip to Disney World is all about the parks and you plan on spending just enough time at your hotel to rest and recharge before hitting the parks again in the morning, you might be well-served to secure off site accommodations.While Disney World hotels are flush with amenities like cool pools, waterslides and activities, many offsite hotels offer similar amenities, usually with a slightly less Disney-esque angle.
5. Other Plans?
Do you plan to visit other parks or attractions during your time in Orlando? If you're thinking of hitting Universal or some of the other tourist attractions while you are there, you may be better served to stay somewhere mid-point. Kissimmee, for instance, offers a number of hotels that are less than a 15-minute drive to most of the Disney parks and about a 20 to 30-minute drive to the Universal parks.
6. Who Are You Travelling With?
If you're travelling with little ones who will need a nap during the day, staying onsite provides a definite advantage. You can zip back to your room for a quick afternoon siesta and then return to the park refreshed to enjoy the evening with minimal travel time. Similarly, if you're travelling with a group of children of diverse ages (i.e. teens and toddlers), staying onsite provides a little more convenience and independence, in terms of the ability to come and go as you please.
7. Transportation
Guests staying at Walt Disney World resorts get round-trip transportation from the airport as well as full use of shuttle buses, monorails and ferries to travel between parks and other resorts included with their accommodation. There are a number of off site hotels that offer shuttles to the Disney parks; sometimes this is included with your room and sometimes you're charged a nominal fee.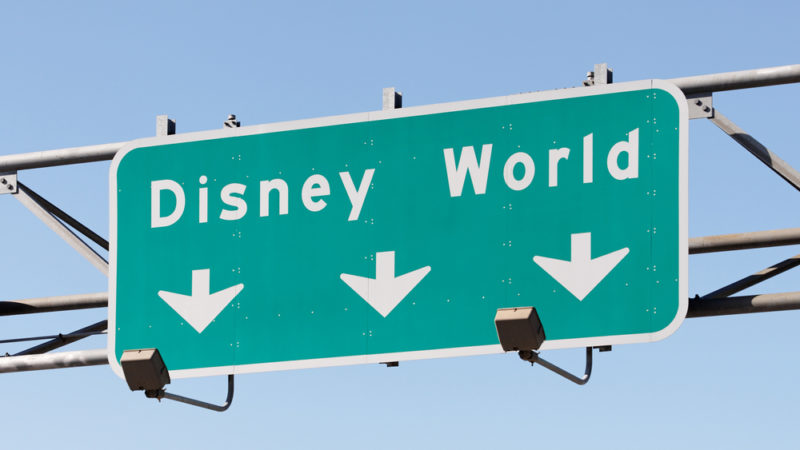 8. Parking
If you are driving yourself, expect to pay to park and then take a shuttle from the parking lot. There are advantages to this though; when the park you are in closes, there are usually long lines to board the Disney transportation. You can skip those lines, head right to the parking lot and be halfway home. A good tip: CAA/AAA members are eligible for AAA Diamond parking at no extra cost. Simply get a pass from your local CAA/AAA office before you leave. This puts you in the premium parking section, closest to park entrances for the same price as regular parking. It usually means that you don't need to take a shuttle from the nether regions of the parking lot.