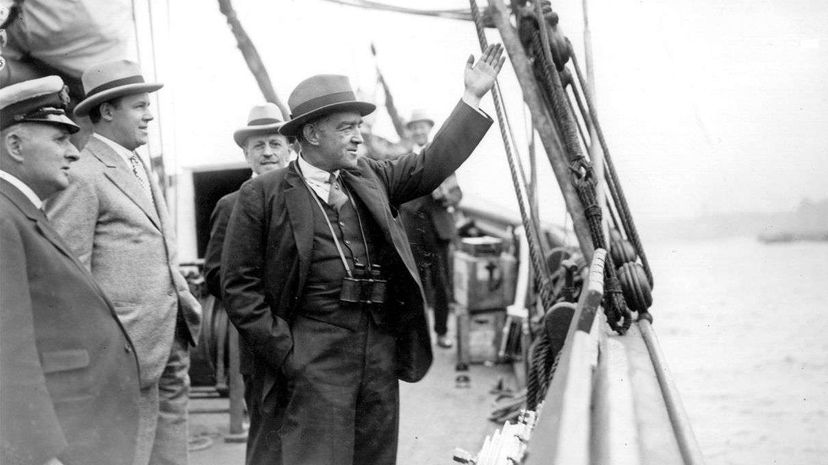 More than 100 years ago, the great British explorer Sir Ernest Shackleton safely captained a 22-foot (6.7-meter) lifeboat with a crew of five through 800 miles (1,287 kilometers) of icy Antarctic waters.
Shackleton landed his tiny boat on South Georgia, a small island off the coast of Antarctica, made the first crossing of the mountains and glaciers of that island — it took 36 grueling hours of hiking — snagged another boat, returned to the first island (Elephant Island) and rescued 22 other crew members who he had left behind.
All this happened after Shackleton and his full crew were forced to camp out on an ice floe for months — from late October 1915 to mid-April 1916 — when the expedition's original ship, the Endurance, was crushed by shifting ice and sank (and later found in March 2022 in the Weddell Sea, about 4 miles, or 6.4 kilometers, from where it was first crushed).
It's a remarkable story of heroism and perseverance. But do you know what eventually did in the adventurous Sir Ernest, six years later, back on South Georgia at the beginning of another expedition?
It wasn't cold or scurvy or a breakaway ice floe. He didn't drown.
Heart attack. At age 47. Due to a congenital defect.
So suggests an essay in the Journal of the Royal Society of Medicine, written by a retired anesthesiologist and an electrophysiologist at London's Royal Brompton Hospital. Authors Ian Calder and Jan Till base their theory largely on their own medical experience, and on entries made in the diaries of ship doctors on various Shackleton expeditions.
"Shackleton was an immense personality, 'The Boss,' as his men called him, and 'A very frightening kind of a man,' as one of them said," Calder says via email. "I guess he had to be to hold them together for 16 months trapped in the ice with not much to do. He could also be colossally charming (he was born in Ireland!). So he is regarded as a great leader in bad times."
Shackleton, the authors say, may have been hiding a heart condition from the start of his great Antarctic expeditions. In his first, in 1903, he was felled by breathlessness and a "sort of scurvy," the authors write (citing Roland Huntford's seminal 1996 biography, "Shackleton").
On Shackleton's second Antarctic trip — a famous race to the South Pole in which the explorers had to pull up 100 miles (161 kilometers) short of their goal because of brutal weather and the threat of starvation — the ship doctor insisted that Shackleton be examined. Dr. Eric Marshall wrote in his diary that, "on two occasions [I] found a 'pulmonary systolic murmur.'" Shackleton later showed an irregular and weak pulse and more fatigue, according to the diary examined by the article's authors.
And then, in 1922, six years after the legendary rescues of the Endurance expedition, Shackleton died of an "angina pectoris" — technically, a chest pain — according to an Associated Press report at the time.
"We believe," the authors write in the JRSM article, "that the evidence supports our contention that Shackleton's repeated breakdowns were caused by dysrhythmias associated with an [atrial septal defect]." An atrial septal defect (ASD) is a hole in the wall that separates the top two chambers of the heart.
Ironically, the Endurance expedition, for all its spectacular failures and unbelievable bravery in the face of stunning odds, was the only Antarctic trip that Shackleton undertook in which he didn't have some kind of physical problem.
"Shackleton is still held in high regard over here. We like heroic failures!" Calder says. "[Norwegian explorer Roald] Amundsen said that, 'Adventure is just bad planning,' and one can't help feeling he had [Brit explorer Robert Falcon] Scott and Shackleton in mind — but hey neither Scott or Shacks left a couple of their men to maybe die, like Amundsen did."
The authors point out that some may consider it irresponsible for Shackleton to hide his condition. "I hope people will understand," Calder writes, "that there was no treatment for his condition then, and his attacks were pretty infrequent."
And, as far as the Endurance saga goes, Shackleton's heart, defective or not, was especially important. "Few would deny that the quality of Shackleton's leadership during his third expedition 100 years ago was crucial to the survival of the party," the authors write in JRSM, "and remains an inspiration and example for generations to come."