As soon as I checked into my room at The Laylow in Honolulu's famed Waikiki Beach, I made an Instagram post: "The Laylow is one of those places that you fall in love with immediately."
It was absolutely true – The Laylow charmed and delighted me from the moment I walked in its doors. Or, rather, rode up its elevator from the busy main street below, and into its refreshing, open-air lanai that serves as the lobby, reception, concierge, bar, restaurant, and general hub. There are no doors in the common area of The Laylow. Just open air and gentle ocean breezes. And that delicious Hawaiian-tiki spin on a mid-century modern aesthetic.
A refreshing, tiki-style Mid Century Modern vibe hits you the second you walk into The Laylow. Fun and retro, stylish and whimsical — this hotel brings plenty of unique, personal touches and a casual, "at home" feel that instantly envelop you.
The Location
In famed Waikiki, The Laylow's location is not on the beach strip. This can be a good or bad thing depending on the guest — but a little time spent amongst the crowds along the major strips may have you running back to The Laylow's comparative calm. It's slightly off the beaten path, yet in the midst of everything Waikiki has to offer.
The street, Kuhio Avenue, is more of the "hip strip" than the major thoroughfare of Kalakaua one block over. But Waikiki Beach is a five-minute walk, and all the shopping, dining and entertainment of the area can be found within a short walk (or ride the complimentary cruiser bikes that the hotel provides!)
The Laylow is the perfect spot for guests who want to be close to everything Waikiki, but a little removed from the "madding crowd." As I heard one person put it: "The big resorts along the beach are my parents' Waikiki; this is my Waikiki."
The Vibe
Style and personality virtually ooze from every pore of The Laylow. If you're a fan of Mad Men and that design era, you'll fall in love as immediately as I did. The design aesthetic incorporates the clean, classic lines of the mid century era, while putting a 1970s, Don Ho, Hawaiian tiki-bar spin on it.
The second-floor open-air lanai serves as reception, lobby, concierge and bar/restaurant area, with cool ocean breezes flowing through. A collection of classic hula dancer dolls greets you at check-in, and The Laylow's striking blue and pink palm tree signature motif is placed strategically among the whites, warm natural textiles, and pops of orange throughout the hotel.
The Rooms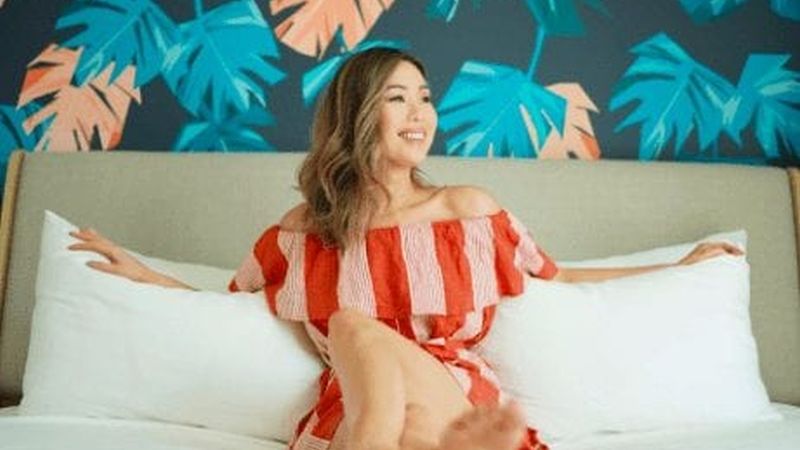 Each of the 251 guest rooms welcomes with calming white walls and neutral flooring as the perfect backdrop for the furniture, made of warm woods, rattan, industrial metal and rich textiles. The Laylow signature tropical motif adorns some walls, while pops of original art and vintage photography are on others.
The gorgeous shelving units are filled with books about Hawaiian living and style, along with high-tech, pairing entertainment systems. The deluxe rooms are furnished with either two King beds (deliciously comfortable with luxury linens and pillows), or one King bed and a sitting area with a small daybed sofa, chair and coffee table. Cabana rooms face the pool, with direct access via a sliding patio door and personal hanging chairs.
Several suites upgrade with dining areas and large living/lounging spaces. Bathrooms are well-stocked with fantastic-smelling lemongrass and ginger toiletries, thick bathrobes and towels, and deep-brown faux-wood walled showers with multi-function rain showerheads. The daily destination fee includes a nice "E Como Mai" welcome basket with local snacks and two pairs of Laylow rubber sandals.
Service & Amenities
The staff is engaging, casual, attentive and helpful. Everything feels like team spirit here, in a low-key way. The main common area on the second floor serves as the lobby, with casual settees and wicker swing chairs for lounging.
On one side are the coffee and cocktail bars and restaurant; and on the other side you'll find the swimming pool, surrounded by cabanas and large lounging chairs. Adjoining the pool is a fully-equipped fitness room.
Cruiser bicycles are available on loan, and fun touches like daily shave ice and poolside drink samplers are served. Regular cultural events also take place, including free ukulele lessons three times a week — just bring your own personal ukulele from your room and join!
The Hideout Restaurant & Bar
The Hideout at The Laylow continues the retro-modern décor in a restaurant and bar space. The menu starts with modern Hawaiian breakfast featuring omelettes, benedicts, pancakes and a la carte items, with the coffee bar serving Stumptown products.
The lunch and dinner menus offer everything from burgers and tacos (with Chef Bryan Byard's Hawaiian spin on ingredients, such as squid, pineapple and local seafood), to classic Hawaiian staples including Kalua pork and Ahi poke.
A full pupu (appetizer) menu delights with guacamame dip (a combination of avocado and edamame), chicken satay, Kalua egg rolls and poke tacos. A slightly limited menu is available in-room, poolside, and as takeaway picnics.
As a coffee or cocktail bar and all-around hangout space the Hideout is a fun, chill place to be. Nightly live music happens in the open-air Hideout every night, as well as during weekend brunch. I found it a great place to sit and listen to the music, have a drink, read a book — or IG about all the cool stuff going on.
And the cocktails were amazing! Here's a video of one of their newest, amazing cocktails, the Goddess in the Garden (great name, too!), being poured for me:
The Laylow was absolutely one of those hotels that I will remember for a long, long time. It captures one of those hard nuances to balance just right: being hip and stylish without being precious; having a gorgeous aesthetic and vibe while still being approachable and comfortable; and achieving a casual, friendly atmosphere while offering top-notch staff and service.
Laylow — you have my heart. I certainly hope to be back one day!
The Details
The Laylow Hotel
2299 Kuhio Avenue
Honolulu, Hawaii 96815, United States
Phone: (1)(808) 922-6600, (866) 913-6852
Rates: From $199
Family friendly: Yes
Pet friendly: Yes