Time to get out your dancing shoes and war paint because Miami is party central. In fact, this town is famous for it. Get out your gold bling, come hither heels, and perfume because South Beach is the place to be seen and this party is just getting started.
13. Blackbird Ordinary
Miami is famous for its legendary nightlife. By day it's all about sun and fun at the beach and by night, it's an all night party till the sun comes up. With that in mind, it's a good idea to pace yourself and Blackbird Ordinary in downtown Miami is a good place to start. With their fresh herb-infused cocktails and an impressive herb wall garden in the courtyard, it's a chill spot for the entourage to gather. After loosening up with a few cocktails, head over to the Fillmore and rock out.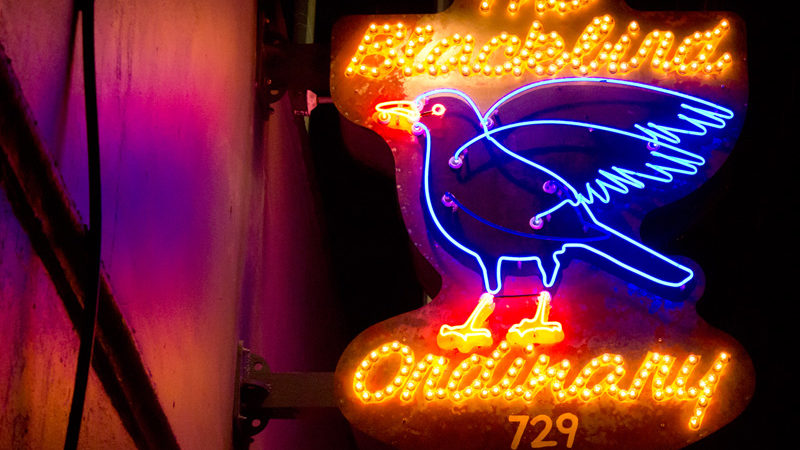 12. Fillmore
From Jay-Z and Brit Floyd to Brandon Flowers and David Grey, Fillmore at the Jackie Gleason Theatre on Washington Ave. has a world-class line up. Although it's not considered a historic building because of its substantial renovations to the interior, the façade is classic art deco from the 60s and it's Jackie Gleason television series heyday. Depending on the act, tickets range from $25 to $150 with mezzanine and balcony seating. Shows usually run till midnight, leaving plenty of time for more late night clubbing.
11. Gramps
Put on your best hipster outfit and sense of irony, and then head to Gramps, a local indoor/outdoor watering hole in Wynwood, the Design District. While sipping on an herb-infused artisanal cocktail (or beer for the budget conscious), you'll look cool while drinking away the stress of the day. Even better, they have two happy hours so it can fit any income bracket or tourist schedule. Gather your friends, munch on free chicken wings, and keep cool on hot summer nights with some bubbly, because the night is young and you never know where you might end up.
10. Mac's Club Deuce
Before heading to the late night clubs, dip into Mac's Club Deuce at 14th St. and Washington Ave. for a taste of historic South Beach circa 1950s. Ask any bartender and they will tell you that the place hasn't changed, not even the décor, since the Jackie Gleason days. With its pool table and rustic interior, it's like traveling back in time to a classic dive bar. The crowd is also predictable. Besides the constant influx of wandering tourists who can't handle the giant martinis on Ocean drive, you'll always find a few local bar flies to keep things interesting. Look for the legendary Keith Richards type in flag jeans and a fringed leather jacket. He's usually parked at the bar for their happy hour specials. As the Miamians say, only in South Beach.
9. Kill Your Idol
Across from Club Deuce is the hipster dive bar Kill Your Idol. Situated on Washington Ave and 15th St., the place has all the hipster standards like kitschy décor, cheap drinks, and a stripper pole upstairs just in case. It's the ideal place to hit up for a few pre-clubbing drinks and to catch a few tunes of local DJs or an amateur garage band. And if you get alcohol-induced munchies, they have some pretty slutty sandwiches or pizza next door at Lost Weekend. If it's past midnight, you'll run into some interesting local characters hell bent on late night debauchery and mayhem.
8. Spazio at Segafredo Brickell
If you want a taste of the upscale Latin expat crowd, head to Spazio behind Brickell's Segafredo. After a few drinks at the trendy, late night café, duck into the back room that opens up to a neon light dance floor, and after a few shots, work the liquid courage and get your dance on. The dance floor gets bumping around 1 am, after people loosen up with an hour or two of bottle service. At Spazio you'll find all the beautiful Latin exports who are typically self-made Miamians hustlin real estate, restaurants, or law. In Miami, it's all about working hard and playing hard. Here's to the playing part. Salute, mi amigos.
7. Grand Central
Miami doesn't have that many concert venues, which is why locals and well informed tourists revere Grand Central. People come for indie bands like Phantogram, Icona Pop, and Cat Power to enjoy the smaller, less corporate vibe than its Fillmore neighbor in South Beach. This trendy venue is a quick ride over the bridge to 697 N. Miami Ave in downtown Miami. The retrofitted train station from the old days will dazzle history buffs and architect aficionados. Once inside it's got a light show, side table VIP section, outdoor area, and large dance floor. Go ahead and channel your inner rock star. You know you want to.
6. Mansion
If you've still got some steam to blow after a show at Grand Central, head back over the bridge to Mansion at 12th St. and Washington Ave. in South Beach. You'll feel like a rock star with bottle service and velvet chaise lounges plus the scantily clad models, porn stars, and celebrities slinking around every corner. Come with your Saturday night clubbing formal wear because they have a strict no sneakers or shorts policy. Come for the music, stay for the insanity. Over-priced and decadent, this is the place to be seen in Sobe.
5. Radio
If you've had your fill of intimidating bouncers and velvet ropes of the VIP, head to Radio at 814 1st St in South Point. It's a small venue but with that coziness comes a laid back clubbing atmosphere that makes it a great place to dance. Plus, there's no dress code so you'll fit right in with shorts and flip-flops, although most people show up in their club wear. The music line up is a fun mix of old school hip hop favorites from the 90s and Top 40, which inspires a full dance floor by midnight. The dancing, reasonably priced drinks, and relaxed atmosphere is a welcome break from the red carpet gauntlets of the bigger Miami nightclubs like Live or Mansion.
4. Steam
Steam has the best of both worlds. In some ways it's like Radio and minus the VIP hierarchy of Miami nightclubs. But it's still just as classy and posh as Mansion and Story but on a smaller scale. Plus, if you get there before 11 pm there's no cover. They also have a unique, interactive circus vibe with odd-looking characters in costumes mingling with the crowd. Bottle service also has a little extra spice with party enthusiasts in black burlesque gear bringing bottles of Grey Goose back and forth. Fist pumping electronica will keep your dancing feet happy till the early hours of the morning. But don't blow off all your steam because there are still a few more stops along the way.
3. Story Nightclub
With its magical, neon-lit ambiance, Story Nightclub at 136 Collins Ave. radiates upscale debauchery. Get swept away in an all-night party wonderland with semi nude go-go dancers, a state-of-the-art light show, and world class DJs. Rock star access is also an fun excess with bottle service and plush couches. But with fist pumping music and a bumping dance floor, there probably won't be much time for sitting. Don't forget your sunglasses, because it will most likely be sunrise when you stumble out of this place.
2. Cameo
Cameo has been a nightclub fixture in South Beach for decades. In fact, the original façade is featured in Miami Vice with Don Johnson creeping down a much rougher Washington Ave of the 80s. Today it's a melting pot of all things decadent and excessive, because as they say in South Beach, you only live once. Time to live it up and enter a twerking contest or at least watch, because why not? And don't forget the pole dancing, VIP and bottle service, light shows, and hip hop DJs. Leave your virtues at home because it's going to be a long night of legendary debauch.
1. LIV
LIV Nightclub is so Miami. It's trendy, wonderfully decadent, and unapologetically over the top. If you roll up in a Hummer-escalade limo or two-seater Lambo, you'll fit right in. This massive palace is party central and at the top of the nightclub food chain. In other words, now is not the time to think about your budget. In fact, it's the upscale fortress of excess. Hot women, bubbly, music all night, celebrities, and VIP. It's the kind of night legends are made of. When you step outside with the sun coming up, the walk of fame will be well worth it.