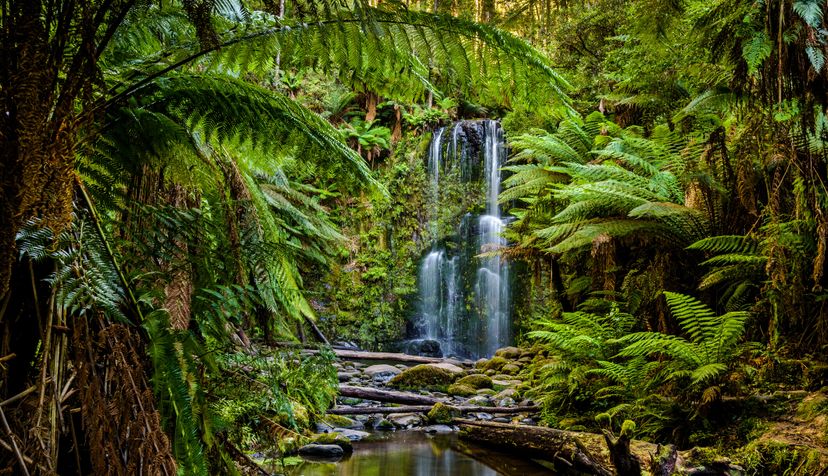 Australia is certainly known for its picturesque beaches but it's also home to some of the most magnificent rainforests in the world. The Gondwana Rainforests of Australia contain the largest areas of subtropical rainforest in the world as well as large areas of warm and cool temperate rainforest types. The rainforests are spread across 50 separate parks in northern New South Wales to south-east Queensland. This beautiful World Heritage-listed area is flourishing with wildlife and plants and is certainly worth a visit. Follow along as we uncover the most amazing rainforests in Australia. 
Northern Territory
Kakadu National Park, located in Australia's Northern Territory is the largest national park in the country. It boasts 20, 000 square kilometers (7,722 square miles) of stunning landscape and has been home to Aboriginal people for more than 65, 0000 years. The park is also dual World Heritage-listed for its cultural and natural values — a place worth seeing when you're in the area. 
An abundance of fruit can be found in this type of dry rainforest, far more than other types! Many people are also drawn to Kakadu National Park to explore Jim Jim Falls which features a 200-meter drop into the plunge pool below. The park's clear water pools, incredible waterfalls, and quiet creeks make the location feel like a dream. The lush woodlands provide plenty of trails and guided tours that can take three to five days to explore and hike through.
Queensland
Queensland is unique because it offers several different types of rainforests that you can visit. Located in southeast Queensland, Australia is Springbrook National Park and Lamington National Park. Here you can explore Australia's cool and subtropical rainforests through hiking exhibitions. If you're lucky, you may even see the rare Albert's lyrebird while exploring Lamington National Park. 
In northern Queensland, you can explore the wet tropics such as Kuranda Rainforest as well as the world's oldest tropical rainforest called The Daintree Rainforest. The landscape is surrounded by sandy beaches, picturesque mountains, waterfalls, and lush forests. It also contains about 65% of Australia's bat and butterfly species as well as 30% of the country's reptile species and 18% of the bird species. There is plenty to explore so you may want to consider staying a few days at the Daintree Wilderness Lodge.
Victoria
Victoria, Australia boasts stunning, cool temperate rainforests across five main regions: The Otways (along the Great Ocean Road), The Central Highlands, East Gippsland, Wilsons Promontory, and the Strzelecki Ranges. The captivating landscapes found in these areas are definitely worth seeing.
You can walk under rows of giant California redwood trees in The Otways or explore the remote landscapes of Tarra Bulga National Park located in Gippsland. Consider taking a walk along the beautiful rainforest walkway on the southern slopes of Mount Donna Buang or drive down The Black Spur which cuts through fern gullies! 
Tasmania
Tasmania, also known as the "Island of Inspiration", features the biggest area of cool temperate rainforests in Australia. The atmosphere is cool and damp and the landscape is lush and green. Both the tree trunks and the forest floor are covered in a velvety carpet of moss and fungus. If you visit during autumn or early winter you'll also witness the vibrant colored fungi. 
This unique place is home to many species that can't be found anywhere else in the world. There are many hiking trails that will allow you to explore these lush rainforests such as the Creepy Crawly Trail in the Southwest National Park and the Franklin River Nature Trail in the Wild Rivers National Park. 
New South Wales
The stunning rainforests in New South Wales are perhaps the most diverse out of all the rainforests in Australia. Here you'll have ample opportunities for outdoor activities such as hiking, bird watching, and mountain biking. 
New South Wales boasts a year-round subtropical climate with warm semi-tropical summers and cool winters. During your visit, you will get a glimpse of the 111 rare plants, beautiful waterfalls, and streams. But exploring this beautiful state isn't complete without visiting the eroded volcano of Mount Warning Wollumbin. 
Western Australia
Western Australia provides a wealth of untouched wildlife supporting 300 plant species. The rainforests can be found in northern Kimberly around the Gibb River Road as well as the Mitchell River National Park. 
Temperatures range between 35°C (95°F) and 5°C (41°F) with natural growing fruit, different birds, and flying foxes inhabiting the area. Pools and springs are also plentiful in this particular rainforest and offer the perfect place to cool off.