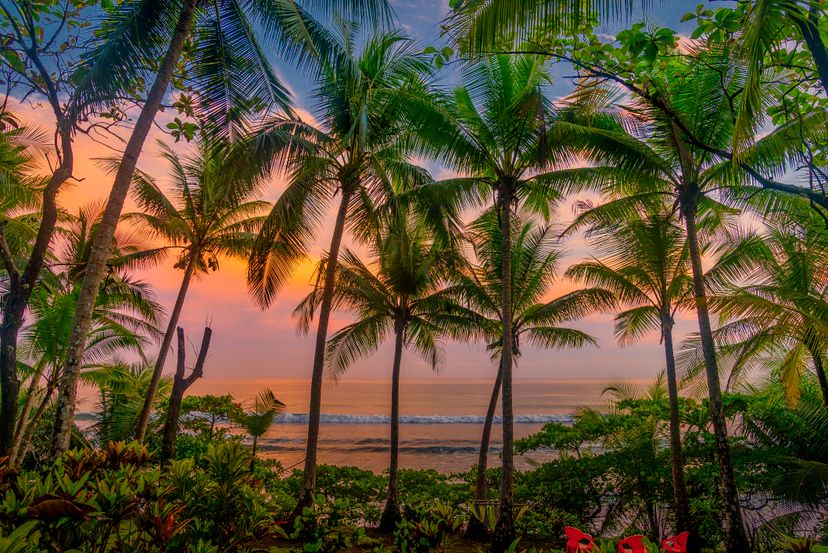 Central America consists of seven countries including Guatemala, Belize, Honduras, El Salvador, Nicaragua, Costa Rica, and Panama. This region is home to some of the most amazing places in the world that are waiting to be explored by you! White sandy beaches, breathtaking waterfalls, ancient Mayan ruins, and ample surfing opportunities are just a few of the things Central America has to offer. But before you book your trip check out our list of the most beautiful places in Central America that you don't want to miss!
Monteverde, Costa Rica
According to the Global Peace Index, Costa Rica is the safest country in Central America. Like many other countries in Latin-America, Costa Rica is the perfect destination to visit if you love nature. With so much to see and do, a trip to Costa Rica isn't complete without a stop in Monteverde. This small town in Puntarenas hosts the jaw-dropping Monteverde Cloud Forest Reserve which draws people from all over the world. The constant clouds provide moisture that catches on the tall trees and falls to the many organisms below. This makes for a truly beautiful and unique ecosystem full of plants, animals, birds, and insects. You may also enjoy exploring the bat jungle, the biological reserve, the butterfly garden, and the San Luis waterfall. If you'd like to do more hiking be sure to check out the Bosque Eterno de los Niños (Children's Eternal Rainforest) which is a lush private nature reserve that boasts hiking trails and exotic wildlife.
Flores, Guatemala 
Flores is an island on Lago Petén Itzá that is connected by a narrow causeway to the town of Santa Elena. There are so many reasons to visit this picturesque island from its safe and relaxed small-town vibe to its proximity to the ancient Mayan ruins. You can wander the narrow cobblestone streets and take in the views of the beautiful colonial buildings or you can walk across the causeway to visit the bustling Santa Elena market. You may also enjoy exploring Las Guacamayas Biological Station or the ruins of Tikal and Ixpanpajul National Park. However you spend it, your time in Flores will be memorable.
San Pedro La Laguna, Guatemala 
San Pedro La Laguna is a small town on the gorgeous Lake Atitlan in the Highlands of Northern Guatemala. There is plenty to see and do here. First, you may enjoy diving into the volcanic lake for some swimming or you may want to rent a kayak or stand up paddleboard to explore the shoreline. Second, you may also want to drive to the base of Indian Noise Mountain, hike the 30 minutes to the top in the dark, then sit back, relax, and take in the beautiful sunrise over the lake! You can also visit the nearby Volcan San Pedro for a 3-hour climb to the top for an epic panoramic view. After spending the day exploring you'll want to relax in the local thermal pools and refuel for your next adventure! 
Semuc Champey, Guatemala 
Semuc Champey is a natural monument located in the department of Alta Verapaz, Guatemala. This incredible area features a collection of turquoise multi-level pools that sit on top of a natural 300-meter limestone bridge. This popular tourist attraction is definitely worth a visit. You can visit the popular swimming attraction on your own, but save yourself a very stressful and bumpy drive and join a tour group (and meet some other travelers while you're at it)! Utopia Eco-Hostel offers a great tour that will also take you on an exploratory look at the nearby Kanba Caves. Leave the flip flops at home and put on comfortable shoes. To get to the pools you will either need to hike up a very steep hill or take a long way around for an easier stroll. Either way, bring a bathing suit and a waterproof camera and get ready for a relaxing day in the pools!
Granada, Nicaragua 
Granada boasts a warm year-round climate and is nestled into the shores of Lake Nicaragua. The gorgeous city draws travelers from all around the world. Historically, this city is one of the most important in the country both economically and politically as it was once used as a major commerce port. Consider visiting the nearby dormant Mombacho volcano, sail on the lake, go zip lining, and enjoy the colorful, colonial architecture. You may also want to climb the beautiful Iglesia de La Merced for a panoramic view of the city, stop by the famous Granada Cathedral, relax and enjoy a boat ride to visit the Islets of Granada and perfect your Spanish for easy traveling at Casa Nica Spanish School.
Leon, Nicaragua
Leon is one of the oldest and most beautiful cities in Nicaragua. It's also far less touristy than Granada.  This city is a mix of culture and proximity to gorgeous natural features which means that there will be something on the itinerary for everyone. Consider checking out the colonial architecture as you stroll through the old streets, hit the Museo de Arte Fundacion Ortiz-Gurdian, stop by the Basilica Catedral de la Asunción, and check out the nearby Ruins of Leon Viejo. You'll also enjoy the beaches, Playa Las Penitas and Playa Poneloya are both a must-visit. Finally, whatever you do, you must head 25 kilometers north of the city to Cerro Negro Volcano where you can enjoy the once in a lifetime adrenaline rush of volcano boarding!
Uvita, Costa Rica
Uvita is a small village in Costa Rica and boasts stunning landscapes making for a breathtaking getaway. The village is found within the Marino Ballena National Park and is in the prime spot to watch the humpback whales that mate here every winter and spring. Uvita Beach is the perfect place for swimming and features more than 3 kilometers (1.8 miles) of soft, pure white sand. This is also a great place to view a magnificent sunset every night. You may also enjoy visiting the nearby Uvita waterfall, Santa Lucia Falls, and the Oro Verde Biological Reserve. Need a little more excitement? Consider taking surf lessons, go canyoning, diving, sport fishing, or take a boat ride to Caño Island. There is so much fun to be had in this beautiful village. 
Santa Teresa, Costa Rica
The surf town of Santa Teresa on the West Coast of Costa Rica features hot weather, white sand, and crystal clear waters. This is the perfect place to relax, lie back, and enjoy the small-town pace. Surfers, yogis, and artists flock to this peaceful haven and enjoy a wonderful mix of locals and tourists. During the day you can explore Playa Hermosa, Santa Teresa, and Carmen beaches which boasts some of the best surfing opportunities in the country. These are also great places to visit if you want to snorkel, stand up paddleboard, scuba dive, kite-surf, fish, take a yoga class, or indulge in one of the many spas. If you wander the beaches at night you'll get to listen to live music and relax by a bonfire. 
Ambergris Caye, Belize
Ambergris Caye is the largest island in Belize and is one of the most beautiful places in Central America. During your stay consider exploring San Pedro, the only town on this popular Caribbean Island. You may also enjoy diving the Belize Barrier Reef or the breathtaking Great Blue Hole. But that's not all. You can also visit the Hol Chan Marine Reserve for a chance to see sharks, learn everything about American Crocodiles at the Education Sanctuary, and of course take some time to relax on the beach and soak up the sun.
Santa Catalina, Panama
If you love surfing and can appreciate quiet beaches surrounded by a jungle forest then be sure to head to Santa Catalina on the Chiriqui Gulf of Panama. Even though this destination lacks typical tourist amenities, you'll appreciate the seclusion and natural beauty of this laid-back fish town. Santa Catalina is also home to some of the best waves in Central America. Beginners can head to Playa El Estero while experienced surfers can enjoy the waves at La Punta. You can also enjoy sailing, fishing, snorkeling, and hiking on this beautiful island. 
Copan, Honduras
The gorgeous town of Copan is an ancient Mayan city nestled in the mountains and certainly deserves a stop when you are in Honduras. If you're a history buff and enjoy learning about architecture, you will love the Copan Ruinas, the Mayan Ball Court, and the Hieroglyphic Staircase. If you love nature be sure to visit the Macaw Mountain Bird Park and Nature Reserve. Whatever your interests, everyone can enjoy a visit to the Copan Hot Springs topped off with a night at The Tea & Chocolate Place where you can enjoy a hot drink, a local snack, and watch the beautiful sunset.